Looking for help building your company's IT self-service portal? Then this article is for you! We're about to detail the ten self-service portal best practices you absolutely need to follow when creating it.
From the design, delivery, and ongoing operation of a self-service portal to the critical mistakes to avoid when aiming for its success, here's a deep dive into practical advice derived from the real-world success of other organizations.
Keep reading to discover what will make the difference in your organization's level 0 of IT support!
What is a self-service portal?
As the name suggests, a self-service portal is a digital capability offered to customers or employees for self-help. This gives them an alternative to calling or emailing a service desk adjusted to the service and support expectations based on their consumer-world experiences with business-to-consumer (B2C) exemplar organizations such as Amazon.
Self-service portal capabilities vary but often include the following:
A

knowledge base

that includes FAQs and guidance for the self-remediation of issues.

Incident logging capabilities.

Live chat facilities and artificial intelligence-based

chatbots

.

Service catalogs

and service request capabilities.

Incident and service request status tracking.

Automation

related to incident resolution and self-request fulfillment.

Forums for help.

Account management capabilities, including access to asset data and the ability to self-audit.
These capabilities collectively provide various self-service portal benefits that cover the spectrum of "better, faster, cheaper" and include:
Better service and support experiences and increased customer or

employee satisfaction

.

Greater empowerment for customers or employees through self-help capabilities.

Speedier access to assistance, with no waiting in telephone queues or for email responses.

Reduced workloads for service and support staff, such that they can focus on more complex and higher value-add tasks, with this commonly called "deflection" in

IT support

scenarios.

Improved service and support efficiency, mainly when automation is employed to reduce the time it takes to perform tasks – this can improve business operations and outcomes as a result.

Lower operational costs – not only for the IT service desk but also thanks to improved employee productivity.

Improved service and support accessibility, with self-service portals available 24x7 and perhaps when the IT service desk is shut.

Better performance and improvement insights.
However, these benefits rely on self-service portal success, which depends on using the following best practices.
10 self-service portal best practices
If you're starting or looking to improve what's already in place, the following ten self-service portal best practices will help your organization create or enhance a self-service portal so employees or customers use it:
Make improving the employee experience the primary motivation.

Design your self-service portal around what employees want and expect.

Make the self-service portal easy to find.

Make it simple to use.

Recognize the importance of knowledge articles.

Leverage automation.

Offer a choice of access channels.

Realize that a self-service portal will need to continue to evolve.

Ensure Enterprise Service Management needs are considered.

Market the self-service portal initially and over time.
Let's take a closer look at each of them.
1. Make improving the employee experience the primary motivation
While a self-service portal provides the opportunity for "better, faster, cheaper" service and support capabilities, starting with the right motivation or driver is essential. It resembles the famous business quote, "start with the why."
Ultimately, it will not deliver the promised cost savings if employees don't use it. Hence, design and deliver a portal that employees use, and cost savings will follow – perhaps these ideas and examples for designing a self-service portal can be helpful.
2. Design your self-service portal around what employees want and expect
This is an extension of the first best practice. Likely, employees will only use your portal if the offered capabilities align with their ways of working and expectations of such a capability. Instead, employees will try to keep using what works for them – for example, the telephone IT support channel.
To avoid the proliferation of informal communication channels, you can use InvGate Service Desk's email, Microsoft Teams, and Zapier integrations to offer omnichannel support all within the platform.
3. Make the self-service portal easy to find
This one is an obvious best practice – if employees can't locate the IT self-service portal, they won't use it. However, the same is true if accessing it is difficult. Again, if a self-service portal makes accessing service and support harder, employees will keep using what they know works for them.
4. Make it simple to use
The point of a portal is to make access to service and support faster and more convenient. This includes how the employee needs related to help, information, service, and change are handled via the self-service capabilities. This best practice ties in with the earlier points: navigability and accessibility to solutions.
Personalization helps with this. If the agents can file the service desk information about the employee, it will speed up use and delivers better solutions. For instance, InvGate Service Desk allows them to access an open-ended way to create notes on the customer's expectations.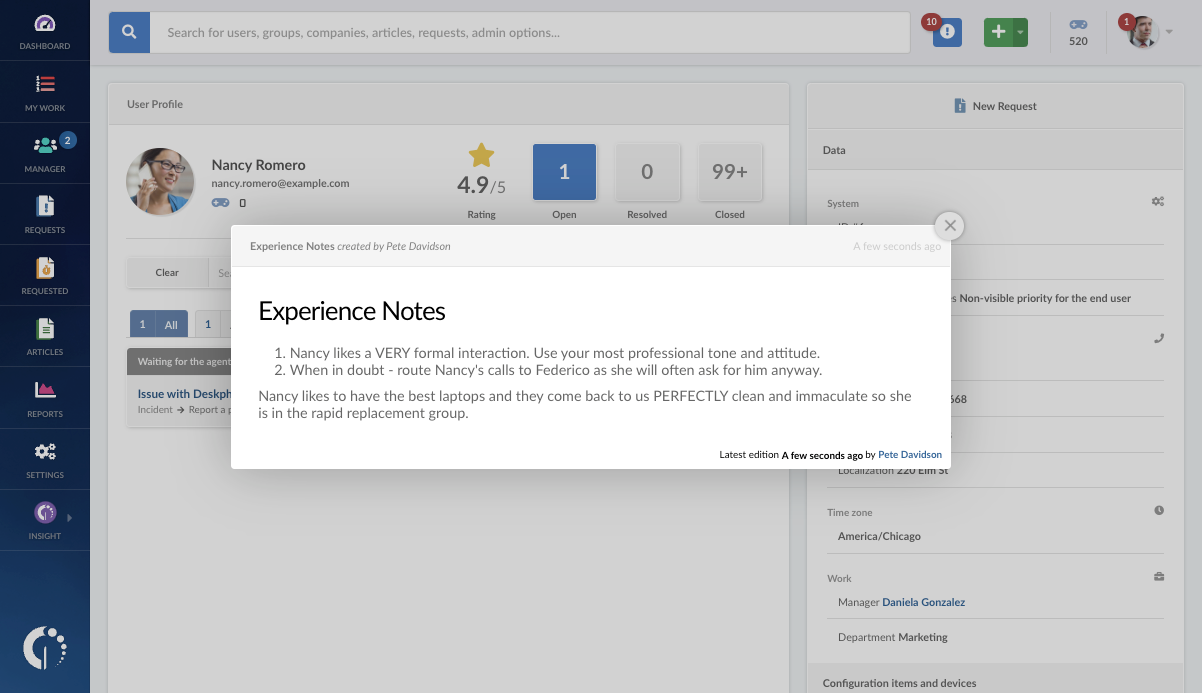 5. Recognize the importance of knowledge articles
While a self-service portal offers employees and customers more than access to helpful knowledge articles, knowledge availability, and design are critical to self-service success.
Before launching a new portal, ensure that knowledge articles related to the most common questions and issues are available. If they aren't, the initial failure to find help will prevent repeat visits.
But knowledge availability is only part of the need. Knowledge articles must also be easy to read and the required information easy to access – to get help on this matter, you can check out these tips to write good knowledge base articles.
6. Leverage automation
The key to this best practice is understanding that employees expect more than a shiny self-service portal front-end. If it simply captures demand rather than providing solutions through automated capabilities, there's a little benefit over merely sending an email to the service desk. Automation can be used to provision against both new service requests and the need for issue remediation.
7. Offer a choice of access channels
While the benefits of an IT portal should encourage its use, don't think it can completely replace the traditional service and support access channels. For example, some issues might require immediate access to human-based support. So, in addition to the portal, continue to provide alternative channels such as telephone, email, chat, and even walk-up to meet different employee preferences and needs.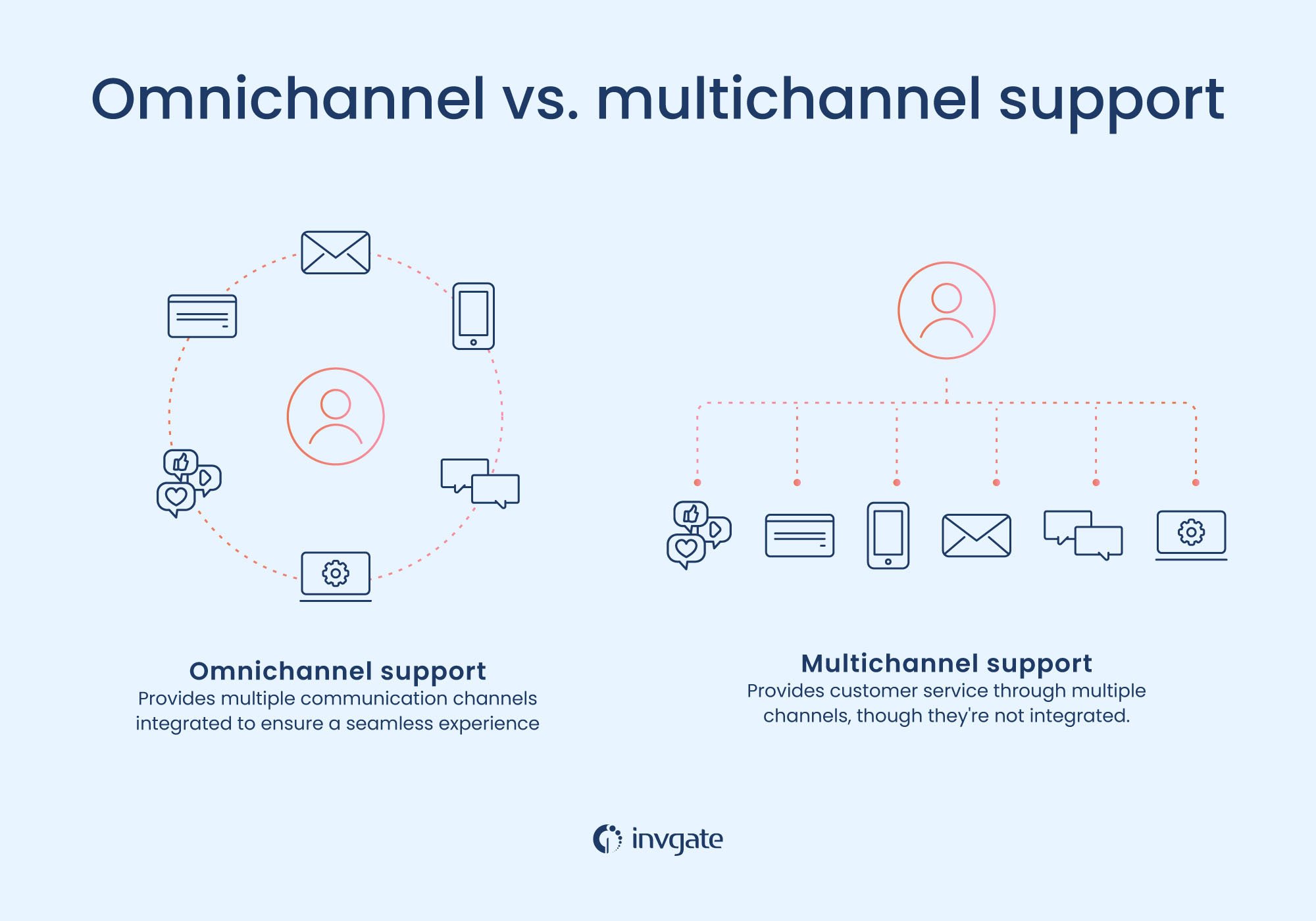 8. Realize that a portal will need to continue to evolve
The introduction of a portal is not a "one-and-done" project. Many factors will drive improvements and other changes, such as:
Changing employee expectations based on their consumer-world experiences.

New technology capabilities that improve the self-service experience.

End-user feedback

, especially where the self-service experience was not as expected.
To address this, it's advisable to have continual improvement methods in place to seize the highest priority issues and opportunities.
9. Ensure Enterprise Service Management needs are considered
While a self-service portal might start as an IT support capability, portals are the ITSM tool element most commonly adopted in Enterprise Service Management (ESM) strategies. So, don't deliver just an IT portal when working on this approach. Instead, seek to accommodate the use of the portal in the context of the additional line of business use cases. Also, ensure that any of its capabilities are optimized before sharing them with other lines of business.
10. Market the self-service portal, initially and over time
A new self-service portal won't sell itself. Instead, the new capabilities and benefits must be sold or marketed to employees. This effort should start early, ramp up before "go live," and continue after implementation to help encourage higher employee adoption levels.
8 self-service absolute don'ts to avoid
While knowing what other organizations have done to succeed with their self-service portals is great, knowing the potential pitfalls is also essential. These are eight bad practices to avoid – i.e., the things that shouldn't be done under any circumstances – to improve the probability of success.
1. Don't make cost reduction the primary driver
While self-service portals can reduce service and support costs, this only happens when this feature is sufficiently used. The use is driven by what employees or customers think of its worth. So, if your portal is focused entirely on saving money and not improving the user experience (and their ability to do what they need), they will likely not use it, and the potential cost savings will be forgone.
2. Don't create a self-service portal based on "IT thinking"
While a portal is the technology-based enablement of people, it's unwise to allow IT personnel to drive its design. Instead, view it as people enablement, requiring employees or customers to be front and center in its design. Failure to do this will leave your organization with a self-service portal people don't want to use (and they won't).
3. Don't start without investment in OCM tools and techniques
Introducing a self-service portal is a people change because it affects traditional work methods, not simply a technology-based change. Organizational Change Management (OCM) tools and techniques, such as those shared in ITIL 4, will help deliver the required people change, from helping to achieve employee buy-in and reducing the likely resistance to change to providing the necessary communications, education, and marketing to help the portal succeed.
4. Don't place portal capabilities in front of poor processes
Adding a portal doesn't magically improve service and support capabilities. Without fit-for-purpose back-end processes, including Knowledge Management, employees will have similar suboptimal experiences for Incident Management and Service Request Management as they would with the traditional service and support access channels.
5. Don't use IT terminology
This "don't" aligns with the best practice of designing a self-service portal around the users, not IT thinking. Quite simply, the use of technical terms will only hinder users. So ensure your portal uses the correct language – from the capability descriptors to the knowledge articles provided for self-help.
6. Don't forget to measure self-service success from the outset
As with anything new, the only way to accurately measure the benefits is to start with a baseline. And measure what matters most to employees and customers, not simply what the IT organization deems important indicators of self-service portal success. The employed metrics are also vital for the ongoing improvement of the self-service capabilities.
7. Don't forget to review your knowledge articles regularly
In the same way that introducing a portal is not a "one-and-done" thing, there's also a need to ensure that the available knowledge articles remain fit for purpose. Over time, some will need updating, others will need decommissioning, and new knowledge articles will be required.
8. Don't ignore user feedback
While this can be considered part of the performance measurement portfolio used to assess ongoing self-service portal success, it's essential to appreciate that the only accurate measure of self-service success is the opinion of the users. For example, usage levels might rise, but the experience and lost productivity levels could still be lower than traditional service and support access channels. Here, self-service might save the service provider money, but the business as a whole is losing out.
Key takeaways
Self-service portals offer a wide range of benefits to service provider organizations, but only if best practices are employed in the design and delivery.
So, when building (or optimizing it), make sure to keep in mind the following:
All self-service capabilities have to be designed with the user in mind - Use natural language, avoid jargon, make it easy to find and use, and create a design that matches the users' expectations.


Don't reduce your support contact points to the portal - Offer omnichannel support to serve your users better.


Take advantage of an ESM perspective - If your company is transitioning to an ESM strategy, including this perspective in your portal is essential to its adoption.



Always measure and improve what you have - Monitor service portal usage and employee satisfaction to spot improvement opportunities and gaps in knowledge.
Lastly, make sure to have the right tool to implement best practices efficiently and effectively. If you want to explore what InvGate Service Desk can do for you, explore the live demo or ask for a 30-day free trial.