If you're tasked with writing knowledge base articles, you might wonder how to make your content compelling. After all, the whole point of a knowledge base is to provide users with the information needed, so it's essential to get it right. This is how your company communicates instructions, processes, and more, thus becoming a key part of customer support.
In that regard, we know that when it comes to writing these types of articles, there's a lot of pressure on IT support staff to be clear, concise, and helpful. Plus, it can be tough to know where to start, especially when you're under the gun for a quick turnaround.
To help you out, we asked a few marketing experts to share their tips for designing effective knowledge base content. They create content for a living, so they have a couple of secrets under the sleeve to make it compelling.
Keep reading to find out the things you need to ensure your pieces are helpful in the end.
How to write a good knowledge base article? Marketers' tips to nail it
If you're ever stuck on something, or need to know how to do something, chances are there's a knowledge base article for it. And if there isn't, that's where you come in!
Knowledge base articles are part of a company's Knowledge Management practice, and they exist to fill a knowledge gap. They make the users' life easier – and the help desk agents' job more effective. In a sense, they're like a cross between a FAQ and a blog post. But even though they are usually internal communications, you want people to read them because that will imply that they self-resolve the issue and don't contact the help desk. The more compelling they are, the more issues they'll resolve (and that's less work for you!).
So, once you have chosen a topic to write about, it's time to take note of these insightful tips.
1. Keep it straightforward
Knowledge base articles are not the place for technical jargon. The goal is to help users find the answers they need, in the simplest way possible. In this sense, the experts recommend:
Always try to stay focused on the topic and stay on point. It will help keep your readers engaged and ensure they get the required information.


Take the time to consider what your audience is looking for and how you can best provide that information. Knowledge base articles should be solution-oriented, so don't forget to make that your focus point.


If you need to cover multiple topics, consider creating separate articles for each one.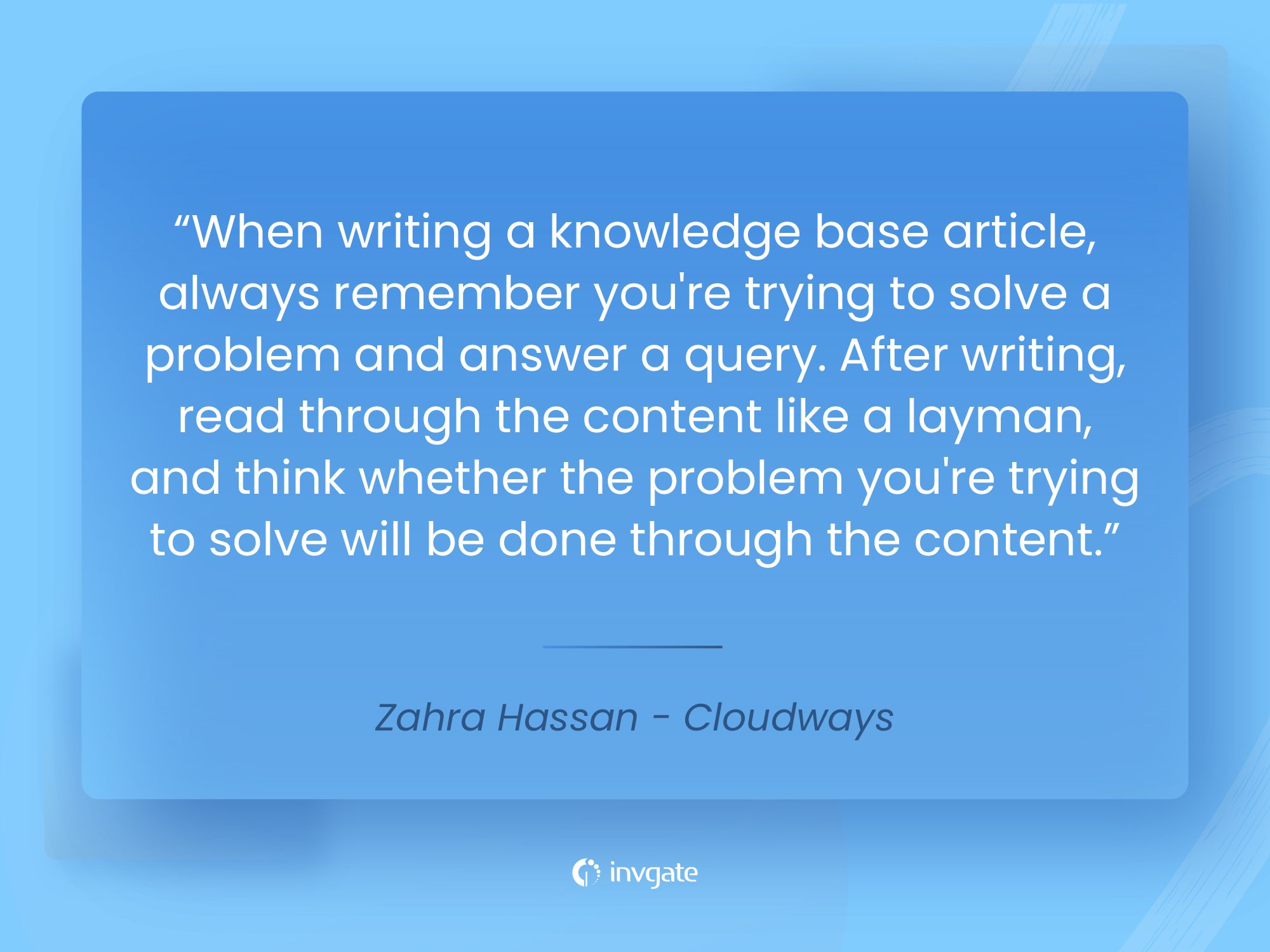 2. Use keywords wisely
A crucial part of selecting the topic and writing the content is to choose the exact words people would use to look for that information. So, be sure to include relevant keywords, so users can easily find your articles and navigate them as if they were good blog posts. However, there's no need to stuff keywords unnecessarily — this will make your writing harder to read and less likely to be found by users.
3. Make use of formatting options
Breaking up your content with headings, lists, and other formatting options makes it easier to scan and digest. This is especially important for knowledge base articles, as users often look for specific information and don't want to wade through paragraphs of text. Neelam Goswami from Narrato illustrates how to structure your articles well for better readability since "the easier it is to skim through the content, the more helpful it is to the user."
Make sure to use H1, H2, and H3 headings wherever applicable.
Use bulleted lists.
Format bold text and italics when needed.
Include tables and graphs.
Headings can break up your article into smaller, more manageable sections. Lists should be there to highlight key points or provide step-by-step instructions (see what we did in this section, for instance?).
Tables and graphs are ideal for presenting data clearly and concisely. After you've established a solid structure, it's a good idea to include a table of contents with anchor links so that readers may go directly to the portion they require. This is particularly useful for more experienced individuals who might prefer to skip over the basics.
4. Consider the occasion
Keep your tone of voice consistent throughout the article. For example, if you're writing a how-to guide, you'll want to maintain a serious, instructional tone. On the other hand, if you're writing an article about a new product release, a more lighthearted and enthusiastic tone may be more appropriate. The ultimate aim is to keep your writing interesting without sacrificing clarity.
But what if you want to add a bit of personality to your writing? Here are some tips:
Use humor sparingly. A little goes a long way in knowledge base articles. If you're not sure whether something is funny, err on the side of caution. Free emojis can be helpful to make humor evidently, but use them wisely (and only if it aligns with your brand).


Be relatable. Write as if you're speaking to a friend. This will make your articles more approachable and easier to read.


Be clear. Above all, make sure your articles are easy to understand. Use simple language, and never miss the focus of what you're trying to communicate.
Another thing to consider regarding the occasion is if you are the right person to write a said article. Maybe you know more about some topics than others, and in some instances, you might need a hand.
This is because it "is nearly impossible to do if you are not an expert, or at least very familiar with the topic/niche you are writing about. If you don't know enough about a given topic, it would be near impossible to provide readers with unique tips and suggestions that bring value", Nebojsa Rakic from Get Results Link Building thinks. So, you should reach out to your colleagues, and we know that outreach can bring you a lot of insights.
The above is essential. To bring a breath of fresh air to long-worn topics, you should create content based on experience.
5. Use multimedia resources
Try using multimedia resources to help inspire you, and to nurture your knowledge base articles.
On the one hand, videos, podcasts, and even infographics can be excellent sources of information and can help you get your creative juices flowing. So don't be afraid to explore all the different types of content out there – you might just find the perfect piece to help you get started on your knowledge base article.
On the other hand, including multimedia resources in your articles is a great way to make them more engaging. Screenshots can be incredibly helpful, so use them when appropriate. They'll help your readers understand what you're trying to say, and can also be a lifesaver regarding complex technical instructions. Plus, they can print or save them, so that they can have them at hand when needed!
These are all vital elements of creating successful articles. To illustrate this, Mariya Fox from Branex advises to show, don't tell: "Instead of telling them how to perform a particular action, illustrate it with a step-by-step tutorial or visual content such as video or GIF." And Zahra Hassan from Cloudways agrees, "it makes content more engaging as well as easier to understand."
6. Edit your outcome
Small details can make a big difference in knowledge base articles. Be sure to proofread your article carefully before publishing, and consider having someone else take a look as well. An article that is free of errors and typos will help instill confidence in your readers and show that you are committed to providing accurate and up-to-date information, meaning your readers will have a positive experience.
Remember that this text aims to offer a satisfactory solution to a problem. Hence, it is your task to check if that is the case. In this sense, Zahra Hassan from Cloudways advises: "After writing, read through the content like a layman and think whether the problem you're trying to solve will be done through the content."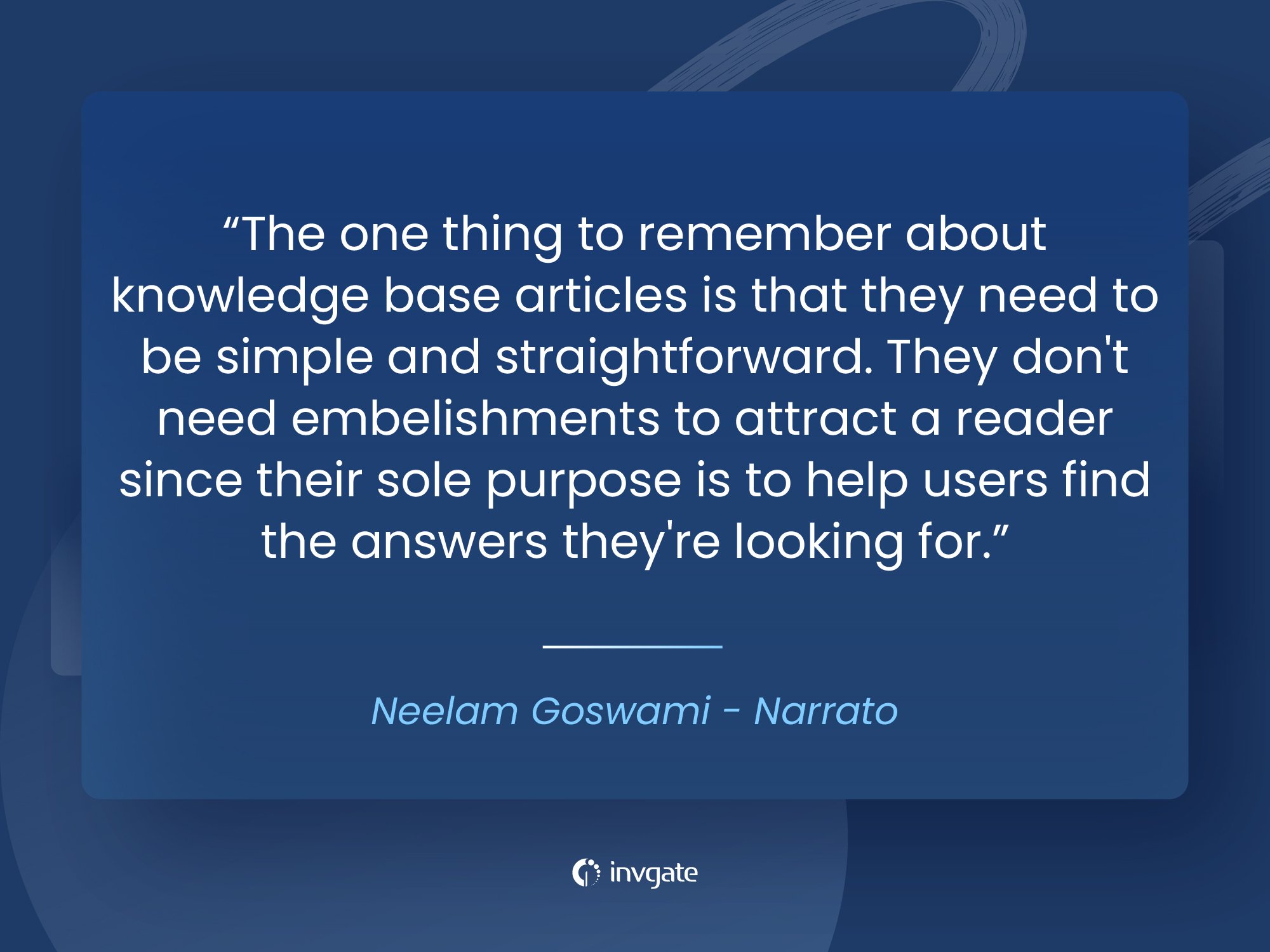 7. Keep it updated
As new information becomes available, be sure to update your knowledge base article accordingly. If readers spot errors with any updates or features they can't see now, it will undermine the credibility of your article and may cause them to look elsewhere for information. This will help ensure that users consistently access the most up-to-date information.
There's no perfect knowledge base, but those close to it commit to continuous content improvement. How do you manage it? With data and customer feedback leading the way. So use your metrics as a tool to update your content!
Final thoughts
If you're tasked with writing knowledge base articles, Shariq Hussain from Cloudways sums the correct approach pretty well:
So, first and foremost, it's essential to always try to stay focused on the topic at hand. It can be easy to get sidetracked when researching or writing, but if you lose focus, your article will suffer for it.
It's also crucial to write for your audience. Ask yourself who will read your article and what they want to know. Chances are, they'll be looking for a solution to a problem, so make sure your article provides that.
To make your article more engaging, craft a compelling headline and add videos or images where appropriate — for this, free video editors are a great ally. And don't forget to infuse your unique brand voice into the piece.
In short:
Write in a clear, concise, and easy-to-understand style.
Use simple language and avoid jargon.
Organize your article into sections and use headings and subheadings to help readers find the necessary information.
Include relevant keywords to help people find your article.
Use images, diagrams, or screenshots to break up text and make your article more visually appealing.
Check your article for spelling and grammar errors before you publish it.