When looking at blogs and articles that share IT asset management (ITAM) best practices and tips, they often assume that there's an ITAM tool, or at least an IT service management (ITSM) tool, in place. However, as an ITSM tool and ITAM tool vendor, we know that this isn't always the case.
Moreover, in many ways, it can be hard to justify a new ITSM or ITAM tool when you don't already have one – even if simply from an "if it ain't broke, don't fix it" perspective. There are, of course, many benefits that come with ITSM and ITAM tools, but those aren't for this blog.
Instead, we want to share some simple ways in which your organization can start to manage its IT assets better, even if there's no ITSM or ITAM tool in place.
1. Start by understanding the organizational need for ITAM
It might sound as an obvious thing to do, but it's important to realize the many roles or benefits of ITAM. Because this will influence how you do ITAM and the people/teams that you need to involve in setting up your initial ITAM capabilities. For example, ITAM can be used to:
Protect company assets from loss
Ensure compliance with software licensing agreements and legislation
Support the IT service desk and its remediation and provisioning activities
Identify assets that need replacing (or potentially "sweating" to garner greater value from them)
Negotiate better sourcing deals
Invoke third-party support and maintenance agreements when needed
Save money
Inform project-based decision making.
Plus, it'll help to ensure that ITAM isn't something you're doing just because it's a "good thing to do."
2. "Start where you are"
If you've been exposed to ITIL 4, then you'll recognize that this subtitle is borrowed from ITIL 4's seven Guiding Principles. It means that there's likely not a need to start from scratch, with many helpful activities and information sources already in place.
For example, there might already be an Excel or Google Sheets lists of hardware somewhere in the organization – maybe held by the procurement person/team. Or the IT service desk might record asset details – either the serial number or asset tag – while delivering support or provisioning services. Or network scanning tools might be recording the assets – both hardware and software – on the network and who's using them.
This assessment of the status quo can be combined with the first point re working out where ITAM will help and who to involve as there's likely an overlap.
3. Agree on the key areas for the initial focus
ITAM can be a little like the proverbial "boiling the ocean." So, For example, if your organization is looking to reduce IT asset costs in the short term, then there's the work out what will deliver the biggest business benefits out of the potentially long list of opportunities and match this to the available resources and information sources.
opportunity to use ITAM to prevent expenditure on new assets unless absolutely necessary. This starts with considering how best to use those resources and data to understand what your company's IT asset estate currently looks like.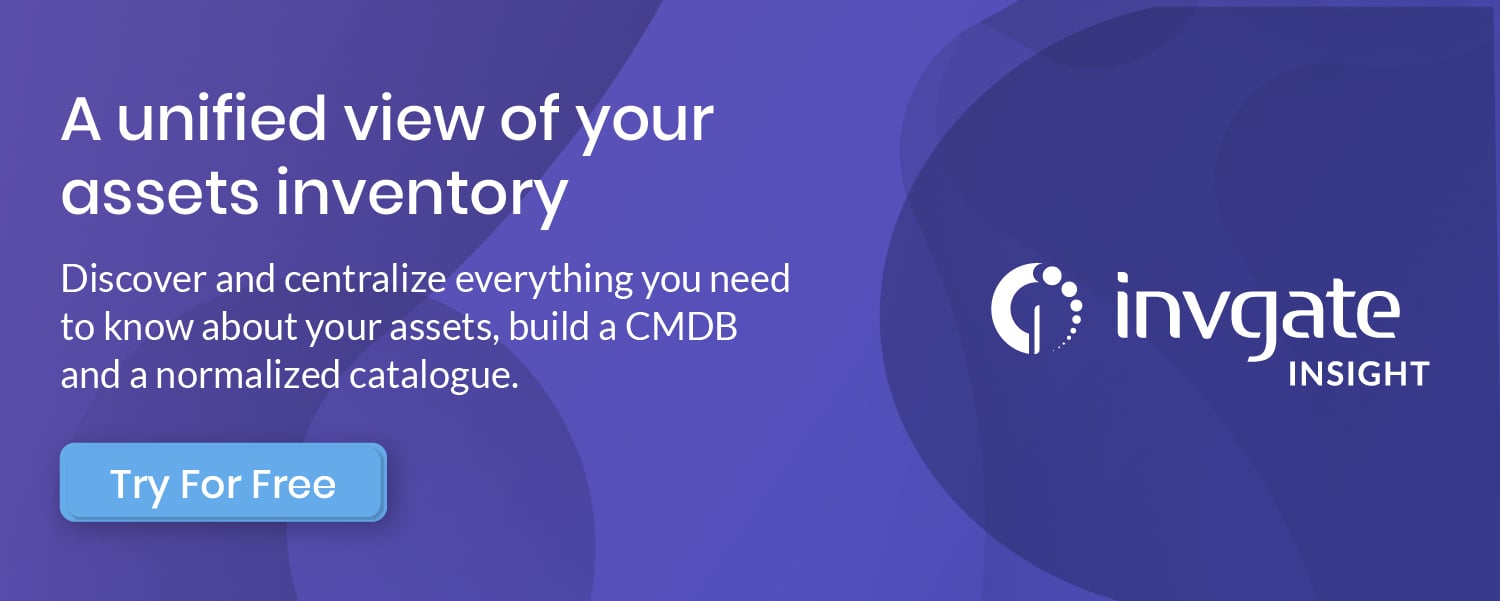 4. Pull together an asset inventory as soon as possible
Much of what you will do with ITAM will rely on your organization having a trusted source of IT asset information. This will likely be the consolidation of information from various sources, some of which we've already mentioned.
So, start by finding existing asset inventories/registers. They'll likely be incomplete and inaccurate but it's a start. Bring in incident and service request data from the IT service desk or your IT support team's records. Bring in any related purchasing data too.
A quick win would be using network monitoring data if available. Because this not only shows the assets being used on the network but also by whom. It also allows you to flag up assets that your organization should still have but that don't appear to be being used on the network. This is a great starting point for claiming back and redistributing assets rather than needing to purchase new ones.
5. Target dormant assets for redistribution
Continuing the example of your organization wanting to reduce IT asset spend, the list of IT assets not appearing on the network in the last month, say, is a great platform for identifying cost savings. Although you might need to put this threshold further back if homeworking is affecting the results of the network monitoring tool(s).
The logic here is that if an IT asset hasn't been seen on the network then it might not be being used and the challenge is then to track it down. It might still be being used but infrequently, especially if some employees have multiple devices when they don't need them. Or it might have been left dormant on a desk or in a drawer – if you have "last known user" data, then it can be quickly tracked down.
There might also be issues with your organization's leavers procedures, that IT assets aren't collected from employees when they leave. Or they might be in a line manager's drawer. Track these leaver assets down – with analysis of HR data on leavers also a good way to identify these "missing" assets and to attempt to get them returned for redistribution.
By doing all this, your IT asset inventory will start to become clearer in terms of which IT assets are legitimately being used, and which are dormant and ripe for being reused, are duplicate issues (and are again ripe for reuse), have "left" the organization with there still hope of retrieval, or are "lost" and need to be written off.
6. Don't forget the software assets
For the retrieved physical hardware assets, there are also software assets that can be "re-harvested" and redistributed to further save money. But this is just the start of the art of the software asset management (SAM) possible. Expect to read more about this in a future ITAM blog.
Until now, we have focused on what can be done to improve ITAM without an ITAM tool (and perhaps even an ITSM tool). There's, of course, more that can be done – with and without fit-for-purpose tooling – but, hopefully, this has you thinking about how your organization can start to take control of its IT assets.