The tier 1 help desk is one of the most essential aspects of effective IT support. Done well, it can engage with end-users, and act as a single point of contact for colleague faults, requests, feedback, and questions, as well as an escalation point to other services.
Even though it's only the second layer in the 5 levels of IT support, all too often the tier 1 aspect of support is overworked and underappreciated. So it's time to change that! Use this guide to fully understand what the help desk level 1 entails, examples, benefits, and advice on when to further scale requests.
Ready to improve your tier 1 offering? Let's go!
What is a tier 1 help desk?
Level 1 is generally considered the first line of person-to-person contact in IT support. If tier 0 of support was technology-driven (with self-service portals, AI, and chatbots as the key players), this one is about human interaction. Self-service is a valuable tool in any IT support mechanism but we still need people to deal with complex issues (or when the end-user wants to speak to a human).
The tier 1 help desk typically handles routine issues and requests that self-service cannot solve. Its role is to provide a point of contact for end-users, responsible for managing customer queries, and simple troubleshooting. They are also the interface or gateway between the customer and other tiers of IT support, fixing what they can at the first point of contact and escalating everything else to the remaining tiers in the operating model.
What does a tier 1 help desk do?
These are some of the most common tier 1 help desk tasks:
Act as the single point of contact between the end-user and the IT department.

Act as the "face" of IT.

Log all incidents and service requests.

Provide updates on tickets that are in flight.

Provide closure details.

It can be best placed to signpost the end-user to other resources.
Benefits of having a support tier 1
There are three basic benefits of having a support tier 1:
Single point of contact

- The tier 1 helpdesk retains ownership of the incident or request no matter what level it escalates to, meaning that nothing gets lost, ignored, or forgotten about.



Human touch

- Customer service skills are a crucial tenet of tier 1 support since this line in the support tier has the most direct customer contact.



Act as a filter

- The leading superpower associated with tier 1 technicians is that they're IT support generalists. They know the support basics of most (if not all) services used by the organization. This allows them to resolve most issues, freeing up tiers 2, 3, and 4 for more complicated faults.
Help desk analyst tier 1
A good tier 1 help desk analyst will balance technical knowledge with customer service skills. So, when hiring team members, remember that you can always teach technical skills (which is valid for all IT roles), but people skills are harder to develop.

"[The hiring manager] asked me, 'Why should I hire you when you have no IT experience?', and I told him straight up, 'I don't have experience right now but I'll have experience once you give me an opportunity to learn in the company. The reason you should hire me is because I have soft skills, and I'm good with people. (...) I could learn all the IT stuff, but you can't teach soft skills'."

Kevin Apolinario
Senior Desktop Engineer at Confidential
Episode 22 of Ticket Volume
Once a new colleague joins the team, make sure they have time to shadow the rest of the help desk technicians, and that they have basic training on all commonly used applications (having an internal knowledge base would make all the difference here). This will help them to quickly identify and resolve the most frequently occurring issues.
It can be tempting to let them take calls immediately, particularly if your team is under pressure, but no one likes being thrown in at the deep end. If your newbie doesn't have the proper training, they'll end up causing more issues than they fix – for example, missing key details when logging the ticket or assigning it to the wrong team.
The more issues your help desk can catch at the first point of contact, the quicker your users can get back to their day job. Make sure you're geared up to fix as many issues as possible by ensuring that all team members have regular training, knowledge-sharing sessions, and access to support resources.
Help desk tier 1 responsibilities
The responsibilities of help desk tier 1 include:
Providing end-user tech support via help desk channels (this could consist of phone, email, Teams, or web chat).

Troubleshooting technical issues.

User account management (for example, account creation, assigning permissions, or password resets).

Escalating incidents that cannot be resolved to the next level of support in line with

service level agreements (SLAs)

.

Identifying potential

major incidents

and problems, and highlighting them to management.

Updating users on the status of their incident or service request.

Providing

proactive maintenance

on client devices as appropriate, for example, ensuring

security patches

are installed, and corporate applications are up to date.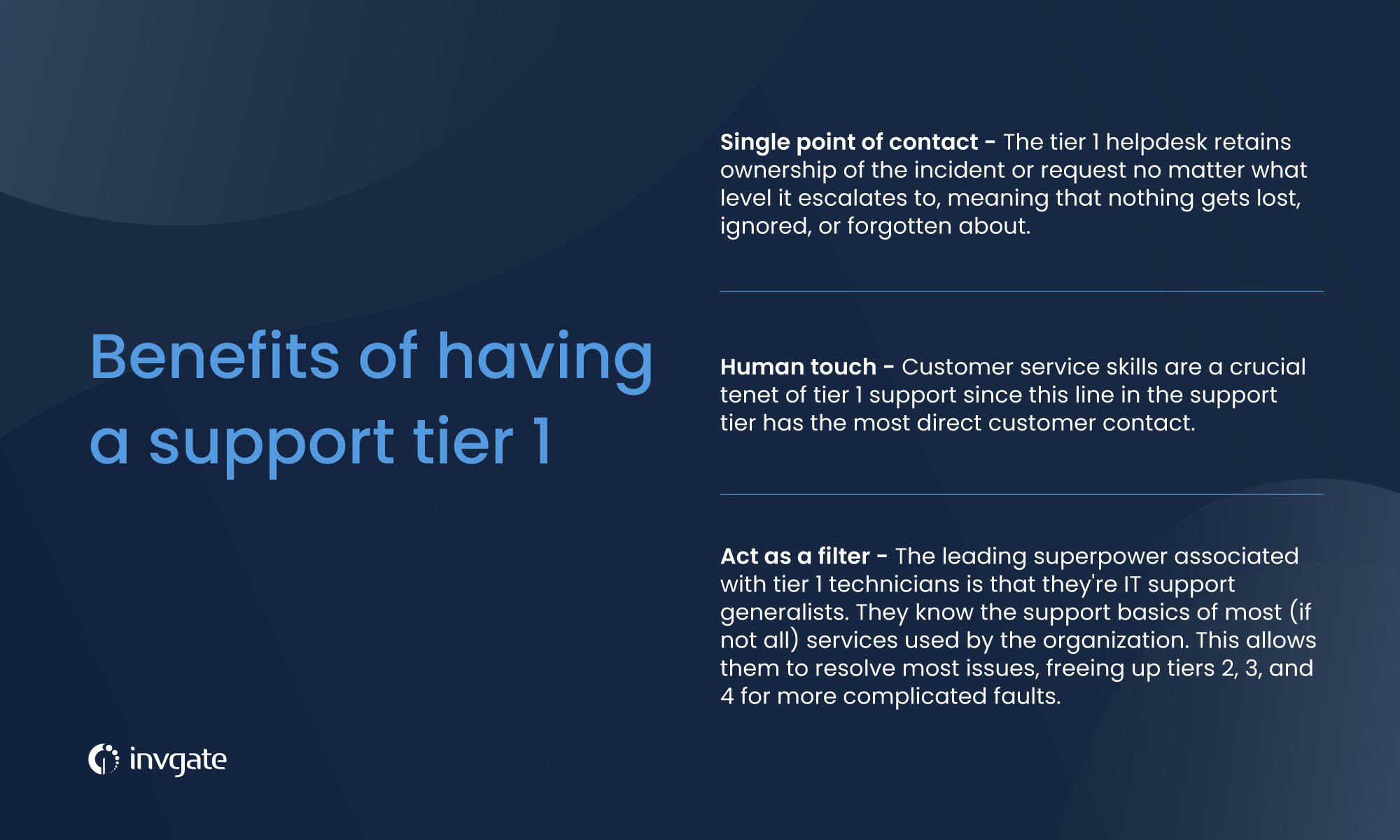 Help desk tier 1 skills
We already hinted at some of the abilities help desk tier 1 analysts should have, but here's a more extensive list of required skills:
Troubleshooting and technical support experience.

Customer service.

Empathy and being able to relate to the end-user.

Listening.

Strong communication skills.

Teamwork (tier 1 environment will involve working closely with colleagues in other support teams as well as the helpdesk, often in a fast-paced and pressurized environment).
Tier 1 help desk vs. tier 2: what's the difference?
Many people get confused by the difference between tiers 1 and 2, so let's keep it simple. Tier 1 acts as the first line of human-to-human support interactions. Its analysts deal with routine support issues that can typically be resolved in ten minutes or less.
Meanwhile, second-line support is there for the most complex problems that require more detailed troubleshooting and potentially specialized resources.
Tier 1 support examples
Tier 1 support is beneficial in the following situations:
Logging urgent incidents and checking for major incidents.

Troubleshooting routine incidents and fixing them at the first point of contact.

Capturing further details and documenting recovery attempts before escalating to the next line of support when the issue can't be fixed at tier 1.

Checking

available software licenses

as part of the software request process.

Ordering new hardware or equipment.

Workstation patch management.

Updating the end-user.
When to scale tickets to tier 2
An incident needs to be escalated to the next tier of support when the issue cannot be fixed at the tier 1 stage.
In general, a support case will need to be looked at by tier 2 when the ticket is complex or needs special equipment or other resources. ITIL recognizes functional escalations as a core component of the Incident Management practice, and they focus on technical skills. For example, if the tier 1 help desk agent can't fix an issue over the phone, they might pass it to tier 2 support, who have more specialized knowledge.
When planning for escalation, ensure there is a defined process, and the right people are mapped out. Some examples include:
If the issue is complex.

If the issue requires a particular skill set.

If the issue is related to an externally supported service.

If the issue needs someone to attend the site, as many tiers 1 tasks are typically carried out remotely.
In conclusion
Providing tier 1 support can be a game changer for your support offering. Just keep in mind the following when creating it:
Tier 1 is all about balancing technical ability with customer service skills.


Key tier 1 activities include dealing with routine incidents and service requests, escalating more complex tickets to the next line of support, answering questions, and keeping the end user updated on the status of their call.


Key skills include troubleshooting, customer service, and being comfortable talking to everyone in the business, from the CEO to an intern.



Clear escalation pathways should be in place for when the issue needs to be progressed to the next level of support.
Frequently Asked Questions
How many people should I have on the help desk tier 1?
The answer is that it depends on many factors, such as the size of your organization, your IT ecosystem's complexity, and your colleagues' support needs. If you're struggling with numbers, look at how many calls your service desk takes daily and staff accordingly.
What measurements, KPIs, or other reports would be helpful for tier 1 tech support?
Some good starting measurements would be the number of contacts by channel, first-time fix rate versus escalation rate, and speed of response.
What kind of training or certifications would be helpful at the help desk tier 1?
Valuable qualifications include the ITIL Foundation and the Service Desk Institute service desk analyst certificate.