Creating a business plan is hard in itself, but keeping it during a crisis requires a high level of expertise. Luckily, you can prepare your company for disruptive situations beforehand with the help of business continuity planning.
Since the pandemic, we're even more aware of how disasters and disruptions can hit anyone, any industry, in any way or form. It disrupted supply chains, made a majority of the workforce work from home, and introduced a rapid lifestyle shift all over the world.
Covid-19 showed everyone the importance of planning for business continuity and disaster recovery. So, let's explore how to do it!
What is business continuity planning?
Business continuity planning is used to prepare an organization for any disruption in its processes and to bring them all back online. For example, businesses may plan for a fire that takes out their data centers, a service desk outage, or a cyber attack taking down their entire network.
The goal of business continuity planning is to develop responses against any event that may prevent the organization from delivering its services. In this sense, the plan attempts to mitigate the effects of such events, prevent revenue loss, and continue delivering its services with the least amount of interruptions.
This ability of an organization to withstand the effects of its environment has been referred to as resilience or strategic resilience.
What does a business continuity plan typically include?
A business continuity plan details the steps and instructions to follow in case of a disruptive event. It typically includes thorough checklists on available equipment, emergency procedures, and data backups. They also include the responsibilities assigned to different personnel, as well as emergency contact information.
The plan also contains a prioritized list of the organization's most critical processes so that resources can be allocated accordingly. The continuity plan should also have tried and tested strategies to mitigate the risks of each of these critical components.
It's essential that the plan also includes strategies to be implemented before a disaster strikes – or even before you know a disaster is imminent.
For instance, you can keep an updated list of vendors for key services in case your service provider is suddenly unable to. Or you can keep your data backed up every week or so in a secure location in case there's a cyber attack.
Of course, the exact components of the plan may vary depending on the scale and type of business. If a business manages multiple data centers, the business continuity management plan will have multiple redundancies for these data centers. But if a company relies on a public cloud vendor, they can mitigate the risks of a data center failure as the vendor essentially takes on that risk.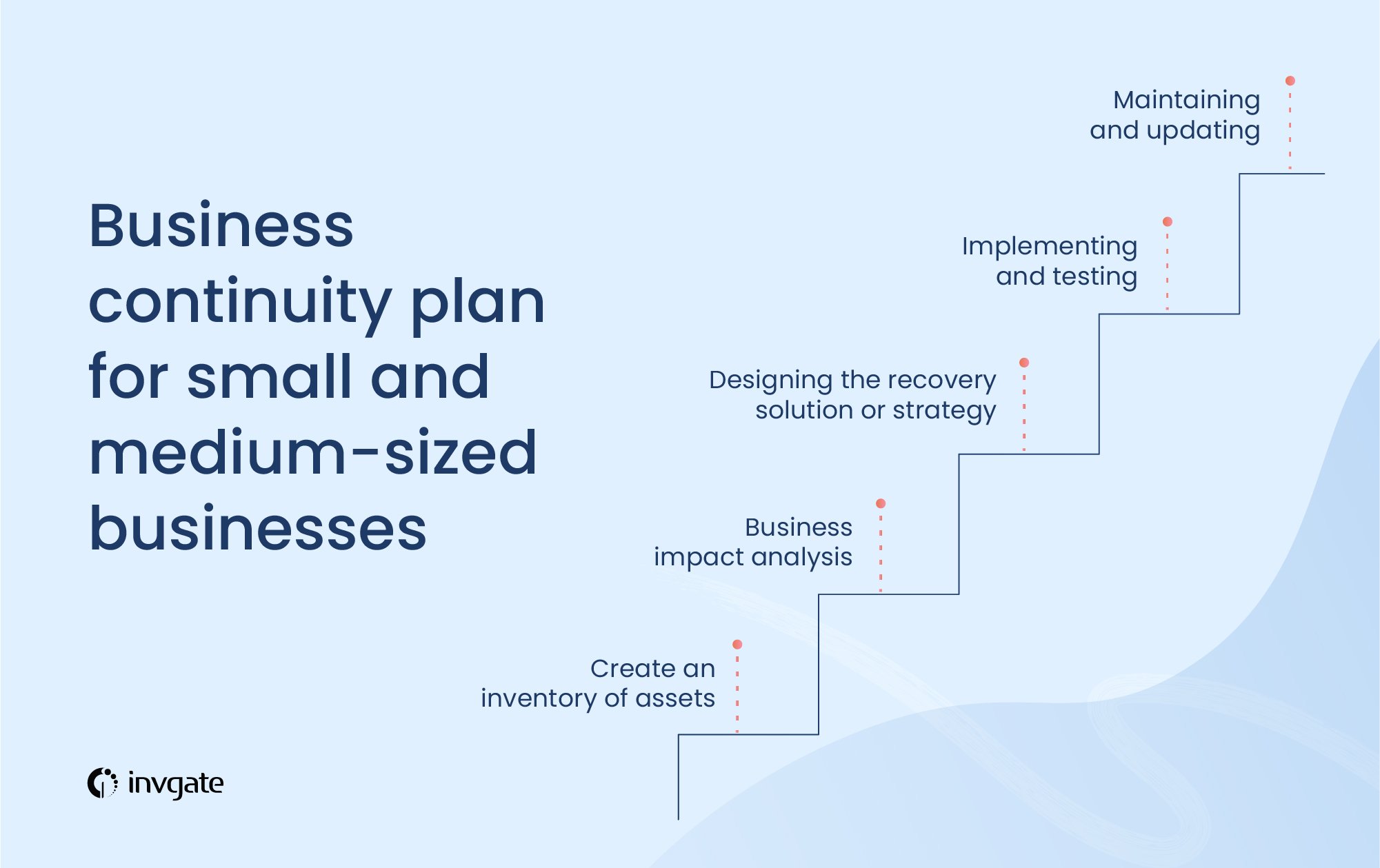 5 benefits of business continuity planning
In short, the benefits of business continuity planning are:
It keeps business processes during and after a disruptive event.
It helps prevent losses and disruption of revenue streams.
It also improves customer satisfaction and business reputation.
It reduces the exposure to financial or legal risks.
It can potentially save lives.
Let's take a closer look at each of them.
1. It keeps business processes during and after a disruptive event
This is the main goal of the business continuity and disaster recovery plan. The plan helps organizations get back on track without spending time developing a plan haphazardly right after a disaster.
2. It helps prevent losses and disruption of revenue streams
Business disruptions tend to be costly. Aside from the potential damage to company property, they can also stop revenue streams as customers are unable to access the services.
Disruptions to the workplace like the ones we witnessed during the pandemic can bring the entire workforce to a standstill draining money and nothing to show for it.
Business continuity plans reduce the possibility of business disruptions – for example, they can prevent hardware failure by regular monitoring. Plus, in case of unavoidable disruptions, the plan can mitigate the financial damage.
3. It improves customer satisfaction and business reputation
Customers expect a certain quality of service from their vendors. In fact, B2B companies specify the required availability standards. Even within these limits, service disruptions can create a poor customer experience.
Frequent service disruptions can also affect the business's reputation. If the industry loses its faith in your ability to provide reliable services, it can even mean the end of your business.
In this scenario, a business continuity plan can ensure that your services are available according to the SLA even during major disaster events. Moreover, it can confer you a business advantage over your competition. And a strong reputation as a reliable service provider can bring you more customers and business.
4. It reduces the exposure to financial or legal risks
Besides the potential loss of assets and your revenue streams drying up, you can also be liable for compensating your customers if the service disruption exceeds the limits specified in the SLA.
What is more, you could have legal issues if the service disruption puts your customers or end-users at risk. Actually, sectors like medical or financial institutions have specific laws and regulations mandating the delivery of services. Breaching these rules can put the organization liable for severe fines and may even include criminal prosecution.
5. It can potentially save lives
Natural disasters are one of the common causes of business disruption and are usually accounted for in business continuity plans.
Responses to natural disasters cover both the organization's assets and its employees. And they contemplate plans for safely evacuating them in the shortest time and preventing loss of life.
Besides this, they also involve steps to reduce the possibility of accidents such as fires, which can cost lives.
What are the potential drawbacks of business continuity planning?
The main drawback of business continuity planning is its cost. The process can take a lot of time and resources. It also needs highly trained professionals, which can either mean that you'll have to hire business continuity experts or work with external consultants. Either way, the planning will be expensive.
Plus, there will be additional expenses for its implementation, in the form of new redundant data storage, equipment, premises, etc. You'll also have to invest in training the employees to respond adequately in case of a disruptive event.
While these expenses can be easily accommodated by large businesses, they can be prohibitive for medium and small enterprises.
There are other drawbacks, as well, though they're related to poor execution rather than the planning itself. For instance, a poor continuity plan can give a false sense of security to the organization. And in the event of any disruption, this could spell disaster for the organization.
The same can happen when employees are not involved in the planning process. The continuity plan must assign responsibility, but it's also important that half the people in the organization are not standing and watching as the other half is running around to put out the fire.
Another issue is when plans don't cover all instances. This usually happens when business continuity plans revolve around specific events instead of critical components or processes. For example, most people never expected to face a pandemic during their lifetime. So if organizations were revolving around events – such as earthquakes, floods, or fires –, their plan may not cover pandemics. In consequence, the organization is left scrambling when an event not covered in the plan occurs.
In order to avoid this problem, the plan should revolve around the potential disruptions or failure of components in processes.
5 steps to developing a business continuity plan for small and medium-sized businesses
If you're planning on implementing a business continuity plan, here are five key steps to follow.
1. Identify the scope of the continuity plan and create an inventory of assets
Before you start working on your business continuity plan, define the scope of your plan, what aspects of your business you want to include, and your implementation budget.
For instance, if you have multiple physical locations, you can focus on just the key locations or go for the entire business at once. You can also decide what you want to be safe against – i.e. natural disasters, supply chain disruptions, factory strikes, etc. This will help you to keep your plan on track and prevent scope drift.
2. Business impact analysis
In this phase, it's time to explore how key business areas will be affected by disruptive events. For example, if you consider an app for booking dental appointments, changes in government tax rates may affect the revenue stream.
You'll also have to identify the key business functions you need to ensure business continuity, as well as the downtime acceptable for each. And don't forget to include the resources needed for each essential process in the business impact analysis.
3. Design the recovery solution or strategy
This is where you build the actual strategy based on the information from the previous phase. In this step, it's important to get a clear picture of what is required for the organization to be resilient, to keep the business going, and what is already available. This includes assets, human resources, software capabilities, and others.
For instance, if your entire team had to work from home the next day, would you be able to support it? You may have equipment for employees, but what about a digital workplace solution? How do you mitigate the security risks? Explore these and come together with what is necessary.
Once you have this in place, the next step is to document the strategies. Carefully design the steps and emergency processes to keep the business going with contingencies.
4. Implementing and testing
Now, it's time to form disaster recovery teams and train employees to deal with the different events.
The implementation stage also includes setting up mitigation measures to prevent disruptions or reduce their impact. This includes tasks such as setting up redundant supply chains, building business relationships with multiple suppliers and vendors, cloud backups, and ensuring the premises. You'll also have to train your employees and make them aware of your business continuity plans during this phase.
During the testing phase, the capability of an organization to deal with different threats is assessed. It can be as simple as reading out different scenarios, and participants replying how they would respond to them. Or it can be as complicated as a simulated security breach in which the IT department may attempt to isolate different networks.
5. Maintaining and updating
Business continuity and disaster recovery should not be implemented and forgotten. As market conditions change, and the company and the technology evolve, you have to constantly update your business continuity plan. Moreover, you need to regularly test your plans and keep your employees ready. Just like fire drills and safety seminars.
The bottom line
Business continuity plans are a costly but effective tool to keep the critical business functions active and reduce business losses in case of a disruptive event. Organizations use them to ensure continued service delivery in case of natural disasters, supply chain issues, rapid inflation, cybersecurity threats, etc.
Though the components of the plan vary according to the scale and type of business, in general, they should contain:
A thorough explanation of the steps to take if a disruption takes place
A list of the company's most critical processes
Tried and tested strategies to mitigate the risks of each of these critical components
Strategies to implement before a disaster happens
However challenging they might be to set up, their benefits outweigh them since they avoid process interruption, prevent money losses, improve customer satisfaction, and reduce the exposure to financial or legal risks.