More and more, organizations are shifting towards the digital workplace, embracing all the advantages that a full digital transformation affords. Customers are also moving away from traditional brick-and-mortar businesses, expecting online interfaces for interacting with companies. It's become abundantly clear that a digital transformation is not just about gaining a competitive edge, but about survival.
In fact, the total global spending on digital transformation technologies and services reached 1.31 trillion USD and is expected to hit 2.8 trillion USD by 2025. To sustain this rapid transformation, deliver a great customer experience, and help organizations reach their goals of going digital, they need a robust IT service management strategy.
What is IT service management?
Chances are if you're reading this you're already familiar with the concept of IT service management. If not, here's a quick summary: ITSM is a set of principles, practices, and processes used to define, design, build, and deliver IT support according to the needs of an organization. But the focus of ITSM is not purely on tech, but rather on the end-users and their needs.
IT service management also includes problem and incident management, change enablement, knowledge management, asset management, and other components that ensure a smooth experience for end users. If you want more information, be sure to check out our definitive guide to ITSM.
What exactly is meant by the digital transformation of an organization?
And so the world continues its rapid shift towards online experiences. And while the trend may have been popularized by e-commerce, B2C businesses, and B2B marketplaces, all types of organizations are realizing the benefit of making their business processes digital.
Digital transformation is the shift from paper to computer, from office memos to Teams collaboration apps, and from sticky notes to digital enterprise applications. But it's more than just simply investing in a couple of apps and hardware. It's a cultural shift as well and it involves transforming your workflows to better work in and make the best use of a digital environment.
With digital transformation, the organization moves towards a digital-first approach; using digital project and workflow management tools and relying on ERP systems to plan and implement the organization's goals.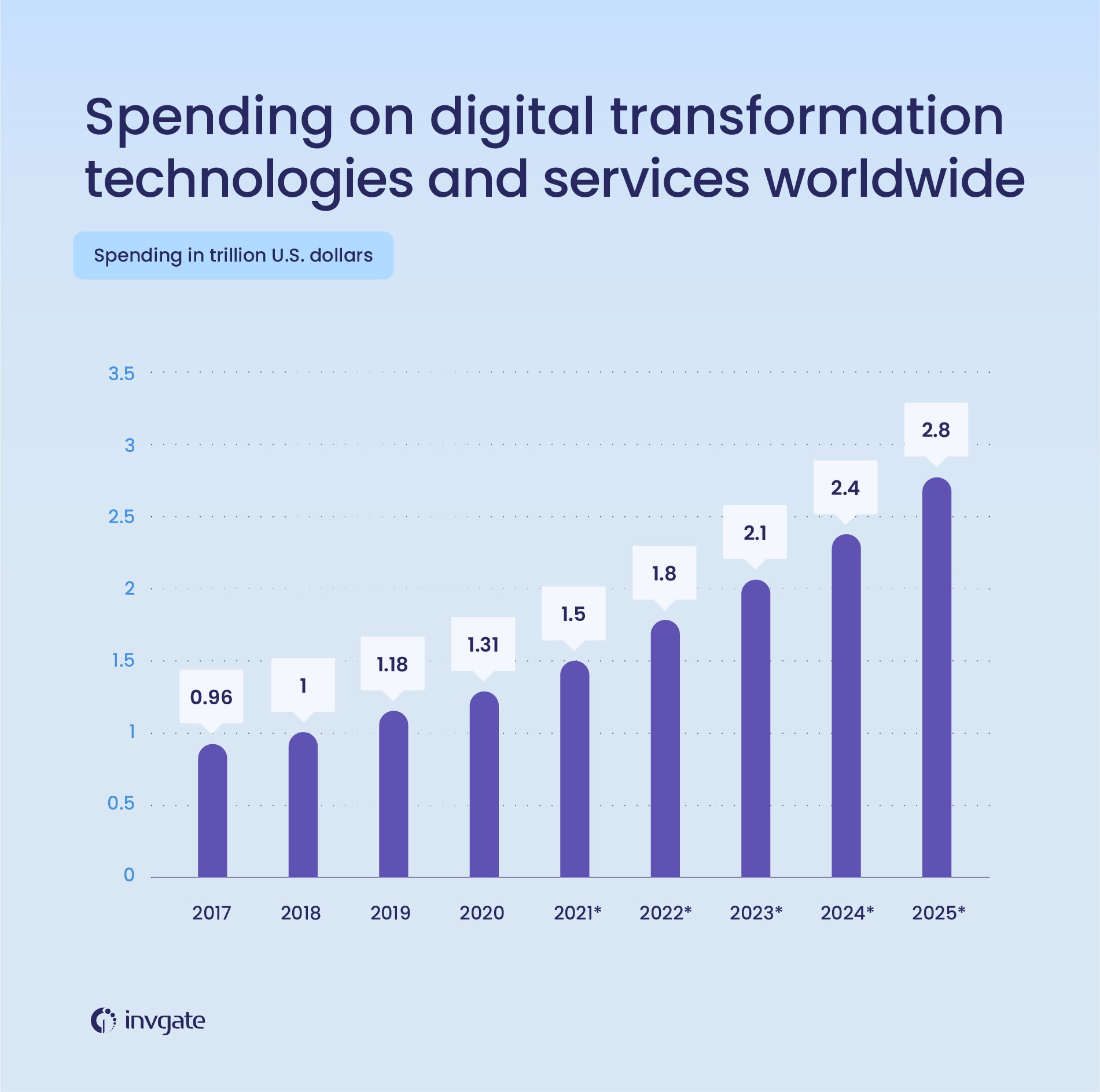 Besides becoming more accessible and visible to customers, digital transformation makes the organization, its activities, and the roles of its employees more transparent to executives and stakeholders. It empowers them to understand the workflows more clearly, and spot the bottlenecks and inefficiencies.
Digital organizations also tend to be faster and more robust and more capable of adapting well to changing business conditions. The digital systems generate detailed data about the various processes; the resources its using and the value it is delivering and help stakeholders make data-oriented decisions.
How does IT service management play into an organization's digital transformation?
The digital transformation is a cultural challenge as much as a technical challenge. And as with any change, without employee support, digital transformation efforts can fizzle out. A business needs motivated employees who are excited to leverage the new system to its maximum.
And as the main target audience for the transformation, customers should also move to the digital systems and use the digital interfaces to conduct business.
This is where IT service management comes to play. A robust IT service management strategy is crucial for a great experience for all users, both employees, and customers. This means making sure that the organization's IT network is up and faces the least downtime and ensuring that technical difficulties are resolved effectively and on time.
IT service management maintains the IT infrastructure of the organization and makes it available for the users. And an ITSM help desk tool such as InvGate Service Desk can ensure that the processes that sustain this digital transformation are operating as will ensure that the IT assets of the organization are maintained through regular updates and patches and secure the organization from external cyber threats.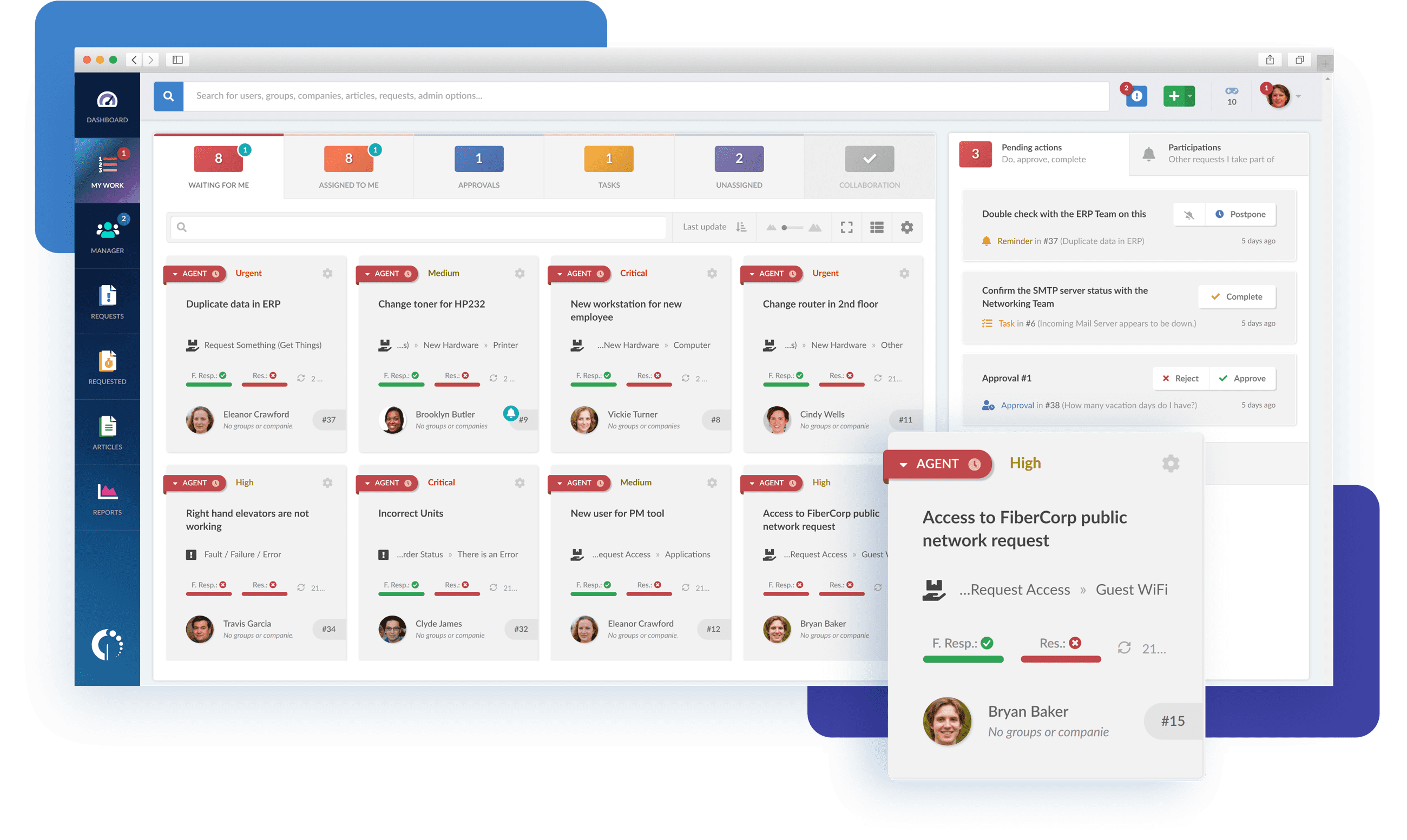 ITSM also implements a clearly defined system for robust IT support to both employees and customers in need of support, whether it's a customer unable to log in to their account or an employee not able to connect to their digital workspace.
In short, an organization's ITSM strategy works as the backbone for its digital transformation, supporting the organization for a smooth and efficient shift, ensuring a great experience for the users and a high adoption rate for the new systems.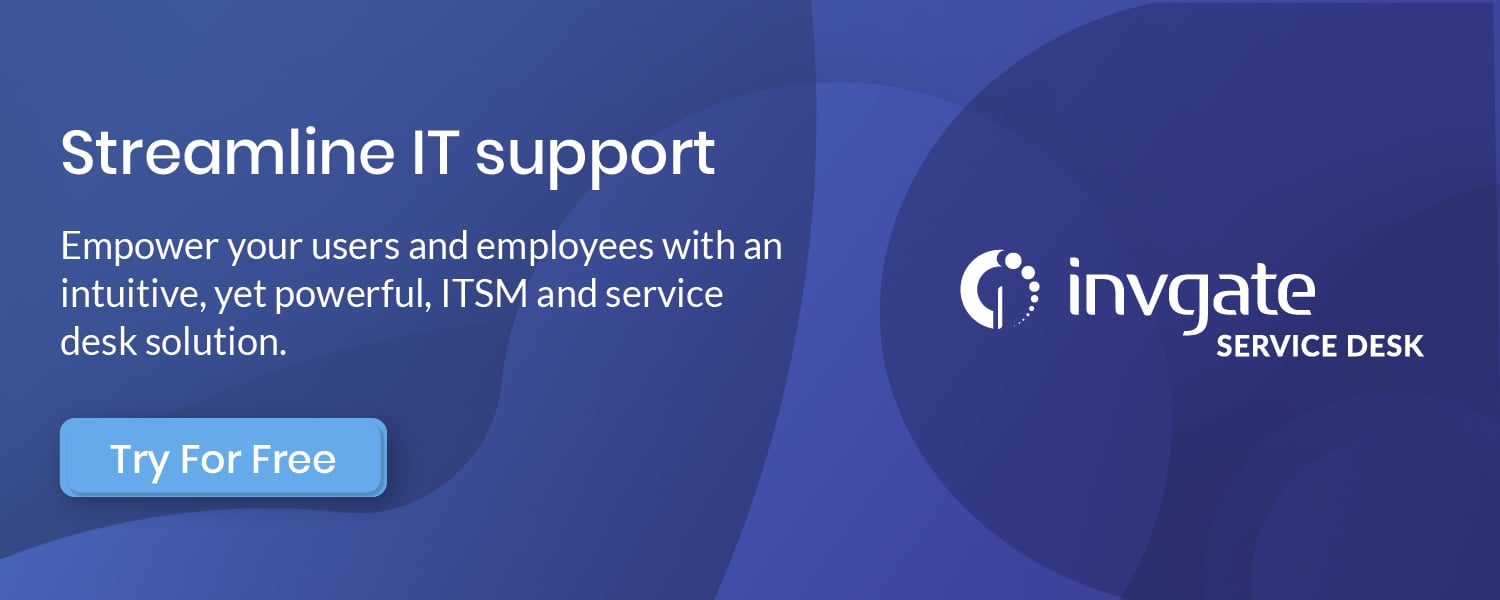 How is ITSM essential for an organization's digital transformation strategy?
ITSM streamlines the organization's IT processes
ITSM lays out the practices and principles for managing the IT processes in an organization. It serves as a blueprint for building and maintaining the services offered by the IT service desk and making sure it meets the expectations of all stakeholders.
It ensures a strategy for maintaining the organization's IT infrastructure and making enough resources available for related tasks. It ensures a consistent quality of services by clearly defining the different processes, the resources required for them, as well as the deliverables. ITSM helps define the roles and responsibilities of service desk technicians and makes the processes transparent to the stakeholders. It will also help implement a continuous improvement cycle; measuring the performance and developing strategies to improve.
IT service management improves the customer experience with digital transformation
As discussed, a strong IT infrastructure is essential for a good customer experience. For example, if the website goes down repeatedly as a customer is going through their account, it will negatively affect their experience and potentially create a negative reputation for your business.
According to Nikola Gaydarov, director of digital transformation:

"The need for modern best practice framework will arise at any given moment. Even if you master all initiatives the customers will need more and more of your time. Frameworks like ITIL 4 from 2019 can help you not only transform your organization but also keep it on the right track with its customers."
The IT service desk acts as a helpful guide as the customer interacts with the organization's digital platforms. A major part of this is answering questions and clearing doubts as the customers navigate the business interfaces, but ITSM does a lot more behind the scenes.
A good ITSM strategy also emphasizes self-service, empowering customers to access digital services with the least help from a human agent.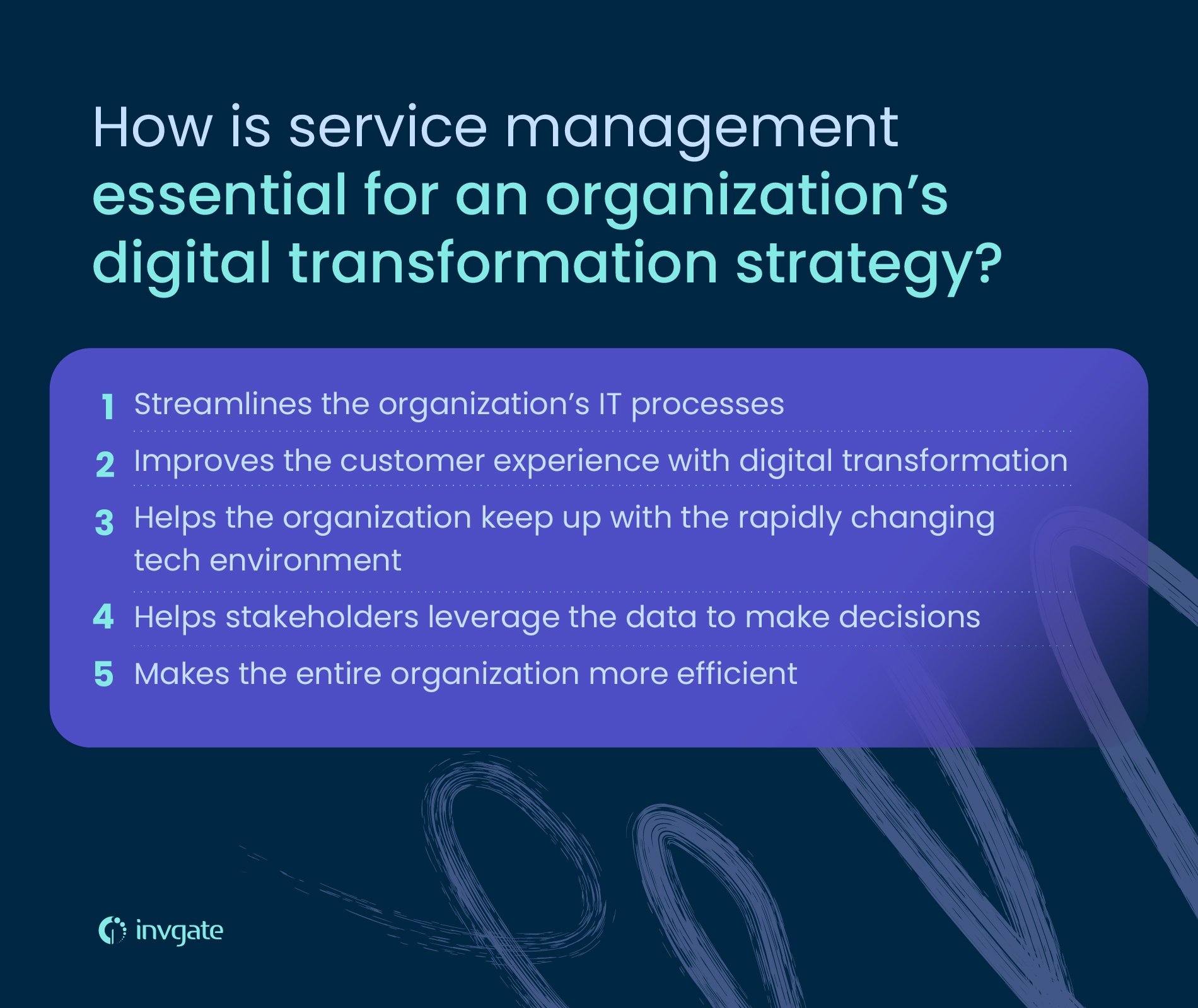 ITSM helps the organization keep up with the rapidly changing tech environment
Technology is constantly evolving, and what was current yesterday may be outdated today. And without proper maintenance, this will be true for an organization's IT as well. New issues and bugs may be revealed, threatening your digital workplace security. New versions of software will be released, hardware may break down or get outdated, and the organization may fall behind on tech. With ITSM, the organization will have a strategy to deal with them and keep the IT infrastructure functioning as defined.
Besides maintaining the existing assets, the organization will also have to introduce new technology, systems, workflow, or processes to stay ahead of the competition.
ITSM helps stakeholders leverage the data to make decisions
Through the use of digital systems, every single department, from HR to accounting can collect data about the performance and evaluate themselves objectively.
To make use of this data, stakeholders have to implement a knowledge management strategy. The right data has to be collected, organized, and analyzed and the insights have to be delivered to the right decision-maker. IT service management lays down the framework for this, ensuring that the data from every department is processed and reaches the stakeholders on time.
With a robust knowledge management strategy, ITSM will ensure that the organizational knowledge is not lost with personnel or technical changes. IT service management will ensure that at every level, right from the service desk agent to the CEO of the company, there's access to the knowledge and data to make informed decisions.
It can make the entire organization more efficient
Until ITIL v2, ITSM was largely limited to the functioning of the IT department, ensuring that quality service is delivered. But many organizations have started using the ITSM principles in other departments as well, approaching the different functions as services (this is known as Enterprise Service Management). And from ITIL v3, this has been made official, with the framework focusing less on the technical aspects and more on how the processes are carried out.
And by adopting a similar across departments, the entire business becomes more streamlined and efficient and reduces the operational costs in the long run.
Frequently asked questions
What is meant by the digital transformation of an organization?
Digital transformation refers to how the organization changes to work with digital processes and systems. This includes not just the technical aspects, switching from papers to digital screens, but a change in perspectives and organizational culture as well, to rebuild the organization for a digital future. The organization is completely changed to make the best use of digital systems.
Is service management relevant for digital transformation?
The center of digital transformation should always be the customer and the goal should be to deliver the best customer experience. And ITSM is key to ensuring that the end-users get a consistent and quality user experience. So yes, service management is relevant for digital transformation.