If your organization works with Apple assets, it's time to put iOS Device Management into action.
Under the scope of Mobile Device Management, this practice should be included in your IT Asset Management (ITAM) strategy. The challenge here relies on the specifics of this Operational System (OS).
As you surely know, Apple is very strict about its devices, privacy policies, and overall information management. So, the best shot to handle their products is to have an MDM application tailored to its requirements. One of the best alternatives is to have Jamf installed in your devices as your MDM.
Keep reading to see how this tool fits the role – and how to integrate it with InvGate Insight to centralize your IT Inventory Management into one single platform!
MDM for Apple
If your organization uses iOS devices, your Mobile Device Management strategy must include them. And, if you start asking around, it's likely that other asset managers recommend Jamf software to do MDM for Apple.
Although Apple provides MDM capabilities to help businesses and educational institutions manage their fleet of Apple devices, many organizations opt for external alternatives that can be integrated with other ITAM solutions to have broader coverage.
Jamf not only is the most popular Device Management tool designed specifically for iOS devices, but it can also be integrated with several tools – such as InvGate Insight – to automate the monitoring of your devices and gain control over your whole IT infrastructure from one central location.
Similar to Apple MDM, Jamf offers capabilities tailored for managing different organizations, including businesses and schools. Let's explore them a little bit further.
Jamf Pro
Jamf Pro is a comprehensive MDM solution specifically designed for managing Apple devices within an organization. This includes iOS, macOS, and tvOS. Some of the key protocols and features provided by Jamf Pro to manage an Apple device fleet are:
Device enrollment - It supports Apple's device enrollment programs, such as Apple School Manager and Apple Business Manager, allowing organizations to enroll and configure devices in bulk, simplifying the initial setup process.


Profile configuration - It enables the creation and deployment of configuration profiles to manage various device settings, including Wi-Fi, email, security policies, and restrictions. These profiles ensure consistent configurations across the device fleet.


App and content distribution - Administrators can distribute apps, books, and other content to iOS devices through Jamf Pro. It provides a streamlined app deployment process, allowing organizations to push required apps to specific devices or groups.


Security and compliance - Jamf Pro allows organizations to enforce security policies, such as passcode requirements, device encryption, and remote wipe capabilities. It also assists in maintaining compliance with industry regulations and data protection standards.
Jamf School
On the other hand, Jamf School is a specialized MDM solution that offers tailored features to meet the unique needs of schools and districts. Some of its protocols include:
Apple School Manager integration - Jamf School integrates seamlessly with Apple School Manager, allowing for streamlined device enrollment, app distribution, and management within educational environments.


Classroom Management - It also integrates with Apple's Classroom app, where teachers can guide and monitor students' device usage, launch apps, distribute content, and monitor progress.


Shared iPad Management - Jamf School supports Apple's Shared iPad feature, enabling multiple students to use a single iPad while maintaining individualized user profiles and data privacy.


Remote Device Management - Administrators can remotely manage and troubleshoot devices, enforce restrictions, and push app and content updates to ensure a consistent and secure learning experience.
5 benefits and challenges of iOS Device Management
Understanding the advantages and potential hurdles of managing these types of devices is crucial for effectively implementing and maintaining an iOS Device Management strategy.
But everything has a solution. InvGate Insight counts on a set of features that, combined with Jamf, can help you overcome these challenges. Let's see what this is all about.
Benefits of iOS Device Management
Stronger security - It allows organizations to enforce security policies, such as passcode requirements, data encryption, and remote wipe capabilities. This ensures that sensitive information remains protected and reduces the risk of data breaches.


Streamlined device configuration - Administrators can remotely configure settings, install applications, and distribute content to multiple devices simultaneously. This makes the initial setup process easier, saving time and effort.


Centralized control - Device Management provides a centralized platform to manage and monitor iOS devices across the organization. Administrators can remotely track inventory, deploy updates, and enforce policies, ensuring consistency and control over the device fleet.


App and content distribution - Thanks to its deployment features, administrators can push apps, books, and other resources directly to devices, ensuring that everyone has access to the necessary tools and information.


Enhance proactive support - IT teams can troubleshoot issues remotely, and provide prompt technical support. This is key to developing a proactive support strategy, as agents need to monitor the devices to take action on them.
Challenges of iOS Device Management
Complex implementation - Setting up an iOS Device Management infrastructure requires careful planning and expertise. Monitoring your devices with InvGate Insight will allow you to have all the necessary data to integrate it within your infrastructure.


Device diversity - Managing a diverse range of iOS devices can present challenges, such as ensuring app compatibility, firmware updates, and feature parity across different devices. Having your inventory unified in InvGate Insight will allow you to add tags and create filters to easily group your devices by any common feature.


User privacy concerns - While iOS Device Management provides powerful capabilities, organizations must ensure that they respect user privacy rights and comply with applicable data protection regulations. To mitigate this, you can set InvGate Insight's Security

Risk automation

to monitor when something is out of compliance or not secure in your iOS devices.


User adoption and training - Deploying iOS Device Management requires user cooperation and acceptance. The challenge relies on providing clear communication, training, and support to ensure that employees understand the purpose and benefits of device management and comply with established policies.


Technical limitations - While iOS Device Management offers robust features, there may be certain limitations imposed by the operating system. Apple's restrictions on certain device functionalities and limitations in MDM protocols can impact the extent of control and management capabilities available to administrators. This is why you need the integrate an agent with ITAM. It will help you have a better understanding of the hardware and software in your devices.
How to manage iOS devices with InvGate Insight
InvGate Insight and Jamf integration
To have a better understanding, InvGate Insight allows you to create a unified inventory and monitor your organization's devices. It offers you a wide range of integrations to achieve this. Let's see how it can be integrated with Jamf.
As we've seen above, Jamf is a Mobile Device Management application that allows implanting, protecting, and carrying out inventories of iOS devices. It does so through an agent, and by integrating both tools, you can see everything it reports directly in your InvGate Insight instance.
Once the integration is completed, you can use the recollected data to enhance InvGate Insight's capabilities for IT Asset Management:
Smart Tags.
Relationships.
Automation.
And more!
What it requires to work
Before you start working on your InvGate Insight and Jamf integration, make sure you meet all the requirements:
A functioning instance of Jamf Pro, the MDM application for iOS devices.
An InvGate Insight instance with administrator access – keep in mind that you can start by asking for a

30-day free trial

.
A user account in Jamf with at least "Auditor" permissions, which will be used for the integration setup.
What type of data it collects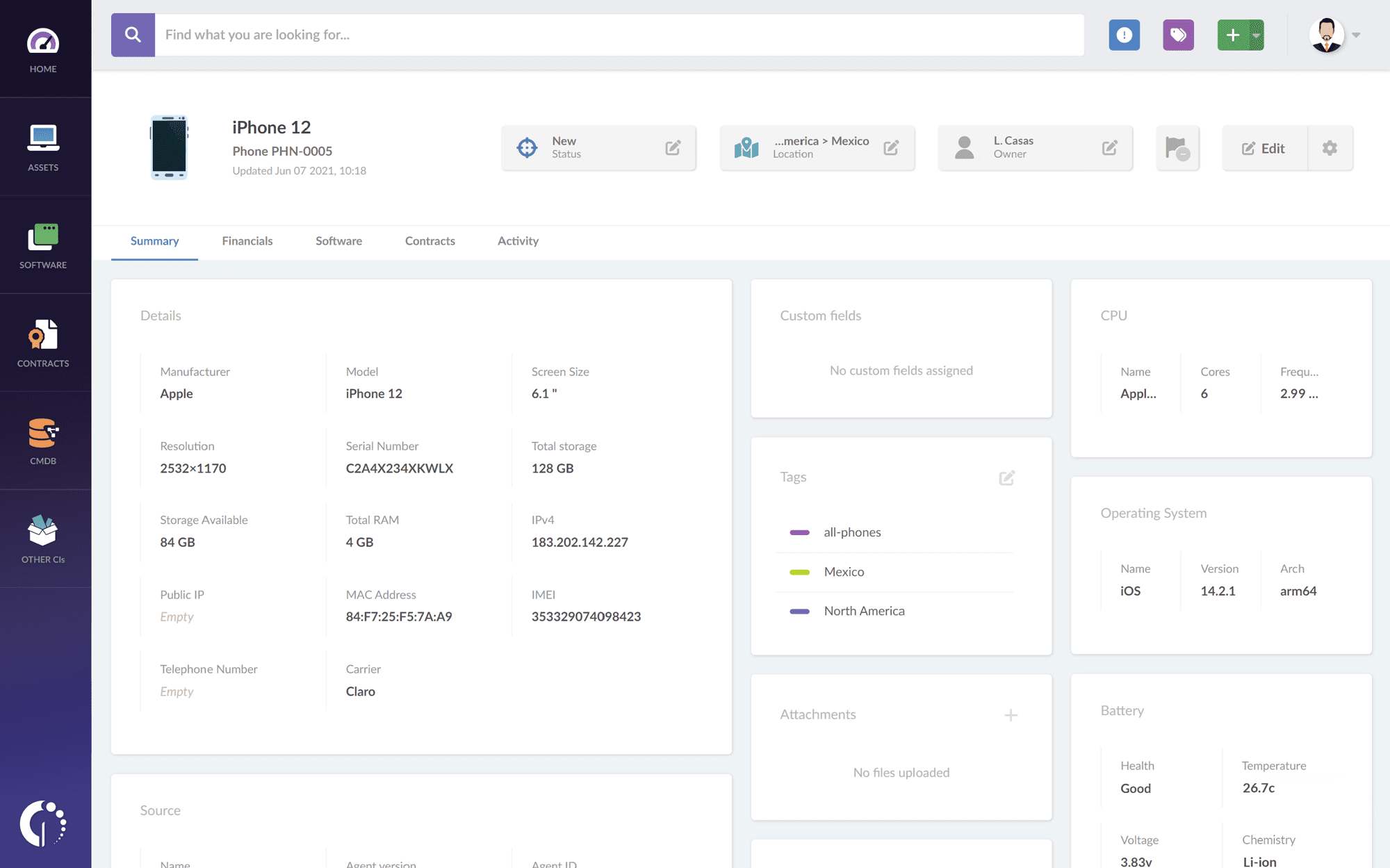 Once you have Jamf installed in your devices and reporting to your instance, you'll be able to see this on the asset's profile:
Type.
Manufacturer.
Model.
Serial Number.
Warranty expiration.
IMEI (phones/tablets).
IPv4.
MAC.
Procesador.
RAM.
Storage.
Local user account.
Pros and cons of the integration
When it comes to this specific integration, we can highlight the following advantages:
Enhanced visibility into iOS device inventory and configurations.
Ability to analyze data from Jamf-managed devices alongside other assets in InvGate Insight.
Streamlined management and reporting capabilities for iOS devices.
However, take into account its downside:
The integration's capabilities may be limited due to certain restrictions imposed by Apple's policies and MDM protocols.
Some data points may not be accessible or available for collection due to device-level restrictions.
Wrapping up
A comprehensive approach to iOS Device Management ensures seamless operations and empowers employees to thrive in their digital workflows, as it covers from enrolling devices and configuring settings to enforcing security policies and distributing applications.
To perform robust Device Management, use InvGate Insight's Jamf integration. This will allow you to have all your iOS devices reporting to your instance to get accurate and updated data.
If you want to integrate Jamf with InvGate Insight and start managing your iOS devices, book a call with our experts so they can help you out. And don't forget that you can start exploring InvGate Insight right now with our 30-day free trial!
Frequently Asked Questions
What is Device Management in iOS?
Device Management in iOS refers to the process of remotely controlling and configuring iOS devices within an organization. It allows administrators to enforce security policies, distribute apps, and manage device settings from a centralized platform.
How do I get to Device Management in iOS?
To access Device Management settings on an iOS device, go to "Settings," then tap on your name, followed by "iCloud," "Find My," and finally "Find My iPhone/iPad." From there, you can access and manage device management settings.
How to manage company iOS devices?
To manage company iOS devices, organizations can utilize MDM solutions like Apple Business Manager or third-party platforms like Jamf (which can be integrated with ITAM solutions for full coverage). These platforms provide tools for device enrollment, configuration, app distribution, and policy enforcement.
How to manage multiple iOS devices?
Organizations can manage multiple iOS devices by leveraging MDM solutions. Through MDM, administrators can remotely configure device settings, deploy applications, enforce security policies, and monitor device status and usage across a fleet of iOS devices.
What is Jamf?
Jamf is a popular MDM solution specifically designed for Apple devices. It provides comprehensive management capabilities for iOS, macOS, and tvOS devices, allowing organizations to deploy, configure, and secure their Apple device fleet.
How does Jamf work?
Jamf works by integrating with Apple's MDM protocols, enabling administrators to remotely manage and control Apple devices. It offers features such as device enrollment, configuration, app distribution, policy enforcement, and remote troubleshooting, providing centralized control over the entire Apple device ecosystem.
What data does Jamf collect?
The data collected by Jamf depends on the specific configuration and policies set by the organization. Generally, it collects device information, such as hardware details, software inventory, security settings, and app usage data, to facilitate effective device management and reporting.
How to install a Jamf client on Mac?
Installing the Jamf client (known as the Jamf Pro agent) on a Mac typically involves an automated deployment process orchestrated by an organization's IT administrator. The installation process may vary based on the organization's specific deployment methods and policies.
Can Jamf manage Android?
No, Jamf is primarily designed for managing Apple devices running iOS, macOS, and tvOS. It does not offer native support for managing Android devices. However, there are other MDM solutions available that specialize in managing Android devices.
Can Jamf manage Windows?
While Jamf primarily focuses on Apple devices, it also offers limited support for managing Windows devices through its Jamf Connect solution. Jamf Connect enables single sign-on, account provisioning, and password management for both macOS and Windows devices in hybrid environments.