IT service management (ITSM) and IT Asset Management (ITAM) can definitely deliver greater business value if they are brought together. At InvGate, we realized the power of this alliance a while ago, when we started offering integrations as a way to let our customers gain better insight into their processes. It all started with integrating our two flagship solutions, InvGate Service Desk and InvGate Assets; then, we moved on to offer our SCCM integration, and now we're introducing the new FileWave integration.
Available as of InvGate Service Desk version 5.7.4, it allows our software to retrieve data to relate assets to requests. This can uplift the most popular service management capabilities (such as incident, problem, and change impact and risks) through the availability of asset management data.
In this blog we'll take a look at some technical specifications and operational details of this new feature, which can be used for both requests and workflows.
How does the FileWave integration work?
To set it up, go to Admin → Integrations, click on "Add", and complete the required fields.
Once it is enabled, searches are conducted by matching the data for name of the asset, IP, and last logged in user.
Apart from that, it's also possible to explore some of its details, namely:
Operating System

Hardware

Connectivity

Storage

Last user logged in
Who can do this? All Agents, Help Desk Managers, and Administrators are able to search for assets, link them to requests, and access their details. Plus, end users can search and link, if these options are enabled for them in the integration configuration.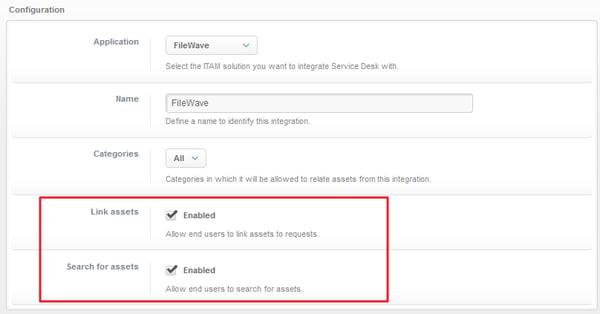 Creating requests with related assets
Enabling the InvGate Service Desk FileWave integration means you can have multiple asset sources and limit the service catalog categories in which they may be linked. Therefore, when a customer is creating a request, they'll see suggested assets on the right side of the screen. They can link them to the incident or see their details, depending on the role they have in the system and the configuration of the feature.
As you can see in the following screenshot, when reporting an incident with a PC, a customer can search for it on the right side and link it to the request. This way, the agent will have a better understanding of what's going on: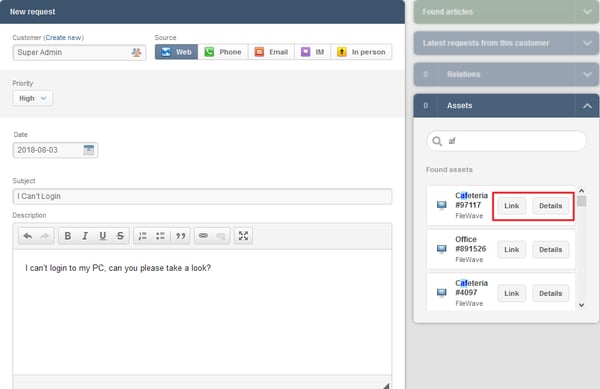 Relating workflow stages to assets
It's also possible to relate assets to stages of a workflow, by using a field of type "Asset":

In this way, when the customer creates a request that triggers the execution of the workflow, this stage will prompt them to select the asset they wish to report:

Your data in a snapshot: create reports and filter assets data
All of the asset data can be measured and included in reports, so you have an overview of what's going on with the devices in your network. This allows for the hardware and software costs to be known, and presents the opportunity to save budget, exposing insufficiently used components that can be uninstalled rather than upgraded. It also leaves fewer assets to be supported and managed.
To access and process your relevant information, use these elements:
XLS Export –

Every XLS export option available in the system (Custom views, Reports, and Requests) allows you to export the data of the assets-related requests.

Reports –

In the OLAP cube under Reports, the Requests cube includes a dimension for Linked assets managers. It shows the name of the integration by which the asset was retrieved.

Filters – The filter engines included in the Requests cube, in the Custom views, and in the Dashboards, now include the filters "Asset" and "Asset Manager".



Another feature designed to make your life easier
The InvGate Service Desk FileWave integration benefits agents and administrators, as they access detailed metrics on requests that involve devices, and track those requests for a better understanding on the most common network issues.
An agent armed with additional information about the IT asset(s) related to a reported issue is better positioned to quickly understand the root cause and potential remedies. Moreover, they can learn which types of assets have the most incidents reported, or, for example, if the level of RAM is insufficient for a given application. This can definitely improve resolution times and user satisfaction.
If you're not using this feature yet, try it out now. You won't regret it!