Are you looking for an EasyVista alternative that can revolutionize your IT Service Management (ITSM) and improve your operational processes? Your search ends here as we'll introduce you to the ideal solution!
When it comes to ITSM, choosing the right software is critical, and making an informed choice requires a comprehensive ITSM tools comparison. In this blog post, we'll compare EasyVista and InvGate Service Desk, a service desk software option with immense promise.
Join us as we uncover the possibilities of these ITSM solutions! Let's dive right in.
What is EasyVista?
EasyVista is a cloud-based IT Service Management platform designed to simplify and optimize ITSM processes. It is designed with 11 ITIL PinkVerified processes to help organizations realize benefits in efficiency and standardization.
EasyVista, originally known as Staff & Line Group, is a private company that has been making waves in the world of ITSM since its inception in 1988. It has been mentioned in the 2022 Gartner Magic Quadrant™ for ITSM Tools, signifying its position in the ITSM industry.
InvGate Service Desk as an EasyVista alternative
InvGate Service Desk, developed by the technology company InvGate, is a comprehensive software solution aimed at improving IT Service Management. Its core objective revolves around simplifying IT support processes and elevating service quality for end-users. It offers a choice of deployment options, granting organizations the flexibility to opt for either cloud-based or on-premises hosting, catering to their specific preferences.
With the implementation of InvGate Service Desk, organizations can establish a contemporary IT Services department that incorporates ITIL-certified functionalities, including Incident Management, Problem Management, Change Management, and Service Management. This robust ITSM solution extends beyond the conventional service desk capabilities by incorporating advanced features such as IT support automation, which enhances issue resolution efficiency and overall operational effectiveness. Additionally, it offers a self-service platform empowering users to independently find solutions and personalized reporting features to gain valuable insights into their IT operations.
Furthermore, InvGate Service Desk seamlessly integrates with its IT Asset Management (ITAM) solution InvGate Insight. This integration provides organizations with a centralized repository for efficient tracking and management of their IT assets. By doing so, it ensures precise asset inventory, optimized asset utilization, and adherence to regulatory requirements.
InvGate Service Desk has received positive reviews.
"The whole process from demo, to quoting, implementation, and launch has been great. We have a small team and was able to get this project complete ahead of deadline with the help of the great implementation team". IT in a Government organization
"The product has been a great experience overall. Between support, features, and overall value I have nothing bad to say about InvGate service desk." IT in Non-Government organization
"Dashboards and reports Easy to use/intuitive, very good user experience for clients and agents Workflows, automation and customization options." General Manager, IT Services
User experience
InvGate Service Desk stands out for its user-centric approach, having an intuitive user interface enriched with a convenient drag-and-drop feature. This eliminates the need for specialized skills to set up and use it effectively, simplifies navigation, and empowers users to customize their workflows effortlessly.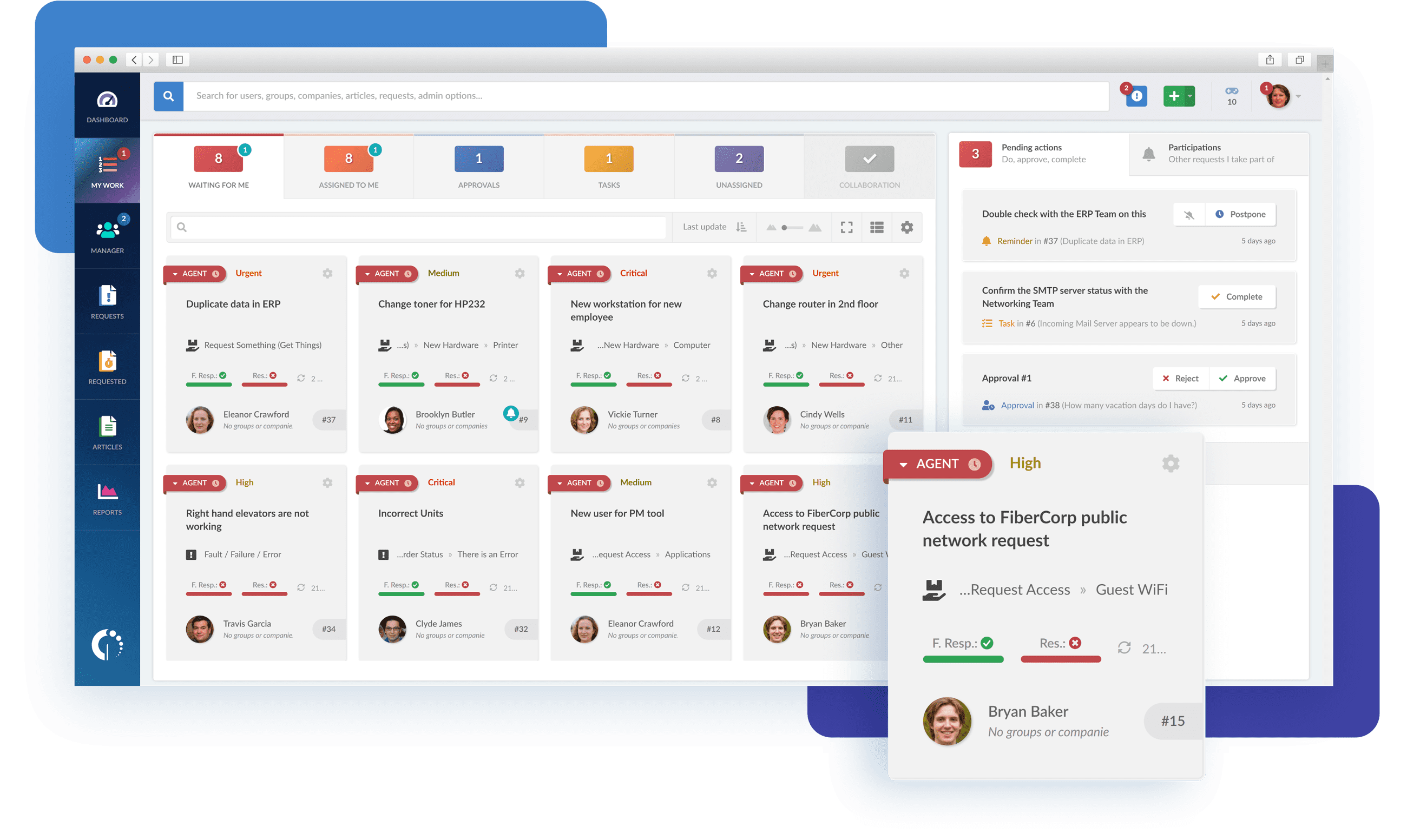 In contrast, EasyVista can be perceived as less user-friendly and complex to fully utilize, often requiring a deep understanding of the system's features and demanding multiple clicks to perform actions.
Performance
InvGate Service Desk shines with its scalable and efficient architecture, guaranteeing unwavering performance as organizations expand and evolve.
In contrast, EasyVista may encounter performance issues, especially when handling a large number of users.
Workflow and processes
InvGate Service Desk offers a streamlined and agile approach to managing workflows and processes, ensuring swift and trouble-free deployment. Its customizable workflows are tailored to suit your organization's unique needs, delivering optimal efficiency and adaptability.
In contrast, achieving seamless functionality across all facets of EasyVista can be a time-consuming endeavor.
Functionality and customization
InvGate Service Desk excels in providing extensive Asset Management capabilities, a wealth of customizable options, and a feature-rich environment, granting organizations the essential flexibility they require. Furthermore, the platform offers an array of visual customization possibilities, guaranteeing a personalized and adaptable user experience.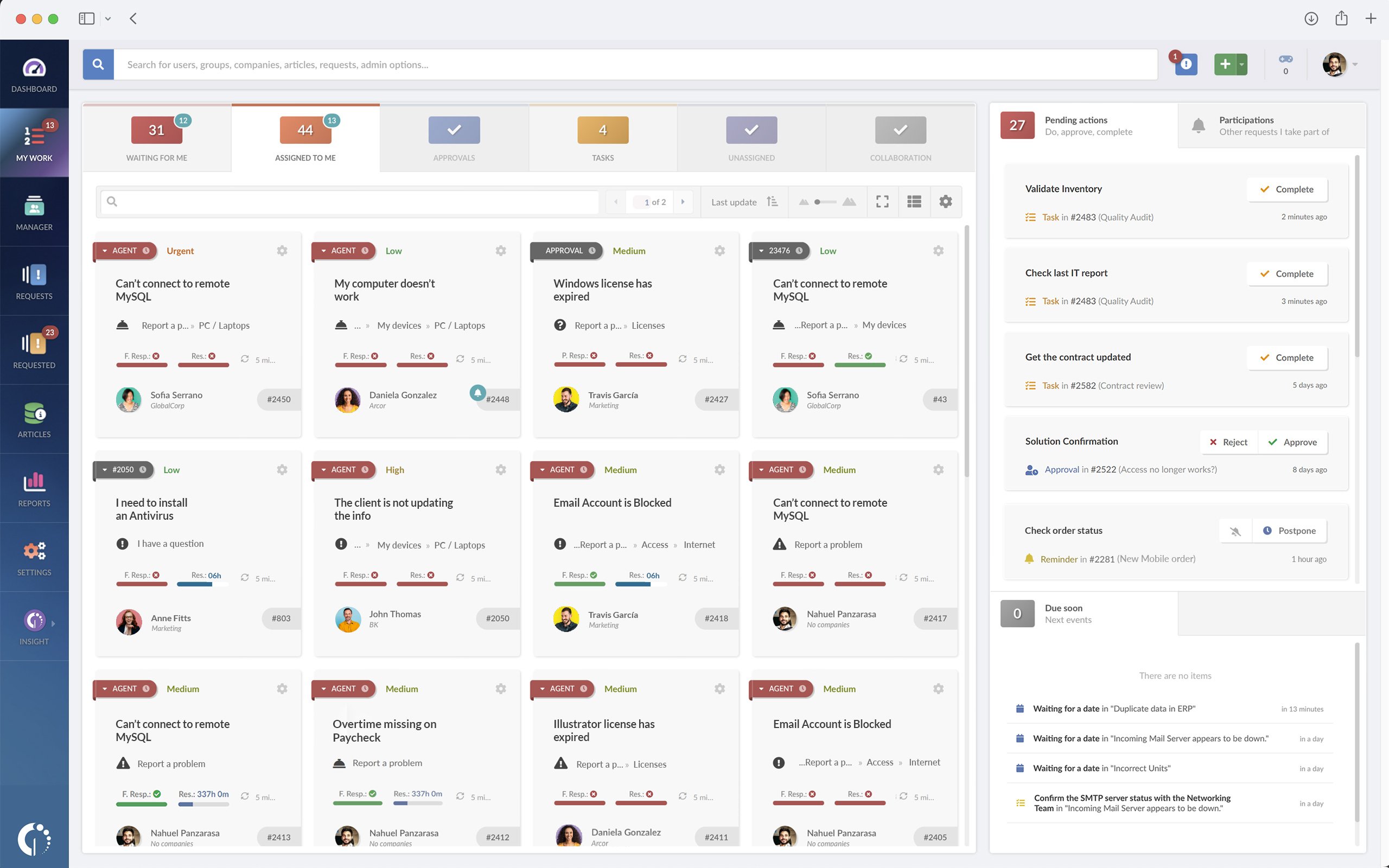 Conversely, EasyVista faces limitations in terms of customization and grapples with complexity in its out-of-the-box back-office setup. It also offers limited capabilities for customizing screen elements, restricting users' ability to tailor the platform to their specific needs.
Integration
InvGate Service Desk boasts robust integration capabilities, including seamless integration with LDAP/Active Directory, streamlining user management and access.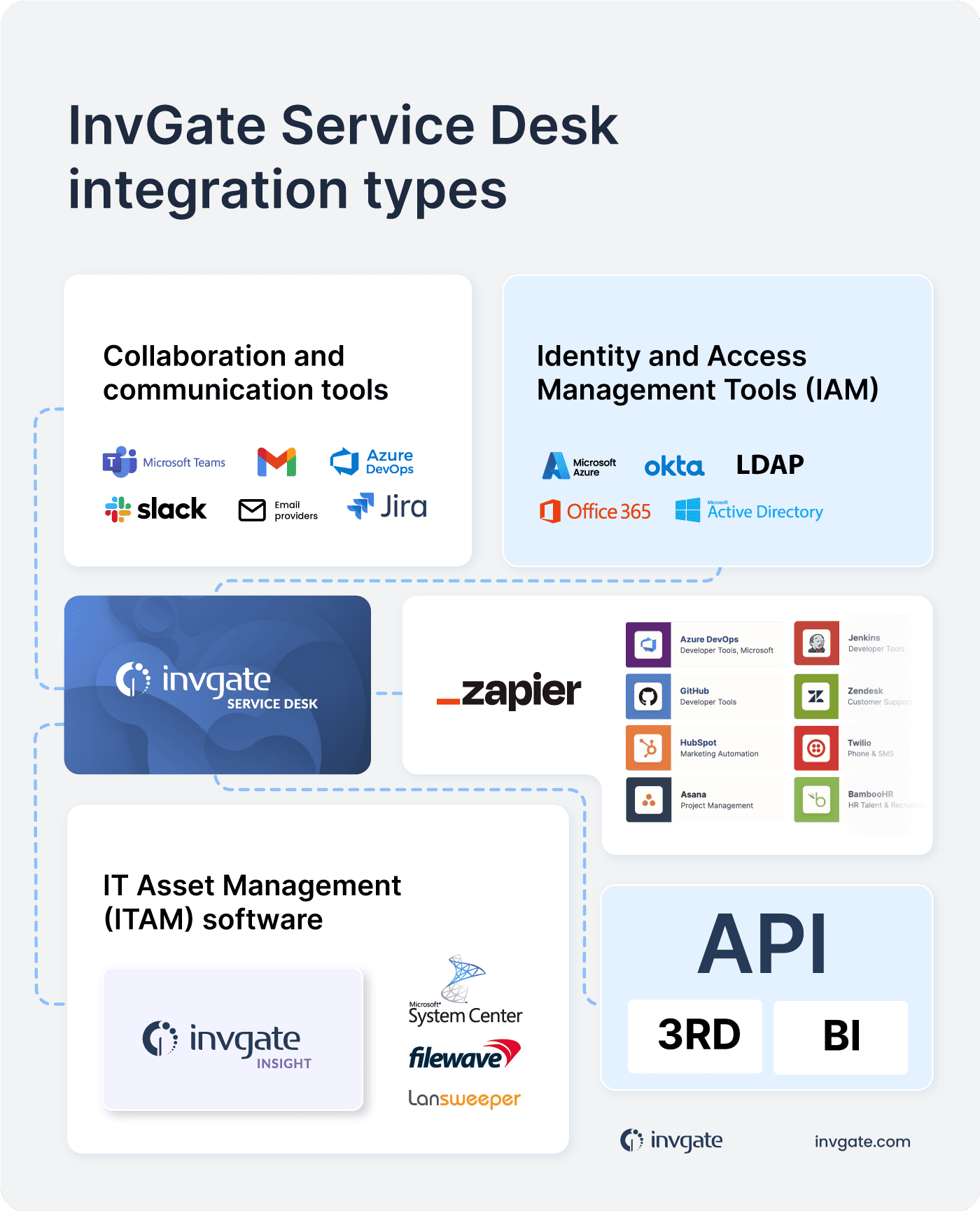 In contrast, EasyVista may encounter challenges when it comes to embracing modern integration technologies and ensuring compatibility with other tools.
Updates and releases
InvGate Service Desk consistently delivers stable updates, ensuring users benefit from the latest improvements without disruptions to their operations.
On the other hand, EasyVista's updates may present challenges due to a perceived lack of vendor quality assurance and quality control (QA/QC).
Documentation
InvGate Service Desk provides an extensive and valuable knowledge base, empowering users with a wealth of resources for effective problem-solving and self-help.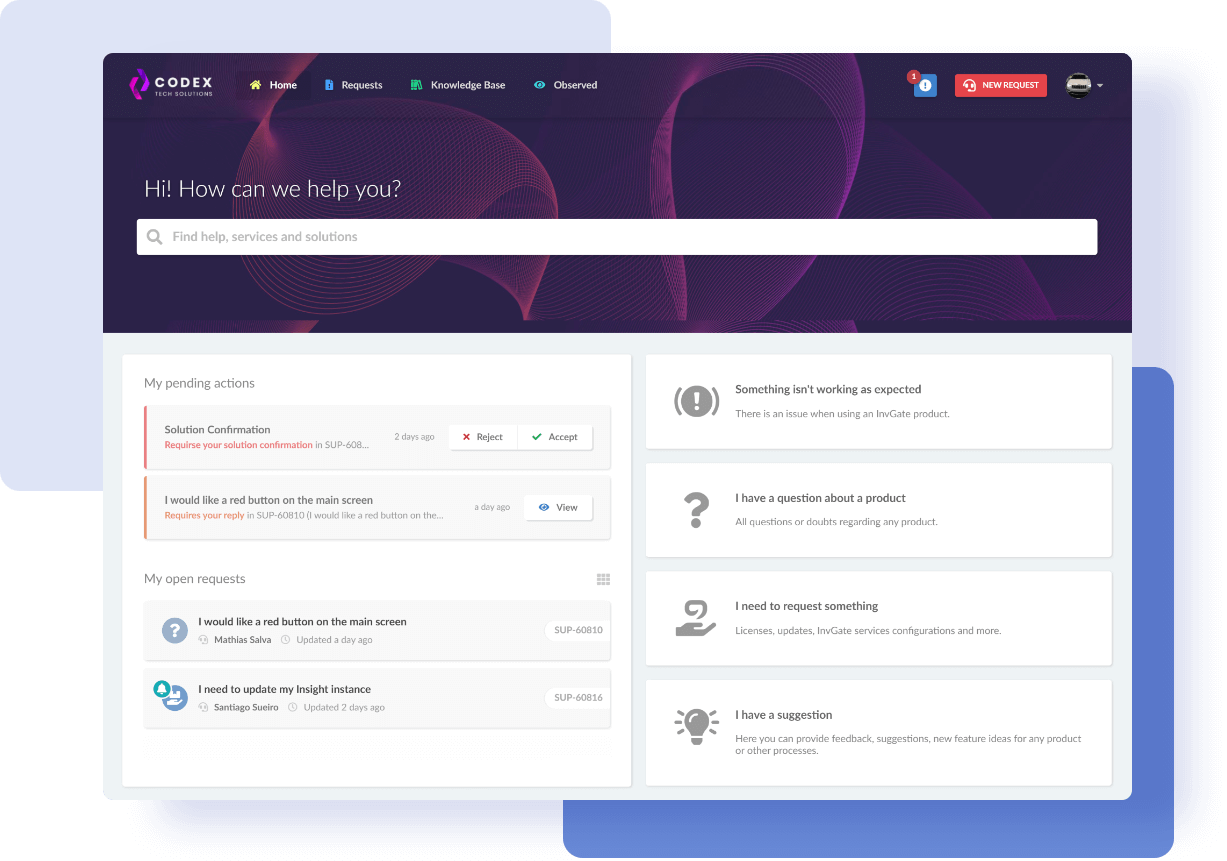 In contrast, EasyVista's documentation has been criticized for its perceived lack of thoroughness and outdated content, potentially hindering users seeking troubleshooting guidance or assistance with implementing new features.
Customer support
InvGate Service Desk stands out with its robust customer support, featuring live chat functionality that fosters a more responsive and user-centric environment.
On the contrary, EasyVista has faced criticism for inconsistent vendor support, which may leave users feeling less supported and frustrated.
In conclusion
In the quest for an EasyVista alternative, InvGate Service Desk emerges as a compelling ITSM choice that goes beyond expectations.
This platform brings a wealth of features and benefits that cater to the diverse needs of modern organizations. From its remarkable flexibility to rapid implementation, customizable front-end interface, responsive customer support, and powerful reporting capabilities, it excels in key areas essential for optimizing IT operations and delivering top-notch support to end users.
To truly grasp the transformative potential of InvGate Service Desk, explore our live demo. Discover how it can elevate your IT Service Management experience, making it a pivotal tool for efficiency, productivity, and exceptional service delivery.