2022 was a great year for InvGate, both from a business and product perspective. And regarding the latter – which is the one that concerns me – we expanded our teams, enhanced the capabilities of
and
, and laid the groundwork for an even more promising 2023. All without losing sight of the company's core values.
If I had to sum it up in one sentence, I would say that our vision is to develop global-scale enterprise solutions that accelerate the digital transformation of organizations through compelling tools for end-users to solve complex problems in a simple way.
That notion is what guides us and what we work for every day. Of course, a large percentage of it is accomplished, and it is this very thing that we will review here. We'll take a tour of our product development initiatives and the teams working on them during 2022, and then explore where we want to take them.
Let's get started.
The road so far: InvGate's products in 2022
Our product identity (and what differentiates us from our competitors) is that while we solve the same problems, our tools do so with the bonus of delivering superior design and user experience.
In this sense, during 2022 we focused on revolutionizing how users interact with our products. And for this, it was key to understand how new trends in the design and development of digital products have changed to meet the users' digital expectations.
To achieve this goal, we set three fundamental pillars:
That users love using our products, breaking with the reality of the enterprise world, where most end-users are not attracted by the products purchased by the companies they work for.


Promote the use of tools within organizations, serving as an engine of innovation and transformation that understands the needs of users, the devices they access from, and the context in which they are used to enable a unified and seamless experience.


Prioritize user experience over delivery time to offer world-class features that showcase all the research and hard work behind them, and generate a "wow" effect for each of our developments.
However, all this cannot be achieved without a versatile and multidisciplinary team. So, this year we expanded and reorganized to meet these challenges. Additionally, we created specialized teams to solve complex problems and, in general, modified the way we research, design, and build digital products – always prioritizing the quality of the results and deliverables.
The result of these efforts has been very positive for both products. Let's take a look.
InvGate Service Desk milestones in 2022
A product of
's tenor is achieved through continuous improvement, containing both major breakthroughs and minor tweaks. Here are the most significant ones.
Improvements in service catalog navigation
To make navigation easier for end-users, we built components to easily display recurring services, included shortcuts for ticket creation, and made substantial improvements to the search bar. All of these features enhance the user experience and decrease the time it takes to create a new request, ensuring the adoption of the tool throughout the organization.
Request View updates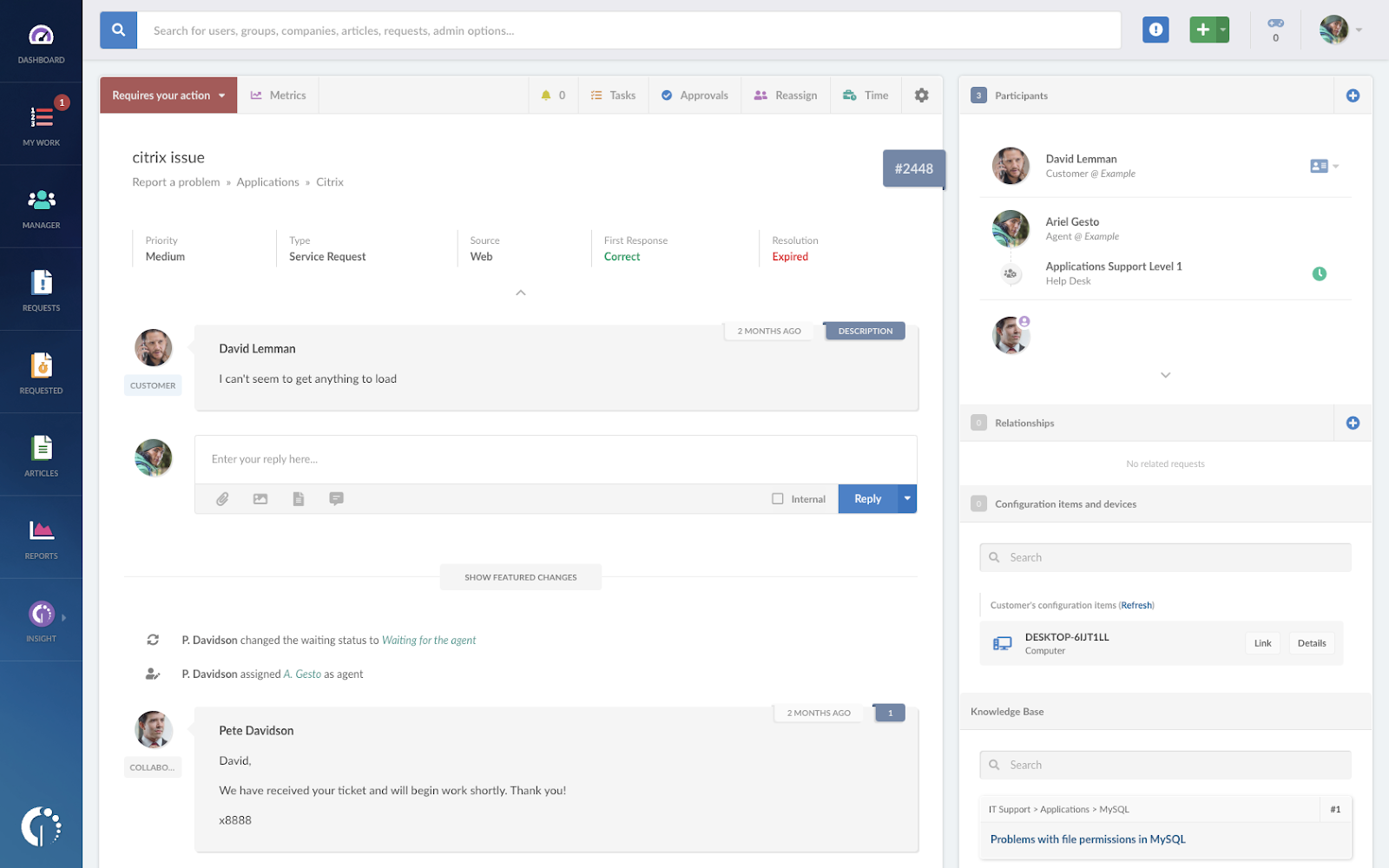 Regarding the request view, we grouped the options by common criteria to achieve a more intuitive product, where processes are placed according to their similarity.
Inclusion of artificial intelligence processes
Finally, we took our first steps in processes linked to artificial intelligence and added a Support Assistant based on machine learning techniques. The goal behind this milestone was to increase agents' capabilities and provide them with more context about what is happening to better respond to requests and incidents.
InvGate Insight milestones in 2022
The same logic applies to
: its improvement processes include small changes and big advances. Listed here are the most significant ones.
Improvements to Discovery algorithms
By working on the algorithms responsible for agentless discovery processes, we improved the quantity and quality of information that InvGate Insight collects from the various devices connected to a network.
Improvements in asset management and lifecycle processes
We also worked on various native integrations with remote desktop systems to complement the platform's scope. In this regard, users can now integrate
with RealVNC, TightVNC, TeamViewer, and Anydesk in a simplified way.
Inclusion of software measurement functions
In 2022, we took our first steps into the field of software metering. Now, our users can measure software usage on devices monitored by InvGate Insight, providing valuable information about their software investments.
QR code generation and scanning
Finally, we included the ability to generate QR codes for asset management from our software, avoiding the need for a third-party application. We also improved its reading to make the work of service desk agents more efficient. Through this addition, we optimized the way companies create and update their asset inventory.
Next steps: what's next for InvGate's products in 2023?
Broadly speaking, during 2023 our goal will be to reinforce the path we have taken so far, while always keeping our users' usability and experience in sight. For the development of our products, all the features and functions we add must be easy to configure and use. That is our main commitment.
And that is why one of
's goals will be to reinforce the concept of Enterprise Service Management so that more and more areas and departments benefit from our software.
To achieve this, we will focus on:
Continuing with the expansion of integrations (which this year included Zapier and in 2023 will add tools for project management, inventory monitoring and management, etc.), to provide our users with more native synchronization options with their technological ecosystems.



Improving

workflow creation

through Low-Code/No-Code logic

to lower the entry barrier to the use of technology by non-technical users in search of tools to solve challenges that previously required a team of specialized technicians.
We are convinced that this is the way to make the management of complex tasks and processes easier and simpler, and so that more and more leaders in areas other than IT can appropriate digital tools that allow them to optimize how they organize and manage their daily work.
On the other hand,
's efforts will aim to continue building on our current product base, extending its reach to different spectrums within its universe, such as security compliance, vulnerability scanning, profitability, contract management, and mobile device management (MDM).
Many verticals start from the base we are proposing today. The challenge is to understand how they articulate with both our product and the evolving needs of our customers.
In a nutshell
If anything is clear from the above, it is that in all these years we have managed to create solid, easily scalable, and highly adaptable products, with a diverse, attentive, and innovative team behind us, and always keeping an eye on both our customers' requirements and the latest industry trends. And this can only continue.
At the end of the road, we want our products to be versatile, to suit large organizations with complex processes, and to serve small and medium-sized companies to organize their processes and grow in their industry. And we also want this versatility to be put to work within the companies themselves, so that our solutions leave the IT department and improve the work of other areas, such as Human Resources, Legal, and Maintenance.
But this is not merely a mission statement; it is a reality.
and
are already flexible and highly adaptable products – and our use cases prove it. However, we know that maintaining and improving these features requires daily work, and that is where we are aiming.
Today, companies are understanding that improving their internal processes means gaining competitiveness over their competitors. And that is where we can (and should) help, providing products that give our customers that differentiating value.