Your InvGate Insight instance is about to get even more interesting. We're about to add Software Metering features.
What exactly is Software Metering?
In short, Software Metering is the practice of monitoring all (or selected) applications running on the computers and devices in your organization.
This is something you can do in real-time, and it'll help you in several ways:
To allocate software usage to computers according to the policies of the company.
To maintain a record of usage and attempted usage.
To enforce company standards on software usages.
With this kind of data on your side, you can take informed decisions towards the purchase, assignment, and overview of your assets.
How to do Software Metering with InvGate Insight?
The Insight Agent is the one that'll be doing most of the work – and you surely have it already installed in all your company's devices by now.
Briefly, the Agent checks the device every five minutes to compile data on the processes that are running on the device. Then, it checks the software installed on that terminal to be able to provide you with the following information: which software is installed, which software is being used, and for how long.
You have two different ways to see this information on your InvGate Insight instance, but first, you need to check if your configuration is ok. You can do so from Settings >> Assets >> Software Metering.
You'll see the following screen: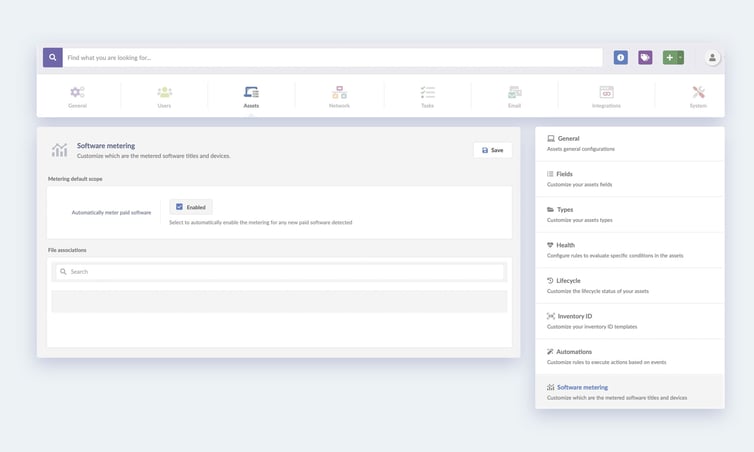 Now, it's time to see the statistics!
Visualizing Software Metering data
There are two ways to visualize the information the agent collects. Let's take a detailed look at each one.
1. Software Explorer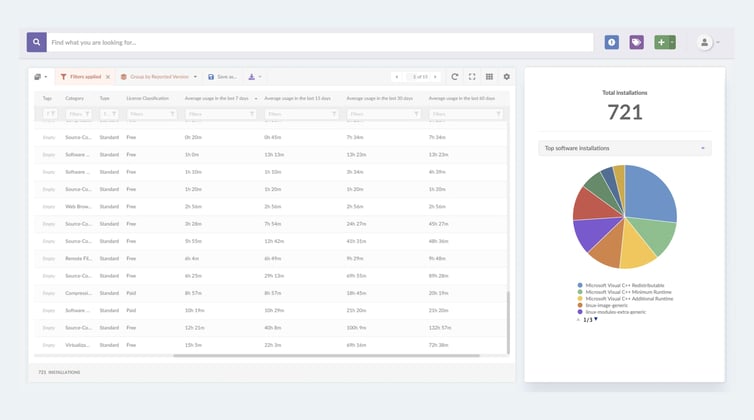 This dashboard is basically a table where you can view all software installations, and filter the information according to:
Name
Market version
Reported version
By applying these filters, you'll be able to see:
Last use of the asset installation.
Whether the installation is being measured on the devices, taking into account whether the software and the asset are enabled to perform the measurement.
The cumulative time of software usage on the asset over the last 7, 15, 30, and 60 days.
The number of times the software has been installed on the various devices.
License type.
License classification.
2. Software Profile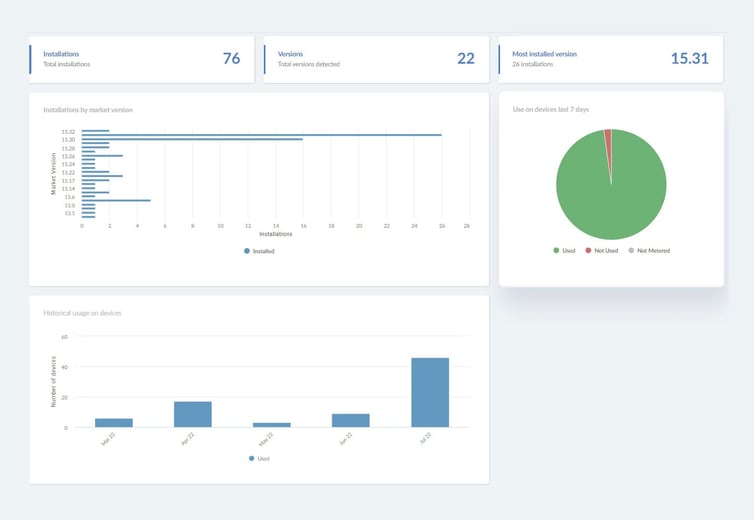 This type of visualization consists of a graphic representation that contains the following information:
Use of the software on the device, in the last 7 days.
Historical usage of the software on the device.
In short
Software Metering is a great addition to all the data InvGate Insight already provides you with. Until now, you were able to monitor software licenses based on ownership, type of license, installation, and payment method. Now, we're adding software usage to the mix.
By knowing if a particular software is being used and its frequency, you have a more comprehensive view of your assets so that you can make the best business decisions (and, for instance, avoid spending money on new licenses when you can just reassign them).
And the best part is that we will automatically add this feature to your InvGate Insight, maximizing your ROI.
Lastly, if you'd like more information on how to use this new feature, you can always access our knowledge base article on the topic.
And, if you want to explore how these and many other InvGate Insight features can help you to achieve a unified view of your assets inventory, be sure to schedule a call with our team!