Are you on the lookout for a TOPdesk alternative that can effectively manage your IT services and elevate your support processes? Your search can now come to a close!
When it comes to seeking a robust IT Service Management (ITSM) solution, conducting an ITSM tools comparison is vital. In this blog post, we'll delve deep into InvGate Service Desk as a compelling service desk software option. We'll take a close look at its features and compare it to TOPdesk.
Prepare yourself to unlock a new efficiency level that will transform your IT Service Management operations.
What is TOPdesk?
TOPdesk IT Service Management is a software solution provided by TOPdesk, a leading Dutch software company. Designed to streamline and enhance IT support services, TOPdesk ITSM consolidates customer requests, IT assets, and workflows into a single user-friendly platform. This powerful tool simplifies the support process for IT agents while delivering a seamless and satisfying customer experience.
With TOPdesk ITSM, organizations can efficiently manage a wide range of IT service activities, including Incident Management, Problem Management, Change Management, and Request Management.
InvGate Service Desk as a TOPdesk alternative
InvGate Service Desk, developed by InvGate, is a comprehensive software solution for IT Service Management that aims to streamline IT support processes and enhance service delivery to end-users. It offers the flexibility of being deployed either in the cloud or on-premises, allowing organizations to choose the hosting environment that best fits their needs.
InvGate Service Desk empowers organizations to establish a modern IT Services department equipped with ITIL-certified capabilities such as Incident Management, Problem Management, Change Management, and Service Management. This robust service desk software surpasses the basic functionalities of a traditional help desk by offering advanced features like IT support automation, which improves issue resolution and overall operational efficiency. Additionally, it provides a self-service platform that enables users to find solutions independently and personalized reporting for valuable insights into IT operations.
In addition to its comprehensive ITSM capabilities, InvGate Service Desk seamlessly integrates IT Asset Management (ITAM) functionality with InvGate Insight. This integration allows organizations to maintain a centralized repository for effectively tracking and managing their IT assets. By ensuring accurate asset inventories, optimizing asset utilization, and ensuring compliance with regulations, businesses can maximize the value derived from their IT assets.
InvGate is a technology company specializing in developing software solutions for IT Service Management and IT Asset Management. Their primary focus lies in creating tools and platforms that assist organizations in optimizing their IT operations, improving service delivery, and enhancing overall operational efficiency.
InvGate Service Desk has received positive feedback from reviewers, who have highly praised its capabilities and functionality:
"The whole process from demo to quoting, implementation, and launch has been great. We have a small team and was able to get this project complete ahead of deadline with the help of the great implementation team". IT in a Government organization
"The support team is knowledgeable and responsive. It has all the most common features you could expect from a cloud service ticketing system today, and they work well (knowledgebase, self-service portal, task assignments, approval flows, time management, reporting). The bang for the buck is excellent." IT in Non-Government organization
"Dashboards and reports Easy to use/intuitive, very good user experience for clients and agents Workflows, automation and customization options." General Manager, IT Services
Knowledge Management
Knowledge Management is a crucial aspect of ITSM, and InvGate Service Desk excels in this area. Its Knowledge Management system provides a simple, intuitive, and easy-to-use user interface, empowering both IT agents and end-users to find solutions independently. With its well-organized knowledge base, users can quickly access relevant information, leading to faster issue resolution and improved overall efficiency.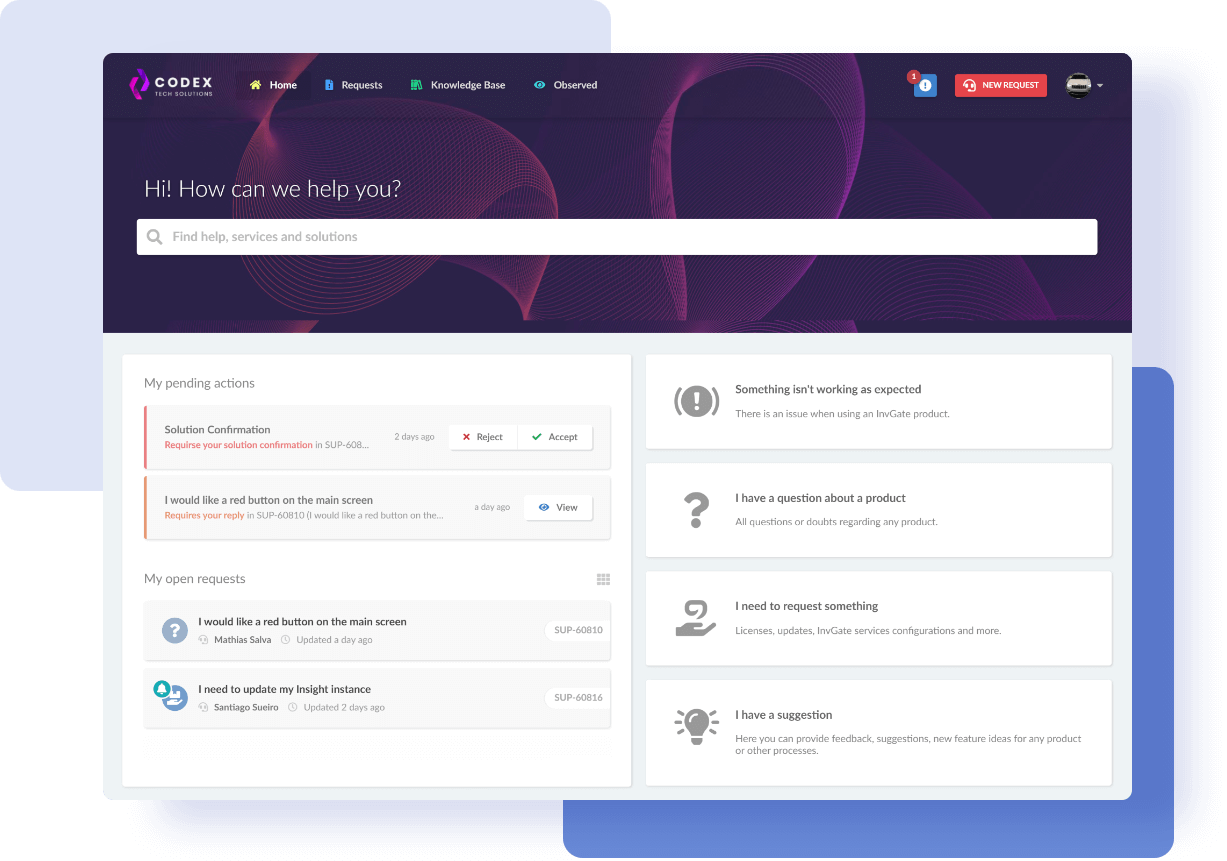 In contrast, users have reported that TOPdesk faces challenges with its Knowledge Management system.
User interface
InvGate Service Desk takes pride in its modern and visually appealing interface, offering a pleasant user experience. The software allows customization, ensuring a more engaging and enjoyable user journey.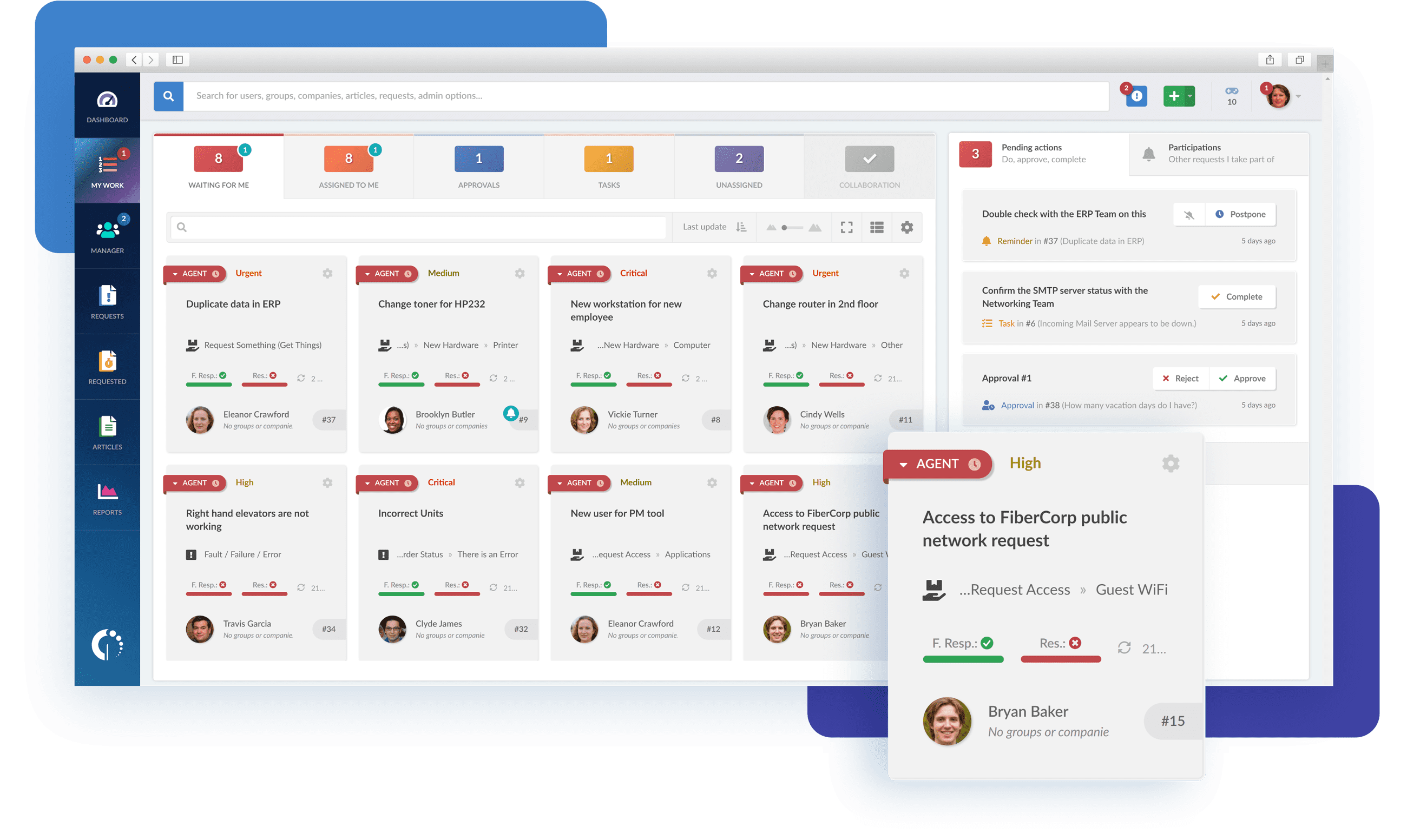 TOPdesk, on the other hand, has been criticized for its outdated appearance, potentially impacting the overall user experience.
Configuration and flexibility
InvGate Service Desk offers organizations flexibility in configuration, allowing for tailored personal and group-related settings. This adaptability ensures that the software aligns with specific organizational needs and workflows.
Moreover, InvGate Service Desk provides responsive and knowledgeable support, ensuring that organizations receive the assistance they need throughout their ITSM journey.
In comparison, TOPdesk has been criticized for lacking flexibility in certain areas and difficulty setting up and configuring some functionalities.
Email triggers
InvGate Service Desk takes the lead in the Email Triggers category, offering robust workflow automation capabilities. Organizations can easily create email triggers based on predefined workflows, ensuring prompt and accurate responses to incoming requests.
In contrast, TOPdesk faces challenges in this area, potentially hindering organizations from fully automating their processes and optimizing workflow efficiency.
Module separation
InvGate Service Desk allows users to conveniently categorize and manage tasks within dedicated modules, offering a seamless experience. This feature fosters clear communication and enables teams to collaborate efficiently, resulting in streamlined operations and improved productivity.
On the other hand, TOPdesk users have reported concerns regarding the inconvenient separation of tasks in different modules. This may introduce complexities and challenges when managing and collaborating on various tasks within the software.
Front-end customization
InvGate Service Desk stands out for its flexible front-end customization options, enabling organizations to create a personalized, branded user experience. This level of customization ensures that the software aligns with the organization's unique visual identity and design preferences.
In comparison, TOPdesk's front-end customization may present challenges, potentially limiting organizations from achieving the same level of personalization and branding.
Implementation
InvGate Service Desk prioritizes a smooth implementation process. This commitment to a seamless onboarding experience ensures organizations can quickly adopt and leverage the full potential of InvGate Service Desk.
On the other hand, users have reported implementation delays and encountered issues with consulting services when dealing with TOPdesk. These challenges may introduce unnecessary hurdles and potentially impede organizations from quickly implementing and fully utilizing the software.
Features
InvGate Service Desk offers a comprehensive feature set, including IT support automation and ITIL-certified Incident Management, Problem Management, Change Management, and Service Management capabilities.
In contrast, according to user feedback, TOPdesk has been criticized for missing certain features or lacking the same level of functionality when compared to industry competitors. This limitation may impact the ability of organizations to optimize their IT service delivery fully and may require workarounds or additional integrations to meet specific requirements.
Asset Management
InvGate Service Desk offers efficient Asset Management capabilities with its integration with InvGate Insight, enabling organizations to optimize resource utilization through a centralized repository for effectively tracking and managing IT assets. The software is praised for its fast and easy setup and straightforward onboarding of agents and users.
In comparison, while TOPdesk provides Asset Management functionality, users have reported concerns regarding the slow release of updates for this particular feature. This delay in updates may limit organizations' ability to leverage the latest advancements in Asset Management practices and hinder the optimization of their IT assets.
Reporting and dashboards
InvGate Service Desk stands out for its comprehensive reporting options and extensive flexibility. Organizations can monitor key performance metrics, track trends, and make data-driven decisions effectively. Its integration with InvGate Insight's inventory database further enhances reporting capabilities.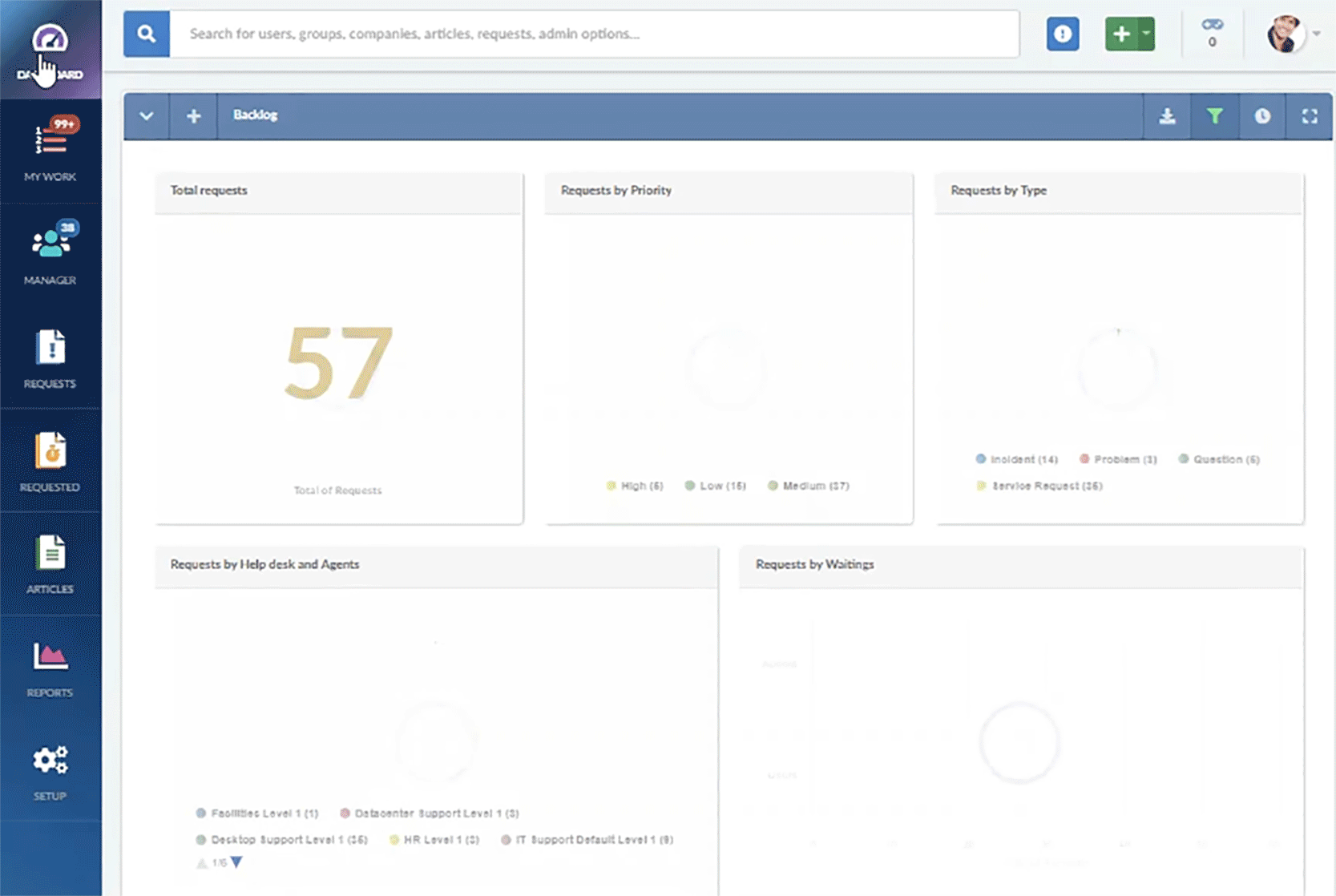 On the other hand, TOPdesk may require improvements in reporting and dashboard options.
In conclusion
When considering a TOPdesk alternative, InvGate Service Desk emerges as a robust, feature-rich solution that excels in key areas. From efficient email triggers to flexible front-end customization and smooth implementation, this compelling software empowers organizations to optimize their IT operations and deliver exceptional support to end users.
To truly understand its advantages, explore our live demo. Discover how InvGate Service Desk can revolutionize your IT Service Management experience!