When it comes to IT Asset Management (ITAM) solutions, the comparison between Flexera One vs. Snow License Manager highlights distinct features and considerations that organizations should evaluate based on their specific needs and priorities. Selecting the ideal solution can have a profound impact on your efficiency and long-term success.
In this blog post, we'll conduct a comprehensive comparison of Flexera One vs. Snow License Manager, assessing their strengths, weaknesses, and key considerations. In addition, it's important to explore ITAM software alternatives as well, such as InvGate Insight, which brings its unique set of features and capabilities to the table.
Continue reading to gain valuable insights and make an informed decision that will optimize your ITAM processes.
Most looked-at features by buyers
When considering IT Asset Management solutions, prospective buyers evaluate various crucial features to find the most suitable option that meets their specific requirements and business needs.
Here are some key factors that buyers consider when selecting a customized ITAM solution for their organization.
Service desk integration - Integration with

help desk software

enables seamless information flow between Asset Management and

IT Service Management

processes. This integration improves communication, streamlines workflows, and enhances overall service delivery.


Unified IT Asset and Inventory Management - Buyers seek a solution that offers a

unified IT asset inventory

feature, allowing them to efficiently monitor and manage their entire IT asset inventory from a single platform. The solution should facilitate automated

as

s

et discovery

and capture essential information such as hardware specifications, software versions, and ownership details.


Enhanced cybersecurity compliance - Prospective buyers aim to find a tool that continuously monitors assets and their security status, helping them proactively identify and address security risks.



CMDB

Map Builder - This functionality allows users to define and document relationships between different components, such as hardware devices, software applications, network connections, and dependencies. Visualizing these relationships helps organizations better understand the impact of changes, assess risks, and plan for effective

Incident Management

and

Change Management

.


Automated management and proactive notifications - The preferred solution should allow users to create automated workflows for routine tasks such as software updates, patch deployments, and system maintenance. Users can ensure efficient operations and timely respond to critical events by automating these tasks and receiving proactive notifications.


Software Management optimization - Buyers look for a feature that enables them to track software installations, ensure proper

Software License Management

, and identify instances of over or underutilization.


Flexible deployment options - Users prefer a platform that offers flexibility in choosing deployment models, including cloud-based, on-premises, or hybrid solutions.


Proactive cost management and financial optimization - The chosen solution should incorporate financial data,

contract lifecycle management

, licenses, and other relevant information to provide a comprehensive understanding of operational costs.


Remote management with integrated tools - Integration with popular remote desktop tools enables IT teams to diagnose issues, apply patches, perform software installations, or conduct system updates remotely, eliminating the need for physical presence.


Comprehensive insights into IT infrastructure - The platform should provide a complete view of IT asset status, performance, and usage, enabling users to make informed decisions and optimize their infrastructure. Additionally, the solution should include reporting and analytics features.
What is Flexera One?
Flexera, previously known as InstallShield but renamed in 2009, is a well-known company specializing in solutions for managing technology assets. Headquartered in Itasca, Illinois, United States, Flexera has been a leading provider of comprehensive technology tools since it was established in 1987. The company offers a range of services including managing software and hardware assets, optimizing cloud spending, addressing vulnerabilities, and ensuring compliance with open-source software.
Flexera One, developed by Flexera, is a robust Software as a Service (SaaS) solution that combines IT Asset Management and Software Asset Management (SAM). It takes a comprehensive approach by providing a unified and centralized view of IT assets across various environments, including on-premises, cloud, and edge.
This platform helps organizations optimize their IT expenses, manage and secure their cloud infrastructure, reduce risks, ensure compliance, and gain valuable insights and analytics.
What users like from Flexera One
Flexera One has garnered positive feedback from customers, including reputable sources like Gartner. Let's delve into some of the specific advantages that have been emphasized.
Facilitating critical business processes and decisions - Users have highlighted Flexera One's capacity to provide valuable software insights that support crucial business processes and decision-making. The software equips organizations with the necessary tools and data to optimize their strategic planning and enhance operational efficiency.
Addressing business needs effectively - Flexera One has received widespread acclaim as an outstanding SAM tool that aptly caters to the unique requirements of businesses. It has demonstrated its ability to adapt to users' needs, ensuring a seamless experience.
Exceptional customer support - Reviews consistently praise the outstanding customer support provided by the tool. Users express satisfaction with the prompt assistance they receive and the attentive nature of the support team. Customers feel heard and supported, contributing to their overall satisfaction with the product.
User-friendly with extensive visibility - Customers have commended the user-friendly nature of the platform. The software's intuitive interface and streamlined navigation make it easy for users to comprehend and operate. Moreover, it provides comprehensive visibility, interpretation, and coverage of software consumption.
What users don't like from Flexera One
While Flexera One has numerous strengths and positive attributes, it is not without its share of customer concerns and criticisms. Reviews from reputable sources like Gartner have shed light on recurring issues that users have brought up.
Challenges with the support team and data quality concerns - Some users have experienced difficulties interacting with Flexera's support team. Additionally, concerns have been raised regarding the quality of the provided data. These issues warrant attention and improvement to ensure a smoother customer experience.
Recurring issues and time-consuming resolutions - Users have expressed frustration with the time it takes to address these problems, which can impact their workflow efficiency. Resolving these recurring issues and optimizing the resolution process would greatly enhance the overall user experience.
Challenges during setup - Several customers have reported difficulties during the system's initial setup, despite receiving assistance from Flexera's support team. Even with help, users still encountered problems, indicating a need for improvements in the setup process.
Complex configuration for licensing models - Customers have mentioned that configuring the product to handle more complex licensing models accurately requires substantial effort. The complexity involved in obtaining precise insights into licensing can present challenges and may benefit from streamlining and simplification.
What's Flexera One's argument over Snow License Manager?
Flexera One's argument over Snow License Manager revolves around highlighting its strengths and advantages compared to Snow License Manager. Here are some points.
Facilitating critical business processes and decisions - Flexera One enables organizations to gain valuable software insights that support crucial business processes and decision-making.


Addressing business needs effectively - Flexera One is praised for its ability to adapt to users' unique requirements, ensuring a seamless experience. It caters to the diverse needs of businesses, providing the necessary tools and functionalities to manage software assets and optimize licensing effectively.


User-friendly with extensive visibility - Flexera One is commended for its user-friendly nature, with an intuitive interface and streamlined navigation that make it easy for users to comprehend and operate. The software provides comprehensive visibility, interpretation, and coverage of software consumption, enabling organizations to gain deep insights into their software assets.
What is Snow License Manager?
Snow License Manager, developed by Snow Software, is a Software Asset Management (SAM) solution. Its purpose is to aid organizations in effectively handling their software licenses, maximizing software usage, and ensuring adherence to licensing agreements.
Snow License Manager provides a variety of features and capabilities that empower organizations to have complete visibility into their software assets. This visibility enables them to make informed decisions regarding software procurement, usage, and cost optimization.
Snow Software is a globally recognized vendor of technology intelligence solutions, specializing in Software Asset Management, IT Service Management, and Enterprise Mobility Management. Headquartered in Stockholm, Sweden, Snow Software has successfully established a strong global presence, with regional offices spanning the United States, Europe, and Asia. Since its establishment in 1997, Snow Software has been a leader in delivering comprehensive products and services to assist organizations in optimizing their technology investments and achieving maximum value.
Snow Software's product portfolio includes various offerings such as Snow License Manager, Snow Device Manager, Snow Inventory, and Snow Automation Platform.
What users like from Snow License Manager
Snow License Manager has received positive feedback from customers, as evident in reviews from reliable sources like Gartner. Now, let's explore some of the benefits that users have highlighted.
Licensing - Snow License Manager simplifies the tracking and monitoring of software licenses and compliance-related matters. It equips organizations with straightforward tools to effectively manage licenses, enabling them to maintain compliance with licensing agreements.
User interface - The tool has an intuitive user interface that prioritizes user-friendliness. Its design facilitates seamless navigation and interaction, ensuring users can efficiently utilize the software in every process.
Software Recognition Service (SRS) - The software offers a comprehensive and meticulous SRS, continuously updated to ensure precise identification of software assets. The utilization of stable agents guarantees reliable and consistent results.
Support - Users highly praise the support team's excellent communication, allowing for effective resolution of concerns. The opportunity to participate in the beta program grants users early access to new features and the chance to provide valuable feedback. Additionally, the presence of dedicated customer success managers contributes to achieving successful outcomes.
Reporting - The platform provides an array of invaluable standard reports that offer insights into software usage and comprehensive hardware information collected by agents. Users also have the convenience of effortlessly generating customized reports tailored to their specific needs.
Cost - By providing invaluable insights into installations and compliance, Snow License Manager enables organizations to achieve cost savings during audits through effective license compliance management.
Performance - The tool excels in consolidating information and adopts an audit-ready approach, empowering organizations to maintain an elaborate inventory of their software assets while ensuring optimal performance.
Integration - The platform seamlessly integrates with SAP environments, streamlining workflows and enhancing compatibility. The utilization of lightweight agents facilitates efficient operation throughout the integration process.
Maintenance - Snow License Manager remains at the forefront of industry developments through regular updates, ensuring it remains up-to-date with the latest features and robust security enhancements. Its consistent performance and reputation position it as a mature and trusted product.
What users don't like from Snow License Manager
While Snow License Manager has various strengths and positive attributes, it is not immune to customer concerns and criticisms. Reviews from trustworthy sources like Gartner have illuminated some of the common issues voiced by users.
User interface - The configuration process of Snow License Manager can be complex and not always straightforward. Users may encounter difficulties when personalizing the interface to meet their specific needs, which can result in a suboptimal user experience.
Integration - Some users have found that the integration and implementation process of the software is not straightforward. Organizations may face challenges when integrating the software with existing systems or configuring the necessary agents for seamless operation. The process of agent configuration may not be user-friendly, requiring additional effort and expertise to ensure successful integration.
Software Recognition Service - Snow License Manager may encounter challenges with software identification, where certain software assets may not be accurately recognized or identified by the system. This can lead to incomplete or inaccurate software inventory reporting. Furthermore, there may be difficulties related to cross-platform rights, limiting the recognition and management of software assets across different platforms or operating systems.
Support - Users have expressed concerns about the response time from the support team, leading to delays in issue resolution. Additionally, there have been instances where the support team lacks problem-solving skills, resulting in prolonged troubleshooting. Users have also reported inconsistent support experiences, with varying levels of quality and effectiveness.
Performance - Snow License Manager's performance can be impacted by large volumes of data. When organizations have extensive software inventory or complex IT environments, the system may experience performance issues such as slower response times or delays in report generation. Users have also reported encountering bugs or limitations within the software that restrict certain functionalities and hinder optimal software utilization.
Reporting - Although Snow License Manager provides a range of useful standard reports, some users have suggested that the reporting functionality could be further enhanced. Users may face limitations in generating specific or customized reports, and the process of creating complex or tailored reports can be time-consuming and require additional effort.
Cost - One drawback of the tool is its high cost. Organizations may find the platform expensive, particularly in terms of initial acquisition and ongoing maintenance expenses. Additionally, there may be additional costs associated with technical support services, further adding to the overall financial burden.
Licensing - Users have expressed concerns about the lack of notifications when synchronization fails during the licensing process. This means that if there are any issues with synchronizing Snow License Manager and the software license databases, users may not receive immediate alerts or notifications, potentially resulting in compliance issues. Additionally, providing a comprehensive software license position can be time-consuming, as it requires manual effort to gather and consolidate accurate license information.
Maintenance - The tool incurs high maintenance costs that organizations should take into account when budgeting for the software. Furthermore, some users have reported that product upgrades can cause issues or disruptions in the system's functionality. Organizations may need to allocate additional resources and plan for potential disruptions during the upgrade process to minimize any adverse effects on their operations.
What's Snow License Manager's argument over Flexera One?
Snow License Manager aims to differentiate itself from Flexera One by emphasizing its strengths and advantages. Here are some key points that Snow License Manager could highlight in this comparison.
Licensing and Compliance Management - Snow License Manager is praised for its ability to simplify the tracking and monitoring of software licenses and ensure compliance with licensing agreements. It offers straightforward tools to manage licenses effectively, providing organizations with cost savings during audits.


Software Recognition Service - Snow License Manager's SRS is highly regarded for its comprehensive and meticulous approach to software asset identification. The continuous updates and utilization of stable agents ensure accurate recognition of software assets. In contrast, some users have raised concerns about the data quality and software recognition capabilities of Flexera One.

Performance and maintenance - Snow License Manager is recognized for its performance in consolidating information, maintaining an elaborate inventory of software assets, and ensuring optimal performance. The regular updates and robust security enhancements contribute to its reputation as a mature and trusted product. In contrast, Flexera One receives mixed reviews regarding performance, including concerns about recurring issues and time-consuming resolutions.
Considering InvGate Insight as an ITAM solution alternative
InvGate Insight is a comprehensive IT Asset Management solution that offers a wide range of features and functionalities to streamline processes. Here are the key features it provides.
IT Asset and Inventory Management
InvGate Insight consolidates data from various sources, making IT and non-IT Asset Management more efficient. It offers a comprehensive view of your infrastructure, including assets, locations, and personnel, saving time and improving overall management.
Native service desk integration
InvGate Insight seamlessly integrates with InvGate Service Desk, creating a comprehensive view of IT operations. Connecting service tickets to relevant assets and personnel streamlines workflows, improves communication, and enhances issue resolution.
Automation and alerts
InvGate Insight enables efficient management through process automation and setting up alerts. By automating tasks and creating alerts, you can proactively manage IT operations, monitor contract expirations, and minimize manual effort.
Software efficiency and cost reduction
InvGate Insight facilitates the identification and measurement of software usage, optimizing software management. It provides visibility into software utilization, allowing you to reallocate licenses, reduce costs, and maximize returns on IT investments.
Proactive cost management
InvGate Insight integrates financial data, contracts, licenses, and crucial information into the system, providing a complete understanding of operational costs for proactive financial decision-making.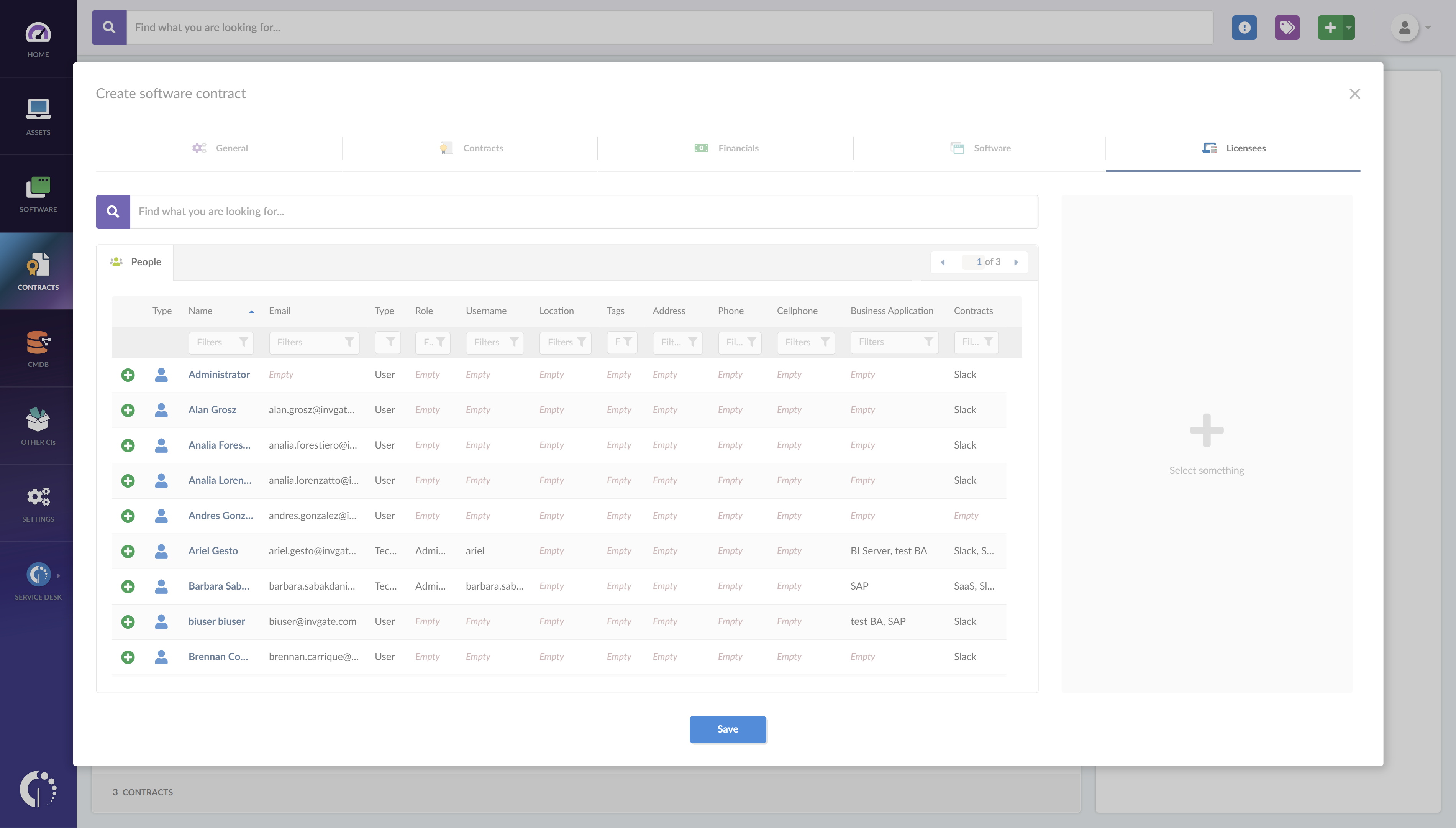 Cybersecurity compliance
The asset monitoring capabilities of InvGate Insight help establish and enforce device health rules, ensuring proactive cybersecurity compliance. It quickly identifies instances of non-compliance, allowing you to take immediate action to adhere to cybersecurity policies and protect your IT infrastructure.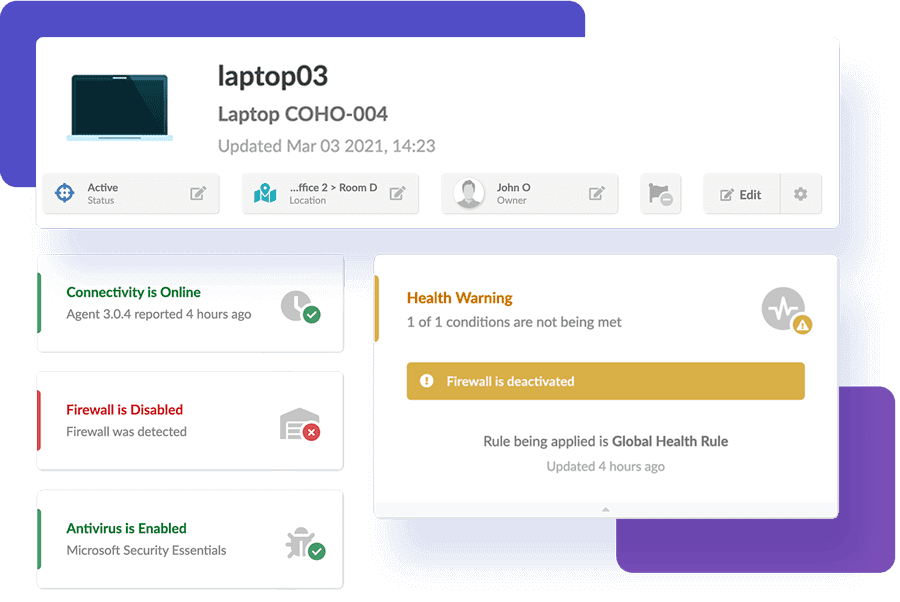 Flexible deployment options
InvGate Insight offers flexible deployment options, allowing you to choose between cloud-based or on-premise solutions to meet your specific requirements and compliance standards.
CMDB Map Builder
InvGate Insight includes a CMDB map builder tool that visualizes relationships between IT components, helping identify potential impacts and mitigate risks. This visibility reduces service times, improves operational efficiency, and ensures smoother IT operations.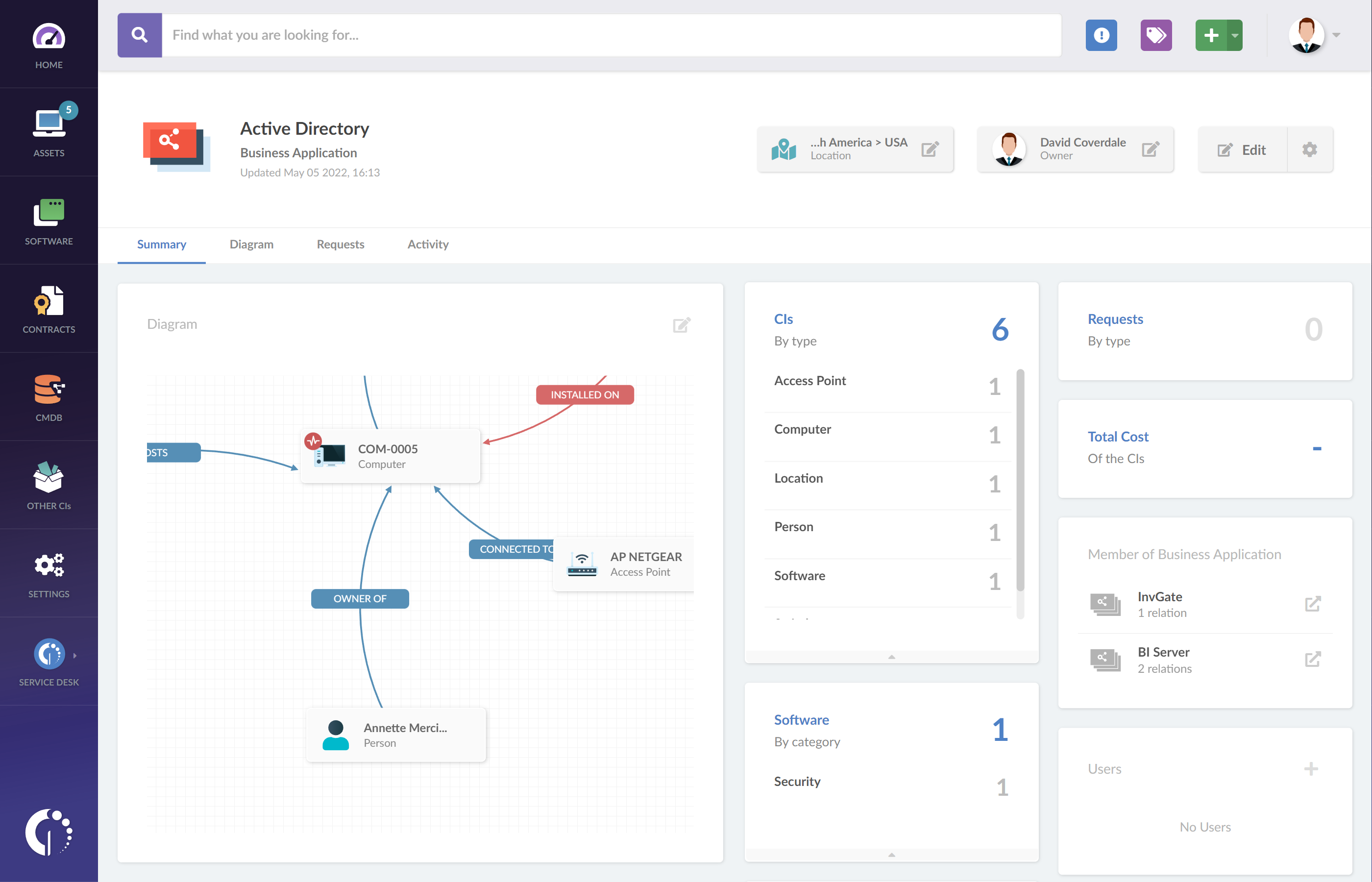 Remote management
InvGate Insight natively integrates with popular remote desktop tools, enhancing remote management capabilities. This integration provides direct access to devices for troubleshooting and maintenance, ensuring efficient resolution of IT issues.
Detailed insights
InvGate Insight provides detailed and actionable information about your IT assets, their status, and usage. These insights enable effective management and optimization of your IT infrastructure, improving operational efficiency.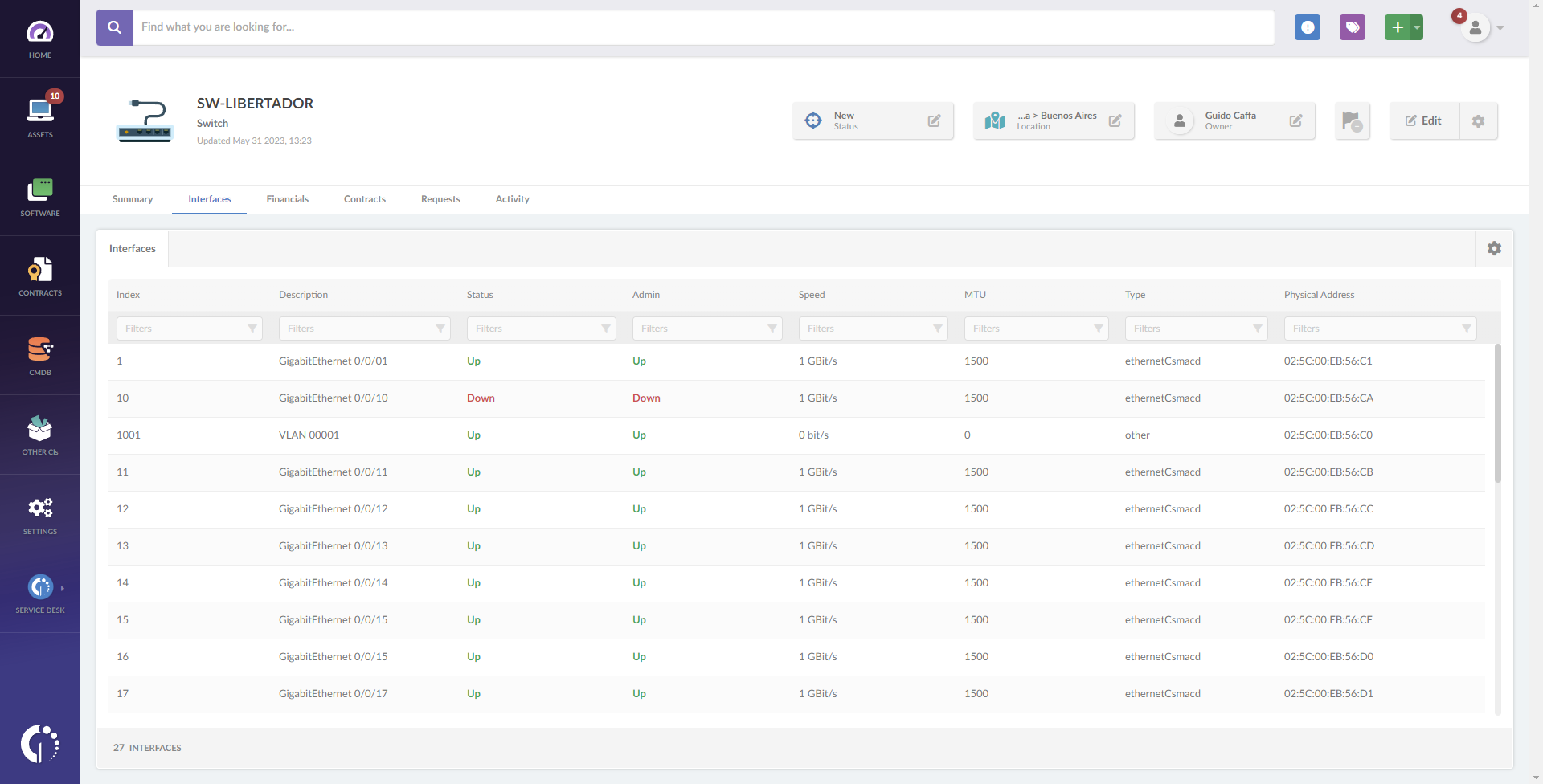 Next steps
Selecting the ideal IT Asset Management ITAM solution is of paramount importance in optimizing IT service delivery and securing the future growth of your organization. Carefully assessing and comparing options like Flexera One vs. Snow License Manager is crucial to finding the solution that best suits your specific needs.
In addition to considering these platforms, it is worth exploring other ITAM software alternatives such as InvGate Insight. InvGate Insight offers a comprehensive range of features that can streamline your ITAM processes and drive efficiency within your organization.
Explore our live demo and witness firsthand the transformative capabilities of InvGate Insight in enhancing your business operations. You can also download our free ITAM implementation checklist to help you map your next steps!