Every company wants to scale up. An often overlooked aspect of scaling is customer relationship management (CRM). And service desk issue-tracking systems (also known as ticket management systems) are essential to CRM.
Consequently, customer issues, inquiries, and complaints start to increase. Dedicating a significant portion of a company's workforce to sifting from call to call and providing customer support takes a lot of work and resources. This aspect could become so cumbersome that it can shift attention from pushing for more sales or managing existing customers.
Service desk issue-tracking software and systems are the keys to efficiently solving customer complaints, providing support, and responding to inquiries. Investing in a customer support team in a growing company includes a solid ticketing system.
It strikes the perfect balance between expansion and managing customer needs. Think of it as a customer service improvement tool.
In this article, we'll look at some of the quintessential must-haves in any service desk issue-tracking system, and how to use these tools to their fullest potential.
10 indispensable features to look for in a service desk issue-tracking system
1. Omnichannel accessibility
In a hyperconnected society, being able to streamline a company's customer support efforts across many platforms is an absolute must. If your service desk issue-tracking system can offer diverse contact channels, users can choose whichever they prefer. The freedom to do this results in a better experience that benefits employees and customers equally.
Thus, good issue-tracking software should be able to track and manage requests from multiple channels. Nowadays, phone and email are the two biggest support channels, closely followed by live chat. Despite their popularity, social media networks are still behind the communication above lines, though they will surely grow shortly.
Service desk software such as InvGate Service Desk supports various communication channels and merges them into one clean, ordered line of tickets, allowing companies to have a much more significant impact on customer satisfaction.
2. Multilingual support
With the advent of the Internet, geographic borders have become a thing of the past. It would be counterproductive to create them yourself by using help desk software that supports just one language. It's not only a matter of getting the message across but also good customer service etiquette.
A ticketing system that speaks the customer's language is one of the many steps towards a long and loyal relationship. Going the extra mile puts a brand on the map and results in customers reaching out more often. Thus, supporting multiple languages should be the standard for issue-tracking software tools.
Even if a company is in its early stages, it's encouraged to think ahead. Two languages are the minimum requirement for businesses to serve their users correctly. It makes no sense to use a monolinguistic ticket management solution to go through the selection process again when they need to be multilingual.
3. Customization options
Customization is best to integrate your brand into your ticket management and issue-tracking software. It should look like the rest of your company's online presence. Again, a crucial aspect of a properly implemented UX interface. Thus, you should aim for a highly customizable help desk.
Templates can save time and effort. Simple things like customizing your issue tracking software interface can go a long way. Good ticket management software tools tend to include customizable email templates. Cohesiveness is vital, and the impact of minor changes can result in a smoother workflow.
4. Automation
Workflow automation is an essential tool regardless of the industry. Companies need service desk issue-tracking systems that work with rule engines, and automatic ticket assignment is the easiest way to do it. Consequently, agents and project management higher-ups can create automation rules to assign new tasks or, for example, send alerts when tickets become overdue or use time tracking thresholds to send them as well.
In addition, repetitive and grinding tasks can be automated to reduce the time it takes to serve users and reduce the occurrence of potential mistakes. All in all, automation like the one available for InvGate Service Desk can eliminate delays between a customer's request and the right agent for the job and collaborate towards better customer service and experience.
5. Personalized ticket pages
Everyone is unique in their needs and demands, and there's nothing better than making customers feel this uniqueness when interacting with your brand. Tailoring your ticket management systems and issue-tracking software to their needs is a great way to let customers know you care. The more you see a customer, the better customer service you can provide.
Personalized ticket pages allow agents to access a user's entire ticket history when they create a query. It saves time, but also it nurtures a customer's base loyalty. Moreover, many ticket management systems use issue tracking and bug tracking tools to aid in device data logging. It means user information such as the device, browser, and saved ISP to better help with any issues.
If a company's service relies on the internet access of a customer on the other side, having access to this data reduces the number of essential and repetitive questions that agents need to ask customers before serving them. It's both a time-saving tool as well as a customer service and experience improvement tool.
6. Ticket categories and tags
Many things are going on, from when a query is created to when it is eventually solved. That's why service desk issue-tracking systems need categories and tags so that the entire ticketing process flow – moving tickets, merging, and assigning them to other agents – is as hassle-free as possible.
Thus, labeling tickets accordingly enables agents to quickly assess the situation and understand the status of the request a user has made and which steps to take to solve the issue successfully. It helps with bug tracking as well. InvGate Service Desk features advanced filtering capabilities to sort tickets by issue, status, department, type of request, and many more.
7. Knowledge base
An issue-tracking system without a robust knowledge base is like a Ferrari without a gas pedal: you might have a workforce, but no knowledge renders it useless. Any strong customer support service should be able to deliver quick answers through user-retrieved information, if possible. It translates into fewer phone inquiries and an increase in website traffic. In short, have an answer ready beforehand.
Portals like these are the backbone of any ticket management solution and should be accessible through the system. Ticket deflection should be what you're striving for, and a solid knowledge base is a clear-cut solution. Even more so, a platform with mast suggestion capabilities such as InvGate Service Desk can significantly save users many headaches when solving common issues and requests.
8. Team empowerment
A good issue-tracking system is only as good as the team behind it. You could have the best ticketing system in the world, but if your workforce is not solid and closely knitted, most of its potential will go to waste. While it's true that project management is mainly in charge of making sure that teams get together when it comes down to specifics, these platforms should both save time and effort when answering tickets as well as improve team communication.
There's an almost endless well of features that teams can benefit from. It goes from foundational features such as being able to assign tickets to groups or individuals to more advanced features such as adding internal notes to discussion for future reference.
Project management should be able to assess a team's collective performance as well as communicate with all of them through the help desk software platform.
9. Reporting tools
Knowing what needs improvement should be a collective concern. Insights are the first feature managers should look at in a good service desk issue-tracking system. You can see what customers are looking for, how they get answered, and how your team performs based on requests.
This data is invaluable, as it will be the engine behind every decision your support department makes. With this insight, you can plan to nurture your knowledge base ahead of time, determine if you need a new cross-team workflow, and so on.
10. Customer-oriented experience
Optimal service desk issue-tracking software should aid customer service, customer satisfaction, and experience. You not only want to offer the correct answers, but you also want to make sure that they feel like they're being led through the solution every step, so users get what they need swiftly and comfortably.
A good start would be having a help widget on your company's website. If the customer decides to open a ticket, they add custom fields for extra information to minimize follow-up questions. Encouraging feedback about the experience can also go a long way to improving all areas of your help desk operations.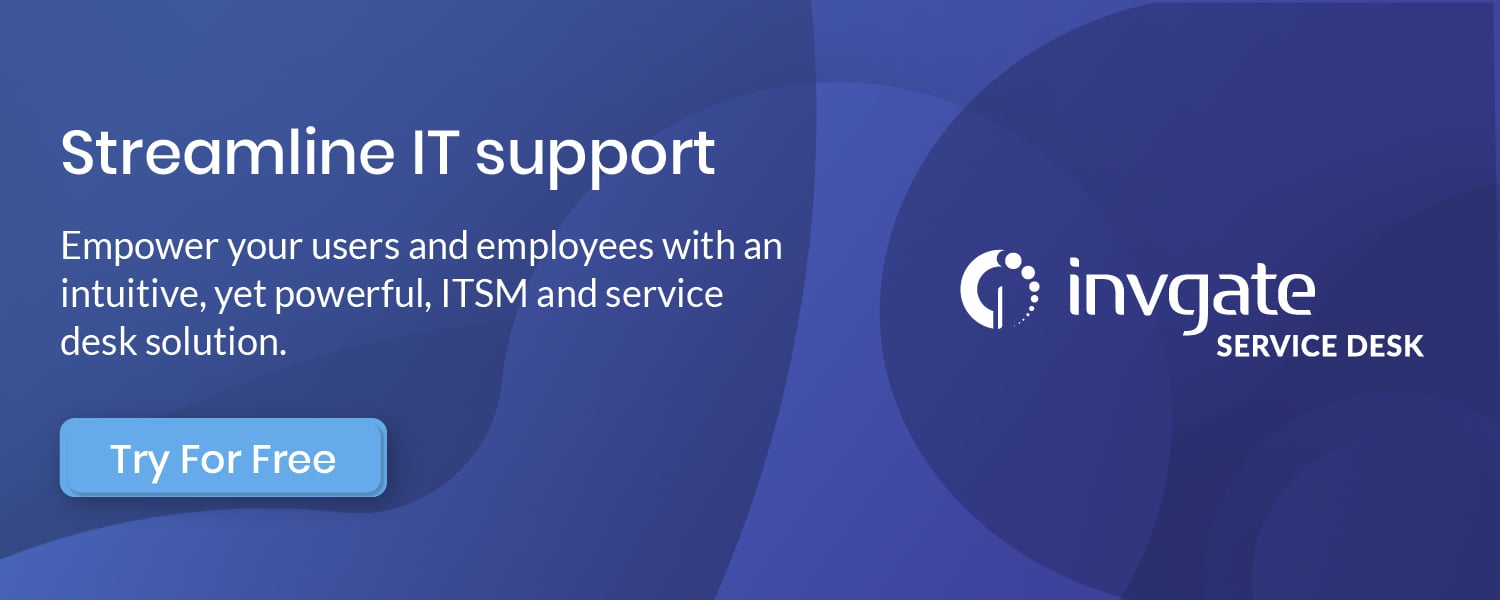 Ticket management dos and don'ts
Dos
Customize the ticket management interface to fit your brand.
Implement bug tracking in your help desk software interface.
Use FAQs as a ticket traffic reduction measure.
Use ticket management interfaces as a team empowerment tool.
Focus on UX as much as possible.
Meet customer service standards and SLAs.
Don'ts
Ask users the same questions without insight into their previous inquiries.
Use only the company's web help desk section for ticketing.
Use monolingual ticket management software.
Neglect your knowledge base.
Close tickets without requesting customer feedback.
Key takeaways
To keep it short, service desk issue-tracking systems might look intimidating. Still, the key thing to remember is that knowing the tools you have at your disposal and how they interact with your infrastructure will make or break your ticketing system. Integration and articulation with your entire help desk are as crucial as integration and articulation with your team members.
InvGate Service Desk is a tool that melds the human and the automated into an easy-to-use package that helps with issue tracking and acts as a liaison between ticket management and the rest of your IT infrastructure.
Frequently asked questions
What is ticket management?
Ticket management in IT is the process of tracking, managing, and resolving user requests and IT incidents. It is usually part of a company's help desk and technical support system wherein internal employees as well as external customers.
Why is ticket management important?
An efficient ticket management system is imperative for streamlining, organizing, and prioritizing your help desk requests as dictated by the criticality of the impacted IT service and the query's difficulty level, instead of simply being dealt with in the order that they are received. A well-designed ticket management system helps you maintain end-user and customer satisfaction. It is critical for MSPs to prevent customer churn.
What are the benefits of a good ticketing system?
It increases the operational efficiency of the help desk team.
It has better prioritization of tickets based on the level of severity and complexity.
It brings higher quality IT service delivery due to faster ticket resolution.
Lower overhead costs for help desk staffing.
Refine support processes with data from other systems such as RMM and IT documentation.
Better communication and collaboration between the technician and the requester
Maintaining customer service standards.
Tracking of essential service metrics and KPIs.