The recent onset of digital workplace trends is the driving force of change behind the shifting and agile, modern workplace. If the past few years have taught us anything, organizations have no choice but to adapt to the rapidly accelerating tide of digital transformation.
Along with the evolution of digital transformation has come a more comprehensive digital workplace technology landscape. To increase productivity and employee experience, organizations redefine what a digital workplace is to keep up with digital workplace trends.
To keep you up to date with the latest, we'll explore 7 of the most relevant digital workplace trends, including a look at:
Managing a digital environment and workplace that strikes a critical balance between happy customers and employees.
The kinds of solutions that foster collaboration across hybrid and remote teams.
The roles automation and cybersecurity play in cultivating a productive and synergistic digital workplace.
A more flexible workplace is the future. Organizations must stay ahead of the curve by implementing strategies around our dynamic digital ecosystem. What are some of the trends you need to know? Let's explore them now.
7 digital workplace trends for your business
To preserve employee productivity and a healthy ROI in uncertain, rapidly changing times, your business must be attentive to the rise of digital workplace trends. Working from home is more popular than ever. The most successful companies will adapt to this changing work environment and innovate how they deliver value through a suite of digital tools.
From cloud-based solutions to automated processes, the following is our list of the 7 digital workplace trends you should be aware of.
1. Experience management
The customer has always been at the center of a transaction, but how we define good customer service has evolved. With the development of new concepts like experience management, companies have begun to analyze and measure customer experience in the digital world with greater scrutiny.
Organizations have dedicated themselves to improving experiences for everyone across the board, including internal stakeholders and employees, to give them a competitive edge. Because the digital workplace can be easily measured, it's fertile ground for this analysis.
Regardless, quantifying experience is no easy task, much less assigning an economic value. People at their core don't always follow the logic of an established process, according to Alan Nance, Co-Founder and President of XLA Collab.
"People are self-programming sensors," he shared on episode 11 of our tech podcast, Ticket Volume. "And that means that experience management and XLAs are much more volatile than the underlying service management processes that support them."
In short, improving employee engagement within digital transformation is a challenge organization can't afford to ignore.
2. Remote work
Centering employee satisfaction and well-being at the heart of any digital workplace transformation must consider the movement to work remotely. Of all the digital workplace trends, this may be the most obvious as the world has undergone significant change in how we conduct business in the face of a pandemic.
Nevertheless, remote and hybrid work is here to stay. Gartner reports businesses unwilling to meet increasing expectations for more flexible work could lose up to 39% of their workforce. Organizations that don't adapt to hybrid working models – and thus more human-centric business models, as we mentioned above – are at risk.
Still, aside from greater flexibility for an organization and perhaps the cost-saving benefit of not needing a central office, is the apparent advantage that remote work makes for happier employees.
3. Cloud-based solutions
Organizations have adopted cloud-based solutions to ensure remote workers have what they need to stay productive and satisfied. The modern digital workplace is on cloud-native applications and software. Again, organizations that can adapt are more agile, and scaling with cloud-based solutions is more accessible.
Take the rise of virtual desktop infrastructure (VDI), for example, and other technology like desktops as a service (DaaS) that allow businesses to deploy, manage, and equip their teams with digital tools and desktop environments more quickly from a central server.
If you're not quite here yet, take into account that this type of migration is not something to take lightly. There are several things you need to consider before moving to a cloud-based solution, including reduced setup cost, greater scalability, and tighter security.
4. Cybersecurity
Regarding security, running a team of remote workers and devices across a digital workplace will no doubt arouse cybersecurity concerns such as shadow IT. An increase in phishing and ransomware attacks is not surprising, nor are more data breaches and hacking attempts. With uncharted territory comes unexpected threats.
Annoying as they are, security processes like two-factor authentication and requests to update passwords are a product of modern attempts to bolster cybersecurity. Additionally, new workplace trends will include education and culture building on how to protect your data and not fall prey to security risks where human error is the leading cause of data breaches.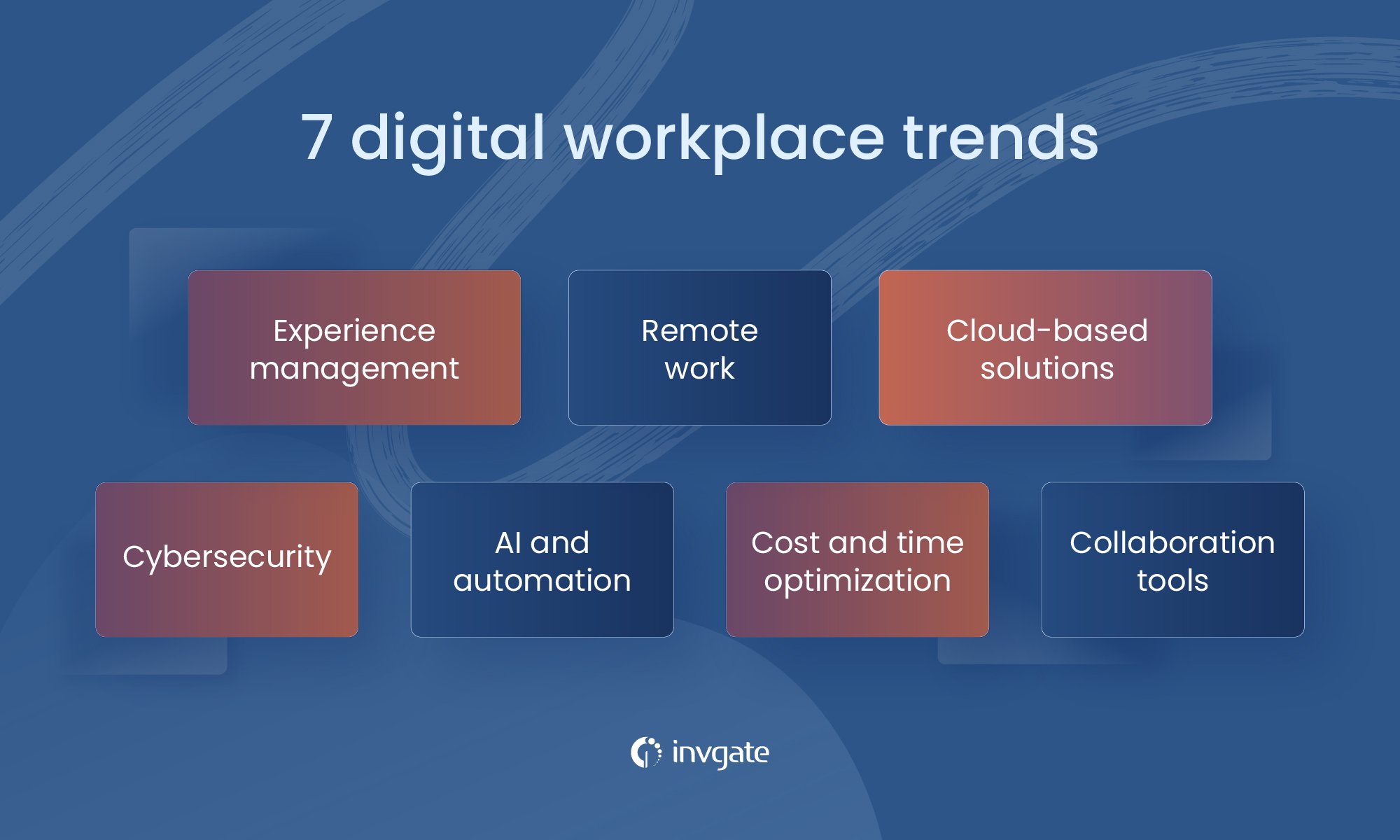 5. AI and Automation
Artificial Intelligence (AI) and automating mundane tasks that save time in an employee's workflow are not new. It is, however, becoming a way for organizations to rapidly transform the speed at which they operate and save money by moving away from manual processes in a digital environment.
A digital workplace necessitates a faster means of working. Automated workflow management and customer support are two processes that speed through the power of automation. Optimizing performance and giving support teams time to focus on more complex tasks via automated systems and chatbots are integral parts of digital workplace technology.
6. Cost and time optimization
We've already covered a bit of how companies save time through automation. It may go without saying, but another obvious benefit to digital workplace trends that allow for hybrid work is the time you save on commuting. The reduced travel stress from fewer daily commutes can also make for a happier, more productive team.
Another way of optimizing costs could be the Bring Your Own Device (BYOD) policy. In this case, companies save on providing their team with devices like computers, phones, and tablets since team members work from their own devices. However, you must review security protocols with your team and take precautions. BYOD is one of the main causes of shadow IT, and it increases the risk of security breaches.
7. Collaboration tools
Finally, one of the most popular digital workplace trends is the growth of collaboration tools. Keeping the team connected has the practical benefit of maintaining communication to run a productive workforce just as you would in the office. Still, it also provides a valuable means for individual team members to socialize, improving the employee experience.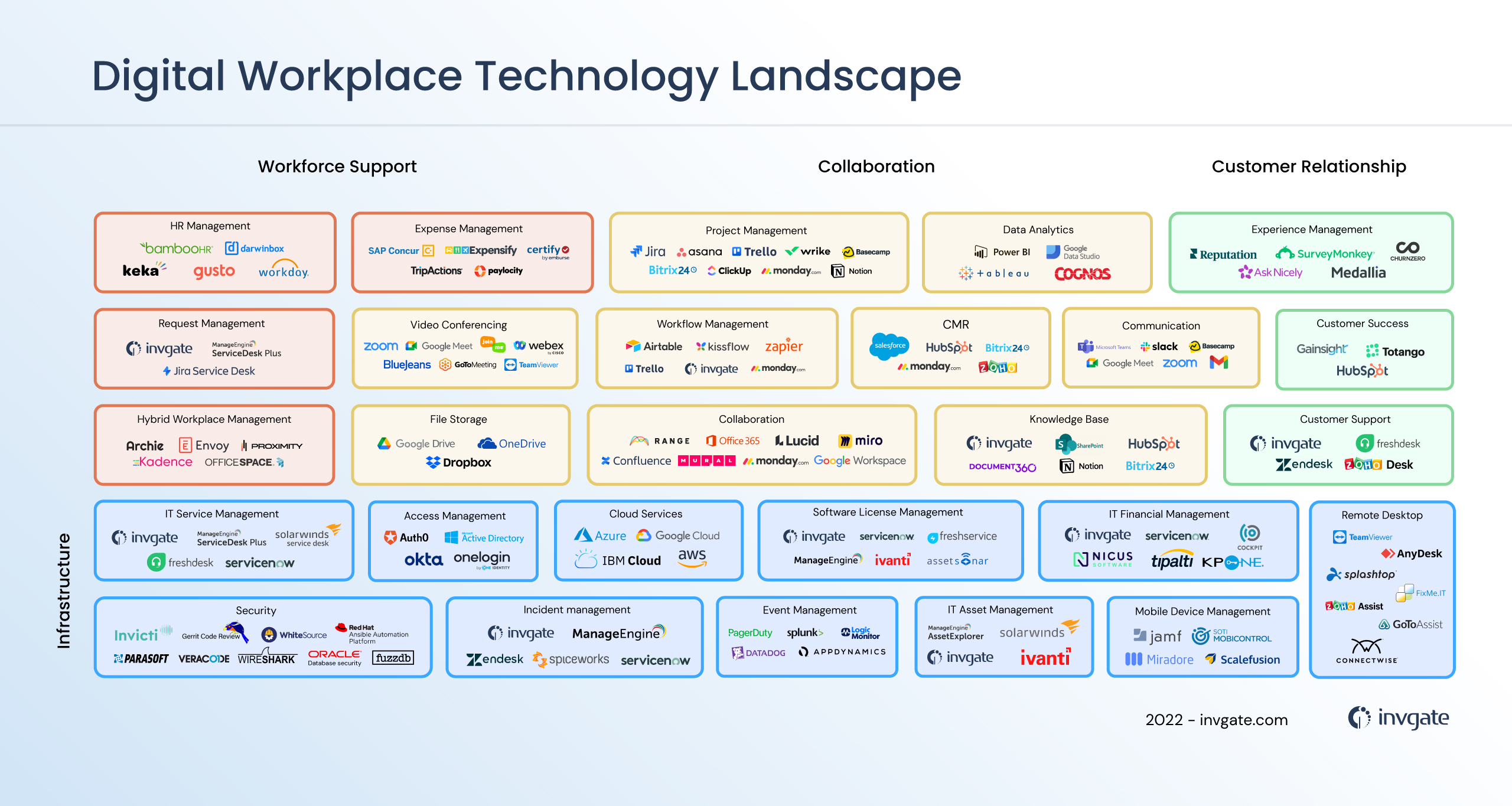 Video conferencing software and platforms are essential to this end and the starting point for any digital workplace. Additionally, digital whiteboards, document synchronization solutions, presentation tools like Google Slides, shared calendars, and chat software like Microsoft Teams (MS Teams) and Slack can round out your tech stack and establish the framework for a productive digital workplace.
Key takeaways
To summarize what we've covered, let's review some of the most important takeaways we can gather from digital workplace trends.
Maintaining good customer and employee experience at the center of your digital workplace will continue to be a critical part of digital transformation as more workers demand flexibility in how and where they work.
Expect more processes to become automated and driven by AI in the future wherever time and cost can be cut.
Digital workplace solutions that promote collaboration and communication are the key to managing remote and hybrid teams.