With the advent of cloud services and their flexibility in terms of both accessibility and pricing, many companies are moving from an on-premise model to a cloud/hosted model. This has become especially true when it comes to service desk operations since they require constant software and hardware support as well as a robust ticketing system that can keep up with user demand. It should come as no surprise that this ongoing migration has got executives wondering if switching to a cloud help desk service could best meet their needs
.
In this article, we won't really dive into what are the key differences between cloud and on-premise solutions as a whole since we've got one already right here. Instead, we'll take a look at what these differences mean for service desk operations. First of all, we need to understand the basics.
How does an on-premise service desk work?
An on-premise service desk is essentially a platform where all help desk software and data are stored and everything runs on the company's physical servers and hardware. The key aspect of this is location. All data (user queries, agent performance reports, etc) is shared, monitored, and tabulated on-site.
In addition, all updates, licensing fees, and software configurations are in charge of the company and the service desk team. Companies with solid IT infrastructures have been using on-premise service desk solutions since teams tend to specialize in certain brands of service desk monitoring tools.
How does a cloud-based service desk work?
As its name implies, cloud service desks offer all the aforementioned tools but on a cloud-based system. Usually, this is done through SaaS (Software as a Service) help desk apps where tools functioning inside of the cloud can be easily accessed through an app or simple interface.
This means that service desk agents and managers all need just an internet connection to get access to their ticketing system, for instance. Servers and software are updated and maintained inside of the vendor's IT infrastructure. Cloud help desk services are aimed at lightening the load for companies looking to scale up help desk teams without the added cost of handling their own software and hardware needs.
10 areas where cloud service desks are superior to on-premise service desks
1. Performance
On-premise service desks may seem like the obvious choice when it comes to performance, mainly because they are hosted on local servers and thus it appears to give agents and managers more control. The ugly truth, however, is that whenever a new update arrives, server shutdowns become a common occurrence. Whether it's because of patches or routine upgrades, these shutdowns greatly affect employee productivity.
Cloud service desks give users an edge in regards to performance. Updates are deployed in a timely manner and servers and computing power keep running regardless of when upgrades or maintenance duties are carried out. Consequently, service desk initiatives can be put in motion and agents can keep up with the stream of customer tickets without the fear of bringing operations to a halt due to update/upgrade downtime.
2. Accessibility
Providing ease of access in companies with thousands of agents working at the same time can be a cumbersome endeavor. This can (and frankly, after 2020 has) become extremely complex when those thousands of employees are spread across geographies instead of just one spot.
While on-premise service desks give employers that edge of having everybody close by, the world of service desk IT solutions is slowly moving towards an IoT-friendly, 'available anywhere' model. Thus, provided agents have an internet connection, a cloud helpdesk makes accessibility issues practically non-existent.
Since the cloud works as a single point of contact for all customer data, consolidation of said data becomes a smoother experience for support teams as well. What's more, interfaces and infrastructures are all homogenous across devices, so discrepancies in software versions make cloud service desk solutions an even better choice across the board and (quite literally) across the globe.
3. Affordability and ROI
Cloud-hosted service desks can deliver a quicker ROI (return on investment) thanks to a streamlined installation and reduced hardware and software infrastructure costs. What's more, many vendors opt for a pay-as-you-go model which allows them to only pay for the storage and service desk tools that are actually being used. This, coupled with how efficient it is for service desk admins to just log in to the system through a browser and access ticketing systems from anywhere are just ends up giving companies more bang for their buck.
In contrast, on-site service desk infrastructures tend to require a much larger investment. Servers, software licenses, cyber security measures, computing power, storage capacity, database configuration, and app customization are all things that cost a whole lot more money, time, and resources on their own. Cloud-based helpdesk solutions pack all into one service. Value-wise cloud service desk solutions stick out as a sensible choice for those looking to set up service desk operations without the financial hurdles of doing so.
4. Security
As stated before, companies invest heavily in IT security. On-premise service desks end up costing much more. High-level data encryption and cross-site scripting mitigation are all measures that can skyrocket deployment costs.
Cloud-based service desk solutions are not only up to par with their on-site counterpart, but they are also, at a fundamental level, safer: The cloud hosts the helpdesk, it's not actually the helpdesk itself. Consequently, it can prevent cyber attacks on hosted help desks from afar and there's no need for monitoring teams. Cloud service desks employ security measures way beyond the budget limit of many businesses.
The cloud provides enterprise-class backup, security, and disaster recovery, but without the usual enterprise cost. Thus, from a security and affordability standpoint, cloud-based service desks have the upper hand.
5. Availability
Not to be confused with accessibility, availability has to do with how companies manage service desk agents so that there's always someone to lend a hand. On-premise helpdesks policies when it comes to answering support calls and emails tend to be pretty tight: it must all be done from the office and during business hours.
These on-site limitations are easily circumvented with cloud-based helpdesks. Customer support has slowly but steadily become more than just an office-hours affair. Most companies offer 24/7 support. As a consequence, cloud-based helpdesks adjust to these SLA expectations by allowing agents to take calls outside of the office space and answer support queries with enhanced availability options.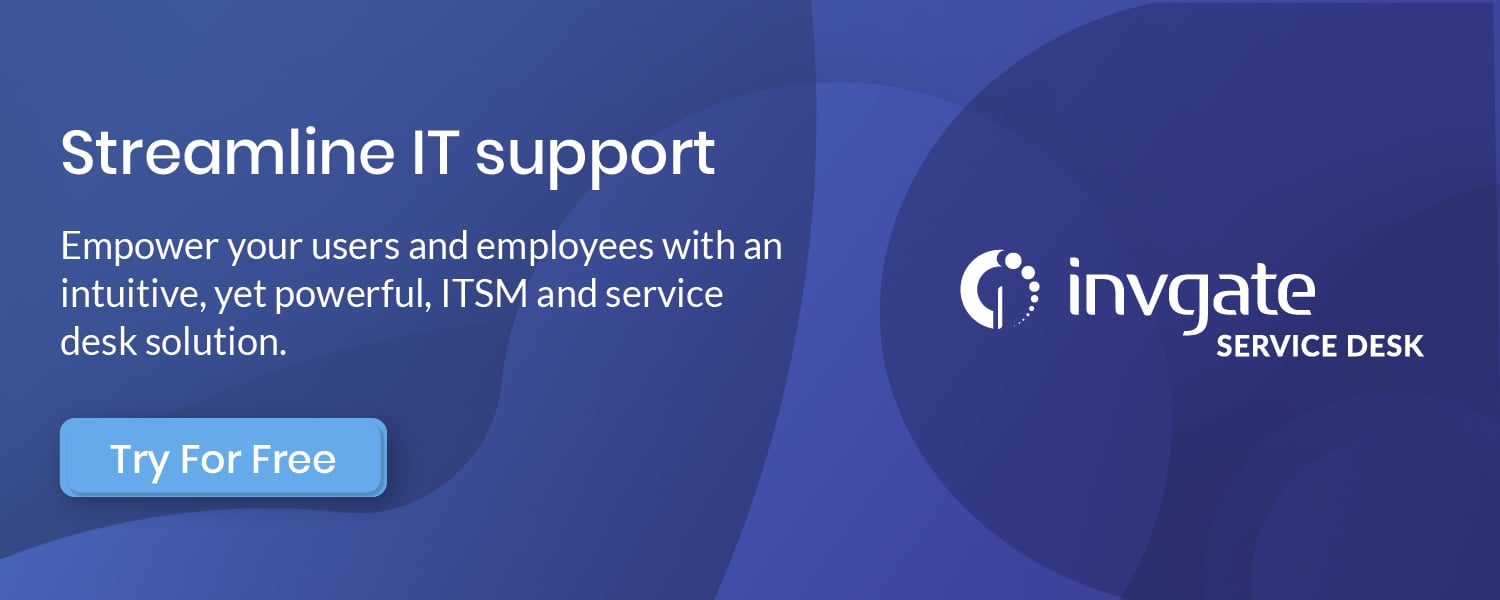 6. Scalability
As we touched upon before, cloud apps are usually licensed on a pay-as-you-go basis, with per-seat costs aligning with a company's growth. With this subscription model, up-front costs are much lower—a prime concern for those looking to take the leap.
Service desk operations can be costly when you start adding hardware and software licenses onto the pile. Cloud-based service desks have the great advantage of allowing businesses to carefully monitor expenditures when aiming to expand their workforce and support reach. Moving from an office-hours-exclusive support system to a 24/7 system is only one of the many ways cloud helpdesk could aid in scaling.
7. Deployment
While on-premise deployment sounds like a grand idea for businesses that want to monitor employee performance, the truth is that trying to carry out deployment initiatives on-site is cumbersome at best. One only needs to look at how contacting multiple providers to get hardware supplies slows down productivity or how keeping every single software license up to date just adds more redundant tasks to accounting teams.
Deployment with cloud-based helpdesks is as easy as determining the number of licenses that will be in use. There's no need to make changes to individual users' PCs, purchase additional hardware, or worry about storage, network capacity, and software licenses when demand increases. Additionally, deployment is seamless. As we said in our performance section, the obstacle of having service/server downtime during deployment is completely avoided.
8. Customization
In on-site help desks, all users view the same help screen. In the help desk of the future, companies will be able to tailor self-service interfaces so that customers can have a better customer experience when navigating their portals. Such customization is particularly easy in a cloud environment: simply add, subtract, and rearrange links on the intranet launch pad.
As more applications migrate to the cloud, the self-service portal becomes the bridge between customers and IT. Plus, as more help desks reside in the cloud itself, this filtering option capability will encourage IT to license and build more cloud-based applications.
9 Collaboration
Cloud-based service desks integrate very well with enterprise social media services. Enterprise social media can revolutionize how service desk agents interact with customers by providing that fluid and familiar way of connecting that people associate with popular sites such as Facebook or Twitter.
Enterprise social media also helps foster collaboration within helpdesk teams as well as better articulate communication between managers and agents. It also helps the service desk and security teams work together. These communities can either be open or closed to other branches of a business. Sometimes, they can be both: service desk teams may wish to share information on ticket resolution rates across the company, for example, while still keeping a secure collaboration forum related to a particular issue that's been affecting specific users.
10. Support
Support for on-premise help desk operations is either entirely up to the agents themselves or —in a best-case scenario, an in-company support team. It goes without saying that this puts an unnecessary load on a company's workforce. This added stress on the moving parts of a business was, up until now, just part of the course.
Conversely, cloud-based systems have their very own support teams, specially trained to deal with that cloud's specific tools and apps. So, on top of all the conveniences of having a hosted service desk, there's the added benefit of having a dedicated support team tending to your agent's very own technical issues with ticketing software, for instance.
Bottom line
The final takeaway is that Cloud services have an edge in all aspects that matter to such an integral part of any business such as the service desk thanks to how affordable, performance-oriented and flexible they are. By transitioning their service desk solutions and even the rest of their IT to the cloud, companies —and more specifically help desks can get closer to their ultimate goal: identifying and resolving issues before end users ever see them.
Frequently Asked Questions
Are cloud-based service desk solutions expensive?
Cloud solutions tend to have a very low up-front cost when compared to their on-premise counterparts thanks to their subscription-based models. Allowing for a quick and affordable set-up process.
How can you transition to a cloud-based service desk system?
The first thing to take into account is what your current help desk looks like. If uniformity is what you are looking for, then slowly but steadily introducing the platform into everyday tasks can help agents adapt to the new cloud-based interface and tools. This helps when thinking about long-term training. Since the platform will be so uniform across the service desk team, new recruits will have an easier time adapting.