The last couple of years have accelerated the global adoption of digital workplaces. Many organizations and companies have gone completely remote, and at least a few are expected to continue this even after the pandemic. According to Pew, only 20% of the people who could have done their job from home have worked remotely before the pandemic. The number is now at 71%.
The sudden shift to work-from-home wasn't without hiccups. There were some initial struggles. Aside from technical issues like internet connectivity and asset management, managers and employees alike found it difficult to collaborate online. Most organizations faced productivity and communication issues in the first couple of weeks of going remote. Even after more than a year in remote, there's still a significant number of "you're on mute" in every meeting.
Despite the initial setbacks, employees and organizations have completely embraced remote work. Almost 80% of employees would recommend remote working and 83% of employers in the US agree that the switch to remote work has been a success. The data suggest that work-from-home may be the new normal for at least a significant portion of the workforce. While organizations may not remain fully remote after the pandemic, most are likely to adopt at least a hybrid environment where employees go to the office 3 days or so every week (and, of course, the role of the service desk in return-to-office is critical).
Most employees rely on an average of 16 SaaS applications to get their work done. Switching between all of these platforms takes up a significant chunk of the daily working hours and hampers productivity. And this has led to companies and managers searching for one single platform where employees can get most of their work done. And that's exactly what a digital workplace does.
What is a digital workplace?
A digital workplace is a set of tools and applications that employees can use to get their daily tasks and activities done while working remotely. A digital workplace platform essentially takes your office and puts it online for your employees to access from anywhere and at any time. It facilitates communication between colleagues, makes it easy to share files and documents, and simplifies remote collaboration.
The main aim of implementing a digital workplace in an organization is to create an employee experience that is equal to or better than working in an office environment. While working in an office, it's easy to talk to your colleague or teammate by walking up to them. If you want to show something on your laptop, you can just bring them to your desk. If you want to plan a project or collaborate on something, just use a whiteboard. But work-from-home complicates even the simplest aspects of your day-to-day work. And this is exactly what a digital workplace solution tries to solve.
A digital workplace includes components for:
Communication (texting, calling, meeting, conferencing, etc)
Sharing documents
Project and task management (assign tasks, set deadlines, track projects, etc)
Attendance management (tracking the work hours, clocking in and out, leaves, and PTOs)
Performance tracking
Integrating third party services and apps
As you can see, components of a digital workplaces are not just about helping employees take their office home. It exploits the opportunities to improve organizational productivity that comes with the entire workforce working online. Many digital workplace solutions offer automation for repetitive tasks, and exploit machine learning and artificial intelligence for robotic process automation (RPA) and generating actionable business insights. In a good solution, the digital workplace components come together seamlessly to create something better than the sum of its parts.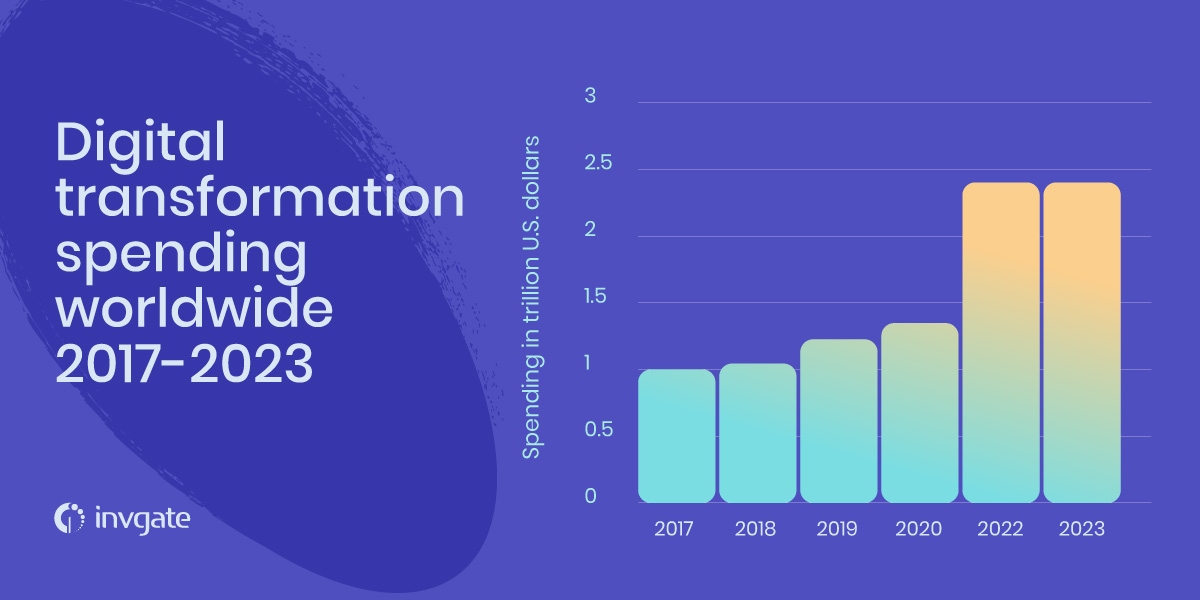 Digital workplaces before the "new normal"
Even before the pandemic, many organizations, particularly companies and startups in the IT industry, were using digital workplace solutions such as Slack and Microsoft Office 365. They have long since established themselves as trusted platforms among techies. While there are plenty of discrete apps that help with different apps of work, these two platforms bring together almost everything that one may need to work from home. And if that's not enough, they support plenty of third-party apps that will get you what you need.
The pandemic has fuelled the growth of these platforms with large-scale adoption in companies from other industries as well. Even educational institutions, from schools to universities, have adopted these platforms for their daily activities. Needless to say, digital workplace solutions have gained huge popularity during the pandemic.
Before the pandemic, companies opted for remote work due to the low cost associated with it and the ability to hire diverse talent from all over the globe. But even then, very few companies offered employees the option to work completely remote. While everyone knew about these benefits, the technologies simply weren't ripe enough for mass adoption of remote work. But the COVID-19 acted as an accelerant for the evolution of these technologies. Companies didn't have a choice but to go remote, and the demand for efficient solutions spurred their growth and adoption.
This doesn't mean that the current trend will be short-lived; if anything, the data suggests the opposite. The pandemic has reiterated the importance of a robust workforce that can keep going no matter what. And while the COVID-19 restrictions and protocols may be abandoned in a post-vaccine world, experts suggest that the digital workplace solutions are here to stay. And grow.
If the trend continues as predicted, we can expect the arrival of new and innovative digital workplace solutions as well as the growth of the existing ones.
The importance of collaboration tools and digital workplaces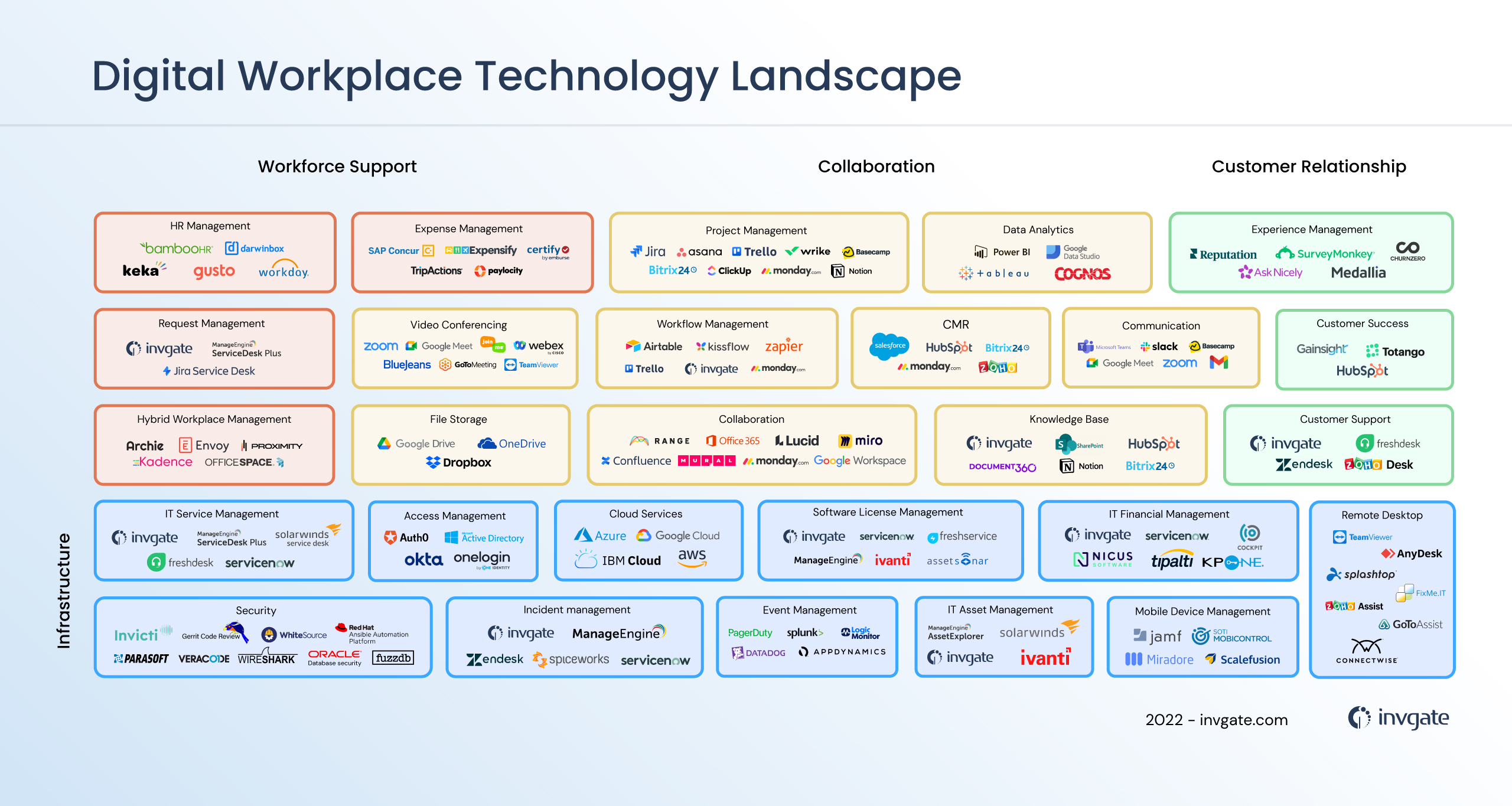 Working remotely without an efficient collaboration tool is next to impossible. Even while working in-office, these tools make it easy to communicate with your team. And benefits of a digital workplace cannot be overstated in an organization. Like a physical workplace, a digital workplace provides everything employees need to carry out their day-to-day activities efficiently. Without a single integrated platform for work, productivity will take a huge hit and valuable time will be lost just searching for the right tools or doing meaningless tasks.
For example, imagine you're working on the UI of an app UI for your company's client. The client wants you to use a SaaS application to track the hours you spend on it. And your company wants you to track your hours in a different application. Once you're done you have to assign it to your teammate. You have to make this change both on the client's application and your company's app. Trivial things like these take up time for no reason. And it will ruin your flow, disturb your 'zone,' and further hamper your productivity.
Digital workplace solutions are an integral part of the digital transformation that a company needs as they shift to fully remote or hybrid work culture. This set of tools will help the organization with the transition as well as building and maintaining a good organizational culture.
Implementing a digital workplace will improve communication, employee collaboration, and productivity within the organization, even for companies working in an office. Instead of 10 separate apps and 20 different tabs on the browser, employees need just one ecosystem to work. A digital workplace completely transforms collaboration in IT.
The digital workplace benefits both the employees and the organization. A company that works completely in a digital workplace generates valuable data which would otherwise be difficult to gather. These would include everything from employee performance throughout the day and bottlenecks during processes to highlighting the lack of safety measures and adherence to SOPs. In a completely physical operation, these data will often be missed and the management is likely to lose out on valuable insights affecting the revenue stream.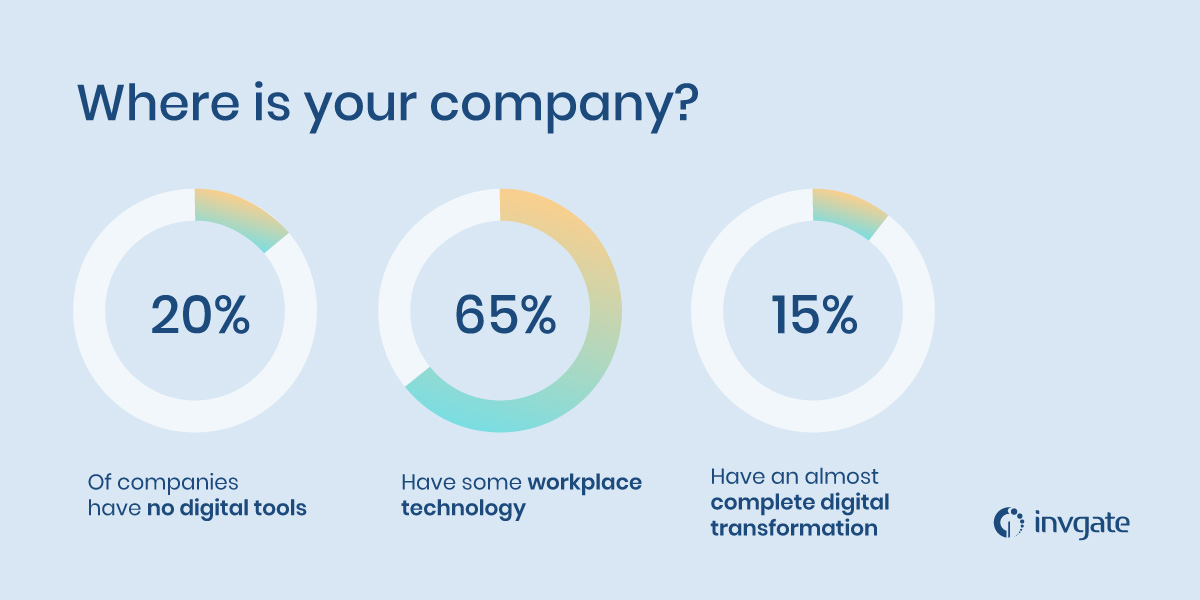 Common misconceptions about the digital workplace
The digital workplace is a relatively new term, and if you look it up online you'll find many definitions for it. And because of this, there are plenty of misconceptions about it and many aren't fully clear about what it entails. Let's have a look at some of the common misconceptions.
The digital workplace is the same as the organization's intranet
This is a very common misunderstanding about a digital workplace, because, well employees usually work within the organization's intranet. And therefore some use both the terms interchangeably. The intranet is an internal network within the organization, used for sharing files and documents, communication, etc. Intranet is just a small part of the digital workplace. The main goal of the intranet is to share information between the people in an organization.
And therefore intranet is definitely part of the digital workplace. In some ways, you could say that intranet foreshadowed the digital workplace or even was the precursor for modern digital workplace solutions.
But a digital workplace includes a lot more. It's not just communication or data sharing. Digital workplace solutions include plenty of other features and functionalities often available as separate apps.
The digital workspace is the same as the digital workplace
If the difference between intranet and digital workplace was confusing, wait until you look up digital workspace vs digital workplace. In some ways, they're one and the same; they're the place where your employees would work. But they're also different just like a physical workspace and a physical workplace are different.
A physical workplace is where you go to work. It's your company location, it's your office building. A physical workspace is your cubicle, your workstation, where you sit down and get your work done. A workspace is more individual, it's more about the individual employee, and less about the team or the organization.
Similarly, a digital workplace is the software platform where your organization works. It's where they log in, talk to each other, and collaborate. A digital workspace is where an individual employee works. Now depending on who you ask, it includes the devices your employees use, the different software specific to their work and role, etc.
The digital workplace is just a collaboration platform
The role of a digital workplace is not limited to collaboration. And according to some experts, it's not even just limited to the software or technology solution your organization is using. It's the employee environment where employees interact and includes the employee experience while they work.
More than just communicate, it empowers an employee to do their best work and provides all the tools they would need. For example, a customer service executive would be using a CRM platform to respond to queries, HR personnel would use attendance and payroll management solutions, and a marketing executive would use sales funnels.
The digital workplace is just a bunch of apps
A digital workplace is not a bunch of apps, but it's rather designed to help members of an organization use just one place to work and avoid the use of multiple SaaS apps. As we discussed earlier, using a pile of apps only hampers productivity.
A digital workplace brings together the functionality of all the apps elegantly in a single place. By using a single platform instead of a whole collection of apps, organizations can improve productivity and accountability.
The digital workplace is only for fully remote companies.
While the use of digital workplaces was being pioneered by remote companies they're not meant solely for them. Organizations working on a hybrid model, or even fully in-office companies can leverage the benefits of digital workplaces.
Through automation, employees can reduce repetitive tasks and focus on more important activities. Managers can use artificial intelligence and advanced business analytics to find and remove bottlenecks and streamline processes.
What does a digital workplace mean for IT professionals?
The IT industry brings together a myriad of professionals from many different backgrounds into one environment. In a single IT company, besides the development team, there are marketing and sales divisions, finance division, HR department, finance department, and many more.
Even within the different software and hardware development teams, there are people working on UI/UX, back-end, cloud technologies, sensor and PCB development, software and hardware testers, just to mention a few. These individual roles bring out different needs, both in terms of hardware and software.
So compared to other industries, collaboration in IT is a whole other ball game. This sometimes means the employees sometimes end up having to use apps or fill forms or do tasks that don't directly produce results and could be automated. For IT professionals, a digital workplace would mean an ideal environment where they can work and produce results with the least amount of stress. It should create an environment that would work for them, a place where they could collaborate and focus on the work that matters.
How IT teams can take advantage of digital workplaces.
Aside from other advantages, a digital workplace presents a unique benefit to IT teams. IT teams all over the world use agile methodology to deliver solutions that fit the requirements and timelines. A digital workplace empowers a team to function efficiently within the agile framework.
A good digital workplace can also create a seamless employee onboarding experience and get the new employee to their best self soon. Team leads can also deliver actionable feedback and better manage their teams using the insights derived from the workplace.
A robust digital workplace solution can also prevent a 'shadow IT' situation, in which employees search and use tools best suited for them, without the IT department getting involved. This often happens when the IT department hasn't provided them with the right tools and when it takes time to process a service request. Unauthorized tools may pose a security risk, as data from both the organization and clients will be handled by a third party.
A digital workplace can help avoid this situation, by making the right tools available for the employee. The workplace can also integrate an IT service desk using which employees can request services easily.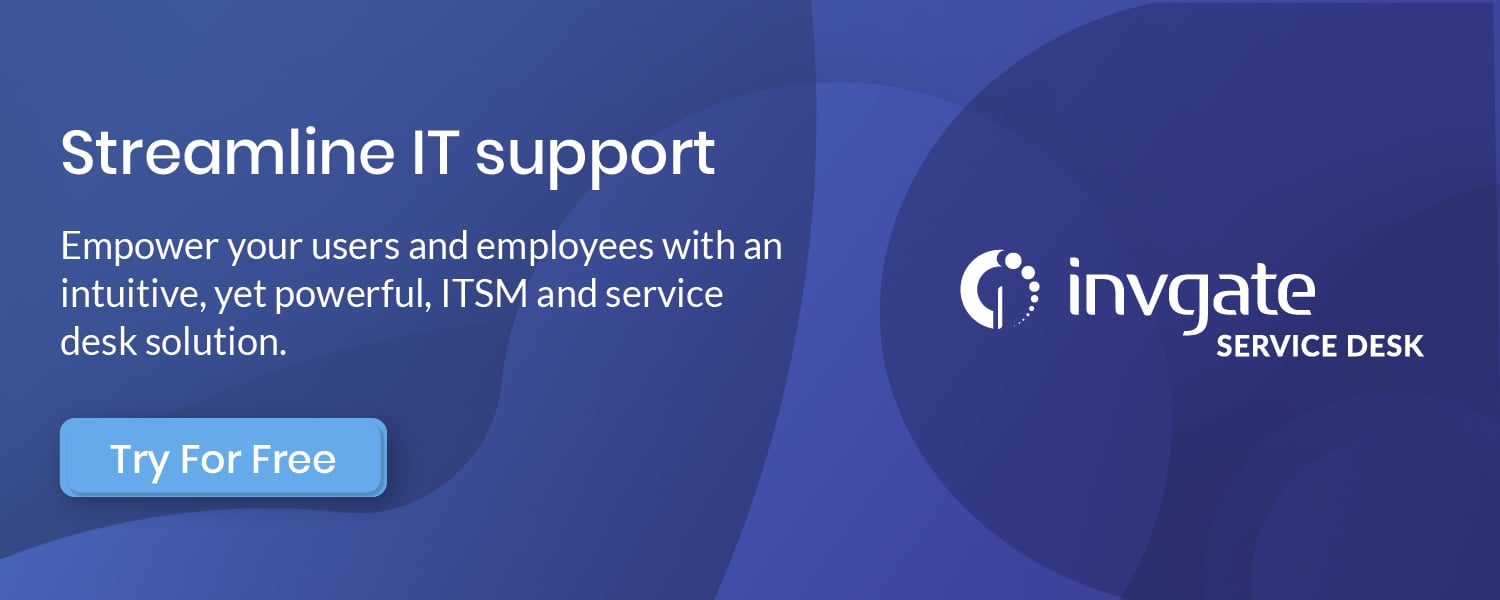 Which risks are posed by digital workplaces for IT teams?
Security is the primary risk and concern for IT teams implementing a digital workplace. Every IT company places a huge emphasis on keeping their, intellectual property, client and consumer data, internal documents, and processes safe and secure. Digital workplace solutions are rarely developed in-house raising serious security questions.
A distributed workforce or a bring-your-own-device work culture creates additional security problems. Employees may use office equipment for personal needs and vice-versa presenting more attack vectors for bad actors.
Another risk associated with the digital workplace is regarding compliance with the regulations in the company, employee, and client locations. Different governments have different data protection regulations and measures to ensure compliance. Insurance companies will have their own set of standards for providing coverage for your organization.
But digital workplace solutions generally have enterprise-grade security features to protect the organization from cyber threats. They also come with robust access control and employee authentication features to prevent unauthorized access. Digital workplace platforms can also document the standards and procedures in case of audits from authorities.
Even with all these features, it is important to create a culture that understands the importance of cybersecurity. Employee awareness about standards and protocols is paramount to ensuring cybersecurity for an organization.
Frequently asked questions
What is a digital workplace?
A digital workplace is a complete environment for employees in a company or an organization or an institution to carry out their day-to-day activities.
What are the minimum features needed in a digital workplace?
A digital workplace should have at minimum a collaboration platform, document storage and sharing system, project management system, and a robust set of apps.
What are the benefits of a digital workplace?
A digital workplace improves the overall productivity and efficiency of an organization. It will reduce the operational cost and reveal new avenues for making the organization more cost-efficient. A digital workplace platform will improve the employee experience, raise employee morale, and improve retention rates.
What are some of the best practices for a digital workplace?
Since it will be a huge long-term investment, make sure you chose a solution that fits all your present and future requirements. It should be secure, must have functionalities required by all the departments, and present a short learning curve for the employees.
Employees should be trained to make the best use of the digital workplace and necessary changes must be made in the organizational culture to facilitate this.