As the world continues on an accelerated course towards digital transformation, organizations have been placing an increased emphasis on the concept of experience. This is especially true within the world of IT service management, where being able to provide positive service experiences to customers and stakeholders is absolutely paramount.
This is why, in addition to all the frameworks that have traditionally been used to optimize service (such as ITIL), an experience optimization framework is something companies should be moving towards.
Experience management expert Alan Nance spoke on this topic during his recent appearance on the Ticket Volume podcast. He discussed how an experience optimization framework can become a blueprint for how companies can move from where they are to where they need to be, and the importance of measurements that are relevant to the everyday lives of service professionals.
In this article, we'll discuss the importance of an experience optimization framework, how experience management differs from traditional service management, and how it can boost your ability to engage and develop your workforce.
What is experience optimization?
In simple terms, experience refers to the quality of the interactions between an individual (who can be a customer, or even a service desk agent) and an element (which can be a brand, a website, a product, an email, or really anything at all). Optimization, in this context, refers to finding the right balance between individual expectations and business goals.
The competitive advantage of offering a great experience to customers is a tremendous source of value for companies, true, but experience management is about more than customers. It's also about improving the employee experience, and can be used to provide another illuminating dimension to your usual measurements (such as KPIs).
Experience optimization, then, is the science of creating environments conducive to a more engaged and productive workforce. Here, we need to pay special attention to creating employee experiences rather than measuring employee performance in the traditional ways.
For instance, this can be done through practices like digital experience monitoring since it helps optimize the individual and collective potential in the workplace. Optimizing the employee experience helps optimize workforce productivity and overall business potential.
On this topic, Alan said:
"We've been in this optimization mentality for a long, long time. Most of the measurements we use around a service desk or a call center really answer two things: the effectiveness of the process, and workforce management.

So everything we ask comes back to workforce management or process. Very little of it has anything to do with the experience of the service desk – I like to call them care professionals. I'm not saying they're all doctors and nurses, but when you have a critical issue, they're the next best thing. When you call those people you are thrusting upon them your emotions, your frustrations – every one of those people come to work every day with the idea of helping somebody else."

- Alan Nance, Co-Founder and President of XLA Collab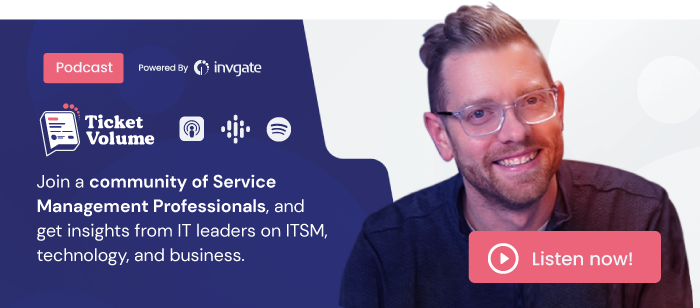 5 key tips to develop an experience optimization framework for ITSM
Implementing an experience management framework for your organization can help improve the overall productivity of your workforce. Here are a few key tips on how to start approaching the topic.
1. Strategy
This involves a lot of openness. IT management should have an open and frank discussion about the organization's values and role within the changing business environment and expectations. Only then will you be able to truly align your workforce to start developing an experience management strategy.
2. Customer understanding
Listen to your employees. Ask to hear the stories about how they've experienced IT services, both from the side of the customer (end users) and from the side of your agents. What are some recurring issues that pop up? Did they know who to go for when they needed help? Did they know what the appropriate channels were? And your agents – do they feel equipped with the right tools to tackle the issues and provide a good level of service?
Listen closely and don't correct them or direct the conversation to your desired talking points. Let them vent. Creating an open environment where they can tell you firsthand what problems they're butting up against is tremendously valuable. Better employee experience starts with understanding your employees.
3. Design
Use the feedback you obtained to understand what works and doesn't work. Design your experience optimization framework based on what you're hearing and the resources available to you. Test your design and ideas in order to optimize the employee experience.
4. Measurement
Measure the experience continuously. Think of it as a honing rod for your experience design. XLAs are a good way to do this. Share the results with the business, with your IT team, and also with your partners.
Rae Ann Bruno — another Ticket Volume guest — expanded on this topic in Episode 4.
5. Governance and culture
Set your targets with top IT management and partners. Ask what your service owners and partners can do to deliver a better experience, don't let it fall squarely on the service desk teams. They handle the daily issues with services that others have built.
Traditional key performance indicators (KPIs) and SLAs sometimes get in the way of good employee experiences. This is because experience management is distinct from service management in a number of important ways.
"Experience management is very different from service management for one reason, and that's humans. If I design an ultra-high availability network, it is going to work every day according to the KPIs that I set until something's broken. If I design the best meal you've ever had, but I give it to you five days in succession, on day six you're like 'I'm done with this.' So people are self-programming sensors, and that means that experience management and XLAs are much more volatile than the underlying service management processes that support them."

- Alan Nance, Co-Founder and President of XLA Collab
Alan Nance is a leader in Experience Management, specifically in XLAs. He is the Co-Founder and President of XLA Collab, Advisory Board Member for HAL24K, and External Advisor on data, digital, and innovation strategy for the Royal Schiphol Group.
Play the full interview to learn more. You can also find Ticket Volume on all podcast platforms.
In closing
The need to improve the customer and employee experience is a growing concern within the world of service management. By measuring IT success at the wrong points and using the wrong measures, you're setting yourself up for failure.
Taking the first steps with an experience optimization framework is not too hard for any organization – it's just a matter of listening and learning, then designing around the feedback you get. By following the tips above, you'll be able to start bringing your employees a smoother and better experience.