Organizations spend a lot of resources to make their employees productive. Revenue in the productivity software segment is expected to reach US$72.88 bn in 2022, according to Statista. Productive employees help organizations grow and improve customer satisfaction. For a service desk, task management comes in.
Intelligent task management can improve the service desk experience significantly for both users and service desk agents. Let's explore how.
What is task management?
If we're to oversimplify it drastically, task management could be explained as just checking off a list of things to be done to complete a project on time. And in some ways, a task management tool can look like a shared to-do list among team members. But it's a little more complicated than that, and you can't use a Google sheet or a shared to-do list to get things done.
Task management can be considered a part of project management and is focused on taking a task through its entire lifecycle, from creating a task to completing it. Every project comprises smaller tasks, each assigned to one or more individuals to be completed within a specific deadline. Successful project completion depends on completing these individual tasks according to their parameters.
For successful project management, as a project begins, the project manager may break up the whole project into smaller tasks for individuals or groups to complete. This gives structure to the project, making it easy to track its progress and ensuring it will be completed on time. Some of these tasks may be dependent on others, some may have a higher priority, and some may be recurring.
The goal of task management
The goal of task management is essential to make the entire team more productive — meaning getting every task done in the shortest time possible and with the least amount of resources, but without compromising on the quality of work. Hence, task management ensures team members have enough time to complete their tasks, removes bottlenecks from processes, and ensures a smooth workflow.
Most organizations use task management tools to gain clarity on the tasks to be done and enhance communication among team members. These tools are often combined with project management tools and help project managers assign tasks to team members, mark their priorities, track time, and communicate exactly what they want from the task.
What does task management look like for an average service-desk worker?
Task management is vital for running a service desk efficiently. Efficient service delivery involves many activities and team members. To meet the SLA requirements, you need a transparent system that clearly shows every team member the tasks they're supposed to take care of.
These tasks may be one of the service desk's repeated activities, such as handling service requests for a user unable to log in to their workplace or a printer not working. The service desk manager may create task templates for repeated activities like this. This will help service desk agents respond to tickets quickly and ensure that every step - from getting all the info from the user to collecting feedback once the issue is solved - is followed through.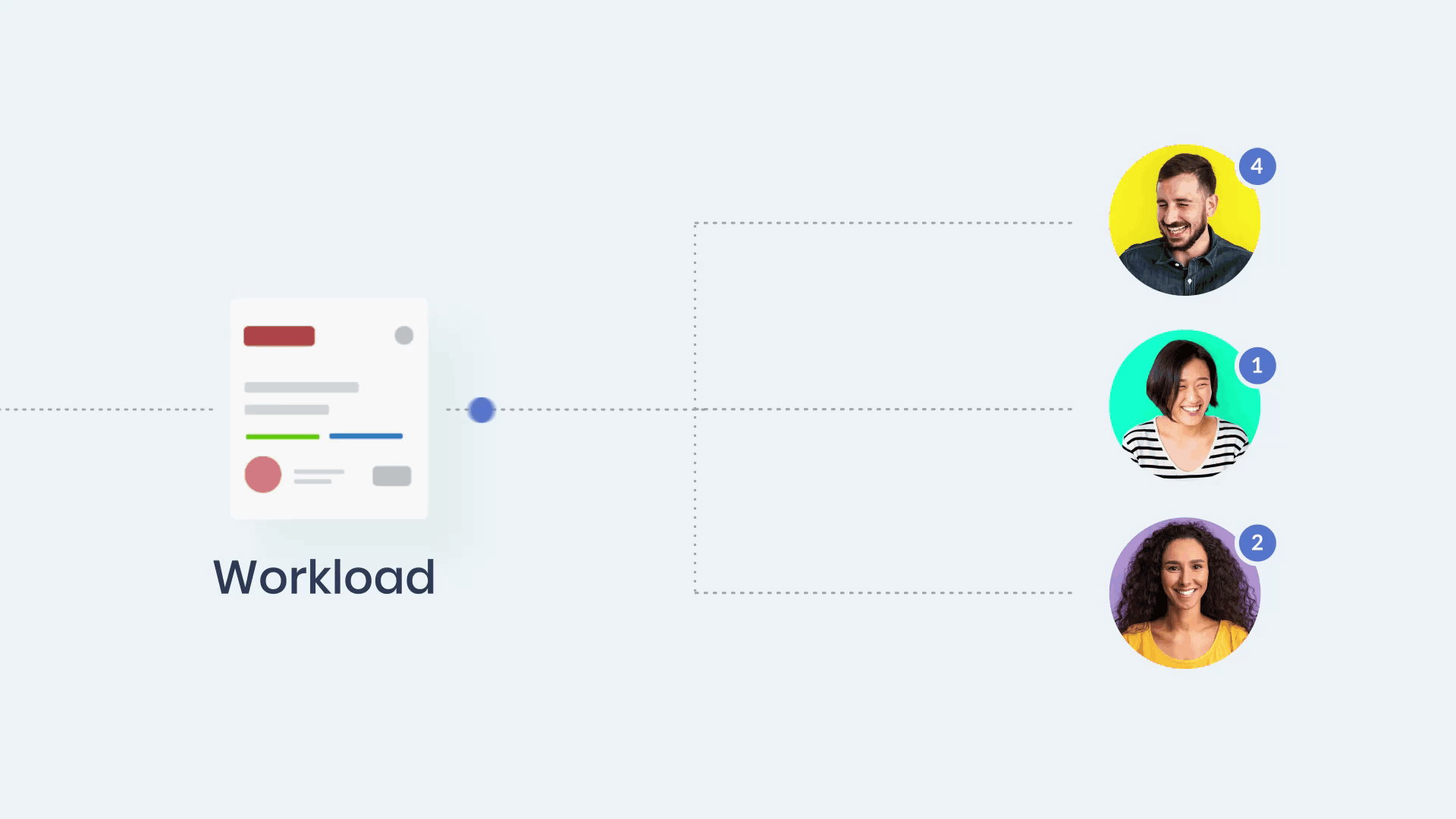 The best practice to do this is to automate ticket assignment, so agents can keep up with the tasks according to the chosen methodology and avoiding bottlenecks. If they need assistance from someone else on the team, they may tag the team member or create a sub-task and assign it to them.
It's relevant to notice as well that most modern task management solutions come with automation capabilities that make workflows more efficient for the service desk.
Besides the repeated tasks, service desk agents may also carry out tasks associated with a specific project. Maybe the organization is implementing a new digital workplace solution, or perhaps the legacy hardware is being upgraded. And as with other tasks, the service desk manager or the project manager will create tasks for them describing the deliverables, the deadline, and priority. These tasks may be on top of their regular everyday activities.
How can improper task management affect business processes?
The efficiency of your business processes may never reach its peak without robust task management. Projects and regular activities may be delayed even when service desk agents are waiting for tasks to be assigned. Improper task management can cause resource wastage, and low productivity, affect the quality of service delivery, impact user experience, and you may even risk failing to meet the SLA requirements.
The most common problem with task management is managing time. Predicting the time that may be required for a task is tricky; there may be unexpected events or issues that can delay it. But assigning too much time or too little time can create problems down the line.
For example, if an employee is tasked with normalizing the software inventory in five hours when it can be done in two, the service desk agent will have more than enough time to do a really good job. But imagine if the next task in the project - which is dependent on a normalized software inventory - is hit with an unexpected delay? The whole project may be delayed as a result.
Poor communication is the next problem that can affect task management. The service desk agents and manager needs to communicate clearly and constantly for efficient task management. For example, picture a manager assigning a service desk agent to fix an issue with some laptops. But they fail to communicate precisely the issue or which laptops have the issue. The agent will obviously spend way too much time resolving the problem, wasting resources unnecessarily, and delaying other tasks.
Improper task management can also cause unnecessary workloads for service agents and at the same impact the quality of service delivery. In the above example, the users spend way too much time waiting for someone to fix their laptops.
To give another example, picture a service desk where service desk agents have to manually type and send updates about the ticket status to the users. The service desk agents will be spending way too much time, and due to the absence of standardized templates, the updates may not contain all the information the user may need.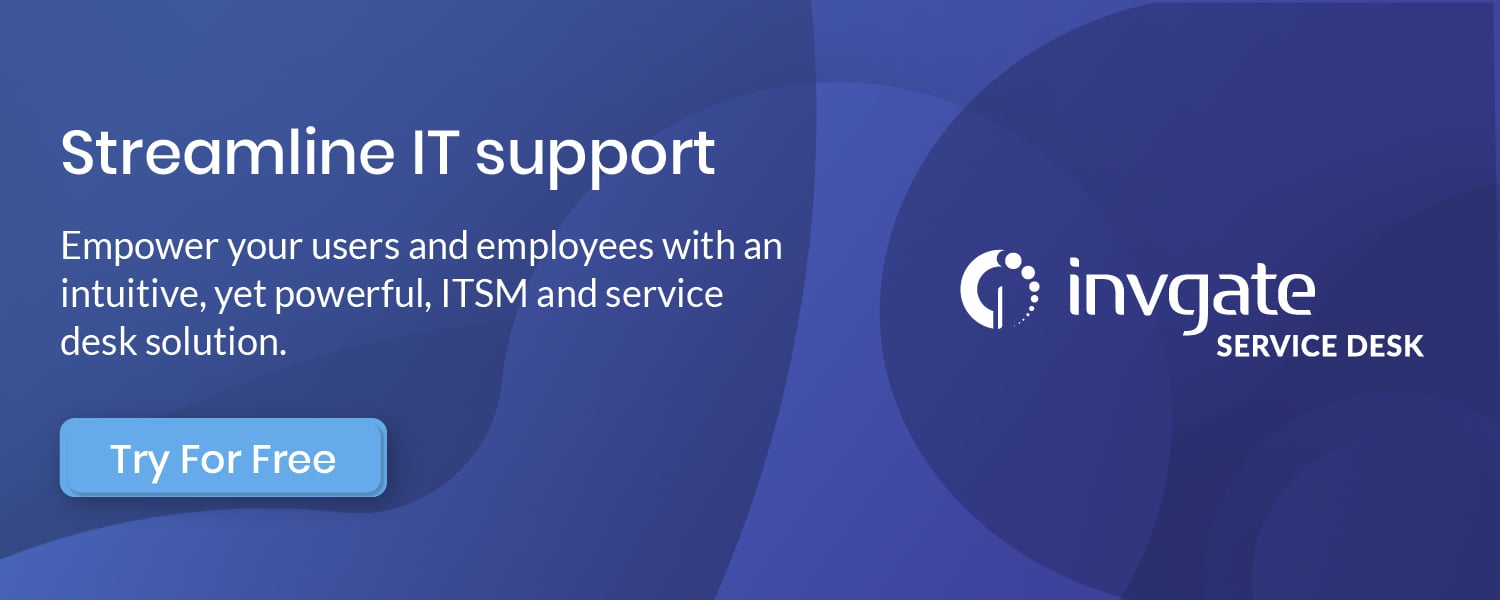 What are the benefits of task management?
As you can see, task management has a positive impact on the overall performance of a service desk. But to emphasize it even more, here are four benefits for your organization:
1. Better productivity across the team
Efficient task management empowers team members to be their best productive selves. They'll have enough time for all of their tasks and they won't have to wait for someone else to finish a task. By leveraging automation, team members can carry out their tasks faster. They can also focus on more important tasks instead of doing the same tasks repetitively.
Robust task management also ensures a smooth workflow, allowing service desk agents to focus on one thing at a time and easily transition to the next one. Team members can reduce any disruptions and the entire team can complete their project on time.
2. Improved user satisfaction
In a service desk, efficient task management can improve the speed of service delivery. Users get their service requests fulfilled in the shortest time period without compromising the quality. The end users also get constant updates regarding their requests without having to follow up repeatedly.
Even when undertaking ITSM initiatives other than the regular service desk activities, task management can help finish projects on time with minimal service disruption. For example, projects like upgrading the employee hardware will cause some disruptions, and employees may not be able to access their workstations. But by managing the tasks efficiently, the service desk can minimize the disruptions and complete the process quickly.
3. Improved collaboration and teamwork
By dividing a project or activity into tasks, teams can collaborate better and utilize their potential to the fullest. With a task management tool, they can easily keep track of each other's progress and help each other accordingly. It helps team members resolve problems and find solutions quickly. By holding team members accountable, the entire project moves forward with fewer glitches.
4. Reduced resource wastage
With a better task management strategy, you can reduce the resources needed for a particular task or project. With better planning and collaboration, managers can streamline the activities of the service desk team empowering them to carry out tasks much faster instead of waiting for information or for other tasks to be completed.
What are the potential drawbacks of implementing a task management system?
When implementing a task management system, there's a possibility that the processes may slow down a bit. This is because the previous system (or the lack of it) - however inefficient - was something the entire team was familiar with.
Maybe the projects were managed across spreadsheets or whiteboards, but the team was familiar with the process and knew what had to be done. But when a new process is introduced, it may take a while for the team to get used to them. And as a result, productivity may take a hit.
The good news is that this will be just a temporary drawback. Once the team learns how to handle the new system, you should notice gains in productivity.
Another potential drawback is that the team morale may be affected. Once again, there's only a tiny chance of this, but by introducing a task management system, they may feel like there's something extra for them to do. They may also feel like their activities are under a lens.
Both of these issues can be significantly prevented with proper training and empowering the service desk team to use the software best.
Why does your service desk software need task management capabilities?
Task management is an integral part of service desk operations. To run the service desk efficiently, you need a system that gives you complete visibility into its tasks, activities, and processes. For this, your service desk software needs task management capabilities.
Task management capabilities include creating tasks or tickets, assigning them to team members, marking their priority, progress, and dependencies, and tracking the time spent on them. The users should also be able to configure the workflow for different activities and create templates for different types of tasks.
These features will help service desk agents to complete their tasks efficiently and resolve customer requests in the shortest time. It will improve transparency within the team and enhance collaboration among team members.
Workflow automation is another task management feature integral to the service desk. These features will help deliver better service through the service desk. It can improve the consistency of service delivery without overworking the service desk agents. For example, InvGate Service Desk software lets users easily create automated workflows and ticket management systems. With its drag and drop interface, users can design the steps involved and mark the team members who will be needed for different activities and processes.
Frequently Asked Questions
What is task management?
Task management is the process of efficiently managing the lifecycle of a task, from its creation to its completion. The goal of task management is to ensure that the tasks are completed in the order of priority within deadlines and to improve the team's overall productivity. Task management can be considered a sub-process of project management, and a project can be made of individual tasks.
How can task management benefit a service desk?
Efficient task management can help a service desk deliver high-quality IT services most efficiently. It can prevent bottlenecks and streamline the activities of the service desk. A task management software can help a service desk manager gain complete visibility into the different processes and enhance the user service desk experience.
What are the features a task management solution needs?
A task management solution like InvGate Service Desk should enable users to create and visualize workflows for different processes. Users must be able to assign tasks to team members and assign deadlines for them. They must also be able to track their time on every activity.
Features like automation, integrations with other tools, and automatic updates to their emails will further enhance the functionality of these solutions.