Selecting an IT asset management (ITAM) tool can be tricky. The IT management market is awash with ITAM tools but how do you know which will really deliver against your organization's needs? But don't let this put you off because, done well, ITAM is a practice that will save your organization money, improve customer experience (CX), and reduce organizational risk – and the tool you select is a big part of achieving these benefits. To help, this blog covers what your organization needs to look for when choosing an ITAM tool.
Know your organization
As Socrates said, "Know thyself." Or, in this case, know your organization in terms of what your IT assets are and how they are used. If you have a service catalog, use it as a source of what your business sees as a priority in terms of services, and talk to the IT service desk so you can get a picture of frequent service requests.
By getting clarity on the actual versus the expected usage of your organization's IT assets, and the ITAM capabilities needed, you'll be able to narrow the field of potential ITAM platforms that are a good fit for your organization.
Don't overlook integrations with third-party applications
When deciding on an ITAM tool, take the time to see how they integrate with third-party applications so that you can, for example, link it to your existing IT service management (ITSM) tool for end-to-end service delivery and insight. Of course, some ITSM tool providers also provide ITAM capabilities too.
When your ITSM tool, say, is linked to your ITAM tool either through being on the same technology platform, custom APIs, or shared data, you'll be able to streamline ticket management because logged incidents will already have the asset details captured. Such that your service desk technicians know the type of software to be updated or when the printer was last serviced.
Having an ITAM tool that plays nicely with your service desk tool will save you time, effort, and rework while also delivering better experiences and outcomes.
Set your ITAM scope before choosing an enabling tool
An important step to take when reviewing the available ITAM tools is to set your scope upfront. As technology evolves, so does the potential for complexity in our service environments. Hence, when considering ITAM tools, it can be tempting to focus on the available software asset management capabilities because of the licensing implications in terms of compliance and cost. However, your organization will also need to consider the management needs for hardware, cloud services, and network devices.
Example types of asset to include in your ITAM scope include:
Infrastructure hardware
Virtual servers
Facility services
In-house software
Licensed software
PCs and laptops
Mobile devices
Cloud services
Network devices such as routers and switches.
This is an example of assets InvGate Insight can discover to create a CMDB: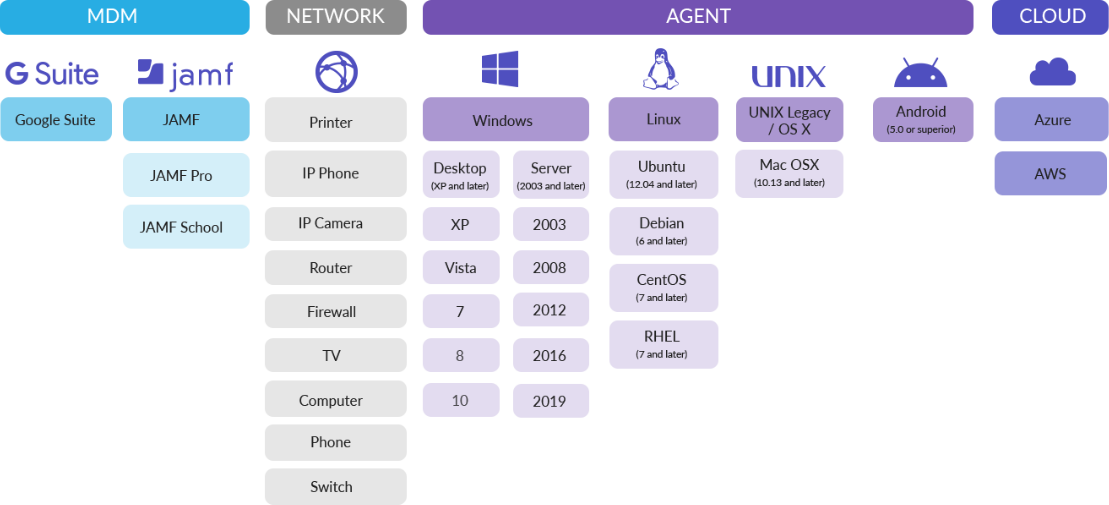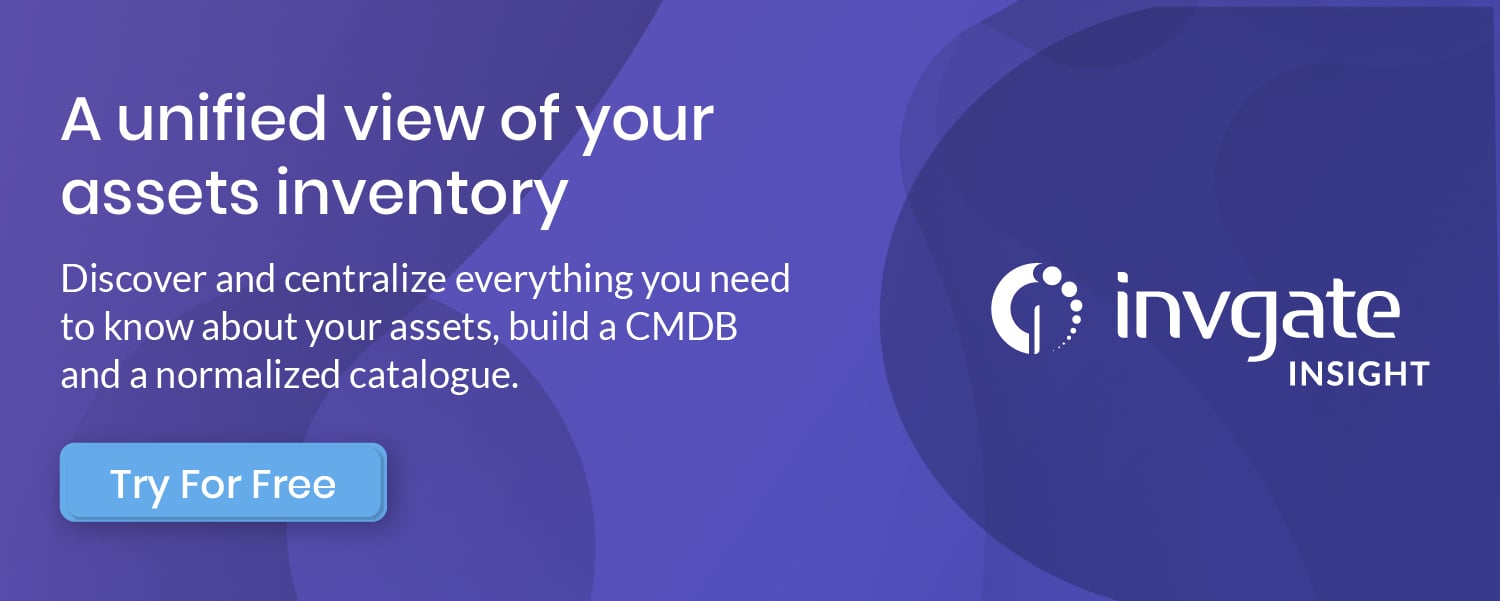 Ensure that the core required functionality is provided
So many ITAM projects fail because they fall into the trap of "the tool will fix everything." The reality is that there's no silver bullet for ITAM. We wish we could tell you "Buy this tool and you'll be set for all your ITAM needs," but the world doesn't work like that.
Your IT environment is unique to your company, your people, and your ways of working. So, identifying your key services and your scope will help to drive the core functionality that you'll need from an ITAM tool. Some ITAM tool "usual suspects" are:
An asset database – a

detailed record of all in-scope IT assets and their key attributes

Discovery capabilities – for finding new or changed assets in a network
Software License management – including

taking the feed of inventory data and recording your entitlement such that you can reconcile them against your records

Software recognition – the ability to identify an instance of software in your live environment and its licensing information
Contracts management – a database to store your supplier and contracts information
System and deployment management – the ability to deliver changes, maintenance, or new deployments
Automation and workflow – the ability to template and automate ITAM processes
Monitoring and alerts – to be able to report on asset-related events affecting your infrastructure
Auditing capabilities – including the ability to scan an asset to record its status
Reporting and analytics – the ability to share, collaborate, and act on asset data.
This list can be used to sense check your captured ITAM tool requirements relative to your organization's ITAM needs.
Key requirements including the importance of the supplier relationship and engagement
A new ITAM tool is a significant investment, in terms of costs and effort, so it's important to spend time getting to know potential suppliers and partners as part of the tool selection process. To get a better appreciation of how your future working relationship will be, ask questions that require personalized answers rather than generic tool-based information. Such that you can gauge their level of customer "interest" and knowledge.
Some things to ask them when carrying out this due diligence task include:
Key functionality and how it could work in your environment (especially to ensure that they understand your organization's exact needs)

How, as a client, you would be able to ensure that your asset estate has the appropriate coverage

How the tool recognizes when new services are added to your organization's production environment

How the tool deals with duplicate records or identifies assets that are offline or inactive – call out specific organizational examples

How the tool manages virtual environments and cloud-based services – offer up specific examples related to your organization

If the tool can import data from multiple sources. For example, human resources (HR) data or system information from Active Directory or FreeIPA. Importantly, include what's most important to your organization's ITAM needs.

What support is in place of enterprise ITAM, if appropriate – for example, being able to handle multiple business units, cost codes, or geographic locations?

The installation approach and how new customers are supported during go-live

Customer reference sites/case studies

Details of the future engagement schedule for your organization as a new customer – for example, scheduled meetings to cover issues and whether the promised value is being delivered.