Hardware and asset management is not easy even in relatively small organizations with 20 or 30 employees. As the size of the organization increases, it becomes difficult to keep track of all the laptops, printers, and other hardware used by the employees. This is where a detailed hardware inventory of IT assets becomes useful. A hardware inventory can help you keep track of all devices and equipment owned or used by your organization.
Let's explore what a hardware inventory is as well as 10 best practices to keep a detailed inventory of hardware in your organization.
What is a hardware inventory?
A hardware inventory is a detailed list of all the hardware used in an organization. This includes the laptops, phones, and other devices used by the employees, common equipment like routers, printers, and just about all electronic devices that belong to the company. The list will also have details such as who is using it, when it was purchased, warranty info, software update status, and other information for maintaining the device.
Most organizations usually use an IT asset management software or a hardware inventory software to maintain this. Besides maintaining a database, the software will also help an organization rollout updates and ensure the devices are functioning properly. InvGate Insight is one such tool, providing companies with an easy-to-navigate view of all their assets.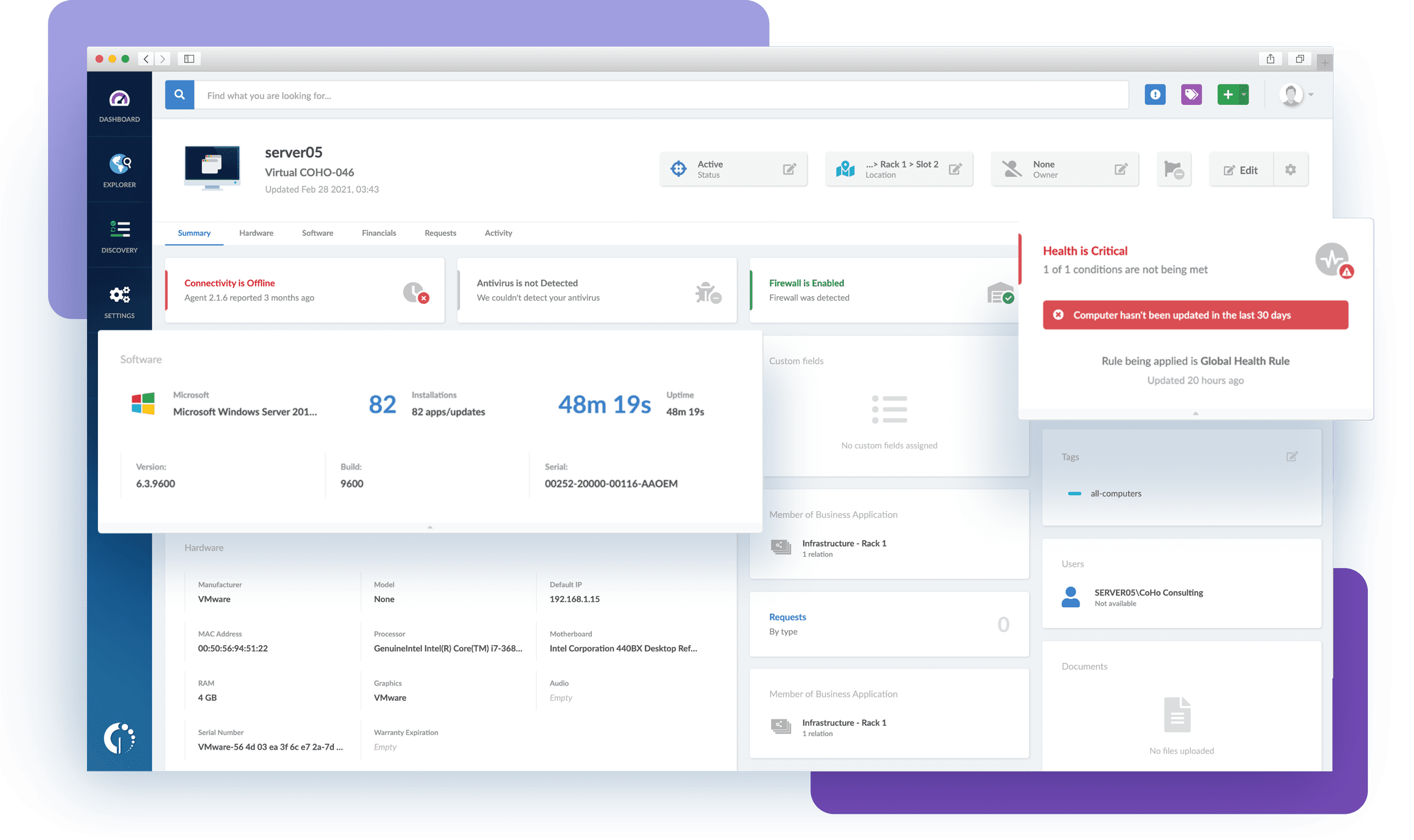 Let's have a look at some hardware inventory best practices that will help you maintained a detailed hardware inventory.
Hardware inventory management best practices
Use hardware inventory management software
A Google sheet or an excel file may be enough to manage your inventory when there are only a few devices to take care of and the organization is small. But investing in IT asset management software may be one of the few moves that can completely transform your hardware inventory for the better. It can help you keep track of your devices, make sure they're secure, and that they have the latest updates, all without exceeding your IT budget.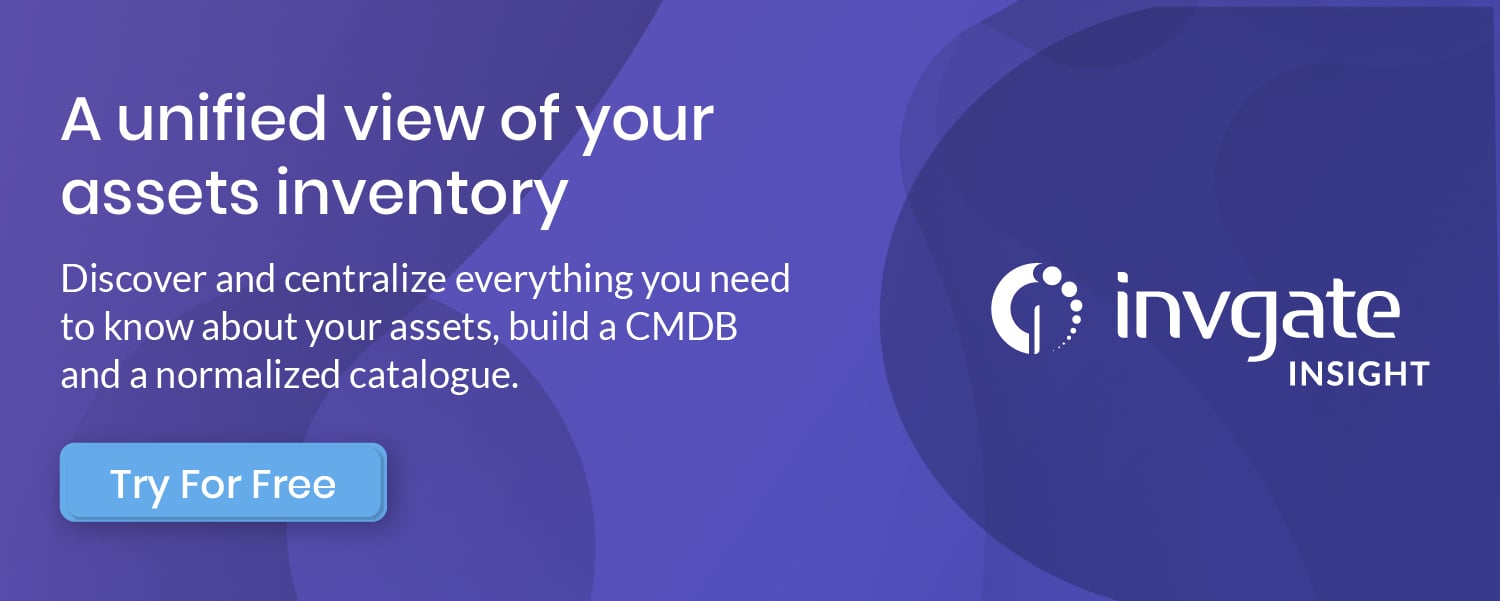 Asset management solutions are designed to augment the IT team and reduce their workload. Modern solutions come with automated asset discovery and tracking features and even help you manage your purchases and expenses.
Add all the relevant information
For effective hardware inventory, it's better to have more instead of less when it comes to device information. Gaps in information may hamper the effectiveness of your system.
The type of information may vary with different device types. For example, for a laptop the OS may be relevant information, while the same may not apply to a router. But in general, information related to the vendor, where it is located, who is using it, its service history, etc. are added for all devices.
The information must also be constantly updated. New devices may get added, old devices may be replaced, new software updates may be rolled, and for best results, the inventory must reflect the latest data.
Tag your devices
This applies to all devices, but particularly for the ones that move around a lot, such as laptops, smartphones, or tablets. Most organizations attach stickers or labels to keep track of their devices. But a faster or more effective option would be to use QR codes or RFID tags. They're easier to scan and make it easier to keep device info up-to-date. You can also use RFID tags to keep track and prevent losses in the case of expensive devices or devices with sensitive files or information.
Use automation
Automation is your friend when maintaining a detailed inventory of IT assets. Modern hardware inventory software comes with a whole host of automation capabilities. Even the process of creating the inventory can be automated. Asset management solutions such as InvGate Insight can scan through the network to produce a detailed list of all hardware connected to it, along with information like software used, devices status, and even the financial information related to the device.
Besides asset discovery, you can also automate software updates, hardware purchases, and more. With automation, the IT team will be available for more important tasks instead of doing boring or repetitive things. Automation will also ensure quality service, as you are less likely to miss something, such as security patches or maintenance.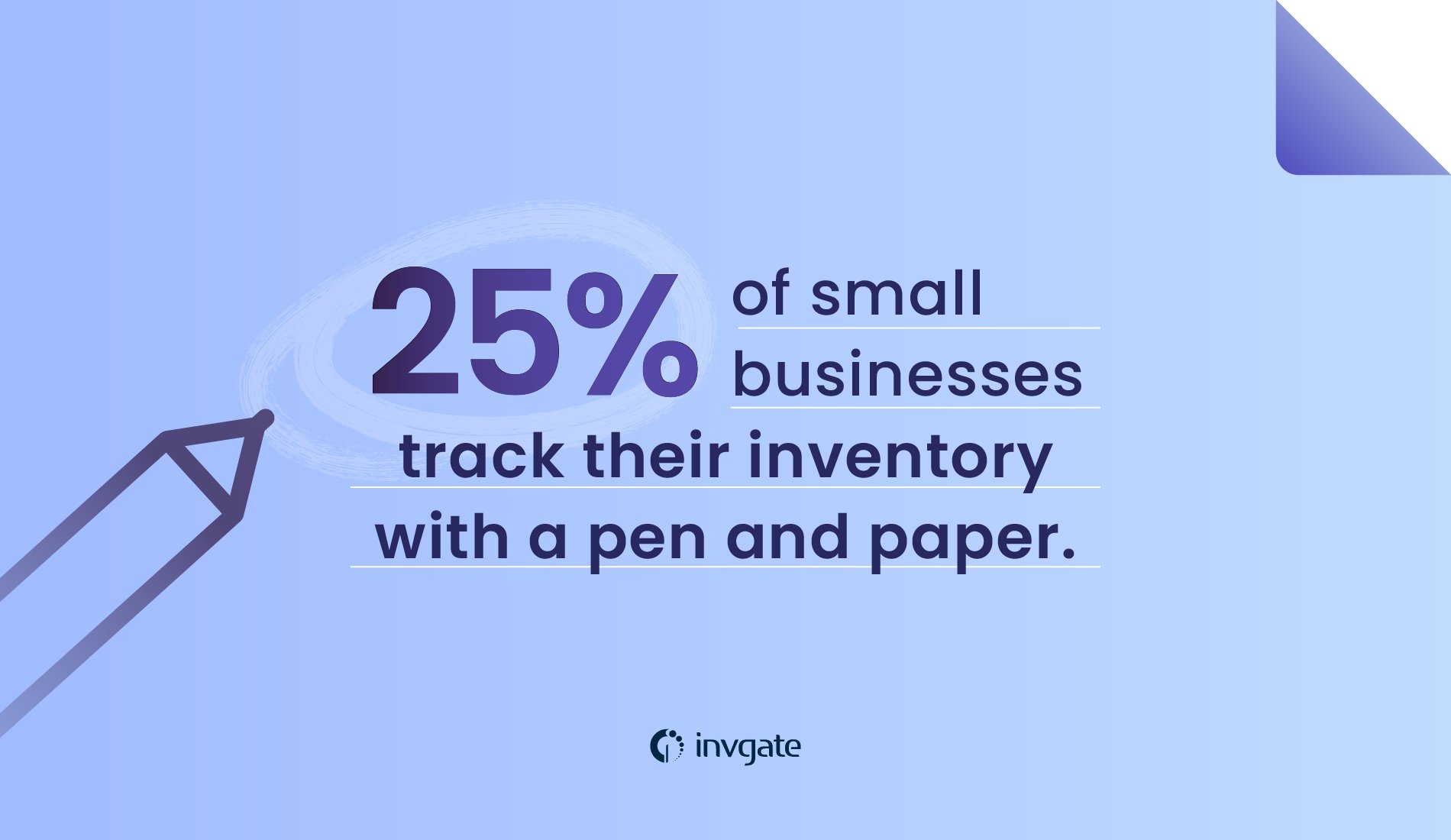 Integrate, integrate, and integrate
To get the best results, integrate your hardware inventory with other tools and software your IT team uses. For example, by connecting your hardware inventory with your service desk solution, you can keep your inventory updated, and at the same time deliver a better experience through your service desk. By integrating the asset management software with your ERP solution, the stakeholders can plan accurately for future projects.
Besides the service desk, asset management plays a huge role in other activities of the organization as well. It will improve the workflow and reduce dependencies. For example, during employee onboarding, new employees have to be set up with their equipment. By integrating the asset management software with the organization's knowledge base, the HR department can effectively plan the onboarding process.
Monitor continuously
As with most things IT, hardware inventory cannot be just made once and left alone until needed. It's important to update it regularly to ensure all the hardware is in proper condition, that they're functioning properly. Continuous monitoring will prevent loss or theft of devices as well as any cybersecurity threats.
GarthMJ a moderator at Windows-noob, recommends not setting a scheduled time for hardware inventory as this may cause issues with the servers.
With a large organization, different employees may be working at different times. If you're using automated hardware inventory, you have to consider the possibility that all devices may not be online while conducting the inventory
Plan your budget carefully
Budget planning is an important activity in maintaining a hardware inventory. With careful planning, you can ensure that your organization has the right hardware in the required quantities. It can help you deliver quality IT service to your organization without exceeding your IT budget.
While preparing the IT budget, take account of the complete hardware inventory in your organization and the resources required to maintain them. This includes hardware replacements, acquisitions, and repairs, software licenses, etc.
Advanced hardware inventory management software comes with financial planning tools that will help IT managers accurately plan their budgets. For example, software metering tools can help ensure that software licenses are utilized efficiently in the organization. Asset management software can also show the upcoming expenses in terms of hardware and software lifespans.
Use the data and insights
Most hardware inventory management software provides a ton of information that can make asset management more resource-efficient. It can show you trends and patterns such as how long a certain type of device will last or the number of software licenses you may have to purchase in a year. You can also use this data to plan repair or maintenance activities without shutdowns or equipment downtime.
And as discussed above, you can also use the hardware inventory data for budget planning and making purchase decisions. The data can show the underutilization of hardware resources as well as bottlenecks in the workflow caused by hardware dependencies.
Don't compromise on security
Hardware inventory plays a critical role in keeping the organization secure from cyber threats. But it's also important to keep your inventory process secure. Make sure that all the communication from the devices and the servers during asset discovery and monitoring is encrypted.
A hardware inventory that's not following the proper security practices may act as a shopping list for bad actors. By taking over the hardware inventories, they could gain access to other devices and wreak havoc over the network. Along with your hardware, make sure your inventory management system is also secure.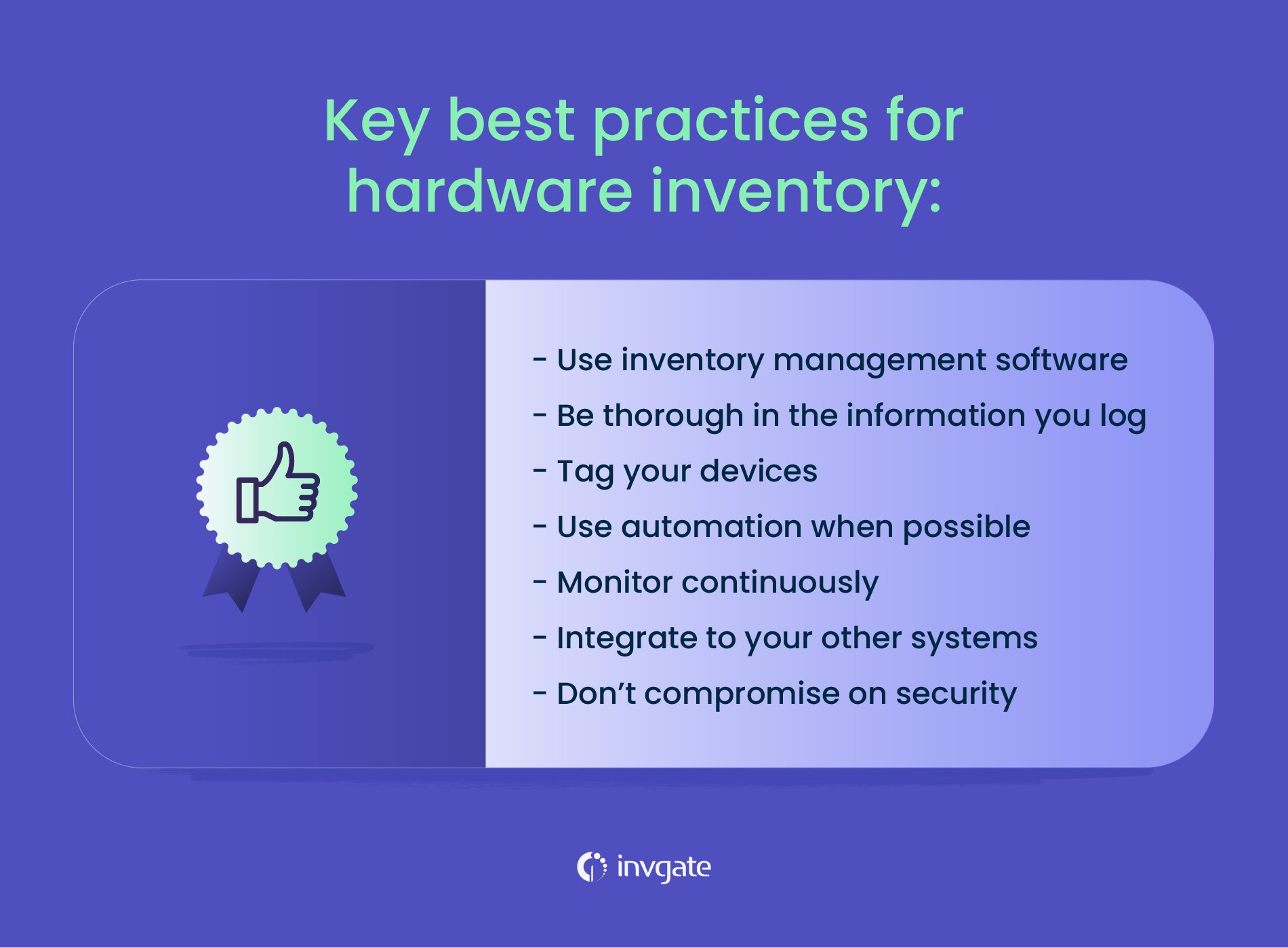 Frequently asked questions
What is hardware inventory management software?
A hardware inventory management software is used to maintain detailed information about all the hardware available in an organization. More than just a detailed excel sheet, these software can automatically compile a list of all devices connected to a network and collect all the information related to them. They can also run maintenance tests and install software updates automatically on these devices, and even let IT admins remotely control them.
What are the common mistakes while building and maintaining hardware inventory?
The most common mistake would be not investing in a hardware inventory management software or an asset management software. This is particularly the case with small organizations, but even some mid-sized organizations or large organizations rely on excel or google sheets, or in some cases, on paper records.
While this can work, odds are you'll miss some devices in a manual inventory process. And even if you do create an accurate inventory, these arrangements can't track the devices or their status. Devices may be misplaced or lost, many devices may miss out on software patches, and the inventory won't be up-to-date.
Are IT asset inventory and hardware inventory the same?
While the two are often used interchangeably, there are subtle differences between the two.
Hardware inventory is often used to describe hardware goods available for sale, whole asset inventory is used to describe hardware that the organization is using.
And in the case of asset inventory, it includes other assets like software, while hardware inventory is limited to, well, hardware alone. In some ways, hardware inventory could be described as a component of asset management.