We are very excited to announce that InvGate Insight has added a Software Compliance feature to enhance our users' Software Asset Management capabilities. Ensuring compliance will allow organizations to avoid legal or financial fines and costly downtime, and at the same time, improve their software resource allocation.
So, let's see what this new module is all about and how it can level up your day-to-day IT Asset Management (ITAM) operations!
Why do you need software compliance?
Maintaining strict control and oversight over your software assets is one of the pillars of any well rounded ITAM strategy. But, why exactly do you need to incorporate this practice?
First and foremost, software compliance enables you to meet compliance requirements. Licenses typically come with terms and conditions that organizations must respond to, and non-compliance can lead to legal consequences and unnecessary fines. By tracking and managing unauthorized usage, you can ensure that your organization operates within the boundaries defined by your software agreements
But that's not it. Along with this, it helps you monitor your software usage and optimize both your resource allocation and your IT budget. The Software Compliance feature keeps a record of your acquired licenses, ensuring that the number of installations aligns with your purchased licenses, and identifying underutilized or rarely used software applications. This way, you can retire or reallocate licenses and make smarter Asset Management decisions.
4 benefits of the new InvGate Insight Software Compliance module
InvGate Insight's Software Compliance module brings a host of new advantages that will streamline both your Software and License Management:
Streamlined license tracking - This feature enables you to monitor and control every aspect of your software licenses, ensuring that each installation aligns perfectly with your purchased licenses.


Holistic compliance oversight - It allows you to track various license types, from device-based to user-based licenses, ensuring that your organization adheres to the specific terms and conditions of each agreement.


Advanced cost control - This new module provides insights into your annual software costs, estimates the true-up expenses required for compliance, and identifies potential savings through resource allocation.


Efficient resource utilization - In line with cost savings, by flagging low-usage software installations, you'll be able to harvest vacant or under-used licenses to redistribute or retire them.
How does the software compliance feature work?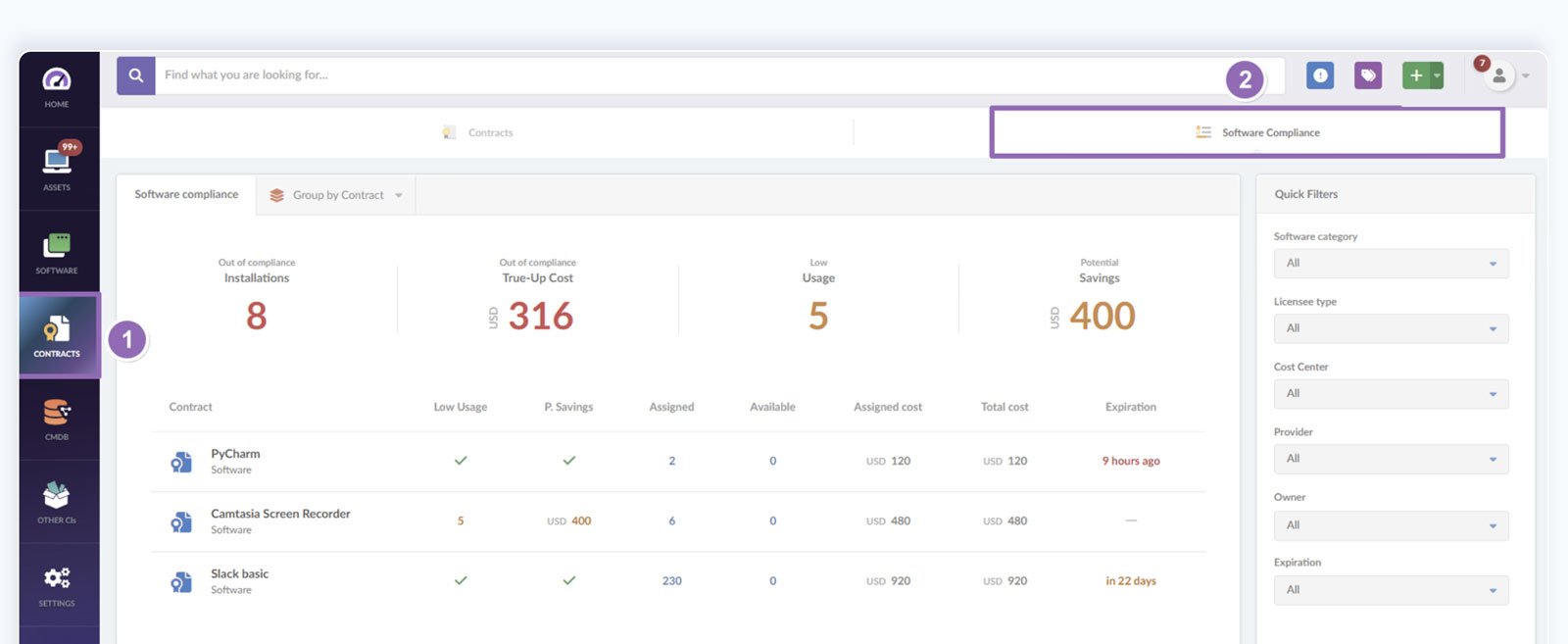 Now that we've seen its areas of practice, let's explore how this new module works. InvGate Insight's Software Compliance feature leverages data from the contracts logged on your instance and combines it with the reported software usage in your environment.
By cross-referencing the two sources, InvGate Insight can calculate things like the annual value of your licenses. To do so, it divides the total values for specified per-license costs by the number of licenses in the contract for others.
Let's see how you can activate this!
How to set up the Software Compliance feature
In order for the Software Compliance feature to work, the first thing you need to do is confirm that metering capabilities are enabled on your instance. Done? Great, let's move on.
To activate the compliance module, navigate to "Contracts" and select "Software Compliance." That's it, you're all set!
From now on, the feature will process the information from your Contracts and Software Metering modules, and classify it as follows:
Out of compliance installations - Number of software installations associated with a contract that does not have a corresponding license. This section is divided into three categories based on the type of contract, including Device installation, CPU or core, and User licenses.
Out of compliance true-up cost - Estimated amount (calculated annually in your configured currency) you need to spend to regularize your out-of-compliance situation.
Low usage - Number of licensed installations that haven't recorded any usage in the last 30 days.
Potential savings - Estimate of potential annual savings (in your configured currency) achievable by redistributing licenses from low-usage installations.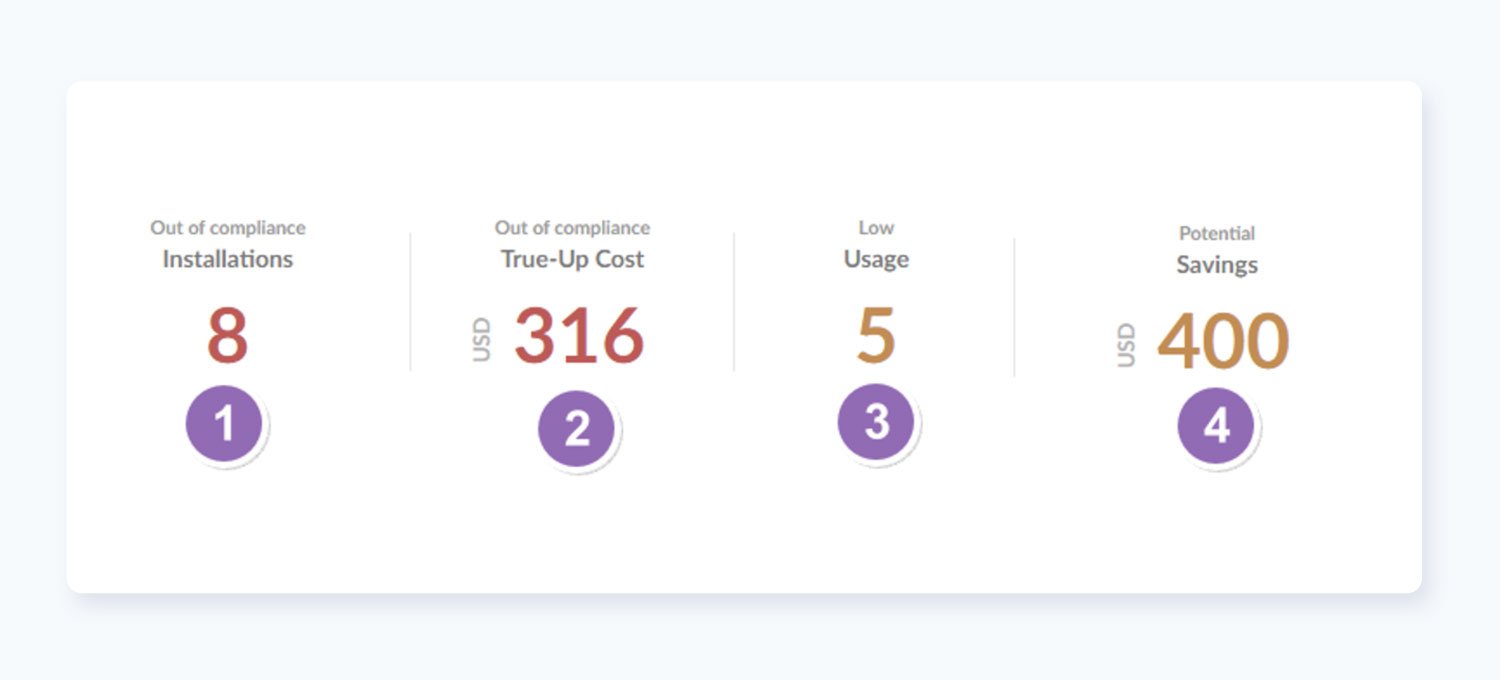 Below these metrics, you'll see another section in the Software Compliance dashboard: the Contracts Explorer. Let's take a closer look at it.
How to use the Contracts Explorer

By default, the Contracts Explorer provides you with a quick and detailed view of the following information:
Name and type of contract.
Low usage (explained above).
Potential savings (explained above).
Assigned licenses (number of licenses that have been assigned from the contract).
Available licenses (number of licenses available for assignment).
Assigned cost (estimated cost of the licenses that have been assigned).
Total cost (estimated total cost of the contract).
Expiration date (expiration date of the contract).
If you want to know more about a particular contract, you can always click on it to go to its profile.
It's important to note that the Contracts Explorer default configuration groups information by contract. However, you can customize the data classification to adjust it to your needs. Some other variables you could use to organize it include:
Software name
Software version
Software category
Cost center
Contract provider
If you choose any of the above, the information displayed in the Contracts Explorer will still include low usage, potential savings, and assigned licenses and cost, along with:
Unlicensed (number of contracts that do not have a license associated with them).
Unlicensed cost (estimated annual cost that needs to be covered for entities to become compliant with software licenses).
Additionally, the "Cost Center" and "Contract Provider" grouping criteria will also display the "Available" column, which shows the number of licenses available in the contract.
In short
With every new feature, function, and capability, we always aim for the same goal: to improve your IT operations and keep them aligned with your business objectives. And this product update pursues exactly that.
The new Software Compliance module on InvGate Insight helps you keep your software assets legally and regulatory compliant, optimize resources, control costs, and make informed strategic decisions for future improvements.
So remember, if you have any further questions about this feature, you can always contact our support team or your dedicated partner. They're always keen to help out in whatever you need!