Digital Employee Experience (DEX) is grossly understated in today's corporate landscape, despite the growing interest in digital transformation in companies everywhere. Technology has long been central to the workplace, but not enough effort has been put into the experience of those who use it.
Enterprises, especially global enterprises, can spend upward of tens of thousands of dollars on software and digital appliances to make work easier for their team. However, not taking into account how well they interact with these expensive tools is wasting a great deal of productivity.
Unfortunately, optimizing the digital experience is a challenging task that requires investigating both the technology and the human perspective very closely to figure out every touchpoint on the digital experience journey.
That's where we bring in the experts. Jon Leighton, Head of Customer Engagement and Advocacy at Nexthink, chatted with our very own Matt Beran on the 19th episode of Ticket Volume (our tech podcast for Service Management professionals) on how important Digital Employee Experience really is to the long-term development of the business.
With three years at Nexthink and a long history in Customer Service across industries, Leighton knows exactly how employee experience influences productivity and, in turn, the company's development.
In this article, we will discuss the significant impact that digital experience has on employee engagement and productivity and how you can implement the DEX Strategy for your own team.
What is Digital Employee Experience (DEX)?
Digital Employee Experience (DEX) is the holistic experience that an employee has with their digital workplace provided by the company. This is far beyond the scope of work for the IT department—it's a key matter of Human Resources and Employee Experience Management. DEX optimization means the corporate culture is more thoroughly engaged, productivity is boosted, and the goal of innovation is more easily reached.
The problem is that not a lot of companies see this potential and instead solely focus on IT, not the people.
What the IT department doesn't realize is that some employees may be accustomed to a different tech stack and, for instance, may prefer Slack over Microsoft Teams; or they might be used to experiencing constant lagging and long booting time without raising an issue because "it doesn't really matter."
Jon Leighton acknowledged this issue and urged us to look more in-depth into the relationship between people and IT to have a more holistic view and solution to the productivity and engagement problem.
"We know that technology works best when it's cared for and nurtured, but so do human beings. (...) There is really a drive for this human element. Sometimes we think of this as people-centric IT. For far too long, technology has been seen as the most important thing, not the experience of those consuming that technology. That's what we need to shift. That's really where we can make a difference."

Jon Leighton
Head of Customer Engagement and Advocacy at Nexthink
Episode 19 of Ticket Volume

An employee's workspace is highly personal and contributes directly to their productivity flow. When put into the corporate puzzle, it's a real challenge to have it fit into the bigger scheme: the appliances that the company provides, the SaaS software that the company uses, and even the onboarding process that's uniform across the organization.
Now that most employees across industries have to engage with technology provided by their company to do the job every day, not taking care of the digital experience they have is a gross oversight from any management team.
According to Jon Leighton, the three biggest factors that his company looks at when assessing the Nexthink Digital Employee Experience Score (DEX Score) are:
Connection

SaaS apps

Browsers
These are the three pillars that can make or break a productivity flow for knowledge workers. When was the last time you got them checked and updated?
5 benefits of implementing a digital employee experience strategy
Implementing a DEX strategy is truly central to building a people-first IT company. Not only does it massively improve the employee engagement rate, but it also helps with making the organization more agile in operation. Let's explore some of the most prominent benefits of adopting a proper Digital Employee Experience Strategy.
1. Boost productivity
It goes without saying that a better digital experience in the workplace can work miracles for productivity. Having to deal with troubleshoots or slow booting time can greatly affect employees' morale, but they don't often include that in monthly employee feedback forms. Moral of the story: Don't wait until the technological straw eventually breaks your employees' backs to start taking action.
2. Promote proactivity over reactivity
In IT companies, especially in Service Management, the help desk has reinforced a routine for the department. As a result, when the tickets get piled up because of poor technology or a delegation system, there is no time to be innovative, which then leads to an environment that is more reactive than proactive. Having an optimized digital experience in place will help your employees go through tickets and other tasks more efficiently, which will strongly promote innovation in the workplace.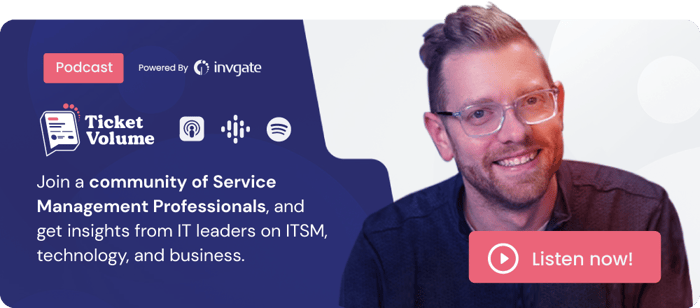 3. Optimize employee engagement across the board
Did we say technology takes up a huge chunk of the employee journey in most companies nowadays? Leighton mentioned that an HR organization in North America did their research and found out that their onboarding process alone has nine important touchpoints, and every single one of them involves technology. Not to mention, hybrid and remote work placements are becoming more and more popular for enterprises everywhere in the world, which means that Digital Employee Experience is now more relevant than ever!
Optimizing tech at work is one of the best strategies to ensure a universally high employee satisfaction rate. A happy workplace means better employee retention, which is one of the biggest concerns remote working comes into the picture.
4. Increase visibility into tech-related incidents
Looking at employees' behavior and the tech stack they're given separately doesn't give IT the right insights into the root cause of any problems that may arise. For example, there might be a signal that says some apps are installed, but are they really being used, or is it a waste of money to buy that license because the employees find them lacking something very specific?
Investigating both the employee journey with the tech and how the tech behaves throughout, instead, gives the company a much better idea about where the issue comes from and how they can better solve it.
5. Personalized digital experience supports communication between people and IT
When it comes to using technology, most employees don't think twice about it — whether it's when they're given a laptop or when they're asked to use this and that software for their work. On the other hand, IT hands tech out like it's a fixed combo: when you're in this role working in this department, you get this laptop and have to use this app. This routine denies any opportunities for communication between the employee and the organization; when disruption comes, this lack of internal communication will make the troubleshooting process much more difficult than it needs to be.
How can you avoid this? Investigating, analyzing, personalizing, and optimizing digital employee experience is how Leighton does it.
Why is Digital Employee Experience relevant to people-first IT?
Technology has been the holy grail of everything innovation, but what we so often forget is how technology is just another tool for human performance. Technology has become an extension of ourselves, in work and life, and this line of thought has been reinforced in such a way that when we log on to our computers, it's like we have logged on to another headspace.
In this context, Leighton shared a simple example they do and recommend: encourage employees to shut down their laptops at the end of a work week. This is a case study of how analyzing digital experience and utilizing the results can be so simple. Seeing that leaving the computers on for months on end was common behavior for most employees (and quite a harmful behavior for updates and security issues), Nexthink chose to relate the act of shutting down laptops once in a while to promoting mental health care, which really was a clever message. Better machines, better people.
According to Nexthink's Head of Customer Engagement and Advocacy, people-first IT should be a principle promoted along with improving the digital experience in the workplace. Shifting away from a data-driven point of view, where data is the be-all and end-all of productivity, he recommended companies take a holistic look at what the data really says and apply what it suggests in a humanistic way.
"(The challenge is) we get some pushback at times from customers about 'What am I gonna do with this notion of people's feelings?' But this is an idea that Tom Peter has talked about for years: soft is hard is soft. And it's the feelings that move the needle, even though in this digital age we're all about data."

Jon Leighton
Head of Customer Engagement and Advocacy at Nexthink
Episode 19 of Ticket Volume
Key takeaways
Optimizing the Digital Employee Experience is a long process, but it's vital to your employee satisfaction rate and, in turn, employee retention rate.
Personalized digital experience doesn't only boost productivity and innovation in your organization, but also helps greatly with employee engagement and internal communication between the people and IT. After all, technology is made for people, and people-first IT is here to remind you to always consider the human side of the equation to make better decisions for the company.