Goodbye 2020 and hello 2021. Let's hope that the new year brings with it better times for us all, both socially and at work. In terms of the latter, the wide scale impact of the global pandemic made 2020 a year of unprecedented workplace change. Changes that in turn impacted the role and business needs of IT service management (ITSM) and the IT service desk in particular.
In many ways, 2020 was the year that IT and the IT service desk reasserted their value to the organization and its employees. First, when the efforts of the IT service desk, and its people, enabled the mass migration of office workers to remote working (playing a key part in organizations' business continuity responses). Then second, through the provision of new and amended services and the associated support. It probably wouldn't be an understatement to say that the IT service desk provided a vital part of organizational resilience during the pandemic.
But what happens, or needs to happen, next? Please keep reading to find out our four predictions for the key trends that will affect the IT service desk in 2021.

IT service desks will need to optimize their operations and outcomes
Those of you that have experienced the new service management best practice guidance content within ITIL 4 will have seen that "optimize and automate" is one of ITIL's seven ITIL 4 guiding principles.
Now, given the many impacts of the global epidemic on business operations and the need for optimization, there's not only the need to change the traditional ways of working related to IT service delivery and support. There's also a need to reflect the need for "better, faster, cheaper" IT support operations and outcomes – making the required optimization about more than efficiency and cost savings.
Think about it. For employees, thanks to their continued remote working, or potentially socially distanced office-based working, there's a greater reliance on technology (and, importantly, technology that consistently works when needed). The same is also true in terms of the customer engagements across the customer lifecycle – from customer acquisition through to ongoing support. These are the need for the "better" and "faster," with the damage to corporate revenue streams (caused by the lockdown situations and their economic impact) necessitating budget cuts that affect both staffing levels and operational budgets (the "cheaper").
This will be the primary IT service desk trend for 2021, with it enabled by the others we expect to be prevalent throughout 2021 and beyond.

Back-office digital transformation will be the norm
We've seen our customers doing this for years. Although we, along with the wider ITSM community, have been calling it "enterprise service management" and other names. Now that the forced "distributed working" of the pandemic has highlighted the many issues with the existing manually-reliant processes of business functions such as human resources (HR), facilities, and finance, we'll continue to see significant growth in the use of service management capabilities and the corporate ITSM tool to digitally transform business function operations and outcomes across the enterprise.
Think of this as a key enabler of the required optimization called out in Trend #1. And, importantly, not just the use of technology but also people and process best practice too.

Employee experience will hit critical mass for IT service desks
The last half-decade has seen the importance of employee experience consistently growing. Not only in terms of IT service delivery and support but also across other business functions. Perhaps with HR departments taking the lead. And now that the focus of employee experience has centered on the importance of employee productivity, in particular, it aligns well with the need to optimize both service desk operations and outcomes (of Trend #1).
Here, the new ways of working that many organizations are now employing post-pandemic, or at least after the first wave of the pandemic, mean that optimization efforts will also need to focus on employee productivity and the wider employee experience. In particular, cheaper alone will not cut it for an employee base that's both experiencing superior service experience in its consumer-world interactions and is more dependent on technology availability at work than ever.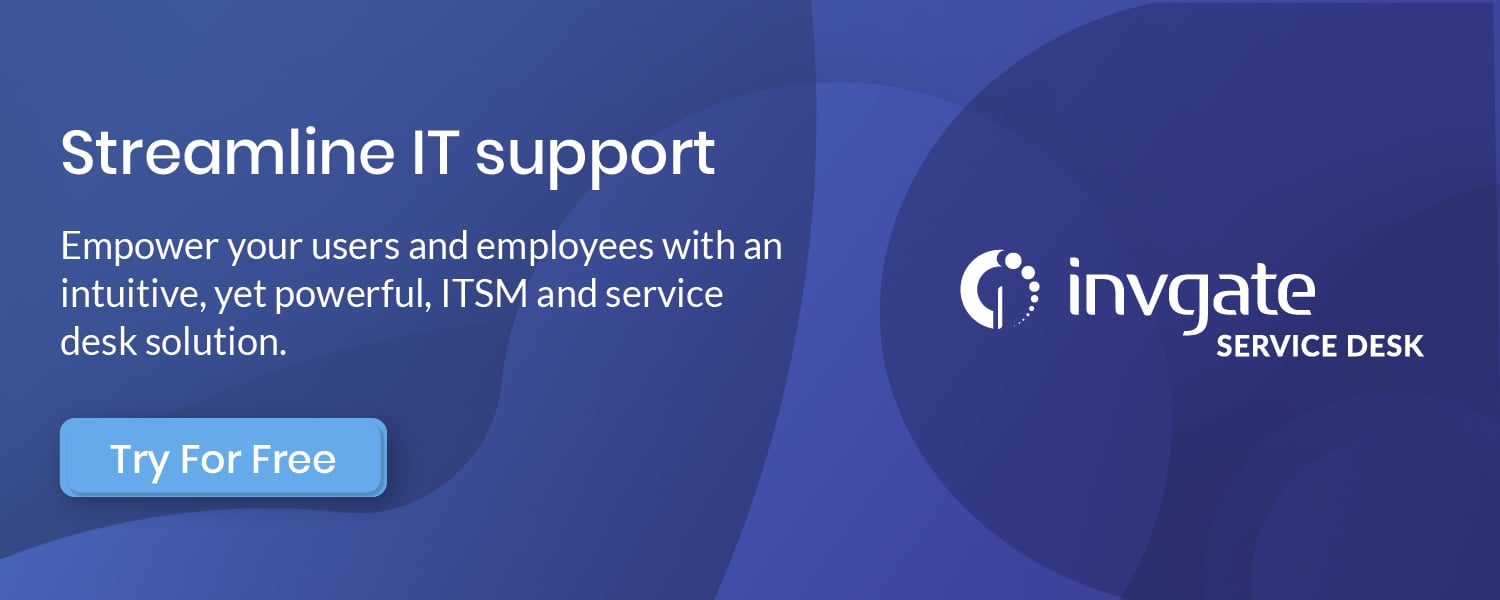 The IT service desk's value proposition needs to be articulated
Value definition and demonstration has long been a difficult task for IT departments, let alone IT service desks. But just because it's difficult doesn't mean that the need to articulate the value of your IT service desk can continue to be ignored.
Think for a minute about what a service desk analyst, or even a service desk manager, might say in response to the question "What's the value of your IT service desk?" Would they say, "We fix the broken technology and provide new technology"? If they do, then it shows a complete disconnect between the IT service desk and it's real "reason for being" and value. For example, if a PC is fixed or a server and service brought back up, but the affected employee, employees, or customers still can't do what they need to do, then where's the value? It's like a tree falling in a forest and not making a noise.
Instead, your service desk's value is more likely to found in business-related benefits such as:
Employees being highly productive and not waylaid by technology issues
Internal IT services allowing back-office operations to work efficiently and effectively
Customers being able to engage with your organization (finding information, buying products or services, getting support, etc.) when they want, how they want, and from wherever they want
The minimization of the adverse impact of technology-related issues on business operations and outcomes.
There's no one-size-fits-all answer though. It's up to your IT service desk to find out what its different stakeholders value, to focus on what's most important, and to measure performance with one eye on further improvement.
So, that's our four IT service desk trends for 2021. What would you add? Please let us know in the comments.