Over the last decade, hospitals and healthcare organizations have digitalized their processes — and with increased digitalization, the role and responsibilities of the IT department and service desks in the healthcare sector have grown significantly.
Nowadays, most providers keep digital or electronic medical records and use advanced hospital management systems. Hospital equipment manufacturers are also following these trends, and developing products that connect or sync with digital systems. Thus, help desk software for healthcare is a no-brainer.
Compared to other industries, stakes are higher for service desks for the healthcare sector because of their very nature. In this situation, service desks improve the user experience and help these organizations deliver quality support.
In this article, we'll discuss:
Why an IT service management solution, such as an ITIL-aligned help desk, is essential for healthcare institutions.
The main features to look out for when searching for help desk software for healthcare.
The specific industry scenarios that lead to the need for a service desk solution for healthcare.
Let's dig in.
Why do healthcare institutions need a help desk?
In the past, most healthcare records were on paper files, and the equipment was all stand-alone. If somebody wanted to make an appointment with a doctor, they had to call directly or come in person. But now, most healthcare organizations use EMR systems to handle patients' health records. Hospital equipment is connected to these systems, and patients have multiple options to make an appointment or view their test results.
This has significantly improved the workflow in healthcare and the experience for end-users. Processes are faster, patient wait times have decreased, and the quality of patient care has gone up.
But this has also increased the importance of IT services in healthcare. Without quick solutions, patient care systems could come to a complete standstill. While critical systems are rarely affected by costly IT outages and can function on their own, the workflow will take a significant hit. It could even be a matter of life and death for some patients. This is why building an IT service desk is important for healthcare institutions.
Efficient IT help desk software for healthcare can keep the systems running efficiently and solve issues before they blow up into a crisis. In this sense, a service desk can deliver effective and quick solutions to doctors, patients, and other stakeholders, and ensure they have an excellent health care experience.
In this sense, InvGate Service Desk can do a lot to ensure that your workflow institution is protected from service disruptions, and its intuitive visual interface will make the communication between end-users and support staff a total breeze.
Plus, it'll be helpful to keep track of the myriad of equipment and devices used in a healthcare institution, and make sure they're all functioning properly. In short, an IT service desk is an essential component to ensure high-quality patient care, smooth workflows, and efficient use of resources in a healthcare institution.
Help desk software for healthcare: 5 must-have features
Here are some of the top must-have features help desk software for a healthcare institution will need.
1. Automation
In just about all industries, automation can help the service desk team avoid repetitive tasks, reduce their workload, and make them available for other important tasks. The same is true for the healthcare sector. But compared to other fields, healthcare institutions place a higher emphasis on standards, procedures, and compliances with regulations.
ITSM automation can ensure that every procedure or every check is performed without delay. And it will show clear documentation for the same. For example, if a piece of equipment has to be calibrated every 30 days, the process can be automated if possible, or you can set reminders and checklists for the right people to perform the calibration.
And like with service desk solutions in other industries, you can automate follow-ups and updates for service requests. Automation can improve the patient experience without increasing the service desk workload.
2. Self-service
Self-service capabilities are an essential feature of help desk software for healthcare. Patients may contact the hospital help desk for following up on their appointments, collecting their test results, or viewing their health records. An IT self-service portal can help these patients find the information they're looking for on their own through a patient portal on the hospital website or app.
They can also help other stakeholders like doctors, paramedics, and hospital managers find information from the ITSM knowledge base instead of raising a ticket with the service desk.
Another major benefit of a self-service portal is that it will be available 24/7. While 24/7 support is essential for healthcare organizations, it can take a serious hit on the resources. A self-service portal will provide the latest information 24/7 to the stakeholders with minimal resources.
In short, it's a great feature to significantly improve the experience of patients and other users without draining the organization's resources.
3. Omnichannel support
Most healthcare organizations have multiple contact points for end-users. Therefore, multichannel support is essential. Omnichannel support offers a consistent and seamless experience for users no matter how they get in touch. Even if an end-user follows up on an email query by phone, the service desk agent will be able to assist them without the patient having to describe their query again.
With healthcare institutions, it's also important to keep records of interactions with patients. Without multichannel support, this may be complicated as the interactions regarding a single query may be scattered across different channels.
4. Analytics
A good analytics suite is essential for a service desk solution in any industry. In the healthcare sector, analytics can help organizations improve the services they offer and offer a better customer experience.
Advanced help desk software for healthcare offers cutting-edge analytics that can give managers actionable insights into the functioning of the service desk, as well as the entire organization. It can help them improve their team, increase the FCR (first contact resolution) rates, and streamline the workflow in the organization.
For example, if a majority of the queries are for booking an appointment or seeking updates about their appointment status, the organization could look into automating the process. Or it could mean the users are not aware of the patient portal or find it difficult to use.
Similarly, analytics can reveal process bottlenecks or accessibility issues that may otherwise remain hidden.
5. Asset management
Healthcare institutions have one of the most diverse ranges of equipment, each with its specific lifecycles and maintenance requirements. Having a service desk that integrates with an IT asset management tool will help you track equipment and ensure they're all functioning properly. These tools will also help your team resolve the service requests efficiently by documenting the device history and helping diagnose the issues easier.
InvGate Service Desk, for example, integrates seamlessly with InvGate Insight, creating a tremendously powerful service management suite.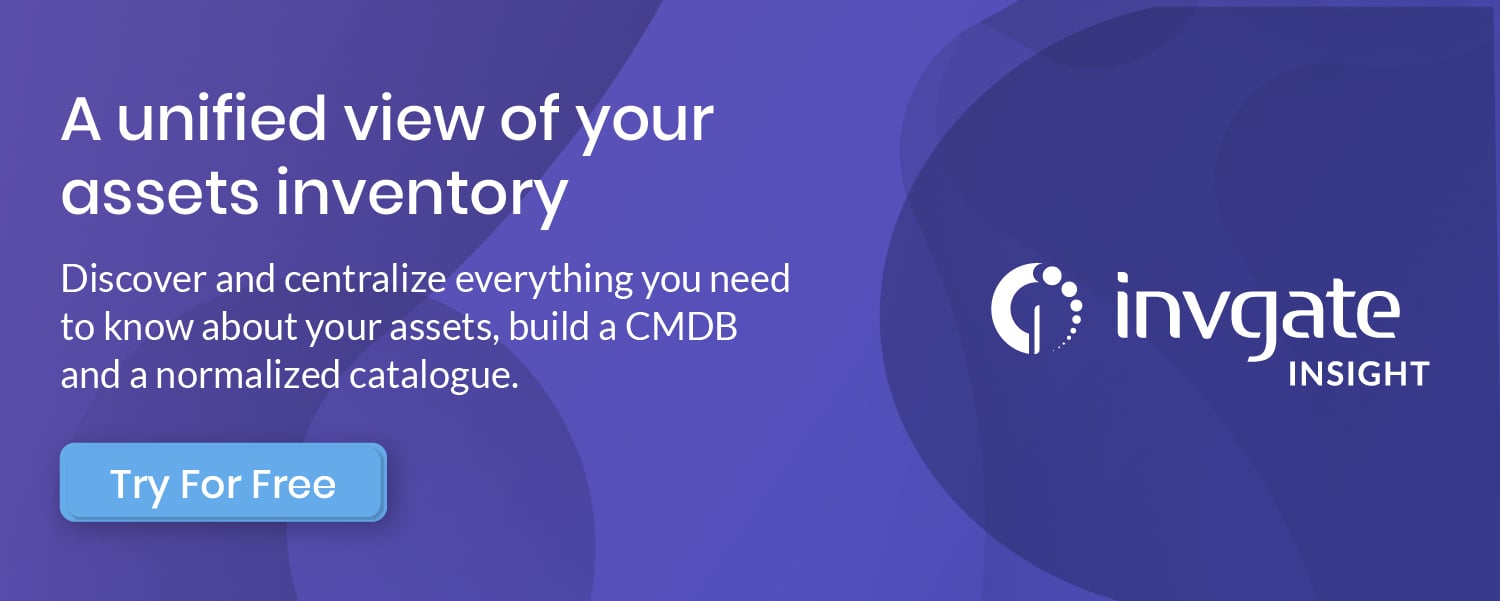 Particularly in the light of increasing cyberattacks all over the globe, asset management tools have grown in their importance. During the COVID-19 pandemic, cyberattacks and ransomware attacks have drastically increased, and the risks are higher for healthcare institutions. During the last year, more than one-third of healthcare organizations have been hit by ransomware.
Since you can't defend what you don't know you have, asset management tools are the first step in beefing up the cybersecurity of your organization. Besides keeping track of your equipment, these tools will help keep the device software up-to-date and ensure they have the latest security patches with a patch management strategy. You can also set up automated monitoring to ensure they're functioning properly and are secure.
Unique challenges for IT in healthcare institutions
While there are many common aspects to the IT help desks in healthcare compared to other sectors, IT in healthcare faces some unique challenges. Here are a few of them.
1. Privacy and security
As mentioned early, the healthcare industry as a whole is facing a cybersecurity crisis. There has been a drastic rise in attackers targeting healthcare organizations and holding patient data and critical systems for ransom. In the light of these incidents, the IT teams have to come up with new strategies to protect organizations' assets without compromising accessibility.
Besides the cybersecurity threats, regulatory authorities are coming up with stricter standards and measures for keeping patient data secure. While these new norms will improve the patients' confidence in healthcare systems, legacy systems and infrastructure often make it difficult for IT teams to comply with them.
2. Low user adoption
It's difficult for healthcare institutions to get their patients and their staff to adopt new tech. For the former, this could be understandable since they don't have to use the tools often (most users, at most visit a hospital maybe once two months, and they'd rather call the hospital than use an app). However, the adoption of help desk software for healthcare is crucial for the staff because that's what's going to affect the way the institution works and delivers.
Thus, IT teams have to offer a seamless user experience for every interaction and incentivize users to increase user adoption. In the case of patients, organizations may also have to invest to raise awareness about these systems among the user base since it might take a while to spread the word.
3. Wide range of equipment
As we discussed above, unlike most organizations, healthcare institutions have a wide range of devices. And most of the equipment needs specialized training for maintaining them. This makes it difficult for the IT service desk to conduct periodic maintenance and checkups to keep the devices secure and the firmware up-to-date.
The variety of devices also means more work to integrate them for a seamless experience.
4. Wide user demographic
While it's relatively easy to come up with a target audience for most tech, the situation is different in IT. The target audience is just about anyone above the age of 18. There may be users who are highly tech-savvy, and there may be users who struggle to use a smartphone.
In such a situation, the IT teams face the challenge of designing a system that's accessible to quite possibly the most diverse user base.
Frequently Asked Questions
Why does a healthcare institution need a help desk?
Most healthcare institutions are highly digitized these days. Help desk software for healthcare is necessary to maintain these systems, keep them secure, and offer guidance to users when they face difficulties. A service desk keeps the IT running in a healthcare organization.
What are the benefits of help desk software in a healthcare organization?
An IT service desk:
Improves patient experience
Improves the quality of patient care
Keeps the equipment secure and functioning
Reduces IT downtime in the organization