IT service management (ITSM) is big business. There are so many tools, vendors, and resellers out there, so how do you choose? If you work in a service desk or ITSM environment, the ITSM tool will be one of your most important spends. The right tool can help customer engagement, improve processes, and support effective incident resolution.
As IT continues to recover and evolve in this new, post pandemic reality, "the best ITSM vendor" will mean different things to different people. This blog will look at the questions to ask when choosing your next ITSM partner.
What do you want to achieve?
Sounds simple we know but hear us out. Really think about what you want your ITSM tool to deliver. Many people think of a service desk when choosing an ITSM tool but so much more can be accomplished. Go big or go home, right? What about the following?
Know the market
The top ITSM vendors stay ahead of the game, and how they think ahead to market/industry changes, Some will lean in to ITIL. Other tools will be more appropriate for SIAM or Verism. If you're focused on the more traditional ITIL practices then any tool that supports incident, problem, and request management with change enablement and maybe an asset database will probably get you to where you want to be. However, your organization might want more than a new version of the status quo.
Think about it. If you're spending a significant amount of money on an ITSM tool, don't you want things to be noticeably different? You might want to improve ITSM capabilities and maturity, both within already-adopted ITSM processes and with the introduction of new ones. Some questions to ask could include:
How will the tool vendor help to up your organization's ITSM game?
Will they be able to assist in the delivery of new best practice practices?
Another thing to consider is how customizable is the tool? What works brilliantly now may need to be adapted in a year so factor in how easy it is to make changes

How do they assist with changes and new releases?

How does the vendor intend to stay relevant? How poised are they to evolve with the market?

Does the company offer new ideas and innovations or are they more about optimizing your existing processes?
Consider the tool
This might seem like a no-brainer, but it bears repeating: the ease of use, adaptability, and overall power of the ITSM tool is going to be the main driving force behind your choice.
The better your service desk software, the better your customer satisfaction, agent satisfaction, and overall resolution rate. Having the right tool on hand is half the battle won, and the rest is going to be up to you and your agents. Providing them with a streamlined tool that gives them a bird's-eye view of everything they need for success, and combining those tools with common-sense strategies, is the path to success, in our eyes.
A top-of-the-line ITSM tool like InvGate Service Desk takes away all of the guesswork. It empowers your support team to deliver outstanding service, with an intuitive ticketing solution, workflow automations, and ITIL-ready functionalities.
The rest is just about building the right culture that utilizes what this powerful desk software can deliver to its fullest capacity, including automation and other benefits for productivity that increase output without necessarily having to increase input.
If that sounds like your cup of tea, then check out our 30-day free trial here and see for yourself.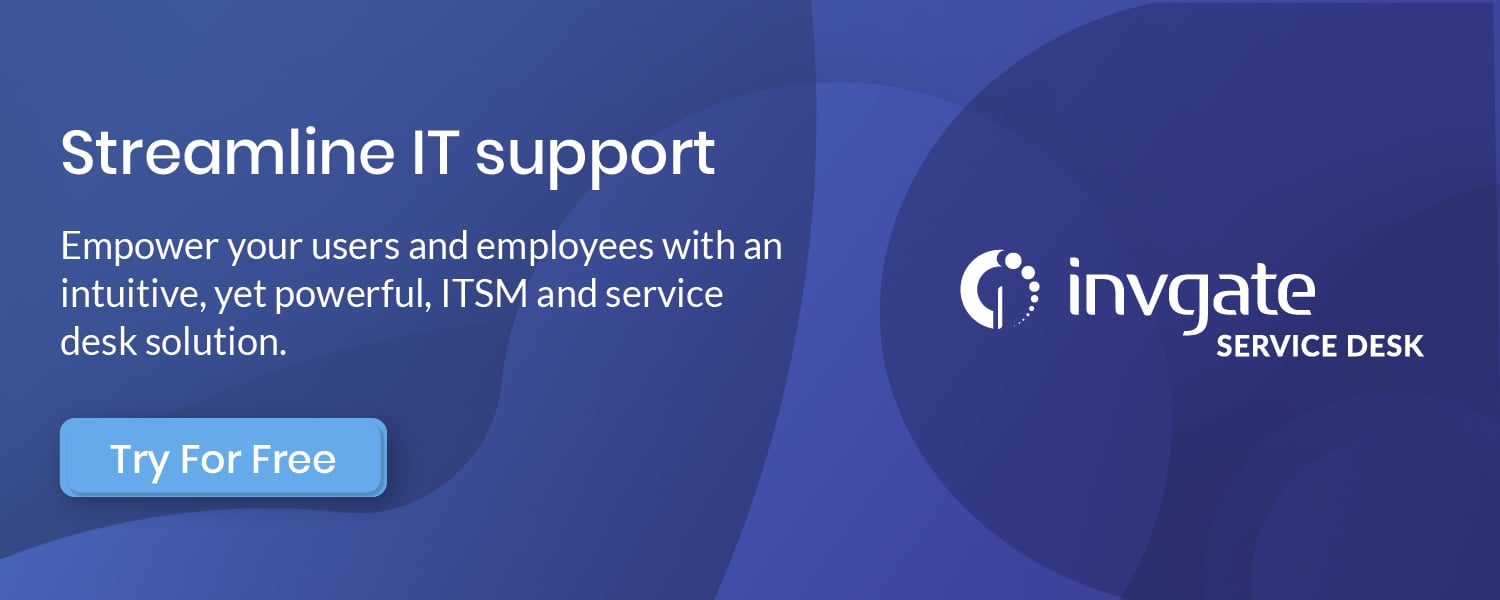 Consider the vendor as well as the tool
When you select a tool, you're not just buying a solution, you're buying into a relationship with the vendor. And relationships matter. Your ITSM tool supplier will be a long term, strategic partner so take the time to do your due diligence, Look at their customer service record and look at industry feedback. Learn exactly how they deliver support and ask for references from existing customers. A legitimate ITSM vendor will be only too happy to provide them.
Pay attention to how vendor representatives, from sales to the service desk, speak to you and about their company. If anything seems not quite right during the sales process, when, let's be real, everyone is on their best behavior, it could signify greater issues once the contracts are signed. Relationship issues can always be subjective but here are some things to look for:
The company is unwilling to provide either customer references or reference sites

The sales team is overly pushy. Obviously, sales is a very outward facing role and of course they have a job to do but if you're being chased multiple times a day for updates then that's something we'd pay attention to.

Any company that makes disparaging remarks about competitors.
Look at the commercials
Every ITSM vendor will have a different commercial framework which can make it tricky to work out the best value for money if you're not comparing like with like. When choosing an ITSM supplier, work with your finance team to ensure you get the best deal for your particular organization. Things to consider include:
Business growth plans
Usage profiles
Various permissions and license types
The roles which will be required for users of the tool.
An ITSM tool isn't just a one and done type deal, especially with the increase in SaaS pricing models. It's not just a case of confirming the price for the next 3 to 5 years, the actual total cost of ownership can be complicated to work out so be guided by the experts.
Consider the future
How will the tool adapt to change? When specifying ITSM tool requirements, it's important to consider their current and future needs for integration with other corporate systems. Plus, now that the use of cloud service providers and the service integration and management (SIAM) approach are more popular, there's also the need to integrate to third-party IT systems for example monitoring tools or network discovery agents (if these activities aren't included in your chosen tool).
Look at the tool's API approach and the number of available pre-built integrations to common IT management and business applications.