In IT, project management refers specifically to the planning, scheduling, execution, monitoring, and reporting of IT projects, which is a type of project that deals with IT infrastructure, information systems, or computers.
Examples of IT projects include development or acquisition of software, IT emergency or recovery, and hardware installation, among others. The project scope in these cases tends to be complex because IT extends across all areas within the organization.
Let's break it down so you can ensure your project planning is successful.
Project management lifecycle
The project management lifecycle includes the steps required for project managers to successfully manage a project from beginning to end. The Project Management Body of Knowledge (PMBOK) divides projects into five project phases:
I

nitiation

Planning

Executing

Monitoring/controlling

Closing
Now, let's take a deeper look at each of them.
1. Conception & initiation
Project initiation is the first step of the project lifecycle. At the initiation phase, a case has to be defined — including the plan, purpose, and objective to be attained.
In order to do that, a project charter has to be created. This is nothing more than a document with information such as the project goals, constraints, timeline, and budget. This project initiation phase is the moment when a project manager is defined.
Let's say a company needs to update its service desk solution because the one they are using is outdated and can't handle the numerous requests received effectively. In the project charter we will include the following goal: "Update the service desk software." Then, we'll also add a budget and timeline to attain the objective.
Once the idea has been turned into something more concrete, it is time to identify the main project stakeholders — or the people who will take part in the project. That information is laid out in the stakeholder register where the roles, communication requirements, and designations are established.
Stakeholders and project teams should be aligned with the project phases throughout the project lifecycle.
2. Definition & planning
The project planning phase lays out the project's roadmap. In the project planning phase, the project manager needs to define a detailed project schedule, along with goals, deliverables, technical requirements, project teams, and a communication plan.
He or she will ultimately develop a project management plan, in which all the mentioned elements will be clearly laid out. In this step, it's crucial to take into account dependencies, so your planning is as much accurate as possible.
There are various subtasks within this phase of the project lifecycle:
2.1. Goal setting
One of the key aspects of this stage is to set the project goals. There are several methods to do so, but the most popular ones are S.M.A.R.T. and C.L.E.A.R.
S.M.A.R.T. stands for Specific, Measurable, Achievable, Relevant, and Time-Bound. This helps to identify specific goals to be met within a clear time frame, specifying milestones.
Specific: to set specific goals, which answer specific questions such as what, when and why.
Measurable: establish a criteria to measure the success of a goal.
Achievable: specify the most important goals and how to achieve them.
Relevant: it should be mentioned why that goal is relevant.
Time-bound: have a timeframe to achieve the goal.
An example of a SMART-goal statement might look like this: Our goal is to change the service desk solution by July of this year. Our IT team will accomplish this goal by comparing pros/cons of different solutions and providers. Accomplishing this goal will improve service desk solutions by 20%, and will save 200 thousand dollars a year.
C.L.E.A.R. is a newer method and takes into account the fact that we are living in a changing environment. The acronym stands for:
Collaborative: employees should work together to attain the goal.
Limited: there should be a limited time and project scope to reach the objective defined.
Emotional: the emotional aspect refers to the need that the goal is in line with the employees' passions and interests. There should be an emotional connection to the task in order to optimize the work and get better results.
Appreciable: it is necessary to identify small goals to be achieved, and that will then lead to the major objective. This gives a sense of fulfillment that can be truly inspiring. Besides, it's easier to measure and keep track of the progress made.
Refinable: flexibility is a key concept here. If new situations take place, it is necessary to redefine goals and tasks.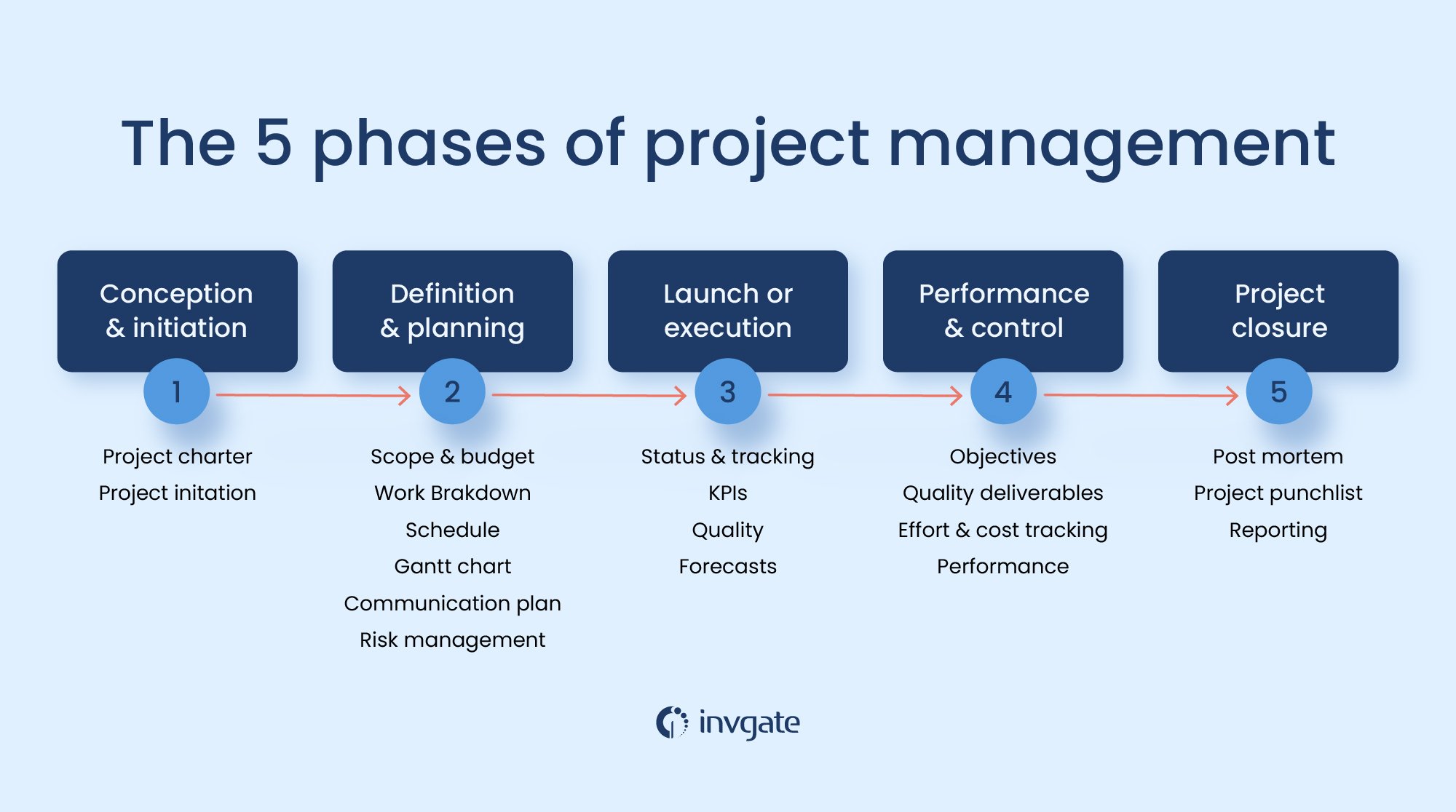 2.2. Definition of roles and responsibilities
At this point, it should be determined the people involved in the project, as well as the tasks each of them should carry out, and exactly what's expected from them.
2.3. Scope statement
The scope statement defines what the project is about in terms of objectives, benefits, milestones, and deliverables. In other words, what the project is expected to deliver and also what not.
The scope statement may change during the development of the project, but both the project manager and sponsor need to approve the adjustments. The latter is the person responsible for controlling the project.
2.4. Work Breakdown Schedule (WBS)
This is a visual representation that divides the scope of the project into manageable sections or deliverables for the team. It is a hierarchical outline of the tasks required to complete the project.
2.5. Create a project plan (Gantt chart)
A Gantt is a bar chart that illustrates a project plan and its schedule. The goal here is to visualize the flow of the project. This will give everyone clarity as to what has to be completed and when.
2.6. Communication plan
Projects tend to suffer from communication failure. Ineffective communications can delay outcomes and cost millions of dollars to companies. That is why it is important to develop a clear and effective communication plan that should be kept through the whole project management lifecycle.
Sometimes, this aspect is overseen, but actually it is a crucial part of project management planning. Throughout a project, it's essential to maintain a successful communication about alignment on goals and milestones, and any subsequent change that might be carried out to adjust a project. This is particularly important to keep transparency and keep all stakeholders informed.
The process of planning a communication management strategy should include defining:
A communications management tool and project collaboration tools to share information as well as to keep track of the status.
A communications workflow that defines how the data generated at each stage of the project is conveyed.
Project communications staff that will be responsible for conveying information at every stage.
2.7. Risk management plan
The idea here is to identify possible risks and set actions to be taken. The main flow of Project Risk Management includes the following processes:
Risk identification
Qualitative and quantitative risk analysis
Planning risk responses
Implementing risk responses
Monitoring risks
Unrealistic time, lack of committed resources or insufficient cost estimate are examples of common risks that could be associated with the example mentioned before: choosing a new service desk software; as well as other types of projects.
3. Launch or execution
The project execution phase is where all the activities defined in the previous phase are now carried out. The project team, supported by the project stakeholders, will start performing the tasks planned.
At this point, most of the time will be devoted to coordinating people, and keeping track of activities and resources available. It is also the moment to update stakeholders with the progress made as well as with the changes or adjustments that might need to be implemented.
During the project execution phase, meeting minutes, work orders, and quality assurance documentation will be drafted in order to perform all the tasks previously mentioned.
4. Performance & control
At the project performance and control phase, the project leader has to monitor the progress and quality of the project taking into account various aspects. The driving questions at this phase should be:
Are the project targets being met?

Are we within the scope?

Are we still on budget?

How is the communication being handled?

How is the cost performance index?
At this point, the project manager needs to identify if the project is being carried out as planned, taking into account objectives reached and identifying possible inconvenience.
If problems arise, they might need to think of a solution. A change of course may also be considered at this phase if, for example, any circumstance or requirement has changed.
In this sense, it might be needed to approve changes, set aside more budget or get additional resources.
5. Project closure
This is the moment when the project must be officially closed. Project closure is the final stage of the process. Project managers generally hold a meeting after the project is finished to pinpoint successes and failures. The idea is to identify areas where there is room for improvement.
At this stage, project managers will need to create a project list pinpointing the things that didn't work or were not accomplished. They'll use this information for the mentioned meeting, and include it in the final project closure report, so it can be taken into account for future projects.
How to simplify process management
Keeping all the documents related to the project stored in one place is very important. In this sense having a strong project management software is extremely useful. Aside from storing information, it will also provide members with valuable tools to facilitate communication, task completion, and basically the whole execution of the plan.
Having a complete digital solution to plan, organize, and monitor projects is crucial. This type of software will definitely simplify the project management phases to make sure everything is done more efficiently and that no data is lost.
Frequently asked questions
What is the Project Management Institute PMI?
Project Management Institute (PMI) is a leading professional association for project management, and the authority for a growing community of millions of project professionals and individuals who use project management skills.
What's the purpose of project management software?
Project management software helps project managers and businesses set out and organize plans to make sure deadlines are met, resources are correctly allocated, and to be able to track progress.
Which are the 5 project management processes?
The 5 basic phases in the project management process are:
Initiation
Planning
Execution
Monitoring/Controlling
Closure