IT4IT is a relatively new entrant in ITSM frameworks and ITIL practices, with the first version released only in October 2015. The past decade has seen rapid innovation, and companies that could change and innovate quickly have had the edge over the rest.
The framework arose out of a need to support rapid changes in organizations and, at the same time, manage risk and compliance.
Read on to know more about this new standard and how it works.
What is IT4IT?
The Open Group developed the IT4IT framework to help IT organizations build and deliver services and products faster and cheaper while balancing the risks. They designed and developed the framework in collaboration with various experts, vendors, and organizations like Microsoft and IBM.
"I knew how to do ITIL. I was working at HP at that time, and what we experienced was it was a best practice book. But then, we went out and talk to our customers, [and we realized that] there was some best practice processes you should follow in ITIL. But it didn't say anything about how to implement it, really.

And so, I've been very interested in a Telco standard called eTOM from the Telemanagement Forum [...] And I said, 'Well, why don't we do something similar for IT? It really isn't that different.' So, I partnered up with some of my fellow customers and partners in the industry. [...] And we basically said, 'Let's do that. And let's promise the world and ourselves digital.'

Lars Rossen
Creator of the IT4IT framework
Episode 9 of Ticket Volume.
The Open Group presents IT4IT as a standard for companies to adhere to more than just a framework, but certification is only available for individuals. And many experts consider IT4IT not as a replacement for your existing framework, but rather as something to augment. It supports ITIL and COBIT as well as Agile, Lean, and DevOps methodologies.
The framework splits all the IT processes from planning, building, deploying, and maintaining into four value streams connected by a reference architecture. Other activities support these value streams to make the backbone of the service model. In fact, it was Lars Rossen one of the creators of the first version of the IT4IT reference architecture and whom our podcast's host Matt Beran interviewed for the 9th episode of Ticket Volume.
IT4IT recognizes the challenges of data silos that modern enterprises are struggling with. Companies also often find it challenging to integrate the tools and solutions they're using to manage the disparate processes, even when different vendors adhere to similar frameworks such as ITIL.
IT4IT attempts to solve this by prescribing the information required to manage IT services throughout their lifecycle. It describes tools that organizations may need as well as processes that can be automated. It tries to make the entire value chain visible to stakeholders and decision-makers, and provides a reference architecture to connect the value streams.
IT4IT vs. ITIL
IT4IT experts emphasize that it's not meant to replace ITIL or COBIT. They're supposed to go together, filling gaps in these frameworks. ITIL is more descriptive, providing guidelines to set up IT services in various practices. Meanwhile, IT4IT is prescriptive, detailing how information flow and IT activities can be automated.
Another significant difference between IT4IT and ITIL is how the value chains are defined. In ITIL, the value chain serves as a model for delivering IT services and is central to the service value system. ITIL has six activities as part of its value chain, and these activities are, in turn, supported by various practices such as incident management, change management, and others.
These activities can be combined to create additional value streams, starting with a demand. For example, a value chain can be designed to resolve a service desk query or onboard a new employee.
The value stream may look like this:
engage - deliver and support - plan - provide and support - improve
Value chain activities may be supported by change management, service management, problem management, and others.
In the case of IT4IT, the value chain is a series of activities performed to deliver a product or a service. These activities may be primary activities concerned with providing products or services and supporting activities that keep the primary activities as the name suggests. And unlike in ITIL — where value chain activities can be combined in different ways — every product or service in IT4IT goes through all of these activities in the same order. At every step, it adds value to the product or service.
In IT4IT, the value stream is not the specific series of activities in response to demand, but is another name for the primary activities in the value chain.
In short, in ITIL, the value stream comprises value chain activities. Value chain activities are the individual components supported by various ITIL practices that may make up the value stream. In IT4IT, the value stream is a set of activities that form a part of the value chain, backed up by supporting activities.
When IT4IT augments ITIL, ITIL practices support the value streams in IT4IT. You can also map IT4IT value streams to ITIL value chain activities.
The benefits of the IT4IT framework
One of the main benefits of the IT4IT framework is that it improves visibility across the entire organization. It allows different tools and solutions to be completely integrated and remove silos across the organization. The framework focuses on the flow of information and ensures it can trace every step from conception to delivery.
Using the IT4IT as a standard for your suppliers and vendors, you can simplify supplier management; as the needs of the business change, you can work with different suppliers and integrate them into your existing systems without complex discussions or delays.
The holistic view of your organization, including process, tools, stakeholders, and others provided by IT4IT, can help you better align your business with IT. You can identify the components that are not aligned with your business or not working to your standards and improve them using IT4IT. Instead of just IT, IT4IT looks at the entire organization and brings IT and business together.
What are the IT4IT value streams?
The IT4IT value streams are the four primary activities in the value chain that every product or service goes through. There are four value streams in the IT4IT framework.
Strategy to Portfolio (S2P)
This stream is about making the business goals aligned with the portfolio. The idea is to ensure that business values drive every service offered in the portfolio. This value stream tries to bring the ITSM, the enterprise architecture, and the project management teams on the same page regarding what the portfolio offers.
Strategy to Portfolio involves defining the business objectives, analyzing demands, building the service blueprint, and more.
Requirement to Deploy (R2D)
It focuses on building the services. It supports both Agile and continuous integration and continuous delivery. The value stream aims to build, test, and deploy services that the users want.
Request to Fulfill (R2F)
It is about managing repeatable service requests from a service catalog and contains the requirements for building a service catalog. This phase involves setting up self-service options, publishing the service catalog, creating the SLAs, and more. Request to Fulfill empowers your customers with self-service options.
Detect to Correct (D2C)
As the name suggests, this phase is about detecting issues in time and correcting them before it creates problems for customers. Detect to Correct provides a shared language and configuration model to improve visibility quickly, find issues, and respond to them. This phase includes fixing issues, setting up automation for everyday problems, and continuously monitoring services to detect and resolve issues.
Key takeaways
Overall, IT4IT came around to help IT organizations to deliver products and services faster and at a lower cost. What brings to the table is that it focuses more on the flow of information and less on processes. But it's relevant to remark that this framework is not here to replace others.
On that note, the main aspects to know about IT4IT are:
That it is compatible with frameworks like ITIL and COBIT, as well as development models like Agile and DevOps.


That IT4IT improves visibility and transparency in an organization. By mandating the IT4IT standard among suppliers, organizations can easily integrate services from multiple suppliers, onboard and offboard suppliers, and make these changes without disruptions.


And finally, we like that IT4IT has condensed into four value streams that meticulously take care of the flow of information during the whole creation process of products and services.
Before we jump into the FAQ section, don't forget to listen to Episode 9 of Ticket Volume to know what to expect of IT4IT version 3.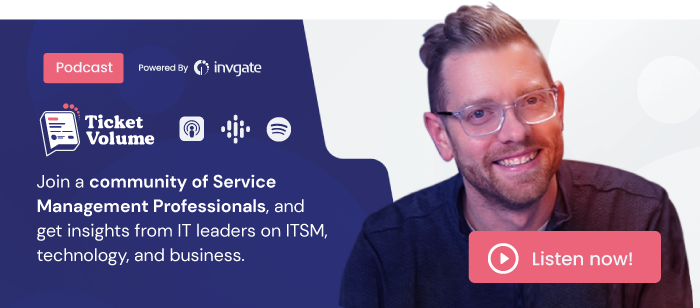 Frequently asked questions
What does IT4IT stand for?
IT4IT is not an acronym, but a name for a reference architecture and a framework for IT service management. The framework places emphasis on the flow of information and data-driven decision-making.
Who uses IT4IT?
Organizations of different scales or ITSM frameworks like ITIL or COBIT use IT4IT. The framework was developed in collaboration with industry experts, academics, and organizations like Microsoft and IBM.
How do you implement IT4IT?
IT4IT is designed not to be a replacement for other frameworks, but rather to augment them. It can be implemented in an organization over existing frameworks like ITIL or COBIT and is compatible with methodologies like Agile and DevOps. The framework offers a reference architecture for managing IT services and improving transparency.