With the rapid digital transformation of enterprises, the role of robust IT service and ITSM in keeping businesses processes running smoothly is paramount. They're necessary to keep the organization online and to make sure that digital processes create the best customer and employee experience.
With more organizations going into completely remote or hybrid modes of work, the service desk has to adapt to provide robust IT to employees and empower them to carry out their jobs. This is where a virtual service desk becomes important for an organization. Let's explore what a virtual service desk is, the elements that make up a good virtual service desk, as well as the important things to consider when setting one up.
What do we mean by virtual service desk?
In a traditional service desk, the service desk agents are often located at the same location and physically close to the employees they're serving. If the employees are facing any difficulties, they'll contact the service desk and raise a support ticket. And a service desk agent may either give them instructions to solve the problem or visit the employee's workstation and try to resolve it for them.
In the case of a virtual service desk, the service desk technicians are not physically close to the employees they're serving. The service desk team itself may be working remotely. The service desk technician may communicate with the employee through phone or email, and may even virtually access the employee's workstation to solve their issue.
Besides staying remote and supporting a remote workforce, a virtual service desk is also an efficient use of resources. A single IT service desk technician can support more employees through a virtual IT service desk than they can in a traditional service desk.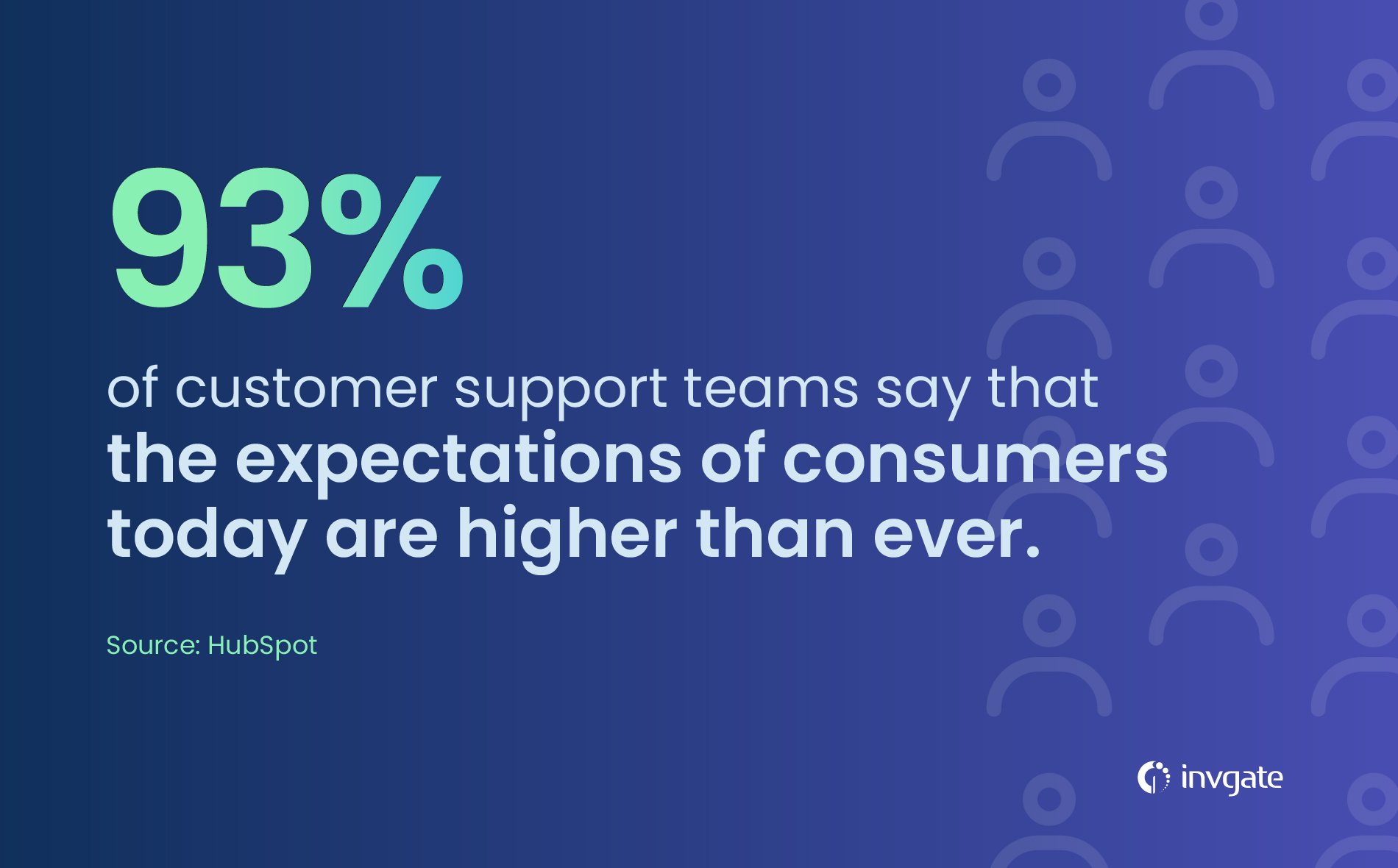 What are the elements needed to make a good virtual service desk?
Remote desktop access
This is fairly obvious; since the service desk technicians are not physically close to the employees they're assisting, they'll need remote desktop access capabilities to resolve some issues. This goes beyond just standard screen-share but rather taking over the system to install new software or change configurations.
Besides accessing individual systems, the service desk may also have to access multiple systems at once, maybe even in batches to install software and firmware updates.
Automation
While most service desks rely on automation, a virtual help desk will need to rely on further automation to ensure the quality of service. Since employees are geographically distributed, workflow and ticket management have to be automated to ensure the queries are resolved on time. Make sure you're clear on how to automate customer service.
Virtual service desks can also make use of chatbots to resolve tickets, assist service desk users to request a service, or collect the necessary information from a user before a service desk technician takes over.
Since the users may be working in different time zones, ITSM automation can help you manage the resources more efficiently; you can split your team into different time zones so that users can request services any time, and if there's a sudden demand, the automation can help them manage that.
Self-service portal
In a virtual service desk, employees benefit greatly from self-service. This could be as simple as requesting service using the service catalog and could even go so far as finding the solutions they're looking for in the knowledge base.
For example, a new employee may be finding it difficult to navigate the new digital workplace ecosystem and they could just refer to the knowledge base to figure it out.
To create an effective self-service portal, the service desk must maintain a detailed and updated service catalog as well as a knowledge base. And self-service should not be limited to the tech alone; to get the best results, you should get the employees on board and encourage them to make use of it.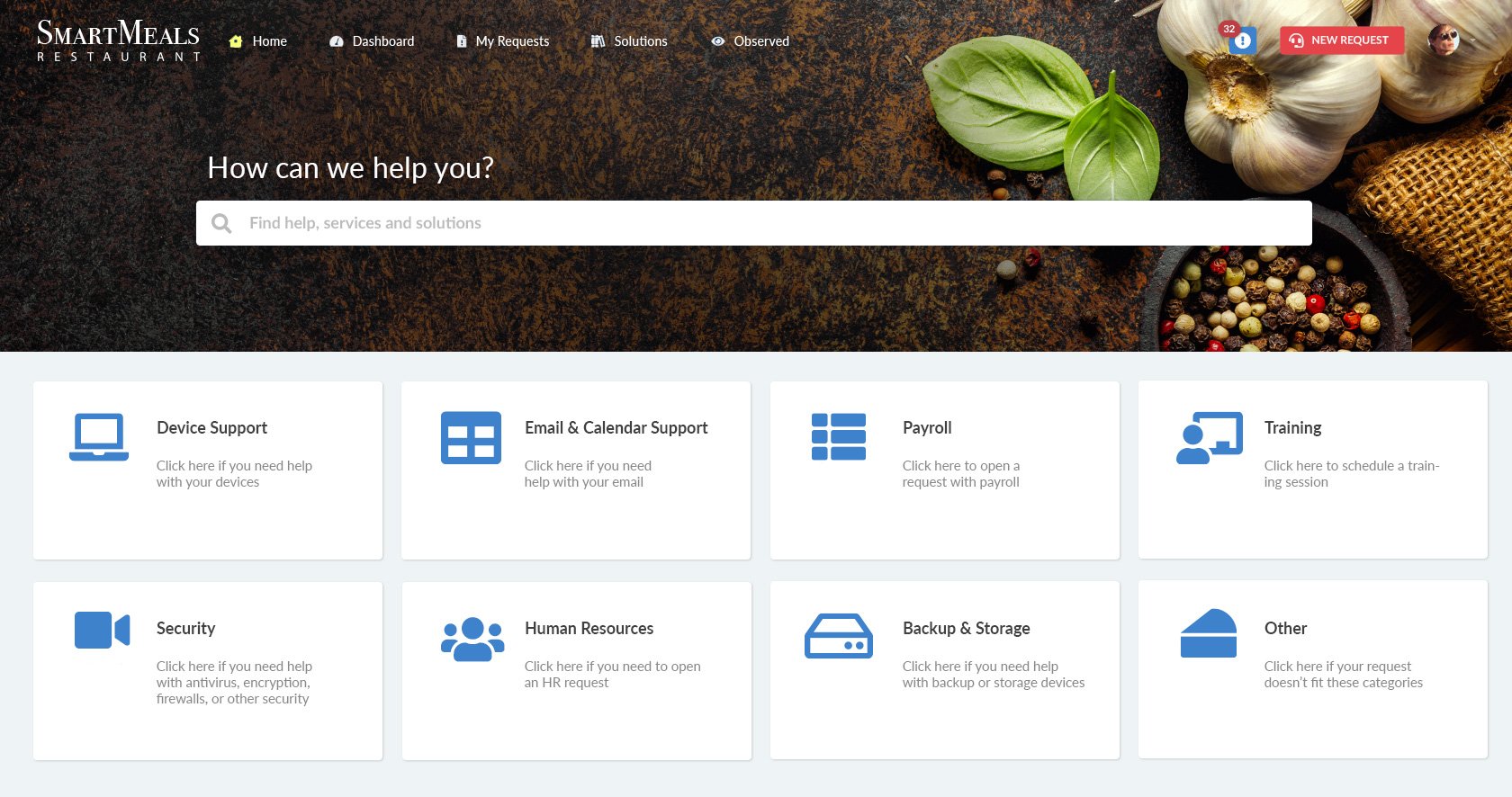 Above is an example of a self-service portal made on InvGate Service Desk (here are some more design ideas for self-service portals). Companies use InvGate's acclaimed service desk solution to provide a one-stop shop for both agents and end-users; this makes self-service extremely straightforward for users and setting it up (and customizing it) extremely easy for admins.
A robust asset management system
Maintaining the employee hardware as well as the organization's IT infrastructure is trickier when they're distributed. For starters, you cannot physically take inventory of the equipment or check if they're working properly. In large organizations, it becomes harder to keep track of them and if not careful, you may incur significant losses annually.
Proper IT asset management also plays a huge role in securing the organization; you can't protect the devices if you don't know what they are. This is where a robust asset management system comes useful. They can help you keep track of devices, keep them updated, and diagnose them remotely in case of any malfunctioning.
InvGate Insight is a powerful IT asset management tool with CMDB, Asset Discovery, and IT Security features. It integrates perfectly with InvGate Service Desk for a fantastic two-point attack, covering all of your company's ITSM and ITAM needs.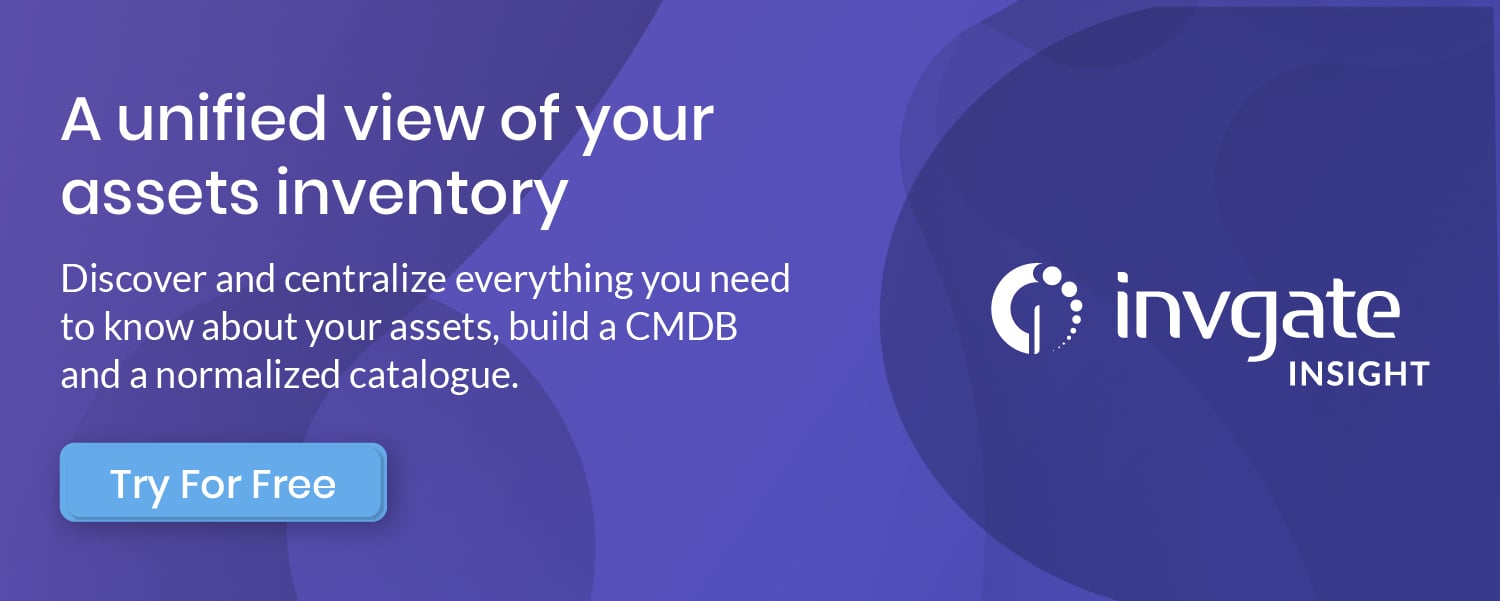 Single point of contact for employees and customers
In a virtual service desk, employees from different geographical locations would be contacting the service desk. And the service desk agents in turn may be in different locations. For effective and convenient service delivery, employees need a single point of contact for requesting services.
This doesn't mean limiting to just one channel to connect to the service desk. Employees should be able to reach the service desk through a self-service portal, a single email ID, or a global phone number. But multiple email IDs or phone numbers for different locations or different types of requests are bound to confuse.
Ideally, most requests should come through the self-service portal, but in some cases employees may email or call the service desk. And for this, you'll need to ensure the emails or calls are routed automatically to available service agents.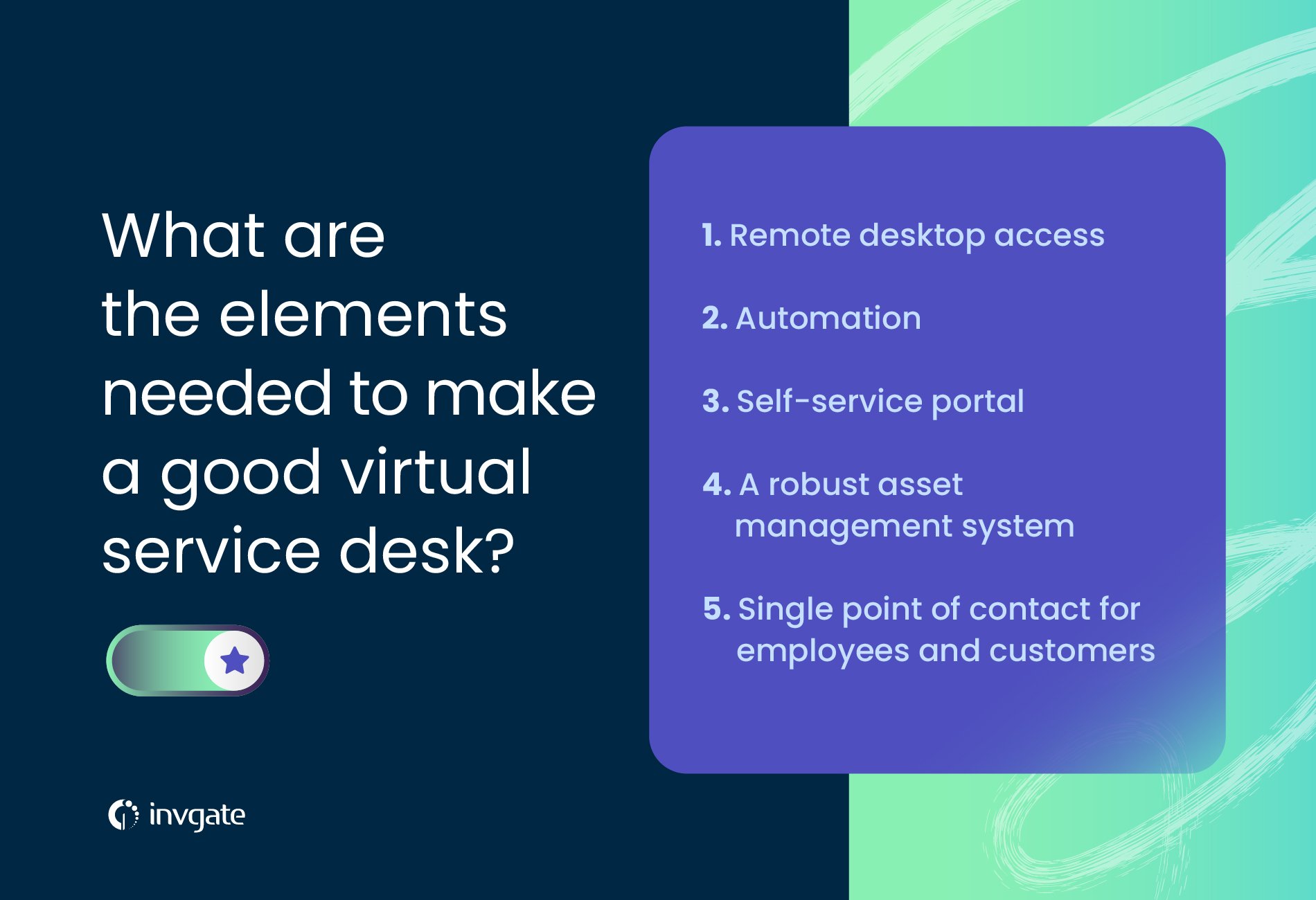 The five most important considerations when setting up a virtual service desk
Define the scope before you begin
The scope of services for a virtual service desk will be different from a local one. A local service desk will usually be working during the same hours as the employees. But a virtual service desk will be expected to run more hours, if not 24/7. This changes the scope of services as well as the performance metrics for the service desk.
Therefore, it's important to define the scope and metrics for the service desk with the stakeholders. This will also be important to further decide the resources you'll need to manage the desk.
Invest in the people
For any service desk to be successful, you have to invest in the people, both the agents and the users. Obviously, a motivated team of agents is likely to deliver high-quality and on-time service. But you also have to ensure the employees are actually using the service desk facilities. For this, you have to raise awareness and showcase the benefits.
It's also a good idea to get executive sponsorship. A c-suite executive who understands the importance of a service desk and who actively supports the initiative can help your team a lot. They can help you get the necessary resources for your initiatives, but active support will also motivate other employees in the organization to move with the new initiatives and make use of the service desk.
Make sure necessary tech is available
Before launch, make sure you have the necessary technology to deliver the services as defined in the service level agreement. Make sure your network has the bandwidth to handle the expected level of requests and that your software can support the features you'll need.
Make sure you've set up the integrations with other systems and that employees are trained to use them well.
Set up automation
Ensure that the automated workflows are set up; make sure that the tickets are routed properly. Make sure that your automated processes, such as employee onboarding, or routine check-up of the devices are defined well. Set up chatbot conversation (if included in the scope) as well as the ticket update notifications to be sent to the employees.
While other automation could be added on later on, it's best to define the workflow earlier and set them up before launch. Once launched, you can check the analytics and metrics to understand how requests are handled and adjust the workflow accordingly.
Make sure that the knowledge base has at least the bare minimum articles
Good employee experience at launch will have a huge impact on the adoption rates. Imagine this, an employee visits the knowledge base for the first time looking for something simple, and the answer is not there. Odds are they won't check the knowledge base after that.
For a high adoption rate, it's important that the knowledge base has answers at least for the most common questions (also keep an eye out for the most common knowledge base mistakes). After launch, you can add more questions, more articles, and keep updating the existing ones.
How InvGate Service Desk creates a state-of-the-art mobile experience for users and agents
InvGate Service Desk is built to be remote work compatible; it's designed with features that let agents resolve issues without being physically near the employees or their hardware.
InvGate service desk also has self-service modules, empowering employees to figure out the answers and request services without the help of service desk agents. You can also set up a detailed knowledge base within the solution and manage access within your organization.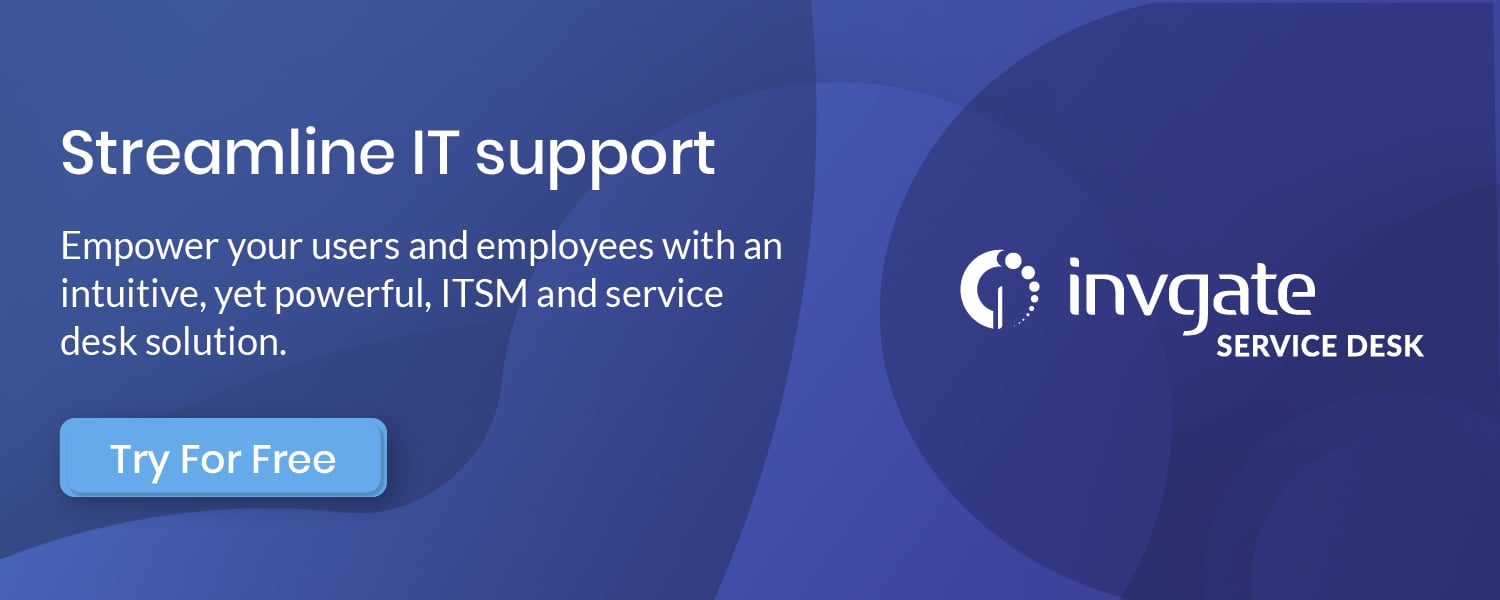 It also comes with a suite of automation, letting you set up detailed workflows and automate approvals and other processes. The solution has a detailed analytics suite, delivering insights into the activities of the service desk, the agents, and the workflow.
Frequently asked questions
What is a virtual service desk?
A virtual service desk comprises is a service desk system that delivers its service from a location geographically different from the employees who are receiving it. The service desk team itself may be geographically distributed and they could be serving employees working at multiple locations.
What are the essential components of a virtual service desk?
A virtual service desk needs a robust asset management solution to manage and troubleshoot the employees' devices. The team will need a separate remote desktop solution if it's not included in the asset management solution. A virtual service desk will also need a robust knowledge management solution and a self-service portal.