On this occasion, we'll talk about something pretty much apropos of our core concerns: Business Process Management System (BPMS) — and the software that lets you get it right.
We know streamlining and optimizing operations and processes is very rewarding at the end of the day. Hence, this article will explain why you should care about process management and automation in general.
First, let's briefly examine what we mean by BPMS.
What is Business Process Management?
Business process management is a technique to streamline business operations and improve efficiency. These structured methods can help businesses improve, standardize, and analyze processes, usually with the help of automation and other workflow tools.
In a way, we could consider process management a companion to workflow management. These two go hand-in-hand, as we've assessed in a previous article on workflow management:
Workflow automation is a boon for increasing ROI, maximizing investment, and improving efficiency. It's a great way to enhance the employee experience. Every employee has struggled with a repetitive task. Most data entry is cumbersome and tedious; most employees would opt-out if given a choice.
And that's where business workflow automation can give them — and your business — a significant leg up. You can optimize workflows in every area, from Finances to Human Resources, and keep your employees using their valuable skillset where it's most needed.
But, in the case of BPS (Business Process Services), things can go even more profound as it casts a broader net. In the end, business process management is about:
Improving what can be improved
Creating manageable, predictable workflows that conform to pre-accorded structures
Decreasing the possibility of human error
Letting humans do their thing
But, of course, automation means software. And the software for this task is called Business Process Management System (or BPMS).
What is a BPMS?
Using a BPMS will let you create in-depth modeling of your business processes while helping you collect and collate data and analytics. This information will lead you to further improvements down the road.
The business process management software is also under constant improvement. The latest and greatest breed is iBPMS, or 'intelligent' business process management software, which uses actionable, real-time insights and analytics from business operations.
Why does your organization need a BPMS?
Simply put, businesses that want to thrive in today's increasingly competitive environment must use automation as part of their process optimization strategy. In other words, it's impossible to keep up using just human labor as if things aren't changing at a rapid clip.
Manual processes tend to focus on repetitive, grinding tasks that waste time and resources when they're not necessary, especially if they are a hurdle to both employees and high-level managers.
BPMS can help your organization in the following ways:
Operational intelligence goes through the roof. BPMS can help maximize your business processes by dispensing or cutting down repetitive tasks. Process management software will allow you to glean insights from these bottlenecks and let you act proactively.


BPMS lets you increase organization agility. It doesn't mean everyone will vault over obstacles. What it means is that it will give your organization the ability to make a rapid change.
Also, BPMS helps you deliver a much-improved customer experience, which leads to higher satisfaction rates.
6 must-have features for a BPMS tool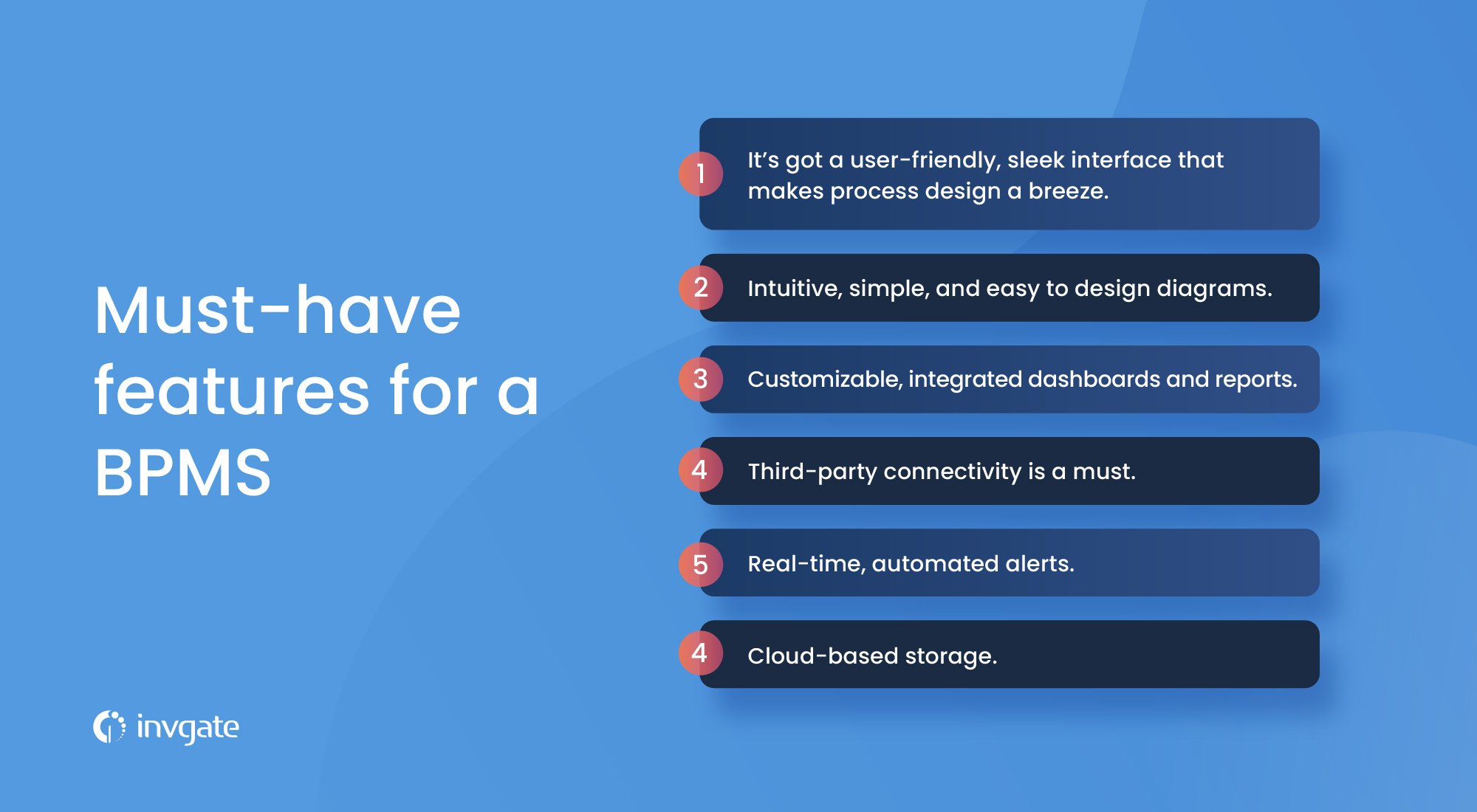 Here are the main characteristics of a BPMS tool that's worth your time:
It's got a user-friendly, sleek interface that makes process design a breeze.
Diagrams are not a nightmare but relatively intuitive, simple, and easy to design.
Customizable, integrated dashboards and reports.
Third-party connectivity is a must.
Real-time, automated alerts so you don't miss a thing.
Cloud-based storage.
Depending on your needs and your niche, you should look for many more features, but these are the bare necessities. And, as you can imagine, InvGate Service Desk nails them all.
It has a straightforward visual workflow editor that allows you to automate processes and deliver service on all levels without the need to take three-week-long courses to learn how to use it. Plus, now you can plan tasks in one step and execute them in another, making it even easier to coordinate semi-structured work.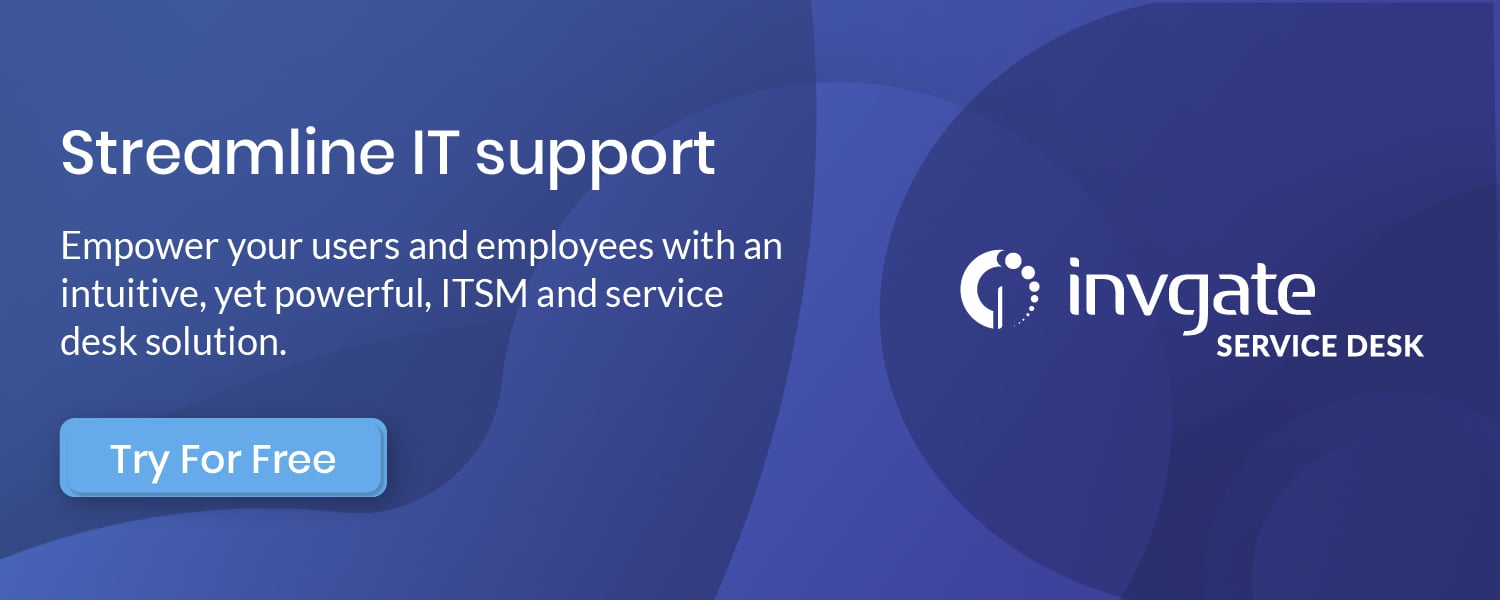 How to successfully implement BPMS
Implementing a tool correctly goes far beyond choosing the right one for the job. You need to have a manageable checklist that you can implement. Lucky for you, we've already gone ahead and done that for you.
Here's what you need to look out for when implementing a process management tool:
Choose your tool and platform.
Select your process or set of procedures to optimize and automate.
Identify who the process owner is.
Create identifiable, easy-to-follow benchmarks.
Who are the stakeholders that need to be a part of the process?
Don't just go ahead and implement it — test it out with a pilot run first!
Train your users in your tool. They need to be as proficient as possible.
Measure results, get analytics, and improve what needs to be improved.
Make sure your tool integrates easily with your processes and other devices.
Also, you need to ensure that your chosen tool has a visual diagramming tool, a drag-and-drop form designer, and role-based access control. And it almost goes without saying that if it's not responsive (meaning, offering hassle-free mobile access), it belonged back in 1999.
Another thing you need to keep an eye on is cloud-based tools vs. on-premise ones. Let's go a bit more in-depth.
Cloud-based BPMS tools vs. on-premise
We already covered the differences between cloud-based and on-premise tools. In short, cloud software is hosted on servers you can access from any location via a web browser. But this is not just about accessibility but security. The vendor's responsibility is to manage the tool and ensure it's running well. In short, these solutions provide a SaaS (Software as Service) approach for the customer where their only concern is using the tool.
Conversely, on-premise tools are installed on one of your systems. This is the way to go if you're into protecting your data and keeping things internal. But, this approach also entails staying on top of something much more than you would with a cloud-based service.
Then, there's the dilemma of open-source vs. licensed solutions. What's up with that?
Open-source and licensed tools
Business process management tools can come in various flavors: some have their code released to the public (open-source), and others work on a per-license basis. "Which one is better?" we hear you ask.
The answer to this question hinges on how much you want an internal programming team to make tweaks to your chosen software. As a rule, licensed solutions are much more human-centric and ready to use than open-source ones. The latter always requires tweaks, changes, and new code implementation.
As a result, we recommend licensed, cloud-based tools to most companies that want to implement BPMS.
Key takeaways
Business process management is becoming increasingly automated and streamlined. Having the right software on your side can help you save valuable time, money, and human hours (combining both factors). It can also help you keep employees more engaged and raise customer satisfaction rates by not having to make them jump through a million hoops to get what they want.
In short, it's about whether you want to get with the times (be proactive) or play-catch-up (reactive).