ITIL is probably the most used framework in the IT world right now. But it's easy to start taking it as undisputed truth, and something we don't always ask ourselves is whether the ITIL framework works in every single scenario and for every industry. And, while we're not shy about singing its praises, we also like to keep things real.
Therefore, let's take a look at the ITIL framework and ask ourselves: what are some of the pros and cons of ITIL?
ITIL defined
ITIL is very well respected as a change management, problem management, incident management, and service design framework, among other things. There's a reason why ITIL certification is no longer something that businesses are shy about getting.
In fact, it's so prevalent now that "ITIL Certified" has become a strong selling point (speaking of — did you know our ITSM solution InvGate Service Desk is ITIL-certified?)
Here's a definitive guide to ITIL that you can peruse. In case you need a refresher, here's ITIL in a nutshell:
"The IT Infrastructure Library (ITIL) is a set of practices that supports organizations and individuals to gain optimal value from IT and digital services. Providing guidance on the definition of the direction of the service provider with a clear capability model, and aligning them to the business strategy and customer needs."
Pros and cons of ITIL
Now, not every framework is going to be perfect in every circumstance — not even ITIL. Let's keep in mind that frameworks and best practices are not stationary, but part of an environment that's in constant motion. Thus, regular updates to its infrastructure library are a very important part of the game.
With that said, let's take a look at why precisely everyone in the IT industry seems to have such a fixation on ITIL. Then, we'll weigh the cons against them.
8 pros of ITIL
We'll expand on them right after this introduction, but, in short, these are the eight pros of ITIL:
It has a structured approach

It's a foundation, not a destination

It prevents organization-wide knowledge loses

It's prescriptive

It's easy to implement

It's good for individuals as well

Flowcharts

Accountability is key
1. It allows you to follow a structured approach
Change management, service management, and service design all need you to follow measured strategies. And the fact that ITIL covers every major area of interest is usually a boon for information technology executives. Basically, it brings things down from a more chaotic environment into one that's following cues that lead to order.
And order, as you know, breeds predictable results that you can count on. Success, in other words, requires structure.
2. It's a foundation, not a destination
Something that people seem to forget is that ITIL is not a completely finished product, but something to continuously build upon. As such, it's not something that you can have in lieu of an effective service management system; rather, it's a framework that will enable you to have a system that works. But that's where you and your team have to step up to the plate by working hard and smart simultaneously.
3. It helps prevent organization-wide knowledge losses
The ITIL framework has documenting and pre-planning processes as part of its guiding principles. That way, you can prevent things from being up in the air. And, it also means that when some of your IT staff is replaced, there's a smaller knowledge void to replace.
As you know, it's extremely valuable to have an infrastructure library you can rely on. The more you can build a knowledge base, the more you lead people out of the dark and into the light.
4. It's prescriptive
Meaning that you really don't have to overthink things. Even if you're an information technology executive who still doesn't know the first thing about how to run an organization.
This is why ITIL is such a powerful force: it just provides a standard that's easy to follow, prescriptive, and doesn't leave much room for doubts or questions. It's meant to cover nearly every possible contingency.
5. It's easy to implement
And not only that, it's been adopted very widely across the IT industry. And therefore, as a CIO, you're probably not going to receive a lot of opposition to adopting ITIL as a standard.
In fact, you're probably going to face far more resistance to trying to implement any other framework outside of ITIL. And the answer to that is simple enough: by and large, it just works.
Its popular appeal is there because of its proven track record, not just because AXELOS is good at PR. We mean, they are, but that's not the point.
6. It's good for individuals as well
In a previous article, we asked: "What are ITIL benefits to individuals?" Turns out, there are quite a few. After all, your team is made up of individual, hardworking people who – aside from buying into a company's overarching vision – need to know how a methodology for service management makes their jobs easier at the service desk.
ITIL allows users to be certified in the following categories:
Infrastructure and Platform Management

Service Request Management

Service Desk
This leaves users ready and willing to respond to industry-wide issues with a prepared, up-to-date knowledge base. It's no Holy Grail, but it's as close as we've been able to manage so far.
7. Flowcharts!
What's not to like about flowcharts, really? Well, we'll tell you why they're so good, in case you're huffing and puffing. Visualization is key to mapping out business processes, and flowcharts can definitely help you out in this situation.
Charts can help make even the most arcane idea seem comprehensible to everyone in the organization. They're easy to make (in fact, nearly fully susceptible to automation), easy to update, plus they serve as invaluable troubleshooting and improvement tools.
8. IT management has oversight
Meaning that they get to review every single process their teams deliver. Thus, ITIL-certified managers will take the time to map operations to the flows (see above) defined in the framework.
And what's good about this comprehensive review process is that it forces management to stay up-to-date on the meat-and-potatoes part of service management. As a consequence, this will only reinforce their knowledge of the issues and challenges the IT staff is going up against. And fostering that empathy is precisely an integral part of bridging the gap between management and "factory floor" workers.
9. Accountability is key
Accountability and traceability are what keep things on the up and up. At any point during a process, the process owner, and the people who work on it and modify it need to be known quantities.
Structured systems make it easy to assign process owners and keep track of who does what, and when. These audit traits allow those who worked on a case to get up to speed quicker, and thus waste less time and resources.
10. Industry-wide terminology
The fact that the ITIL framework allows common terminology used all through the information technology industry is another valuable part of why it's so good. Having a common vocabulary allows everyone to communicate more effectively and fluently, allowing for fewer knowledge gaps or misunderstandings. In essence, it prevents the dreaded "Tower of Babel" scenarios.
4 cons of ITIL
When assessing the pros and cons of ITIL, it's important to keep things in perspective. Even the framework's publishers themselves will agree that there are a few drawbacks to adhering to ITIL by the letter.
Some of the cons of ITIL are:
It takes a long time to learn. Achieving ITIL certification is time-intensive, labor-intensive, and money-intensive. Is it worth it? Yes. But such a comprehensive service management framework is not something you can learn and pick up in a day. There's a lot of training, books, and complementary material to get into before.
It's never totally comprehensive. While you could say this about any framework, even AXELOS agrees that ITIL is always a work in progress. But, if they keep rolling out updates, then they will continue to address issues while staying abreast of the latest technological innovations as well.
Some people take ITIL as gospel. While this is not a patch on ITIL itself, some high-level management does take their ITIL worship to unhealthy levels. And this could lead to some solutions that could bypass or negate ITIL to not be considered. So remember, flexibility is always key to any approach, and nothing has all the answers.
It can stifle creativity and innovation, which is an extension of #3. And it can also lead to people to chase ITIL as a goal in and of itself instead of a means to an end — which it is.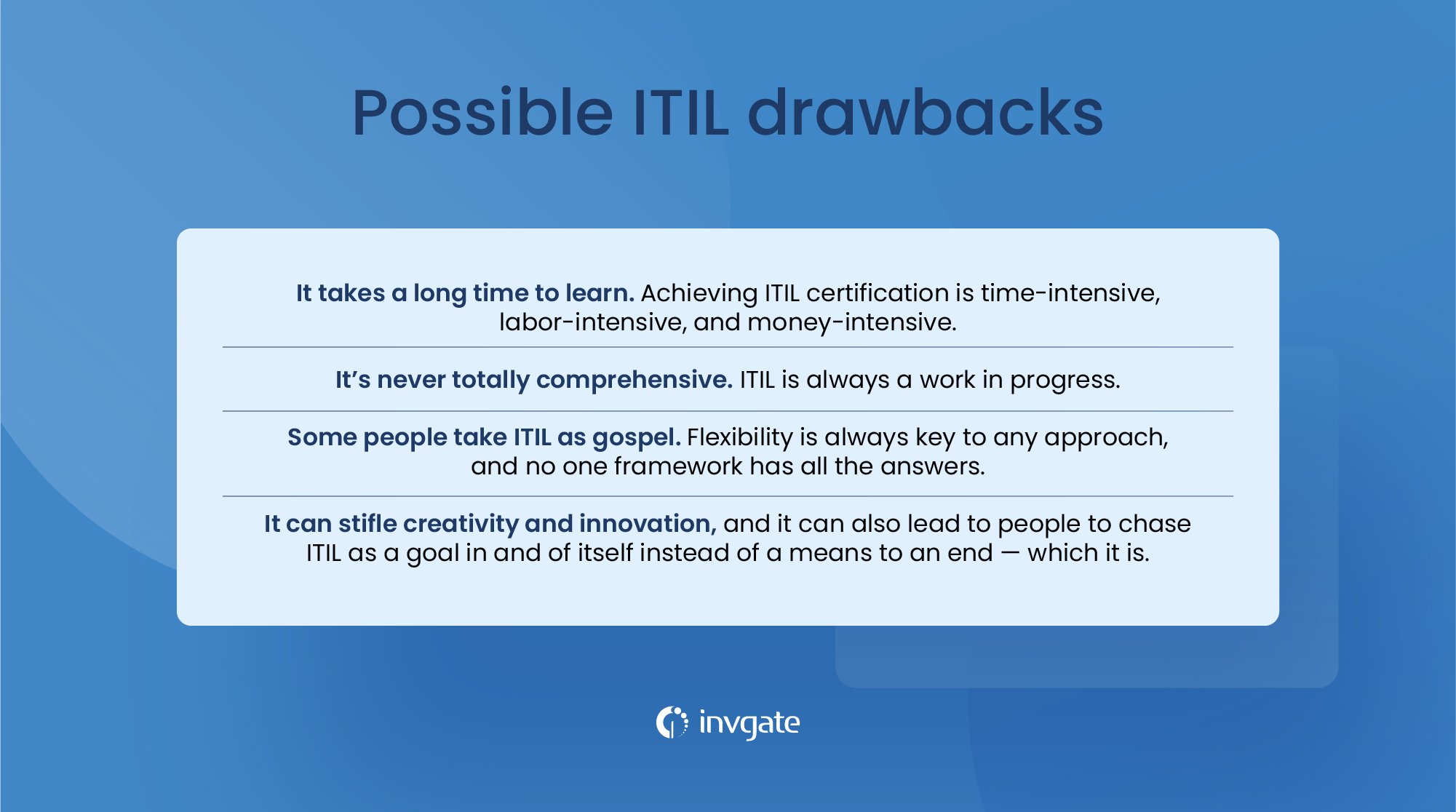 But, to be honest, you could hardly blame ITIL for these slight quibbles. While nothing is perfect, ITIL seems to be doing pretty, pretty well.
Bottom line
ITIL isn't perfect. But that doesn't mean that the pros don't outweigh the cons by a longshot.
In the end, it's about enabling the best possible practices that will allow you to run operations like clockwork, deal with issues as they come up, and prepare for the future with scalable solutions.
And that peace of mind is worth a lot more than it seems.