The benefits of ITIL to a company or organization are widely discussed. This makes sense for the bigger picture, from the perspective of an organization. Smart organizations these days are adapting an ITIL framework to straighten out their IT service management and achieve business goals.
However, it's not so often you hear the question: what are the ITIL benefits to individuals? After all, your team is made up of individual, hardworking people who – aside from buying into a company's overarching vision – need to know how a methodology for service management makes their jobs easier at the service desk.
Since we've already written a definitive guide to ITIL, we won't go into too much detail about the nuts and bolts of the framework itself.
For the sake of review: the ITIL framework benefits organizations as a globally recognized methodology for IT service management which seeks to improve service delivery, reduce cost, manage risk, and ultimately reach business goals by aligning IT with business strategies.
Let's break down some concrete benefits the ITIL process has for individuals. We'll start by looking at ITIL certification.
Can individuals be certified in ITIL?
You might know that it's possible for software to be ITIL certified. Take, for instance, the case of InvGate Service Desk, a top-of-the-line ITSM solution that is one of the few applications to pass the PinkVERIFY™ ITIL 4® assessment for its implementation of 7 core ITIL practices:
Infrastructure and Platform Management
Service Request Management
Service Desk.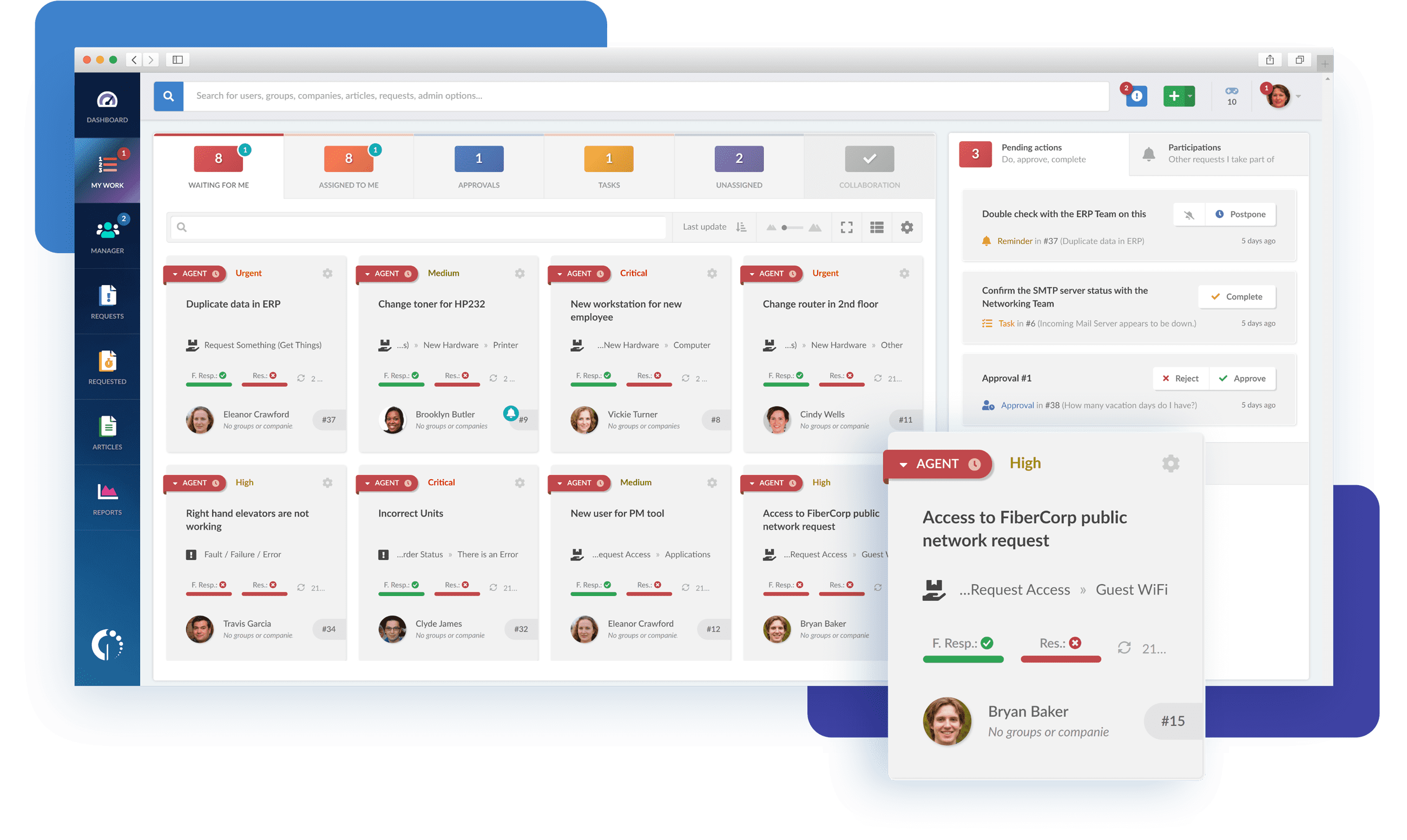 But can individuals achieve ITIL certification as well? Yes, not only is it possible to be ITIL certified but there are also several different tiers of ITIL accreditation you can receive. These range from foundational, beginner qualifications to more advanced, master-level ones.
To be certified, individuals must take a training course and pass a requisite exam. There are five levels of accreditation under the ITIL v3 certification and four under the ITIL v4 released in 2019; both following a more rigorous study of ITIL best practices the more advanced you go.
Worries about whether your ITIL qualification is invalid can be put to rest. Joint venture company and official overseer of ITIL, ALEXOS, has provided a transition plan to ITIL v4 for those who haven't yet finished their certification in ITIL v3 and want to update their credentials. While there's no reason to panic, it is still recommended you take the most updated courses available.
How does an ITIL certification work?
Now that we know you can be certified in ITIL, let's take a look at how the process works.
In order to be certified, you'll need first need to take the official exam offered by what's called accredited training organizations (ATOs). The entire process is of course owned by ALEXOS which provides accreditation to examination institutes (EIs), who in turn distribute that accreditation to either individuals who've passed the exam or organizations looking to offer ITIL certification.
For the individual, getting an ITIL certification via an ITIL course is a more straightforward procedure. We'll get into the why soon enough but to quickly illustrate the how, we'll run through the various levels (from ITIL 4 Foundation to ITIL Master) you can expect to advance through for mastery of both the ITIL v3 and ITIL v4.
ITIL v3
ITIL Foundation
ITIL Practitioner
ITIL Intermediate - Here practitioners can expect to follow one of two paths of study, committing to either modules centered on ITIL service lifecycle or service capability.
The service lifecycle modules are:
Service strategy

Service design

Service transition

Service operation
The service capability modules are:
Planning, protection, and optimization

Operational support and analysis

Release, control, and validation

Service offerings and agreements



ITIL Expert
ITIL Master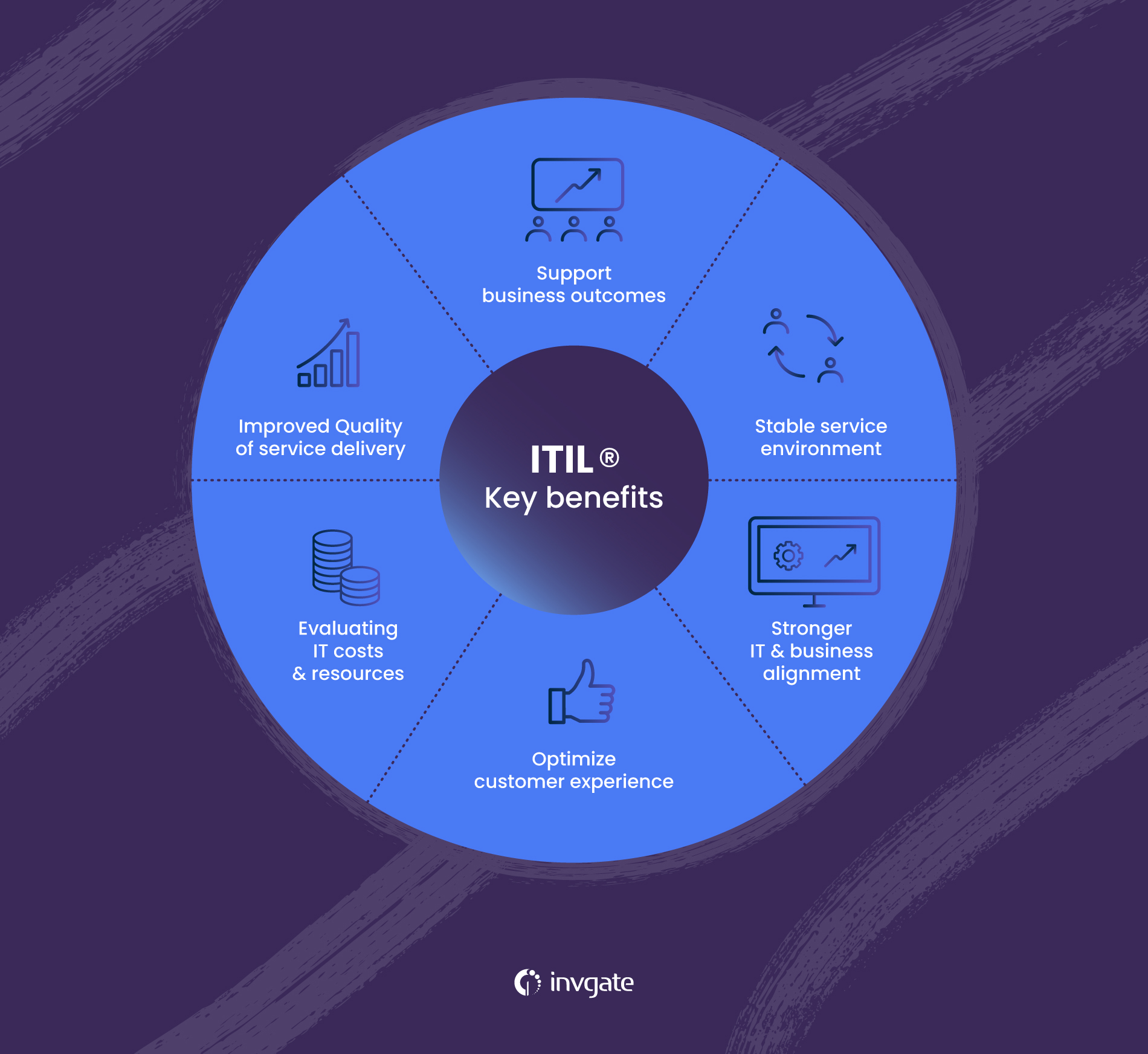 ITIL v4
ITIL 4 Foundation
ITIL 4 Managing Professional
ITIL 4 Strategic Leader
ITIL 4 Master
How does ITIL benefit individuals?
Finally, let's dive into how the systems and processes of ITIL help the everyman and woman, and why you'd want to be certified. We'll break the series of benefits down into 5 key reasons, with a short description elucidating why.
Number one on our list at first thought would seem like an obvious benefit to the organization, but there are several ways improved service delivery is in the best interest of the individual as well.
Consider how it feels to work in a stable business environment. The skills and know-how of say an ITIL expert, for example, would help you help the company carry out world-class IT project management. This includes better management of the business risk but also facilitating a more customer-centric approach to service disruption or failure.
Basically, it makes you good at your job, which is reason enough to consider an ITIL certification. And for those interested in further developing their careers in IT, this is priceless.
2. Internationally recognized qualification
To be an ITIL master, or even have ITIL 4 Foundation certification, is to have one of the highest forms of accreditation in IT service management available. ITIL training qualifies you for a greater number of opportunities in your career given the thousands of organizations that have already adopted the ITIL framework.
It is a golden standard for IT service and project management, and obtaining mastery of the ITIL framework opens the door to a global range of industries and businesses in which to apply your expertise.
3. Be part of a certified group of professionals with a common language
Additionally, with an internationally recognized qualification comes membership to a group of like-minded and highly trained individuals who speak the same language. It's access to a premier club, essentially, of professionals who through their ITIL training foster a culture of excellence when it comes to maintaining high standards of IT service management.
Within that culture is a standard language, used globally, in which the processes and terminology of ITIL are used. This grants anyone who speaks it a kind of versatility and flexibility in career prospects.
4. You're a valued contributor to the organization
As someone with ITIL certification training, you'll be a valuable asset to any IT team within an organization. The accreditation speaks for itself, but the skills you'll bring to IT service and project management would more than develop and solidify your role.
ITIL training helps you create more productive and cost-efficient processes for an organization. Your proactive efforts and skillset honed by an ITIL certification would expedite the growth of the company, helping it reach its business goals and better ROI.
6. Better pay
Last but certainly not least, being certified in ITIL would not only raise your career prospects and install a sense of confidence in what you do but offer a significant rise in earning potential. No need to go into too much detail here – because who doesn't like earning more money? – but having an ITIL certification would place you in one of the most sought-after pools of workers in the competitive market of IT professionals.
Still, experience in the field is still a necessary component in finding high-paying work. Just something to keep in mind as you pursue the salary raise that comes with an ITIL certification.
Ultimately, an ITIL certification is worth the time and money invested. Along with on-the-job experience, certified knowledge of the ITIL practice will open up new horizons for not only the development of your organization's ITSM but for your career in IT.