IT Asset Management (ITAM) is the practice that can help you manage, control, and protect your IT estate, leveling up your IT offering. To run an effective practice, ITAM professionals need to engage with current industry best practices, and ITAM certifications are a massive part of this.
But since there are a lot of training courses available, we wanted to lend a helping hand and get you covered on the basics – as we already did with ITIL certifications.
Keep reading to discover everything you need to know before choosing your ITAM training!
Why is it important to have an IT asset management certification?
ITAM is a complex set of practices with a massive scope. Hardware, software, the cloud, licensing peculiarities… the list goes on. The onus is on businesses to keep themselves updated with current best practices.
In this sense, to stay relevant in the job market, IT asset managers must keep on top of the latest tools, technology, and best practice guidance.
ITAM certification training options
We all learn differently. For some, the in-class experience helps people to immerse themselves in their subject matter. Others prefer the flexibility afforded by online training. Other benefits of online training include:
Access to a wider range of courses and programs as you're not limited by location.
Working with a broader range of perspectives.
Virtual courses tend to be cheaper than in-class options.
Virtual collaboration opportunities.
On the other hand, those wanting a classroom environment may find it easier to immerse themselves in the subject. Plus, they'll enjoy the following benefits:
It supports delegates form stronger connections to the training material and build their networks.
It suits different learning styles.
So, it's up to you to choose which ITAM training option suits you best to narrow down your options.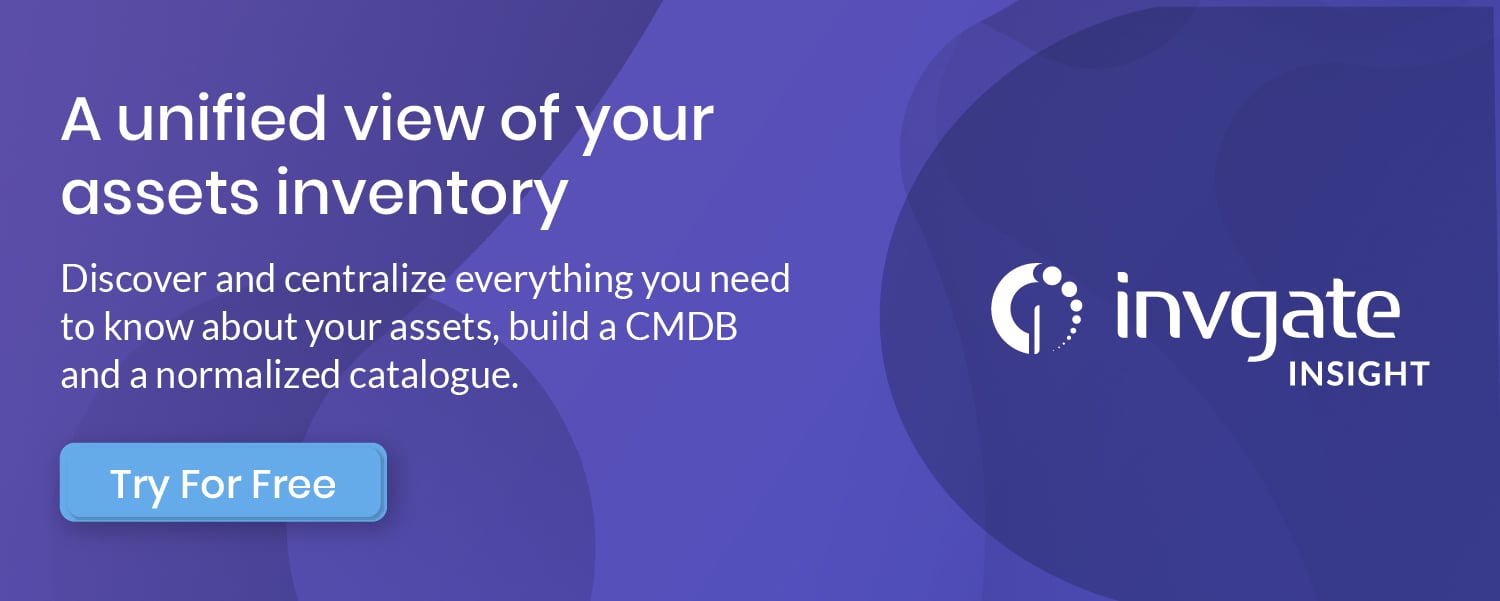 7 best certifications for IT asset management
ITAM training is a crowded market, and there are many courses (and providers). To make it easier for you, we've rounded up some of the key players and provided a brief overview, some pros, cons, and costs (yes, you can thank us later).
1. AIATAM
IAITAM, or the International Association of Information Technology Asset Managers, is an APMG-accredited organization with over 17 years of experience. Candidates can select from seven different courses that provide a wide range of ITAM-related qualifications.
IAITAM training courses' cost goes from $2,000 to $3500, and you can pick among the following:
CAMP: The Certified Asset Management Professional (CAMP) course is a strong overview of the IT asset management process while providing information on

IT service management (ITSM)

.


CSAM: The Certified Software Asset Manager (CSAM) course allows students to learn how to manage software assets within the network environment using best practices. Students will also learn how to handle challenges associated with

software piracy

and with software compliance necessities.


CHAMP: The Certified Hardware Asset Management Professional (CHAMP) course provides advice and best practices to help professionals find ways to fit within the budget when making IT hardware purchases while also lengthening the lifespan of the current hardware.


CMAM: The Certified Mobile Asset Manager (CMAM) course ensures IT professionals have the information they need to successfully manage the use of mobile devices — both BYOD and corporate-owned mobile devices — within the corporate network environment.


CITAD: The Certified IT Asset Disposition (CITAD) course gives students the information they need to help the organization work through the disposal process of IT assets at the end of their useful lifespan. Practices like resale, repurposing, and recycling can help to generate financial gain for the organization.


CAMSE: The Certified Asset Management Security Expert (CAMSE) course helps students learn how to incorporate security strategies that fit both IT and ITAM, enhancing the organization's overall security strategies for intrusions and attacks.

CITAM: The Certified IT Asset Manager (CITAM) course is a multiple-day course, giving students an overview of ITAM and the ability to start or make improvements to an existing ITAM program within an organization. After receiving certification in this course, students can design and implement strategies for setting objectives and priorities for the ITAM program.
IATAM pros
IATAM cons

A wide range of courses is available so that delegates can focus on the exact course needed.
Fast route to qualification; several courses allow completion in one day.
Techniques learned work for a wide range of industries.

If you take all seven courses, it will take days to complete and could be very intensive to do all in one go.
2. Pink Elephant
Pink Elephant has been around since the 1980s and positions itself as the global experts in all things ITAM and ITSM related. Pink Elephant offers ITAM training which focuses on the concepts required for managing hardware, software, and mobile devices across their life cycles. The course also examines how the cloud and the Internet of Things fit into the ITAM environment. Pink Elephant offers the following certification options:
Certified Asset Management Professional
Certified Software Asset Manager
Certified Hardware Asset Management Professional
And it also offers the following course options:
Self-paced online course over 12 months
Online classes with an instructor for an individual or a team
In-person courses with an instructor for a team
The costs range from $795 for an individual self-paced course to a fully online course at $2,295.
Pink pros
Pink cons

Strong focus on ITAM best practice and how it aligns with ITSM and related best practices.
Students do not need prerequisites to take the course.
Self-paced option for the course is available.

It may not provide the in-depth information you want to see.
Instructor-led classes require three days.
3. ITAMORG
ITAMORG is a global organization for ITAM professionals which offers the ITAM Foundation course. It introduces IT asset management and covers hardware, software, cloud, and information asset management.
The ITAM Foundation classes are available with tutor-led online classroom courses and with online learning classes. The course runs over a two- or three-day session, depending on the certified training organization involved.
ITAMORG's costs are in the range of $1,100 to $1,400.
ITAMORG pros
ITAMORG cons

Courses are great for all kinds of people, regardless of background.
This is a solid introductory course.
The course is well-organized, dealing with items IT asset managers need to know.

It may not have the in-depth information you want and need.
Instructor-led classes require two to three days.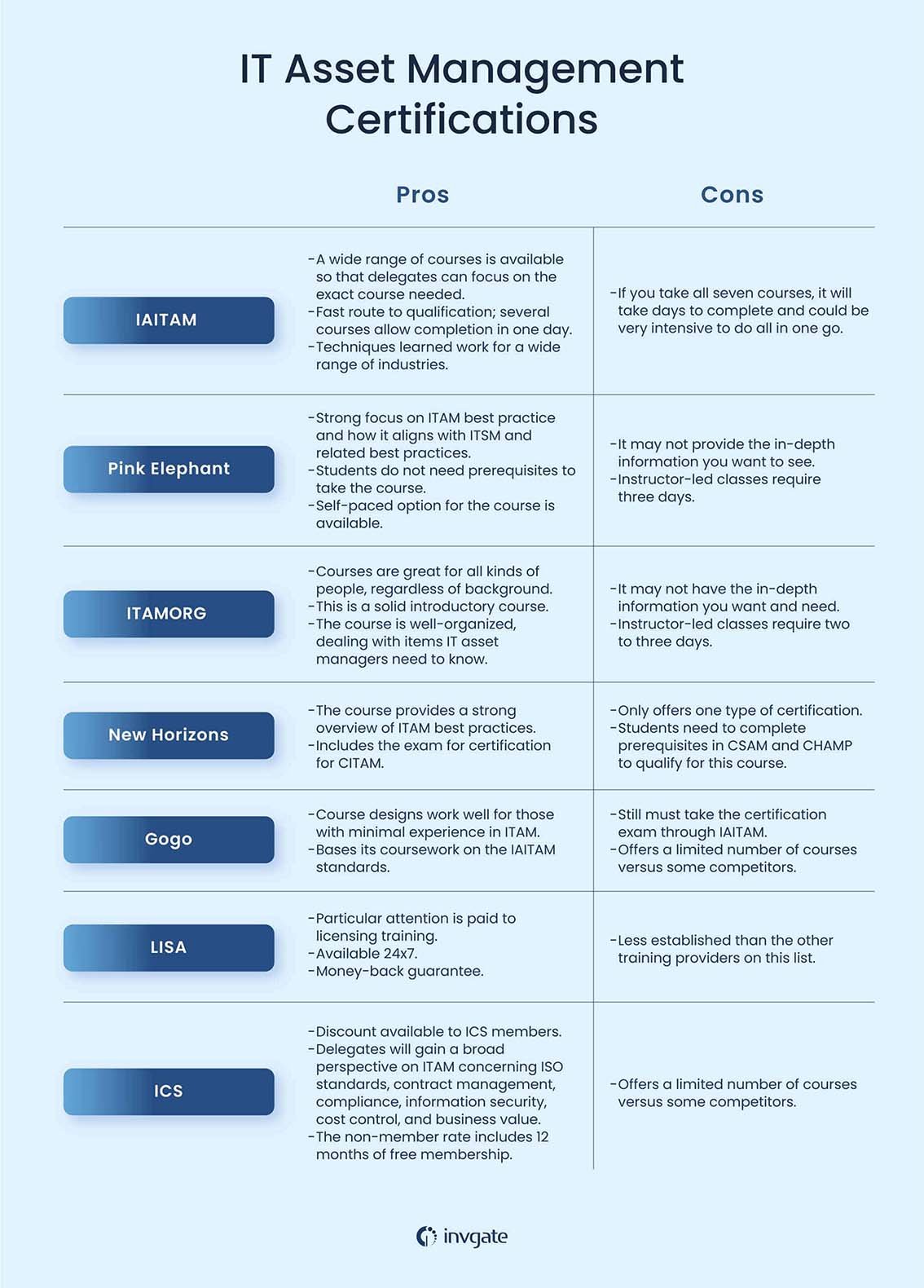 4. New Horizons
New Horizons offers the CITAM program. This is a detailed ITAM program for professionals seeking a firm and practice-driven overview of how to implement ITAM. The course looks at the key process areas of ITAM and how to create the best possible results.
The coursework for the CITAM training uses the IAITAM course as its basis, and it costs $3,500.
New Horizons pros
New Horizons cons

The course provides a strong overview of ITAM best practices.
Includes the exam for certification for CITAM.

Only offers one type of certification.
Students need to complete prerequisites in CSAM and CHAMP to qualify for this course.
5. Gogo
Gogo training offers certifications in CSAM, CMAM, and CHAMP. These three areas of ITAM certification focus on hardware, software, and mobile device certifications. The course uses the IAITAM courses as a base, and the exam for certification will need to be taken via IAITAM.
In this case, the costs start at $995-$1095.
Gogo pros
Gogo cons

Course designs work well for those with minimal experience in ITAM.
Bases its coursework on the IAITAM standards.

Still must take the certification exam through IAITAM.
Offers a limited number of courses versus some competitors.
6. LISA
LISA (Licensing ITAM & SAM Academy) offers on-demand and live training content for SAM, ITAM, and licensing, focusing on IBM, Oracle, and Microsoft license management. The course cost is $995.
LISA pros
LISA cons

Particular attention is paid to licensing training.
Available 24x7.
Money-back guarantee.

Less established than the other training providers on this list.
7. The Irish Computing Society (ICS)
The Irish Computing Society (ICS) offers the IT Asset Management Foundation or ITAMF course. Its costs vary for members (€1480) and non-members (€1645 + 1 year's free membership).
ICS pros
ICS cons

Discount available to ICS members.
Delegates will gain a broad perspective on ITAM concerning ISO standards, contract management, compliance, information security, cost control, and business value.
The non-member rate includes 12 months of free membership.

Offers a limited number of courses versus some competitors.
How to choose the right ITAM certification for you?
The answer is pretty straightforward: when selecting a training course, really think about what you need.
If you're new to ITAM, then the ITAM Foundation courses offered by Pink Elephant or the ICS are a solid choice because they'll give you a strong understanding of the key asset management concepts and provide you with a solid base on which to build upon. Whereas more seasoned professionals will benefit from the more specialized courses offered by IAITAM.
Key takeaways
As you can see, we didn't lie: there are a lot of options in the market. IT Asset Management is not only a relevant field but also one that requires constant and specialized training. Luckily, variety can also be seen in the way they are taught.
You can choose to do in-person training, online and synchronous courses, or even recorded sessions at your own pace. Moreover, there are also alternatives for those that don't have much time on their hands to attend, or for the ones that enjoy a slower rhythm.
Lastly, if that's not enough to pick your preferred course, our advice is to consider your role, its objectives, and any organizational goals. Make sure that the ITAM certification that catches your eye fits in with your goals for the year and any personal development plans you may have in place.