The help desk plays a critical role in the customer experience and the relationship customers have toward the organization. They are often the point of communication between the customer and a company and they help a customer understand and use the organization's products and services. A similar relationship exists between a service desk and company employees; they help employee productivity by offering IT services in a timely and efficient manner. And for a help desk or a service desk to be efficient, it needs a good help desk manager.
A help desk manager streamlines the activities of a help desk, from monitoring the performance of service agents to ensuring that the service desk is helping the organization meet its KPIs. We recently went over some help desk manager interview questions; in this article, we explore the role of a help desk manager and what it takes to become one.
What does a help desk manager do in an organization?
In an organization, it's the help desk manager's responsibility to ensure that the employees' and customers' queries are resolved on time and to high user satisfaction. The help desk manager plays a vital role in maintaining customers' and employees' relations and perceptions towards the organization.
A major part of a help desk manager's duties is managing the help desk employees on its different levels and relaying the communications from the company's executives to the service desk agents. They have to understand the company's goals and vision, its future plans, and the role of the service desk in the company.
The service desk manager has to coordinate with the stakeholders and come up with the service level agreement detailing the scope of IT services to be delivered. They'll also have to come up with the KPIs and performance metrics for the service desk, and detail how they will be measured.
And they have to act as a communication channel between the stakeholders and the service desk team, convey this message, and support the company in its vision.
Help desk managers also have to develop the help desk processes, document and audit them, and ensure that they're up to the relevant industry standards and compliant with regulations. They are also responsible for continuously analyzing these workflows and performance metrics and implementing strategies to improve them and make them more efficient and streamlined.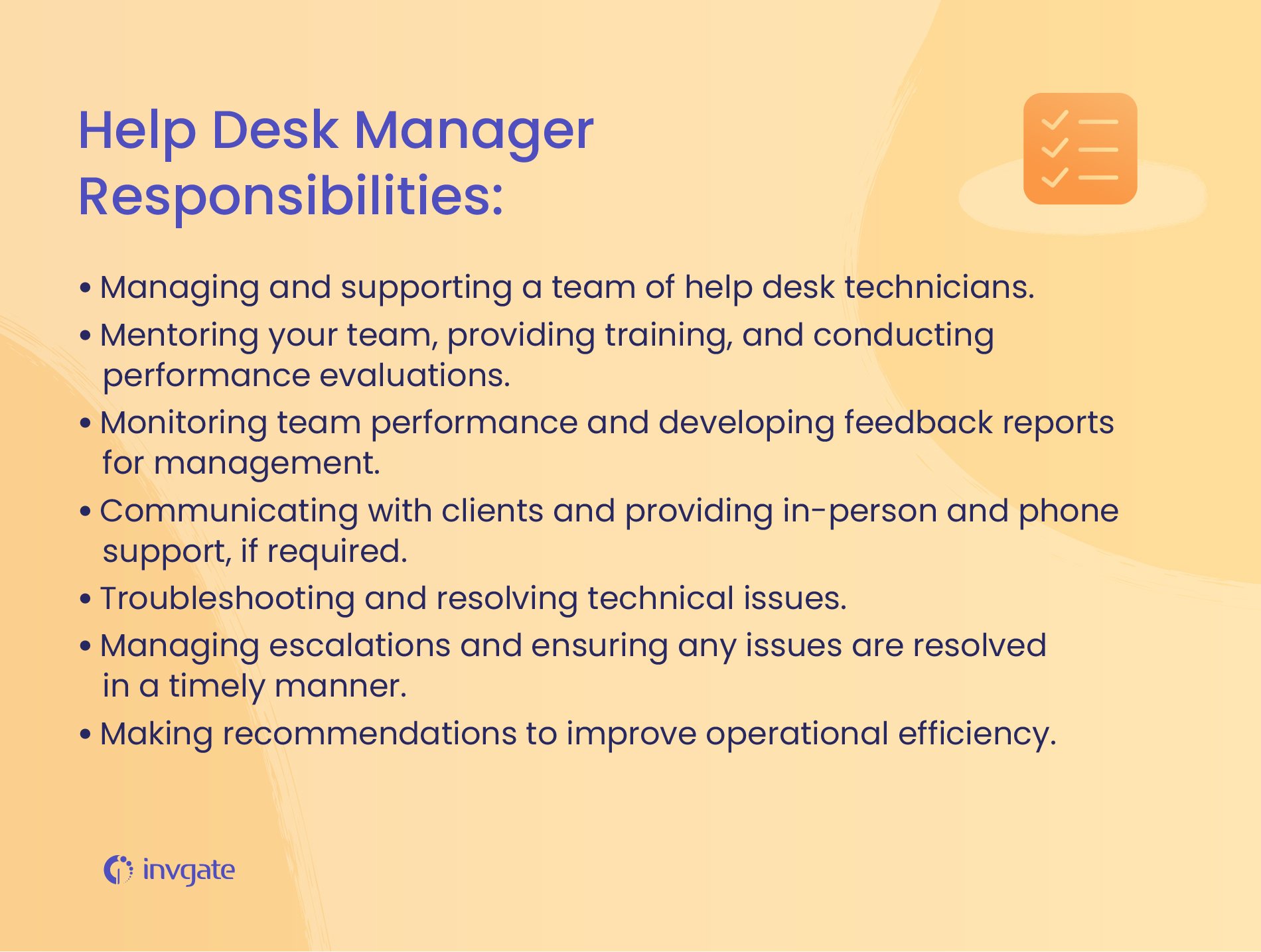 The help desk manager also collects continuous feedback from users and service desk agents both to improve the performance of the service as well as to improve the products or services that the organization is offering.
The help desk plays a major role in supporting an organization to have the best relationship with its customers and employees and ensure they have a great experience. And the duties of the help desk manager are central to that.
What does a help desk manager's average day look like?
For a help desk manager, most of their day will be filled with guiding and mentoring the help desk technicians and helping them resolve queries and tickets on time. They'll have to keep track of the tickets, the FCR (first call resolution) rates, as well as other metrics, and ensure that the customers are getting their queries resolved effectively on time.
They have to constantly communicate with the service desk agents to make sure they have all the tools they need to perform their tasks well. This includes both the right hardware and help desk ticketing software as well as the information needed to resolve service requests. The help desk managers will also have to conduct regular briefings and training around service desk trends and common issues agents and users are facing.
The managers will also have to be on the lookout for any constant problems that users are facing to communicate with the stakeholders and improve the product or service.
In smaller teams, the help desk manager may also take part in resolving the queries and work along with the team, while in a larger company, the role may be mostly managerial. According to David Wright, a systems administrator at Fengler Holdings GmbH "If it is a small company, there will be more help desk and less management, at a big company more management and less help desk."
The service desk managers may also occasionally liaise with stakeholders from other departments to understand their needs and requirements. They'll also have to work with the company management to regularly update the scope and budget of the service desk.
What are the skills you need to become a good service desk manager?
You need multiple different hard skills and soft skills to become a good service desk manager. You have to be good at managing people, and at the same time, you need to have good IT expertise. Here are some of the skills you'll need to succeed as a help desk manager.
Most importantly, you'll need communication skills
As a help desk manager, you'll be communicating regularly with a diverse group of people. You'll be working closely with the service desk team, but besides this, you'll also be working with members from other departments.
You'll also have to constantly liaise with the management and the executive team to ensure everyone's on the same page about the scope and requirements of the service desk. The service desk is one of the few teams that will be constantly interacting with just about all the other teams and strong communication skills help you easily understand the difficulties they're facing.
Management skills
This is fairly obvious since you'll be managing a team of service desk agents. You'll have to be a good leader, motivate the service desk, and get them to be their most productive selves. It's the manager's responsibility to ensure that the team is empowered with proper training and knowledge to deliver high-quality service to users.
You must have a good grasp of major management principles and practices as well as experience implementing them. You'll have to be able to direct your team in the direction organization wants.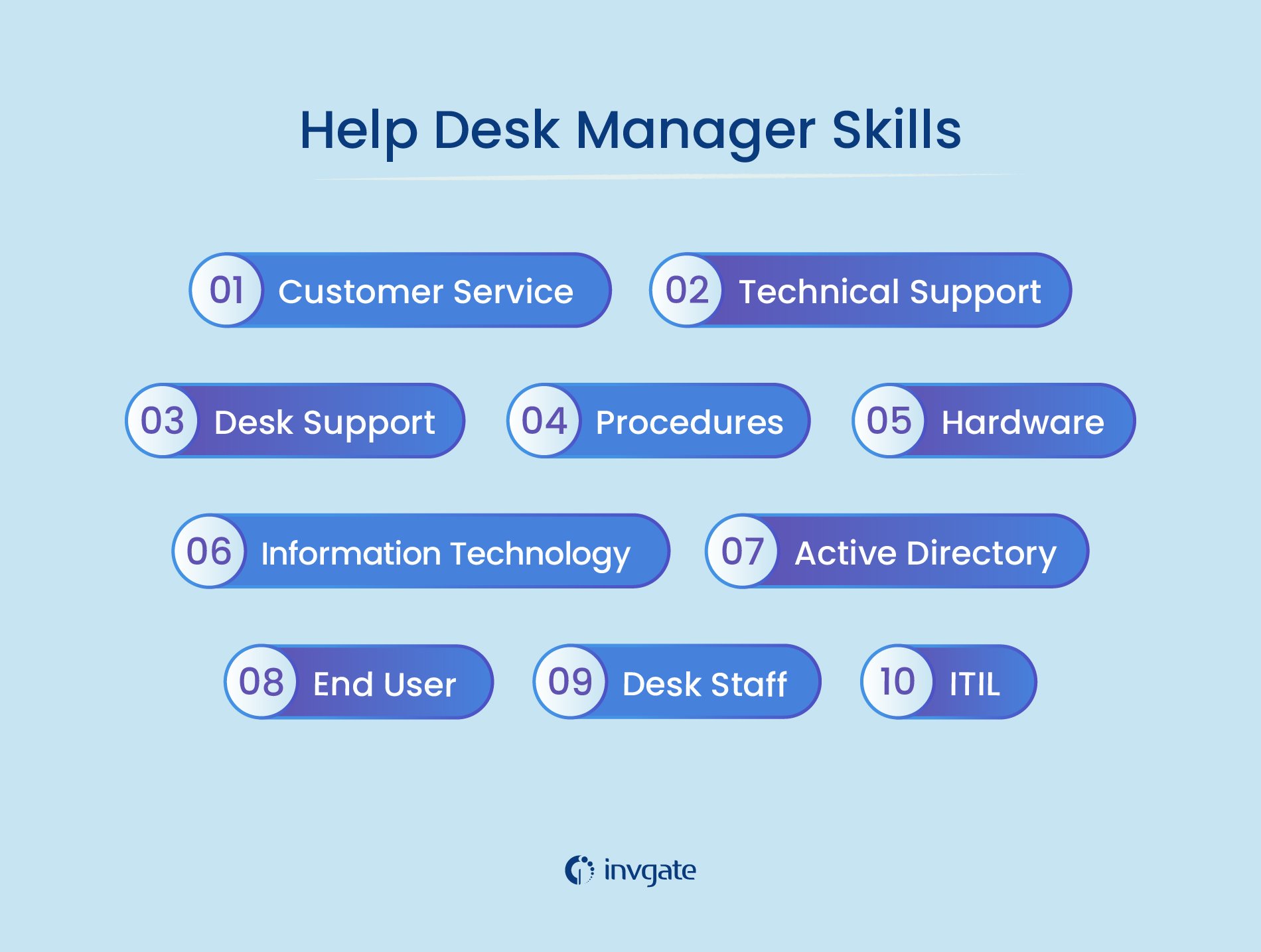 Analytical skill
Help desk managers have to constantly collect data about the service desk and the agents and evaluate the different performance metrics. And they need to have strong analytical skills to make sense of this data.
Common metrics include FCR rates, resolution time, tickets resolved per day, etc. Modern service desk solutions can automatically collect a lot of service desk data and metrics and even deliver actionable insights. Service desk managers must be able to decipher this data, understand what's holding back the service desk, and constantly bring in improvements to correct course. The data can help you understand where to improve, maybe with automation, or maybe by changing the workflow.
Help desk managers are also expected to regularly present the metrics to the stakeholders and make sure that they're as described in the service level agreement.
Strong analytical and data interpretation skills will be a major asset for service desk managers.
Stay curious, keep learning
This is a must-have skill to grow as a help desk manager. Always be curious to know more, stay on top of trends, and be ready to figure out new things. Laísa Barros, help-desk manager at Hornet, an award-winning multi-disciplinary production studio, says:

"An important skill is to be flexible and curious. Adapt to what it's presented to you and keep asking questions to figure out how things work and why they work this way. Use your curiosity to learn new things. This will allow you to keep growing and contributing along the way"
How can you kickstart your career as a help desk manager?
To fit in the help desk manager job description, the most obvious route is to start as an IT service desk agent, learn the skill set, and after a year or two, look for leadership positions. In the meantime, you can work on some IT qualifications like ITIL foundation. Once in a leadership position, you can hone your management skills and work your way up.
Of course, if you have management experience in other fields, you can go directly for a management position in a service desk, provided you have gained the requisite knowledge and certificates through other programs.
Frequently asked questions
What does a service desk manager do in an organization?
A service desk manager manages the service desk team and ensures that they resolve customer queries and tickets effectively on time. They're responsible for keeping the service desk aligned with the organization's goals and visions.
What is the most important skill a help desk manager needs?
A help desk manager needs excellent communication skills. They'll have to constantly interact with people from diverse backgrounds and with different requirements and expectations from the service desk. The help desk manager must be able to communicate effectively with all of them for a service desk to function well.