So you want to become an IT consultant? Or maybe you haven't decided yet, but you're kicking the tires on what consulting on information technology (IT) might look like as a full-time career?
Either way, we're here to help with a little career advice. In this article, we're going to lay out a roadmap of the various paths that lead to a career as an information technology consultant. We'll explore:
A definition of IT consulting.
The breakdown of steps you'd take to become an IT consultant.
And the three main categories as an IT consultant you can specialize in.
In our progressively digital world, professionals with a deep understanding and expertise in information technology are at a premium. If you're just getting started – or are already an expert in the industry – and want to learn more, stick around to uncover the fundamentals of what it takes to be an independent specialist in IT consultancy.
What is IT consulting?
An IT consultant is an expert in solving technology problems or technical issues for a client. Their work covers a wide range of business from the repairs and maintenance of IT infrastructure to managing a consulting service that trains the staff of an organization.
As an IT consultant, you can also expect to evaluate, troubleshoot, monitor, and audit an organization's networks, systems, and processes all in the name of making it more efficient and capable of achieving its business goals.
A consultant job is by definition one that gives advice from an experienced and demonstrable body of work. As such, information technology consulting requires a background working with or around information technology, cybersecurity, IT service management, or even project management.
Given the increasing number of technology-related challenges modern businesses face, those interested in IT consulting often choose to specialize in one of the fields of concentration mentioned above. In fact, narrowing your focus on a specific interest or niche will make you more marketable since doing so makes you more efficient and knowledgeable as an expert on the topic.
How to become an IT consultant?
The road to becoming an IT consultant follows a similar path to that of other careers, with the only caveats of operating as a private business and managing clients like one.
Regardless, the following is an overview of the first three steps you'd take to becoming an IT consultant.
1. Get a bachelor's degree
Those who are serious about pursuing a career as IT consultants should start by earning a bachelor's degree. There are other means to building a foundational knowledge in IT through online resources and professional certifications, but few are better than obtaining a degree in an IT-related field. Most companies will require one.
No one field of study is preferred so long as you understand the fundamentals of working in IT. That said, starting in a discipline like Information Technology, Computer Science, or Electrical Engineering is a safe bet.
As more organizations adapt to the changes of digital transformation, information technology professionals must stay flexible as the field rapidly evolves.
Becoming a subject matter expert (SME) or specializing in a niche that interests you like cybersecurity or web development will set you apart in the competitive market. Additionally, studies in Business or Marketing can help foster your ability to manage clients and grow as an independent business if you decide to be self-employed or start your own consulting company.
2. Gain work experience
Gaining on-the-job experience performing installations or updating networks is every bit as important as studying for certification. In fact, many organizations require at least a few years of experience in the field. Getting valuable work experience has the practical benefit of teaching you via hands-on training, but it's also a great way to begin networking with future clients and building out your resume.
Entry-level positions are a good place to start, developing your background in working on-site with computer systems and networks. Internships at a consulting firm or agency are another option if you're coming right out of school. Maybe look into becoming a help desk agent.
3. Build a network
Clients will be the lifeblood of your business, so laying the foundation for your network early will pay dividends in the long run. Your reputation precedes you, after all. Earning the trust of a solid list of contacts is paramount for anyone advancing their career, but it's especially important for consultants who are setting out on their own.
Again, anything from academic references to a good word from professional colleagues can get you started. Even cultivating relationships with potential clients as you build your pipeline of work is a good way to set the groundwork for your network. Social media platforms such as LinkedIn are powerful tools and are a fantastic way to market your business — if you know when is the best time to post on social media, of course. Apart from that, a personal resume website can also help improve your personal brand. You can include details about your skills, experience, and work samples on different sub-pages.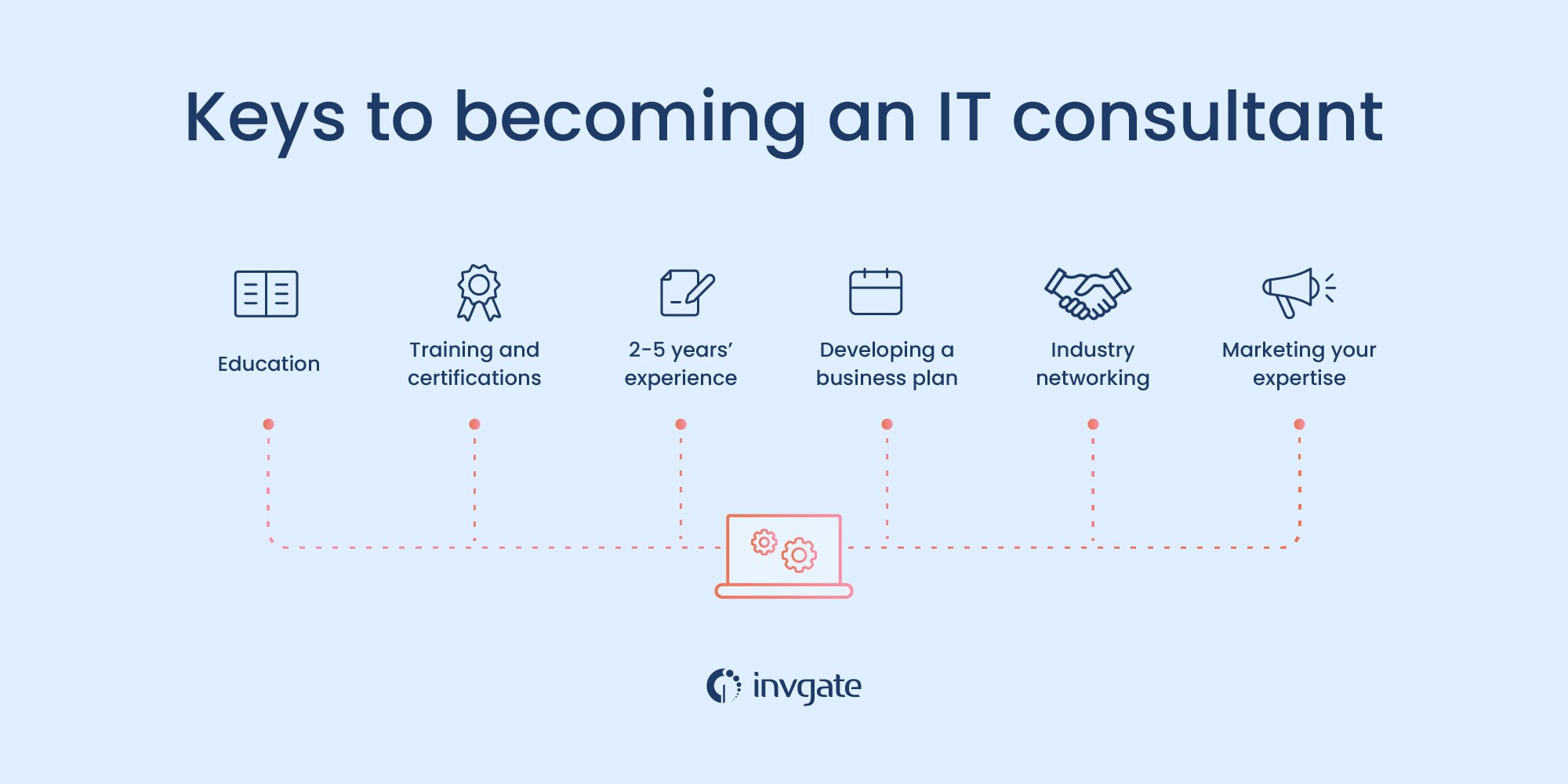 The 3 types of IT consultancy
Information technology is a wide-open industry with many different areas of focus to pursue. You may be called on to service a number of different problems depending on the client. However, the following are generally accepted to be the top three categories for IT consultants to specialize in:
IT project management consultant
Maintenance and repair consultant
IT security consultant
Let's take a closer look at each.
1. IT project management consultant
Organizations hire IT project management consultants to manage and oversee the delineation of responsibility on any IT project in order to more efficiently meet business objectives.
In particular, this role requires a consultant who possesses the ability to accurately forecast and analyze the cost of managed IT services. Essentially, an IT project management consultant is the one who spearheads the planning, organization, execution, and monitoring of an organization's IT projects.
2. Maintenance and repair consultant
Maintenance and repair consultants wear the hard hats in the IT world. They're usually on call to arrive whenever an organization needs someone to repair or maintain company hardware, software, and networks that connect them. Their troubleshooting is primarily focused on identifying, repairing, and auditing a company's machinery and equipment.
3. IT security consultant
With the rise in cybersecurity threats as a global phenomenon, the demand for IT security consultants with a background in protecting an organization's assets via airtight security protocols and policy is high.
IT security consultants (also known as cybersecurity consultants) are expected to uncover any vulnerabilities or immediate threats to a company's networks and IT infrastructure. The security measures they'd implement would protect against anything from malware to hackers attempting to walk away with valuable data.
The bottom line
To summarize what we've reviewed so far, let's take a look at the key takeaways of how to become an IT consultant.
While not strictly necessary, most organizations will look for IT consultants who can demonstrate some degree of certification. This is why it is highly recommended your path to becoming an IT consultant begins with an education; preferably a bachelor's degree in Information Technology, Computer Science, or a related field.
On-the-job work experience through an internship or entry-level position is the necessary complement to your IT expertise. Aside from being a valuable way to demonstrate and sharpen your skills, virtually all organizations looking to hire will want to see at least a few years of experience on your resume.
No career as a consultant can survive without a stable network. Building a network of contacts and a reputation of good work among former colleagues is an indispensable step toward becoming an IT consultant.
Frequently asked questions
What is an IT consultant?
An IT consultant is an expert in IT who specializes in a wide range of services including the maintenance, repair, and project management of an organization's IT team. Apart from possessing the skills required to address the business needs of an organization's IT department and providing consultations to that end as an advisor, an IT consultant must also have some business acumen and the ability to communicate effectively when it comes to working as an independent contractor.
What does an IT consultant do?
The responsibilities of an IT consultant are rooted in and performed from a deep knowledge of helping organizations achieve business growth via technology. What is expected of an IT consultant depends on the organization and their unique challenges, but typically their functions can be broken into three categories that encompass the wide range of duties necessary for the maintenance of a business's IT department. Those categories are IT Project Management, Maintenance and Repair, and Security. Anything from installing new hardware to system integration to directing an organization's IT strategy can fall under the umbrella of an IT consultant's responsibilities.