HR professionals all over the world are constantly striving to improve employee engagement and productivity. With more organizations moving to a fully remote or hybrid working model, they have an added challenge. In this ever-evolving world of human resource management, online collaboration platforms like Slack and Microsoft Teams play a crucial role.

With their wide range of features and communication tools, Microsoft Teams is one of the most widely used organizational tools. Apps developed by Microsoft as well as the plethora of third-party apps make Teams the ultimate collaboration tool for remote employees and in-office employees alike. So it's no surprise that companies all over the world have adopted Microsoft Teams with open arms. As of April 2021, Teams had close to 145 million active users and the number is projected to grow.

Let's have a look at this state-of-the-art communication tool trusted by professionals across industries.
What is Microsoft Teams used for?
Microsoft Teams is an online collaboration/communication platform for organizations, companies, groups, and even students in universities and schools. Members within the organization can call, or text each other, send files, form groups, and schedule meetings using Teams.
The software comes with companion apps, both for Android and iOS, as well as desktop apps for Linux, Mac, and Windows. It also has a web app, which you can access through any browser. If you're a dark mode aficionado, you'll be happy to know that Teams have dark and light modes, as well as a high contrast mode.
Human Resources departments all over the world have taken advantage of Microsoft Teams in their organization to streamline communications. Across industries, the HR department often has the most diverse and multi-talented professionals. They handle everything from keeping track of employee attendance and payroll to developing and maintaining the organizational culture. The human resource teams carry out recruitments, enforce the employee code of conduct, and ensure the well-being of employees and as well as the entire organization.
Simply put, the role of HR professionals in a company cannot be overstated. And collaboration and communication tools have always been a major asset in every HR professional's arsenal. An organization can drastically improve productivity in an organization just by introducing a collaboration tool. A study by McKinsey found out that social technologies can improve communication and knowledge sharing and improve productivity by 20% to 25%.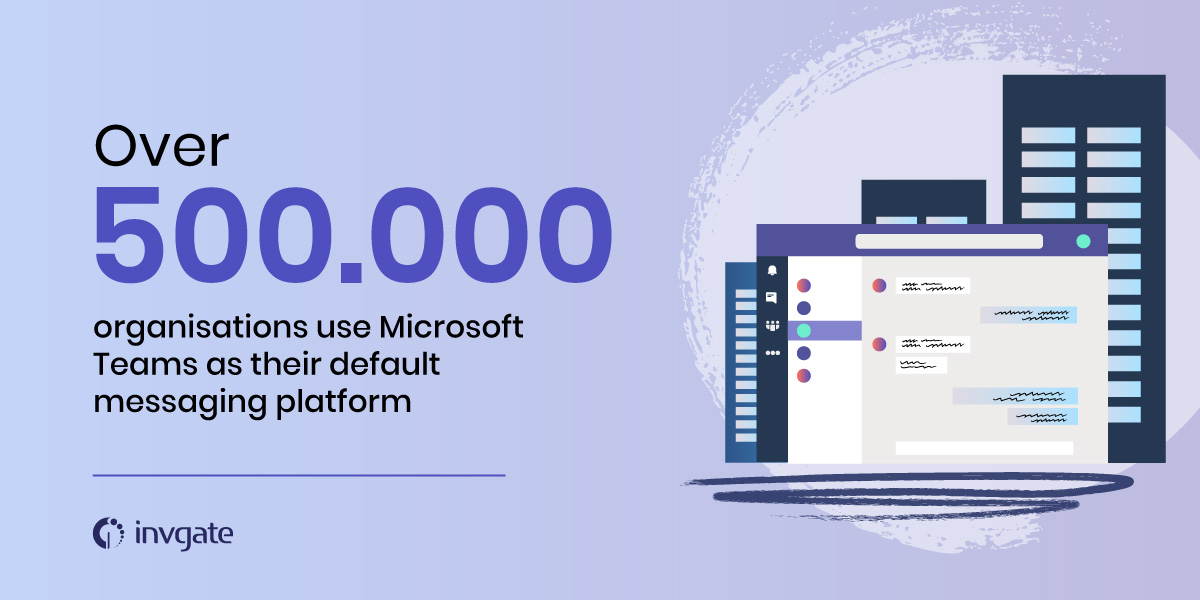 Why should your HR department use Teams?
As a driving force behind organizational culture, Human Resources professionals play an important role in facilitating productivity and communication within and between departments in the organization. Microsoft Teams can help an HR department make both the HR department and the organization as a whole more efficient and productive.
If your organization uses Microsoft Teams, your HR department has a fantastic opportunity ahead of them. They can make use of Teams for communication and coordination with team members. Through a dedicated channel, everyone in the team can remain up-to-date on the latest HR activities and events. By adding different apps and files to the channel, team members can work together and keep track of each others' activities. Microsoft Teams also has many apps and tools for streamlining the tasks of the HR department.
Microsoft Teams for HR duties
Onboarding an employee is one of the most important activities of the HR department. The faster you can bring a new employee to the team, the faster you can get started on important work. With Teams, you can vastly simplify this process. You can add and share training videos and other materials for new employees through SharePoint. HR departments can also conduct a mentorship program to help your employee hit the ground running.
The software also has many features and apps for tracking employee attendance and performance. The Shift app is a popular tool within Microsoft teams with which employees can clock in and clock out. Microsoft Teams also has a whole array of third-party apps for tracking attendance and performance.
OKRs or Objectives and Key Results is a management strategy to help organizations achieve their goals. And Teams have plenty of tools for implementing this framework, Workboard being one of the popular ones. OKR tools in Microsoft Teams can help your department make data-driven growth strategies.
Improving employee communication with Microsoft Teams
The role of Teams in facilitating everyday communication within the organization is undeniable. Communication between members of different departments can be tricky, particularly in a large organization. Teams packs a lot of features to facilitate clear communication among diverse professionals in the company.
During remote work, organizations face an additional challenge: the lack of informal communication. While this may not directly affect productivity, the lack of informal communication can curtail the growth of new ideas and products.
Creative HR teams are using many tools in Microsoft Teams to overcome this. Along with announcements and notifications, HR professionals have created organization-wide channels to share innovative ideas and industry trends, as well as to celebrate personal events like birthdays and promotions. The Yammer app is another popular enterprise social media tool used for similar purposes.
HR departments can also use live events within Microsoft teams to conduct company-wide town hall meetings or seminars to improve employee engagement.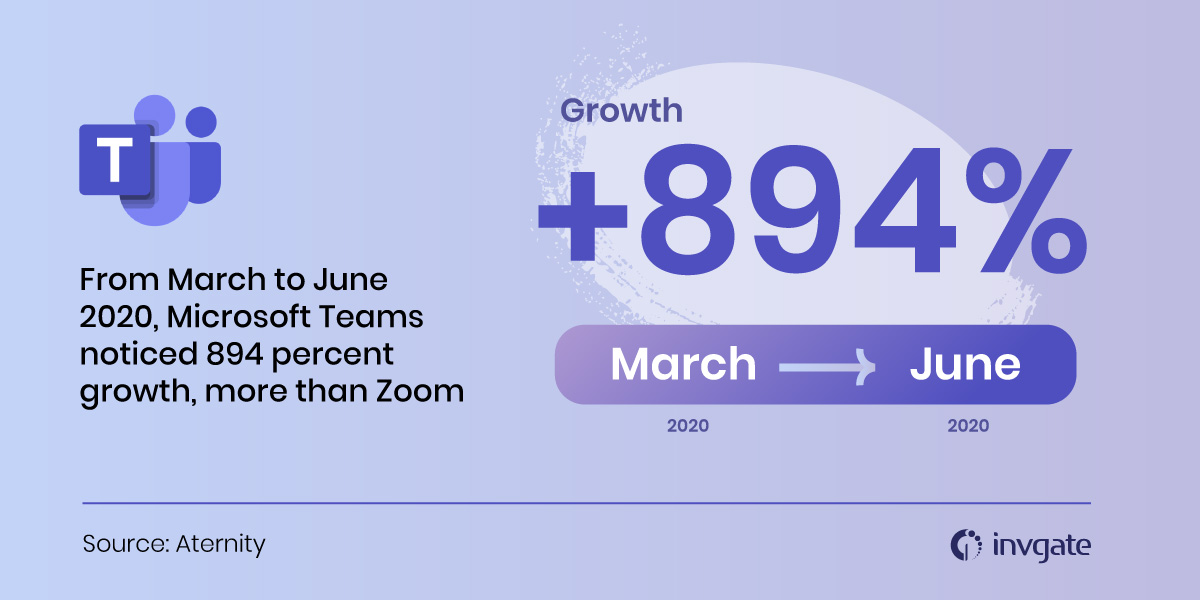 Transforming Microsoft Teams into a Service Desk
If your organization uses Enterprise Service Management best practices, and your HR department uses InvGate Service Desk as a service desk tool or help desk solution to receive and process requests, you can integrate both platforms with InvGate's Service Desk bot for Microsoft Teams.
This way, employees can request vacation days directly from Teams, or ask for a new peripheral without leaving the communication platform. Also, your HR team can respond to requests, check tickets status, and more.
This will allow you to streamline and simplify the service desk experience even with the increased service requests that can be expected when employees return to the office.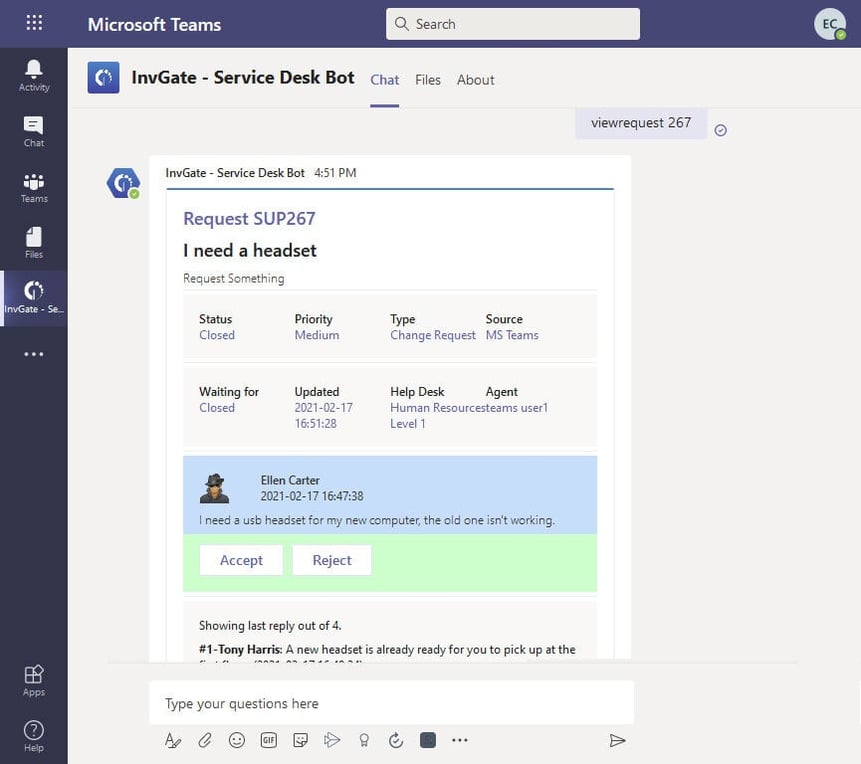 How are HR departments using Teams right now?
HR teams usually create new channels for specific tasks, projects, or events and link the necessary documents, notes, and app in it. For example, there may be a channel for planning the annual retreat, a channel for planning the birthday celebrations, and a different channel for recruitment. The channels act like virtual dashboards or whiteboards. In fact, you can add a virtual whiteboard to the channel with OneNote.
HR departments also use company-wide channels to pass on relevant information to the employees. These include changes in the leave or vacation policies, company insurance details, promotions, etc. Instead of lengthy email threads which are often ignored, channels are an effective way of disseminating information quickly. If you'd like to provide updates from the company blog or website, you can use an RSS connector to send them directly to your Teams channels.
With remote teams spread across different time zones, Microsoft Teams has proven to be a great tool to build employee engagement.
How to best leverage Microsoft Teams for employee engagement.
Seasoned managers and HR professionals are well aware of the importance of recognizing the effort and the results their employees bring. Recognition for a job well done will motivate the employee and increase the morale of other team members. While a personal pat on the back can do the job, show your employees how much you value them through specific messages showcasing their achievements through Teams. Teams has many tools for HR professionals for showing appreciation towards great employees.
Another way to improve employee participation is through the polling apps in Microsoft Teams.
Polls often lend new and different perspectives you may otherwise overlook and often leads to better decisions and results. Microsoft Forms is a great tool integrated within Teams which you can use for collecting opinions and suggestions. For best results with Microsoft Forms, make the questions clear and precise, and run them with a colleague before sending them out. Polly is another popular tool for creating polls within Teams.
Gamifying a project or a task is a popular HR strategy for increasing employee engagement and lifting up team morale. For example, you can gamify your service desk by rewarding your support team for every 50 customer queries answered. Microsoft Teams has a suite of apps for gamifying the daily tasks of the employees.
Microsoft Teams app templates are fully developed apps you can use in your organization. They work exactly as the name suggests; you can use these as it is, or you can tweak them for your use case, or you can use them to learn how to build good products. HR departments can encourage employees and departments to use these app templates to develop apps that can improve their productivity.
Basic tips for Microsoft Teams novices
Microsoft Teams is fairly intuitive and easy to understand. The home page looks more or less like any other chat app, click on the name of the person you want to talk to and start typing. There's also a search bar with which you can easily find people in the organization, old messages, and shared files.
Creating a channel
Channels are a great alternative to lengthy and confusing email threads. To create a channel, go to the Teams tab, choose the team, click on the three dots next to it, and click "add channel". Here you have two options, you can create a standard channel that will be accessible to everyone in the team, or you can create a private channel with only a few members of the team.
For a standard channel, simply enter the name and description here, and you're good to go.
For a private channel, enter the name and description, and under privacy, choose "Private – Accessible only to a specific group of people within the team". Once you've created the private channel, you can click the three dots next to the channel name to add people to it.
Creating a meeting
Microsoft Teams feature plenty of ways to create a meeting. If the meeting has only a couple of people, you can just let everyone know the meeting time by text and just call one and everyone to the call. Or you can create a group and just start a group call. However, when there's many guests this can become complicated.
In this case, head to the "Calendar" tab and click "New meeting". Add the name, description, time, and the attendees and click "Save". This will send an invite to everyone's Outlook inbox and add the meeting to their calendars. If your company doesn't use Outlook, it may be a good idea to copy the meeting link and send the invite via a separate email or message. All the attendees will get a notification when the meeting begins, so they are not likely to miss that.
You can add a channel meeting by specifying the channel name when you create the meeting.
Using the calendar
Microsoft Teams has a great calendar within it. It's very intuitive, easy to use, and you can know your events for the day in a glance. But it has its drawbacks, for example, it doesn't have a monthly view. Third-party calendars are here for the rescue.
Calendar Pro is a popular calendar app. It has many advantages over the Teams calendar, the first of which is the monthly view. Calendar pro lets you print out your calendar and stick it on your wall if you like it old school.
Asynchronous vs synchronous communication
Knowing the difference between asynchronous and synchronous communication and knowing when to use it will make remote work way smoother in your organization.
In synchronous communication, everyone involved is available at the same time, like in a conference call. Everyone has to actively participate and give replies instantly. In async communication, you're not expecting the other to reply instantly, as in the case of email.
Since Teams acts like a chat app, team members may feel expected to reply instantly. This can hamper productivity in remote work.
By creating a culture of async communication, everyone will be comfortable taking on one task after the other. In async, you reduce the number of back and forths, by providing all the information the other person may need to give a good reply. For example, if you want to schedule a call, send a Calendly link with multiple time slots instead of sending a single slot during which the other person may be busy.
This ease of use and flexibility is part of the reason why Teams has seen such a dramatic growth in daily active users.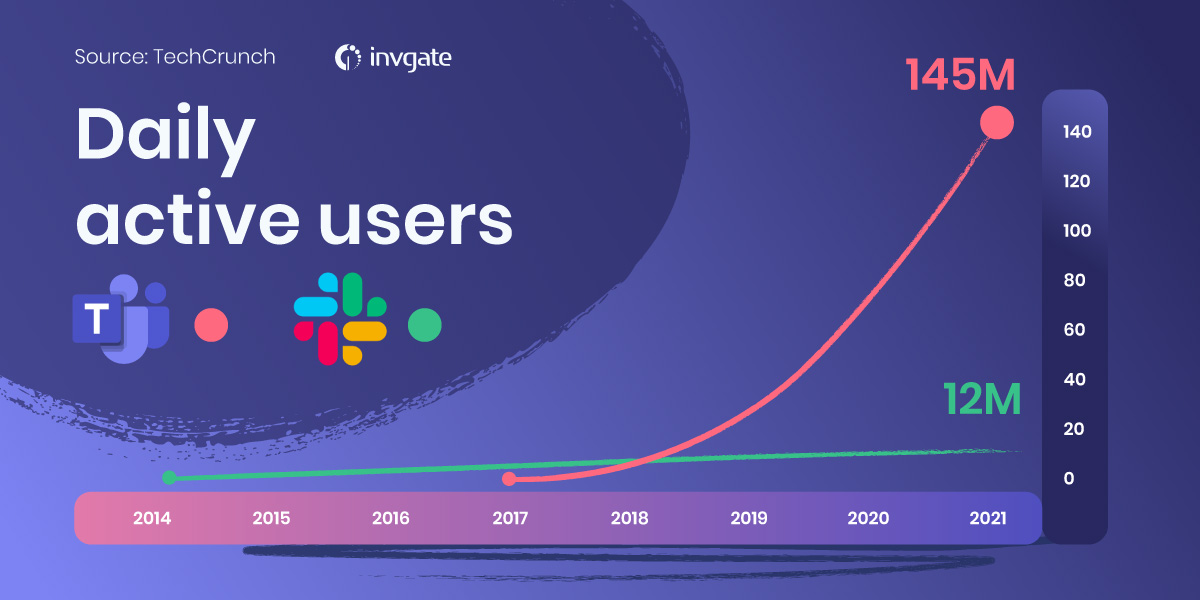 Best practices for conducting meetings
Time management is one of the most important things for a productive meeting over Microsoft Teams. Instead of an impromptu meeting, it's best to plan them in advance. Keep track of the time during the meeting, and stick to the schedule. Having an agenda beforehand will help you to end the meeting within the schedule and achieve the goals.
During Teams meetings, it's best to remain on mute unless you're speaking. And particularly during meetings of large groups of people, putting your hand up (there's an option for that in Teams) will help avoid unnecessary disruptions and clashes while speaking.
Improving Employee Experience with InvGate Service Desk
If you are interested on employe engagement, it means that your company has employee satisfaction as a priority. Enterprise Service Management is the is the extension of IT service management (ITSM) principles and capabilities to other areas of an organization, such as Human Resources. As People's Bank did, by integrating processes from 24 different areas, your organization can do the same, by centralizing the way your staff request for service from HR, Finance, Administration or IT. This way, as an example HR can streamline the employee onboarding process by creating workflows, that automates processes across the organization, from the acquisition of a new device, to the signature of contracts and leadership meetings.
Frequently asked questions
What framework is Microsoft Teams built on?


Microsoft Teams is built on the Electron framework from Github. It was first developed during an internal hackathon at Microsoft.

What are the best tools to manage a remote employee?
Besides Teams, tools like Asana and Trello are great for managing remote employees. You can use them to assign tasks, track time, and maintain deadlines, along with other features.

What's needed for a Microsoft Teams interview?
For good interview participants need a solid internet connection. Buffering during an interview is not a good look. Make sure everyone is clearly audible, and in the case of a video interview, make sure you have proper lighting.



How to track and monitor my employees working remotely?


Microsoft Teams have a slew of features to help employers track their employees' productivity while working remotely. Activity reports will tell you how your employees are using Microsoft Teams as weekly or monthly trends.

How to keep teams engaged while collaborating remotely?
Weekly or monthly informal meetings will help teams connect well with each other. Games or quizzes or other team-building activities will help everyone just relax and bring out their team spirit.