It was Einstein who once said "the secret to creativity is knowing how to hide your sources." The world of IT isn't exactly known for being a creator's paradise but navigating obstacles within problem management or incident management may take creative solutions.
Regardless, it helps to borrow ideas, or in this case systems.
One such popular system in IT service management is ITIL. With this article, we hope to guide you through the complex terminology of an ITIL maintenance plan or ITIL-based service management plan so you can take its best practices and apply them to the service desk of your own organization.
But let's start simple and review specifically what a service management plan is.
What is a service management plan?
Also known as an SMP, a service management plan is a document or archive of what is required to carry out a service. It features the specifics of the procedure, and while its implementation is best suited before the service has started, due to the ongoing nature of a service (as opposed to a project), it can be put into practice at any time.
The content of an IT service management plan is the same as any other insofar as they contain the items you'd expect like a brief description of the processes, compliances, and risks as well as a list of the activities, efforts, and resources necessary to carry it out.
There is a wealth of templates for various service management plans, but for the sake of this article, and perhaps your company or team, we're going to cover what an ITIL-based plan looks like.
Before we break down the five steps of an ITIL-based plan, it would probably help to review what exactly ITIL is. To put it in simple terms, it's a highly accredited and detailed framework for IT service management. For more detailed information, check out our Definitive Guide to ITIL.
Companies use the ITIL framework and best practices to align their service desk with the needs of their business. This methodology may contain numbered stages within a defined process, as we're about to see, but it is best used as a guide for companies to adapt to the unique demands of their business rather than a set of rigid instructions.
Now that we have a clear idea of what ITIL is, let's take a look at the 5 steps of ITIL-based plan.
The 5 steps of an ITIL maintenance plan
#1 Service Strategy
At the foundation of your ITIL-based service management plan is your service strategy. This is where the objectives of the plan are put into an outline and first aligned with the overal goals of your organization.
As the first step, it's a crucial one and deserves an extra look at the many different points of attack that make up its design.
The 4 P's of Service Strategy
We'll begin with the renowned 4 P's of Service Strategy. In keeping with the overall plan, IT managers must consider and use a little of each if they want to successfully reach the next stage. They are as follows.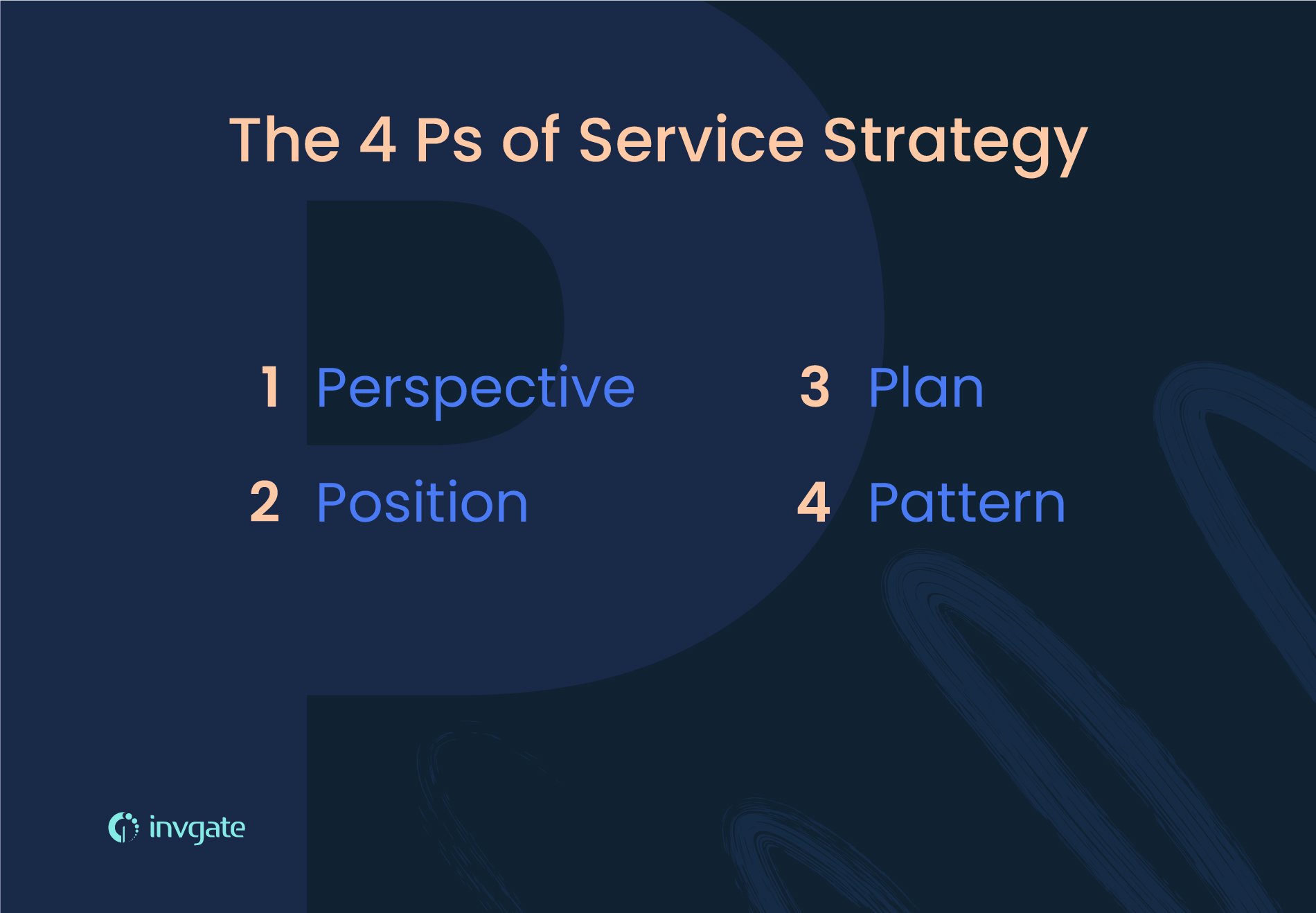 Perspective - Looks should not be deceiving when it comes to the image of your company. This is your organization's vision of how you want to be seen in eyes and minds of stakeholders. This is achieved via communication with them.
Position - This P is all about defining your market position. Here, you illustrate your value proposition and the unique selling point of your product or service. You'll want to inform your customer about what you offer in relation to competition.
Plan - Plan answers the question 'how?' That answer may include running through the numbers of your budget, portfolio of services, or various investments. It's a summary of the actions you'll take to realize the vision above.
Pattern - Finally, with pattern you establish the ongoing rhythm of processes, decisions, policies, and procedures that constitue your organization's way of doing things.
Service strategy is the bedrock of strategic decision making when it comes to defining what markets to target and the assets needed to reach them. Like the following stages, it has its own series of processes.
Accompanying each of these processes will be a quick description of their function. It's worth noting there are training courses to understand the ITIL process, including ones that go in depth on certain topics that require articles of their own, like change management.
We've done our best to keep this as succinct as possible, for both your eyeballs and ours.
Without further ado, the processes of service strategy:
Strategy management for IT services: the maintaining of the 4 P's of strategy and ensuring their renewal throughout the course of the lifecycle
Service portfolio management: covers the full spectrum of services and activities managed by a service prodiver, organizing how they are identified, selected, and evaluated
IT financial management: this branch represents the financial processes which include everything under accounting, budgeting, and charging
Demand management: the profiling of different customer bases and identifying their usage patterns to better serve them
Business relationship management: the positive relationship building with customers and the record of the steps it took to foster it
#2 Service Design
Next is where the elements of design coalesce to form a blueprint that introduces what was formerly just strategy into a live environment.
This is the idea stage where new updates or services are wrought from the strategies that preceded them. Like service strategy, this stage also has its own 4 P's to consider.
The 4 P's of Service Design
People - The lifeblood of any organization are its people and the structure they make up to support it. This requires a blend of HR, experience, and folks with the right skills to carry out the IT services.
Products - These include the infrastructure, architecture, and technology management systems used in support of IT service delivery. Naturally, special consideration must be given to the cost and functionality of the tools used to this is end.
Processes - In defining what the requirements are both the IT department and business need to meet, the processes used to achieve them must be laid out and measurable. KPIs must be established to fufill the aforementioned objectives.
Partners - Partners make up anything from third party vendors to manufacturers and suppliers. They are the relationships brought together to support and meet IT and business expectations.
The specific processes within this stage are:
Service level management: where the warranty of services are discussed and SLAs (service level agreements) are created between the customer and service provider
Capacity management: broken down into the three categories of business capacity management, service capacity management, and component capacity management it makes sure the cost-effective capacity meets or goes beyond what was established in the SLA
Service catalog management: a portfolio of the services available to users and customers; typically the only part accessible to them
Service continuity management: using techniques like Management of Risk and Business Impact analysis to provide a continuity plan that ensures the agreed upon terms of service are met from the providers end
Information security management: the process that protects the five qualities of information assets: confidentiality, integrity, availability, nonrepudiation, and authenticity
Supplier management: a process of calculating value from third party, external suppliers; also part of the ITIL service value chain
Availability management: another process to ensure the availability requirements of the SLA are met or otherwise addressed
#3 Service transition
Service transition is the construction phase of the service management plan, where IT services are deployed and new ones are tested and verified. Coordination is key to avoid disrupting service when implementing changes to active ones, but otherwise the ITIL service transition phase of the ITIL process is where you take off the training wheels and see how it rides.
Its processes include:
Service assets and configuration management: the management of the information which contains all the data on the configuration assets required for service delivery
Transition planning and support: a marshaling and planning of resources to carry out the release of a service on time
Change management: Change management is the process and standarized method of implementing change to an IT infrastructure with as little service disruption as possible
Service and testing validation: a process of evaluation which verifies services meet customers' needs and will continue to do so
Knowledge management: the method of collecting, sharing, storing, and analyzing knowledge information within an organization
Release and deployment management: the planning and scheduling of releases of an IT service into a live environment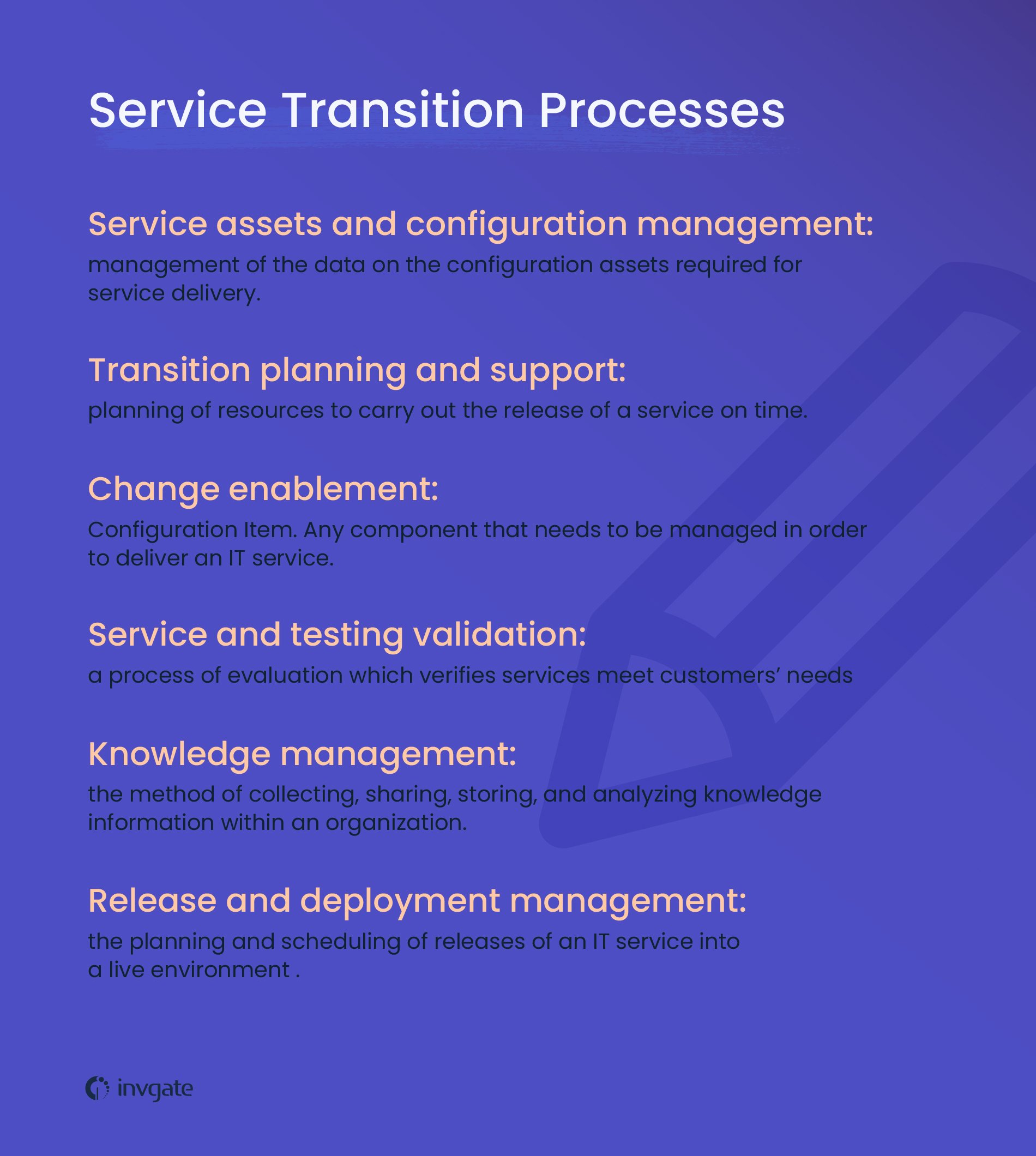 #4 Service Operation
The fourth step is the execution stage where a balancing act of cost and meeting customer expectation takes place. While ITIL service operation in is in full effect, it means all systems are go. And while a service desk may continually run incident management to prevent future or live hiccips in service, this stage has the added benefit of implementing the systems created before it.
In short, its full steam ahead and time for the customer to interact with the service. The processes used to execute service operation are:
Incident management: This is the lifecylce of all incidents and the ability of the IT team to resolve them as quickly as possible
Request fulfillment: Simply: this is the process of service request management
Event management: The continuous monitoring and filtering of configuration items and events to help decide where appropriate action should be taken


Access management processes: An authorization process which grants authorized users access to a service while denying those without.


Problem management: Probably the most aptly named process which literally manages problems, seeks to prevent future ones, and reduces the impact of those that can't be avoided
The fifth and final step of the ITIL framework is ongoing quality control. Here, strategic metrics are used to assess the efficiency and effectiveness off all processes in the name of continual improvement.
It brings together and tests the steps from before to learn from past successes and failures. An IT team will often do this by analyzing the data to uncover areas of improvement. Not surprisingly, you may see additional energy committed to problem management and incident management.
Central to CSI is the seven-step Improvement Process which most organizations would be savvy to follow. They are defined as such:
Identify improvement strategies
Define what can be measured
Gather the data
Process the data
Analyze the data
Present the information obtained from the data
Use the information to begin implementing improvement