There's no doubt that Fleetsmith's recent announcement of their upcoming discontinuation has left many users scrambling to find a new mobile device manager or MDM solution. While the decision is certainly disappointing, it doesn't have to be the end of the world. In fact, there are plenty of great MDM solutions out there that can pick up where Fleetsmith leaves off.
One of them is definitely InvGate Insight. With this ITAM tool, you'll have an integral view of all the assets in your organization, and you'll be able to build your CMDB. For Apple devices, InvGate Insight uses Jamf 's REST API to get all the information about the devices, apps, and configurations.
Let's take a closer look on how both tools work.
MDM solutions: Jamf as an alternative to Fleetsmith
If you're looking for a new MDM solution to replace Fleetsmith, we highly recommend Jamf. It's a powerful, feature-rich solution that can do everything that Fleetsmith can, and more. With Jamf, you'll be able to keep track of all your devices, deploy apps and configurations, and even enforce security policies.
It's also worth mentioning that Jamf is used by some of the biggest companies in the world, so you can be confident that it's a reliable and robust solution. Moreover, if you ever need help or support, you can always turn to the large and active Jamf community.
Jamf Now is a cloud-based mobile device management solution for iPad, iPhone, and Mac devices in your workplace. With simple setup and deployment, you can easily manage your fleet of devices from anywhere.
On the other hand, Jamf Pro is a comprehensive on-premises mobile device management solution for Mac, iPad, and iPhone. If you're hesitant about which one serves you best, check out this complete overview of the differences between cloud and on-premise services.
Lastly, Jamf School is a mobile device management solution designed specifically for schools.
Integrating Jamf MDM into InvGate Insight for Apple devices inventory
Now, to the best part: combining your Apple devices inventory with InvGate Insight to have a complete mapping of your IT network. Integrating your Apple devices inventory is easy. Go to Setting > Network. In the right column, pick "Discovery Sources." Here, you can integrate all the different sources for devices: AWS, Azure, Google Suite, and Jamf.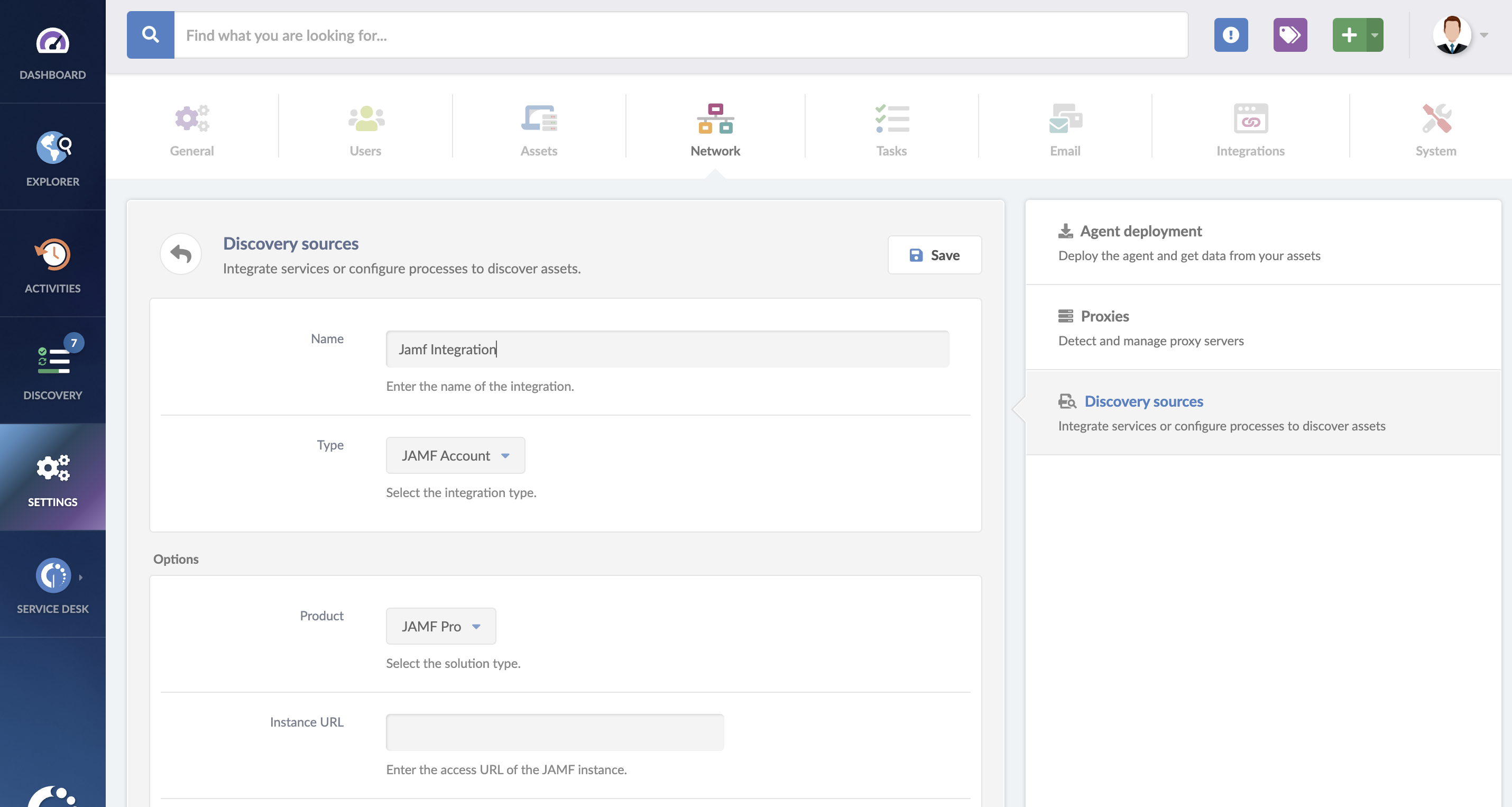 Then, click on "Add" on the right side of the "Discover Sources" panel, and choose your integration type. In this case, you will choose Jamf. Once you picked between Jamf Pro and Jamf School, you'll have to insert the URL of your JAMF instance, username, and password.
And that's it! InvGate Insight will connect with Jamf and synchronize your Apple devices inventory from your MDM.
InvGate Insight integrates all the data from different sources to help you manage your IT Asset Inventory, including MDM (Apple and Chromecast devices), Network Discovery, Agent Integrations and Cloud Instances.

Migrating to Fleetsmith before its discontinuation
According to the Apple Support document, the company discontinued new signups for the MDM platform—that they acquired in 2020—as of April 21, 2022. And they announced the Fleetsmith End of Life by October 21, 2022.
If you are a user of Fleetsmith, or considering a new solution for your Apple asset inventory, Jamf is a great alternative to manage your Apple Devices. And if you integrate it with InvGate Insight, you'll manage your organization's assets, be on top of security risks, and manage your IT finances.