SIAM or Service Integration and Management consists of a way of managing multiple suppliers and integrating them to provide a single business-facing IT organization. It can effectively integrate interdependent services from service providers into end-to-end services to enable you to meet business requirements.
Information regarding suppliers and vendors is central to an effective service delivery strategy: it will help both your overall organization capabilities and your financial decision making. And SIAM provides a structured approach to do exactly that.
So, join us as we unravel this approach, how it functions, and who can benefit from implementing it the most. Let's get started!
What is SIAM?
Service Integration and Management is defined as "a management methodology applied in projects and work environments that involve services sourced from several providers."
What this means is that it helps organizations manage multiple service providers and suppliers effectively, efficiently, and consistently, ensuring that service delivery meets the needs of the business.
SIAM is:
A framework that enables you to manage multiple suppliers of IT services, and integrate them to provide a single business-facing organization.
An adaptation of ITIL that focuses on delivering key services by multiple suppliers seamlessly to the rest of the business.
But how is this done? SIAM brings together multiple services across various suppliers and organizes them into one single-facing IT unit. As organizations move towards outsourcing, co-sourcing, and multi-sourcing, the IT support ecosystem gets more complex. SIAM is a way of managing that complexity without compromising on effective service delivery.
Who is SIAM for?
SIAM is designed for organizations that use multiple suppliers, partners, and vendors. As such, although they will probably see the most benefits from implementing it, any organization that might be starting to grow or is struggling to run their IT department and suppliers with an existing Supplier Management process will see improvements.
This approach is particularly relevant for the following situations:
Large organizations with various internal and external suppliers, vendors, and partners.
Multi-sourced or multi-partner operating models. These are becoming increasingly common and SIAM can help ensure that service delivery continues to add value, effective integration, and management is key.
Increasing quality expectations from users. The reality is that because our customers and stakeholders live in the age of Meta, Amazon, and Google, they expect the user experience to match. Not being able to keep up isn't an option anymore.
Organizations that implement

shared services

. SIAM can help standardize processes and improve communication when shared services are used across different business units and departments.
Hybrid environments. Organizations that use a combination of

on-premises systems and cloud services

can use SIAM to integrate and manage services across these environments.

"SIAM is such a great fit for that kind of thinking and that kind of conversation because you can start to look at a service and think, who are all the suppliers underpinning that? You know, external suppliers? Internal teams? And have we got a grasp of it? Have we got management in place to make sure that we can keep things moving?"

Claire Agutter
Director of Scopism and ITSM Zone
Episode 32 of Ticket Volume
What is the difference between ITIL and SIAM?
So many people get confused about how ITIL and SIAM fit together, so let's take a moment to set the record straight. ITIL and SIAM complement each other. Many SIAM models use ITIL practices such as Incident Management and Change Enablement and build on them so that they can be used to support a multi-supplier environment.
Put simply, IT Service Management (ITSM) and ITIL aim to manage IT services for an organization. SIAM builds over ITSM processes and helps adapt them for a multi-supplier environment. SIAM is a flavor of ITSM that can effectively, efficiently, and safely support large, complex, and multi-supplier environments.
Eight benefits of the Service Integration and Management framework
Streamlined ITSM - It provides a single point of contact, ownership, and control for IT services, where nothing can be lost, ignored, or forgotten about and incentives the management of IT services in a single delivery mechanism.


Regulated supply and demand - An effective SIAM function maximizes the performance of end-to-end IT services and helps ensure they are delivered most cost-effectively. SIAM acts as the central point of control between demand and supply.


Clearly defined roles and responsibilities - Everybody knows where they stand and what is expected from them. Preferably this should be codified in a RACI chart.


Optimized cost of services - Efficient Supplier Management helps carry out budgeting activities in a more organized and informed way.


More effective Change Enablement - By acting as a point of coordination, the SIAM function ensures all changes are appropriate to the customer organization's estate.


A more transparent IT landscape and improved governance - Bringing all service-related elements together provides a clear view of how everything is working together, supporting your governance activities.


Increased customer satisfaction - A single point unit for customers not only helps services to be delivered more effectively, but it also makes it easier for them to access
The 5 SIAM models
At its most basic level, SIAM is a function that sits between customers and suppliers, ensuring that the service being paid for is delivered, managed, and governed consistently.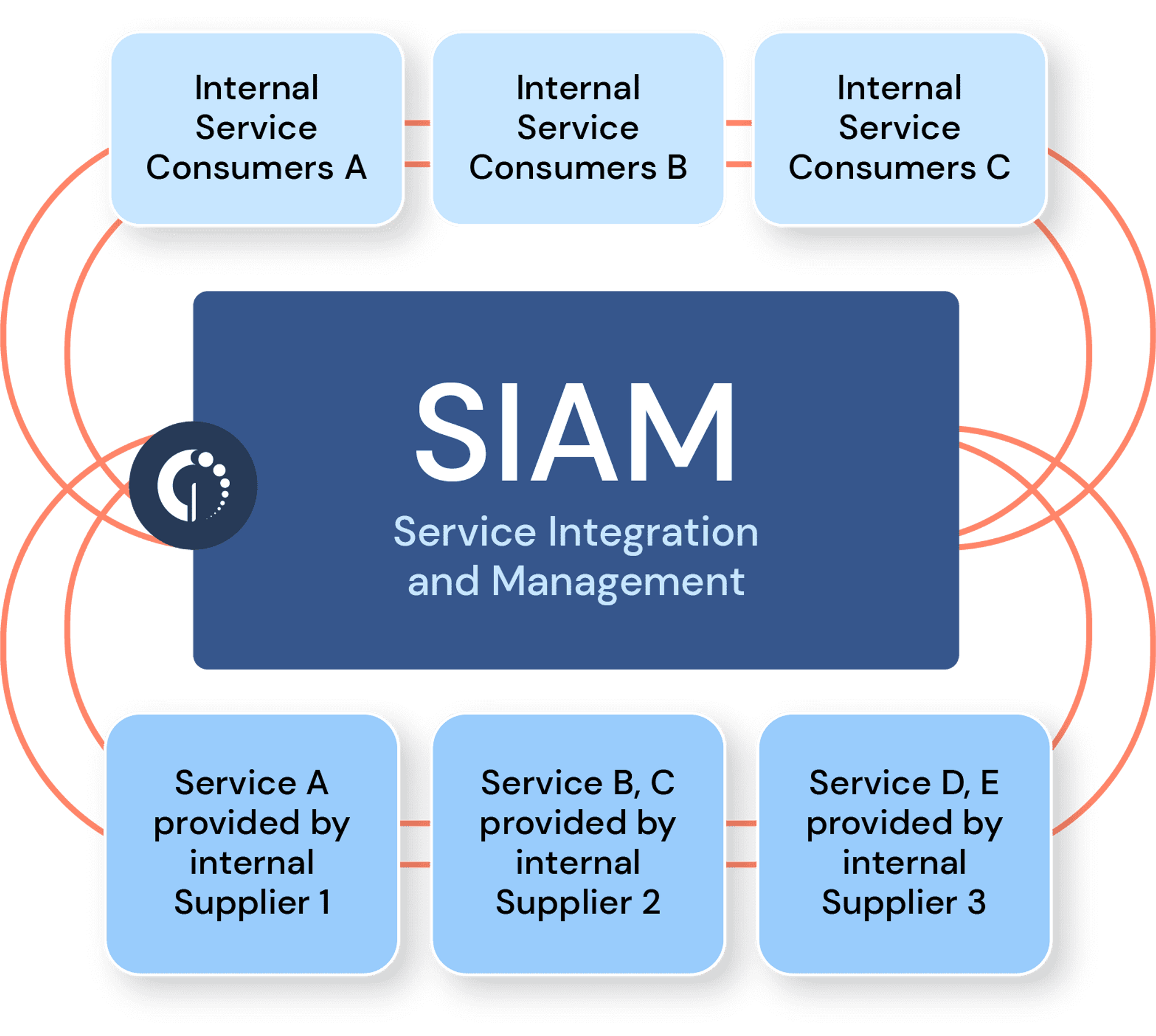 SIAM can be applied in several ways depending on your supplier landscape. Here are some of the most common SIAM models:
| | |
| --- | --- |
| Single SIAM Provider Model | In this model, a single SIAM provider takes on the responsibility of managing all supplier-provided services on behalf of the organization. This provider is a central coordination point for all SIAM activity, ensuring that all services are integrated and delivered effectively. |
| Internal Service Provider Model | The organization's internal department or team acts as the SIAM function. They become the go-to for all things SIAM-related and manage the integration and coordination of all supplier services. |
| Multi-Tower Provider Model | Different SIAM towers or service stacks are established, with each tower responsible for a specific service. A central team is in place to manage each service tower and manage cross-tower collaboration. |
| Lead Supplier Model | This model appoints one service provider as the lead supplier and makes them responsible for coordinating the other service providers. |
| Hybrid Model | The hybrid model blends elements of different SIAM models based on the organization's needs. For instance, an organization might have a multi-tower SIAM provider for some services while using the internal service provider model for others. |
When should organizations adopt the SIAM framework?
As we mentioned before, every organization has its own needs. But for our money, SIAM should be considered if your organization is large or complex or if the number of suppliers has exceeded your span of control.
Examples of when it could be time to consider adopting SIAM include:
Lack of clarity within the service landscape and no real progress is being made.
Unclear delineation of supplier responsibilities causing duplication and rework.
Poor alignment between vendors.
Lack of visibility and transparency relating to supplier performance and delivery.
Too many different reporting mechanisms across suppliers that make it difficult to view and manage performance consistently.
Increased complaints and negative feedback related to service delivery.
More complex services and the need to meet higher availability management targets.
Unsuccessful framework put in place (such as the Supplier Management practice in ITIL) that is not giving you the support you need.
5 SIAM challenges to solve
Adopting the SIAM framework is a significant task. It's important to note that it isn't a silver bullet, and will take careful planning and effective teamwork to build a successful service offering. Some common SIAM challenges that you may bump into include:
Getting management buy-in. Building a solid business case and incorporating the benefits can help with this.
Changing the culture within your organization and its partner landscape. Everyone must be engaged so that teams can communicate freely and effectively.
Creating a clear vision and governance structure so everyone knows what is expected of them.
Putting forward the commercial changes. During the process, you may need to redraft and re-negotiate contracts with existing suppliers.
Managing different toolsets across multiple suppliers, including handovers and APIs.
Seven things to consider before choosing SIAM
Once you have these challenges in mind, make sure to implement the framework in an organized and set out plan. Consider the following key elements when doing so:
Build your team - SIAM is all about effective relationships, so starting with the people's side of things is key. Any good starting point is creating a team to act as a single point of accountability and contact.


Understand where you are at - Create a SWOT analysis of the environment and create a strategy for managing issues and optimizing service.


Establish realistic goals - Set out a clear set of objectives so that things stay on track. Some examples could include:

Manage multiple suppliers, vendors, and partners to give the best possible mix of flexibility, stability, innovation, and continual improvement.
Be accountable for the integrated services being delivered to the business.
Act as the central point of control between IT supply and demand.
Specify the ITSM processes deployed across the enterprise and ensure they are being followed consistently.
Play a central role in coordinating all ITSM processes.



Get everyone on board - Confirm your scope and make sure it is communicated to all stakeholders. Relationships matter and SIAM is all about effective communication. So, work on building solid relationships with all your suppliers, partners, and vendors. This will create a positive environment and align your partners more closely to organizational goals.


Build common guidelines - Work with all suppliers to organize the SIAM environment and ways of working. To do so, you can create a metrics pack so that all suppliers can be managed consistently and document your SLAs and contracts and ensure they are communicated to all.


Design review guidelines - Build a regular service review cycle so that all parties can regularly evaluate performance and any issues can be dealt with promptly.


Establish continual improvement - Services evolve, so have a common approach for continual improvement across all the vendors in your support model so that everyone is on the same page.
In short
SIAM organizes multiple suppliers, vendors, and services into one single-facing IT delivery organization. It does not replace, but rather it complements the ITIL framework by building on existing processes to cope with complexity.
The approach can be configured to suit the needs of every organization. Multiple models are in place so they can be tailored to meet business requirements. Nevertheless, it's particularly useful for organizations juggling various suppliers simultaneously who are looking to maintain quality service delivery.
Frequently Asked Questions
What is the difference between Service Management and SIAM?
ITSM and SIAM are not mutually exclusive. SIAM builds on the core ITSM practices, for example, incident, problem, and change management, and re-purposes them to support complex supplier landscapes.
What are the three layers of a SIAM governance structure?
The three layers are operational, service integration, and executive.
Is SIAM still relevant today?
Yes, as services evolve and become more complex, SIAM is more relevant than ever.
Why should an organization adopt SIAM?
An organization should adopt SIAM if it has a complex, multi-vendor ecosystem.