The role of the IT service desk manager is not an easy job. It takes a lot of knowledge and experience to manage an IT service desk efficiently. With rapidly evolving technology and accelerated product launches, service managers have to be constantly on their feet and with their eyes trained on the horizon to ensure seamless IT delivery to their clients.
Modern service desk solutions and frameworks have helped considerably. Many tasks can be automated and delegated more efficiently. But even then, you might fall victim to many common IT service desk mistakes. Here's a few of the most common errors made by service desk managers, and how you can avoid them.
Common service desk manager mistakes
Giving importance to tools over people
A lot of service desk managers invest in a lot of top tools, getting the best software, spending a lot of time and money making the choice and implementing them. And this is important! The success of the service desk does depend on good tools implemented well. But it's even more important to consider the human factor, both in your team and among your customers.
The first thing is to remember that the goal of the service desk is to improve the customer experience. Any tools you introduce have to fulfill their role to make your customers' lives easier; otherwise, it's missing the point. For example, a service desk solution may have an advanced UI or a feature that may help the users. But if the users are not familiar with it, you can either roll back the feature or motivate the customers to use them.
The same goes for any new changes: if it doesn't work for the customer, it's not good for the service desk.
The second factor is your team. You can have the best tools in the world, but without a good team, your service desk won't succeed. IT service desk managers need to invest in hiring, training, and motivating a good service team. Gamification can help bring out the competitive spirit in your team, but once again, more than the tools, focus on the people, focus on how you can get your team working at peak efficiency.
Not setting a clear scope for the IT service desk
This is a common mistake that creates a lot of misunderstandings between IT service desk managers and service desk stakeholders. To deliver quality service, you have to define what all the service desk will do, who all it will help, the type of services the team will provide. This scope is defined in the service level agreement (SLA) between the stakeholders.
To ensure that the entire scope is delivered, the SLA must also define the metrics and KPIs for the service desk. It should define what they will be, how they will be measured, and the minimum expected performance.
Often, as the service desk starts interacting with the business, the scope may have to be adjusted. For example, customers may be facing a wider range of issues than initially expected. Maybe the initial SLA may include only chat support or software support, but it may become clear that customers are demanding more help. In such cases, it's important that the SLA is updated to manage scope creep.
Besides ensuring clear expectations between the stakeholders, this will also help the IT service managers understand how they can improve their services.
Keeping channels separate from each other
Often service desks offer multiple ways for the customers to reach them, through calls, emails, chat, and even social media. And this is important; some users may feel more comfortable calling while others may find it useful to send an email. But sometimes, you have to shift from one mode to another.
For example, a user may send an email about setting up their WiFi router and you may have to set up a call to guide them through the steps. Of course, in the best-case scenario, it's best to resolve a service request through the same channel. But if you do have to switch, make sure your customers enjoy a seamless experience.
Customers often find themselves explaining their frustrations to a new customer service agent after being transferred from chat to call support. Needless to say, this creates a very poor customer support experience. And this happens when the different channels are handled differently, or when the service desk solution doesn't support omnichannel communication.
Here's where the difference between multichannel and omnichannel service desks comes up. A multichannel service desk simply offers many ways for a customer to contact the help desk team. An omnichannel service desk integrates these different channels and offers a consistent brand experience to the customer.
This means whether a user gets in touch through the Facebook page or calls directly, they get the same experience, they get their queries resolved in time. And if they have to switch between two channels, they don't have to start all over.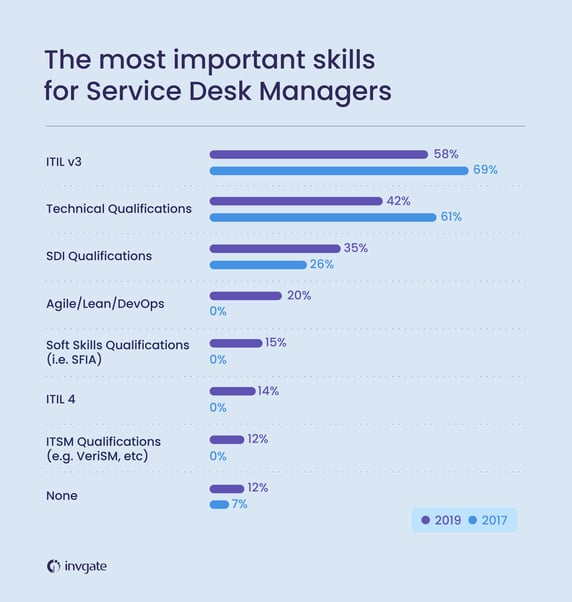 Not leveraging the analytics well
Analytics and data from the service desk are some of the best weapons in an IT service desk manager's arsenal. Every industry is unique, so is every company and its customer demographics. The analytics and the data can help a service desk manager understand the customers, the type of questions they have, and the difficulties they're facing. And the managers can tailor the services accordingly.
The analytics can reveal a lot about the performance of the service desk as well. It can show how individual service desk agents are fairing, how they can improve, as well as give an overall picture of the service desk.
A common mistake while using analytics is that service desk managers often tend to focus on vanity metrics. These are metrics for which the numbers are often very high, for example, the number of daily calls, or the number of queries resolved in a day. And these high numbers are often considered to be a measure of good performance.
Metrics don't matter however good they are unless it aligns with the goals of the service desk. The number of queries resolved in a day doesn't matter if these customers come back again asking the same questions. This is why it's important to set the metrics and KPIs carefully in the SLA. It won't serve anyone if the metrics are skyrocketing but customer satisfaction remains low.
Not collecting feedback from users
You can have the best analytics suite but to improve your service desk, you still have to collect feedback from your users. The data from your service desk solution combined with your customer feedback can give you a clear picture of the issues the users are facing.
More than just adding a contact form or a feedback form on your website, it's best to collect feedback on every service request. This will help you connect the feedback to the specific type of query and improve the processes associated with it. This may appear tedious, but with the automation offered by modern service desk solutions, this is fairly straightforward. You can simply set up an automated email sequence after every query is marked resolved.
While collecting feedback, users are more likely to complete simple forms rather than ones with open-ended questions. But even then, it's best to leave an optional open-ended space for users to leave any additional feedback they may have.
Besides collecting direct feedback it's also important to monitor the company's online forums and social media, or any other channels where customers may raise a query.
More than improving the service desk, the customer feedback will also give insights about customer expectations, features they may be interested in, and help the company plan future product lines and releases.
Using old and out-of-date solutions
As trends and technology evolve, so does customer expectation. And for a good customer experience, it's important that the customer support also change accordingly.
Customer experience aside, old and outdated technology will hinder the service desk, often increasing the workload for the agents. Wherever possible leverage the latest technology, use automation, exploit AI analytics, deploy chatbots, and offer omnichannel customer support.
Forming data silos
This is a phenomenon often seen in large corporations, the data is not connected to each other or organized clearly. Different departments have their own data management strategies resulting in individual data banks with precious insights lost in between. Service desks also manage a lot of data and a similar situation can be observed here as well. As discussed before, communication between different channels may not be integrated smoothly.
The same can happen for all other tools used with a service desk. For example, an organization may use a knowledge base that has all the information about its products and services. The same organization can have an asset management solution to manage its hardware and software. But without a seamless integration between these two, it will be difficult for the stakeholders or analyze it.
And the service desk needs these two solutions to function well. Service agents need to access and update asset information for resolving service requests related to a specific device or software. They need the information from the knowledge base to answer questions related to the company's services.
Unless these solutions are integrated well, the service desk agents will be switching between multiple applications to resolve a single query, which will cause a hit on productivity as well as the quality of services.
An integrated digital workplace for the service desk connecting all the applications will improve the morale among the service desk agents. The service desk managers will also be able to gain better insights from an integrated solution.
Focus on the methods and not the goals
Often service desk managers spend a lot of resources trying to ensure that the service desk team follows ITIL guidelines to the dot. This is not necessarily a bad thing, but the ITIL framework should be treated more like guidelines, tools that help you deliver quality IT services. They themselves are not the goal.
Focus on how you can align your processes with the goals of the organization and how you can deliver good ROI. Place more importance on building a good team. The team makes a service desk, not the tools, not the frameworks.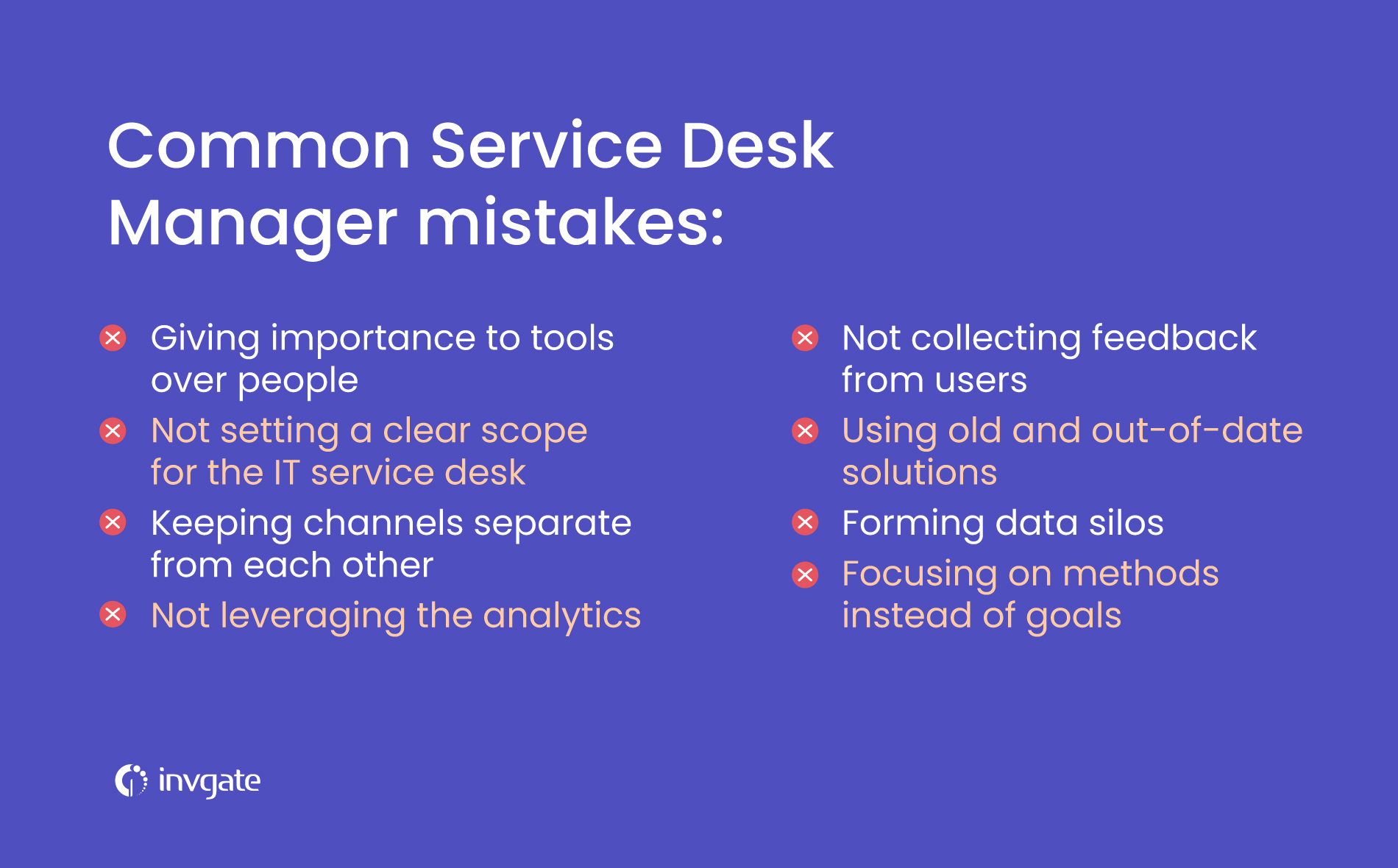 Frequently Asked Questions
How can you analyze the performance of a service desk?
One of the common metrics is the first call resolution (FCR) rate. Its the number of queries that are resolved in the first contact with the service desk with respect to the total number of queries.
There are other metrics too, but the important thing is to ensure that the metrics are clearly conveyed to all the stakeholders through the service level agreement and that it aligns with the goals of the organization.
How can I build a good service desk team?
Make sure that the team has good resources to work with. They should have access to all the information they need to resolve the queries. They should have tools and workflows that work well for them, and they need a motivated team leader. Its important that the team is aware of the importance of their roles and goals. Service desk managers can also explore gamification to improve team morale and bring out the competitive spirit within them.