As the demand for specialists in information technology grows, so does the need for network administrators. Future organizations will always need dedicated experts to manage their increasingly expanding computer networks and systems.
In this article, we'll provide an overview of everything you need to know about the role of a network administrator, such as:
What a network administrator does.
How to land a job as a network administrator, including the specific set of hard and soft skills necessary to work in the field.
The kinds of credentials and education required to become a certified network administrator.
Computer information technology isn't going out of fashion soon, and neither are the jobs needed to run computer networks. If a career in network administration is something you'd like to explore, let's take an in-depth look at what you'll need to secure one.
Network administrator job description
A network administrator is responsible for overseeing an organization's computer network and maintaining its operations to meet business goals. A list of network administrator duties could include installing new hardware and software, monitoring network security systems, troubleshooting connectivity issues, supervising the maintenance of both local area networks (LAN) and wide area networks (WAN), and monitoring SD-WAN networks.
The title network administrator is often synonymous with a system administrator (or computer systems administrator). However, some technical differences are worth pointing out.
For example, where a network administrator spearheads all the responsibilities related to networks (such as the configuration of routers, IP addresses, and network information systems), a system administrator is primarily focused on tasks related to the hardware and software of computer systems (i.e., the installation of servers or other computer components). The differences between these two roles are subtle, though, and dependent on the size and needs of an organization.
How to become a network administrator?
Like any position in information technology, possessing advanced knowledge of computers and networks is a must. Nevertheless, let's dive into some specific hard and soft skills you'll need to demonstrate to become a certified network admin.
Network administrator skills and requirements
As we said, understanding complex computer networks are foundational to the role. Experience with virtual private networks (VPN) and the LANs and WANs mentioned above are paramount. Knowing your way around server infrastructure and being able to troubleshoot any issues within them are also required skills.
Some other hard skills you'll be expected to have include proficiency in both Linux and Windows servers, a familiarity with Cisco networking equipment, and working knowledge of information security systems.
However, a network administrator must also demonstrate soft and interpersonal skills to work well within a team. These skills may include communicating technical information in easy-to-understand terms with people from upper management to customer service. Successful network administrators are highly critical thinkers who know how to manage time effectively and work without supervision should the need arise.
Most common network administrator certifications
On-the-job experience is invaluable, but to start, most organizations will look for an industry-recognized network administration certificate, if not a degree in a field related to information technology.
The following is a list of some of the most common certifications associated with network administrators:
CompTIA A+
CompTIA Network +
CompTIA Security +
CompTIA Project +
LPI Linux Essentials
Microsoft Certified Solutions Associate (MCSA)
Microsoft Certified Solutions Expert (MCSE)
Cisco Certified Network Associate (CCNA)
Cisco Certified Network Professional Routing & Switching (CCNP R&S)
Amazon Web Services (AWS) Cloud Practitioner
Aside from certification, a bachelor's degree in any one of Computer Science, Information Technology, or Network Engineering is highly recommended for those looking to invest in their career as a network administrator seriously. Some candidates may consider a degree in Business Administration to round out their skill sets.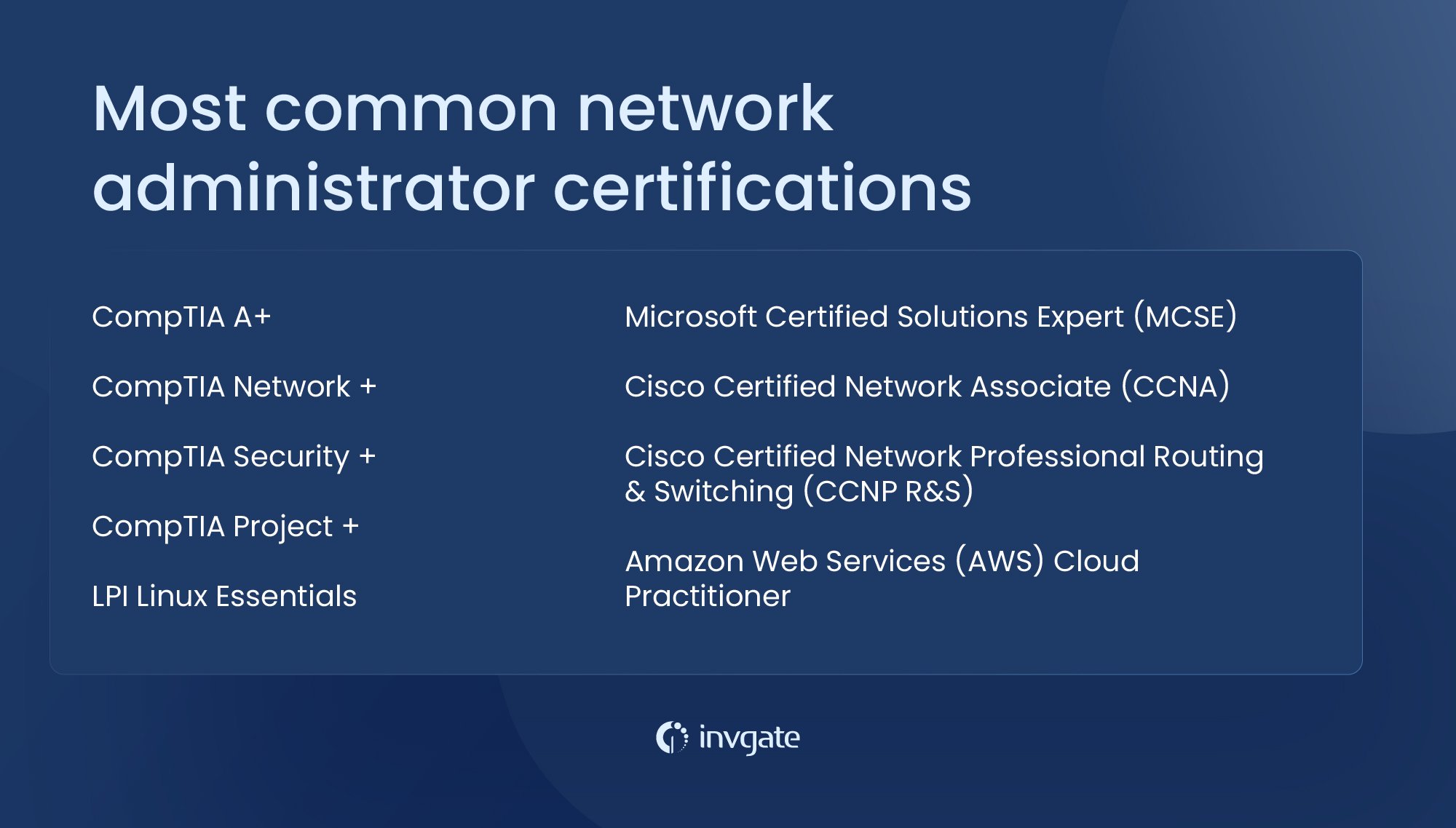 Network administrator interview questions
To best prepare you for the job, let's review some common questions you should expect to hear in an interview for a network administrator position. As with any professional interview, these will include a mix of questions that both probe your knowledge of technical subjects and your approach to overcoming challenges in the workplace.
You may be asked:
What types of networks are you most familiar with?
What certifications do you have?
What is the biggest challenge you've overcome working with networks?
How do you manage your time on a project?
How well do you work within a team?
What is the biggest network size you've configured, and how did you do it?
What is a DNS?
What is the difference between a workgroup and a domain?
What is a proxy server?
Can you describe the difference between HTTP and HTTPS, and what ports do they use?
Final thoughts
A network administrator and system administrator are sometimes used interchangeably. Still, the role of a network administrator is primarily concerned with the operations of an organization's network and the processes used to sustain it.
Among the top hard skills you'll need for this position are expertise and a complete understanding of network segments, components, and best practices for implementing them within an organization's IT infrastructure. And don't forget that you will be required to have a technical certification and a working knowledge of networks like LANs, WANs, and VPNs.
Frequently Asked Questions
What does a network administrator do?
A network administrator manages the local and wide networks of an organization. They're responsible for installing and updating all network hardware or software and monitoring and troubleshooting any problems with them.
How much does a network administrator make?
Salaries for the role can range depending on the experience level and industry. Still, according to the U.S. Bureau of Labor Statistics, the median annual wage for network administrators in May of 2021 was $80,600.
How to become a network administrator without a degree?
While an advanced degree will help set you apart from the competition, it's not strictly necessary to land a job as a network administrator. However, most companies like to see some kind of certification related to the field, like the CompTIA Network +, CCNA, or MCSA.
How long does it take to become a network administrator?
Several factors can contribute to the time it takes to become a network administrator, generally speaking, an associate degree in network administration or certification for an entry-level position will take a least two years to complete. A bachelor's degree or higher will take at least four, plus additional time if you pursue different experiences through an internship.