Makers, assemble! Bilbao Makers supports a Spanish community of 3D printer owners in manufacturing PPE and respirator parts for pandemic response.
We're happy to share that since we released our COVID-19 response program two weeks ago, over one hundred organizations have requested to take part in it. In the upcoming days or weeks (or months? It's hard to tell anymore...) we'll be sharing some of their stories in our blog. We're starting today with Bilbao Makers, a community of 3D printer enthusiasts in Euskadi (Basque Country, Spain).
With around 150,000 cases as of today, and over 15,000 deaths, Spain ranks at the very top of the charts of COVID-19 impact, second only to the United States, a country with a population ten times larger. Spain has been on full lockdown since March 15, with no end in sight.
One of the biggest global hurdles in keeping up with the number of infections has been a shortage of medical supplies: Personal Protection Equipment (PPE) such as face masks and face shields are not available in sufficient quantities, and hospital beds featuring respirators are well below the number of people that need them. This exposes medical personnel to contagion, worsening the ability of hospitals to care for patients.
We were very impressed when we heard from Diego Maroto, one of the organizers with Bilbao Makers. They set out to help by calling on their 3D printing community to manufacture face shields and respirator parts by using the 600 3D printers they had at their homes and shops.
They gathered materials from their own personal stockpiles, as well as donations from over 150 companies and individuals (totaling around a metric ton of PLA, the plastic filament used in 3D printers), and provided them to around 500 "makers" in the region. They put their printers to work and tirelessly chewed through the raw plastic, later assembling masks by hand and distributing them in their cars. As of writing this article, an unbelievable grand total of 45,000 face shields has been delivered by the Euskadi 3D printer group to hospitals in the region (and counting!).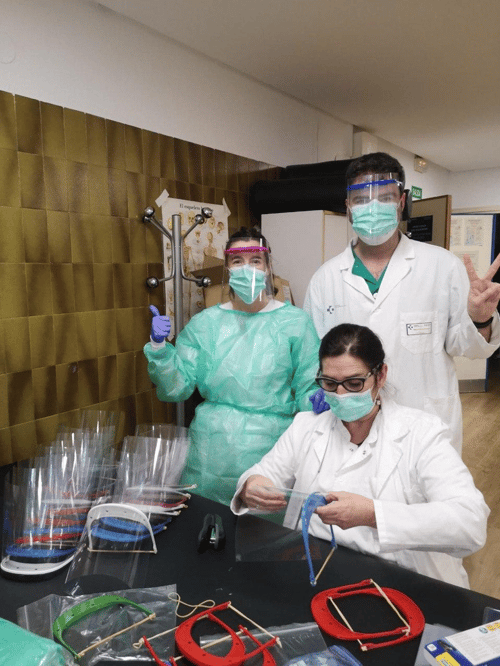 Diego, who already knew our products from personal experience, requested to use InvGate Service Desk for free to support makers in setting up and operating the printers to build the specific parts needed for COVID-19, as the machines need to be calibrated and tweaked specifically for the parts at hand. We couldn't be happier to add our small part in their amazing effort. Keep it up!

If you or your organization can benefit from using InvGate products during the COVID-19 pandemic, fill in this form to request them (or read the original program announcement here).