With so much information that's repurposed, repackaged, and frankly, not worth even a passing glance, it makes sense to be a bit cynical when it comes to blog content. When everybody seems to be doing the same thing, originality and good writing are rare features that should be celebrated. Since we're content snobs ourselves, we thought we'd share our take on the 10 best ITSM blogs with you.
In the worlds of IT service management (ITSM), IT asset management (ITAM), and ITIL, some things need to be said, and they need to be said loud and clear. It's not surprising that some key facts, ideas, and pieces of information spread like wildfire. But repetition — especially in the area of informative writing and divulgation — should not equate to laziness. Cookie-cutter content is anyone's game now, and during a time where everyone seems to be more concerned with SEO than quality standards, that's a crying shame.
So, what's our criteria for determining what the 10 best ITSM blogs are? We think these basic benchmarks apply:
Original, informative writing, not just paraphrasing stuff you've seen everywhere else. No blogs with knock-off content here.
Created by industry experts, people who have not just "been there and done that," but are actively shaping industry standards with their knowledge.
Pre-vetted information that's reliable, actionable, and fact-checked. No wild theories, far-off tangents, or thinly-veiled sales pitches.
A uniformly high quality of writing that's clear, concise, imaginative, engaging, and well-crafted.
Now let's take a look at some of these other blogs, and why we love the way they keep us in the IT loop.
The Best ITSM Blogs
What, you thought we weren't going to toot our own horn?

We're putting away any notions of false modesty to say that the InvGate ITSM blog (where you're reading this very post) meets all the qualities outlined above: fresh, interesting content about the ITSM world, contributions by industry thought leaders (for instance, our article on the role of the service desk in supporting return-to-office strategies), and actionable tips & tricks on how you can up your support game. The blog was even listed as one of ITSM.tools's "Best Company Blogs"; make sure to subscribe and follow along.
Want an insightful thoughtpiece on ITSM automation? You got it. Want quick and dirty explainers on topics like how to create an ITIL maintenance plan? Here you go. Want step-by-step instructions on how to create an IT service catalog? Boom. There's a lot of content to dig into and discover, so go ahead and have a look around.
Where would we be without Axelos? As a joint venture between the UK government and Capital Plc., their work creating and promoting industry-wide management frameworks and standards for best practices is now legendary. If you've been tuning into our blog at all, then you know how much we talk about ITIL as the go-to. Well, that's on Axelos. In fact, ITIL®, PRINCE2®, and MSP® are all from the Axelos world.
So, when you go to their blog, you know you're getting your info straight from the source — the real, real deal. Their content is the launching pad for a huge number of blogs, and they create amazing content year-round.
Doug Tedder is an industry insider, and his blog is well-known for his raw and refreshing takes on everything related to ITSM. His no-fluff, direct approach mostly relates to subjects within the sphere of his ITIL expertise and his role as a thought leader in the industry.
As such, Doug's role is mostly about championing the implementation of best practices throughout the world of IT. As such, he's a member of various organizations that do just that.
In his blog, you'll find plenty of interesting articles about service management and IT in general. His content ranges from general interest pieces to articles that weigh the pros and cons of implementing AI systems, or things that address the human side of IT and help desks. There is truly a little something for everyone, making this a blog we're not shy at all about recommending.
And if you allow us to brag for a bit, Doug has actually contributed to our blog as well; check out our entry on how to achieve Enterprise Service Management success.
It's about time we gave this amazing blog the recognition it so rightly deserves. This blog is run by the ITSM Academy, an all-female SMB founded in 2004. The sole contributor is Professor P. Ross S. Wise, and we'll be darned if he doesn't cover a whole carousel of topics, running from AI, IT Service Management, Agile, and DevOps. And, since he mostly writes from a teacher's point of view, his style is clear, crisp, informative, and down-to-earth.
Truly a great communicator.
As the gold standard for ITSM blogs, they effortlessly carry a heavy crown; their peerless selection of content runs the gamut from detailed ITSM software reviews to blogs, service desk best practices, and ITSM tips. And, if you want a bit of something extra, they also run an excellent newsletter, both a great resource in and of itself and a great way to highlight content you may have missed.
This blog's inclusion on this list comes as no surprise. For over four decades, Pink Elephant has been one of the top-5 service consultants in the world. As such, they often conduct conferences, training programs, and more. Giants like David Ratcliffe and Troy DuMoulin just make this blog an even better resource. Nearly insuperable.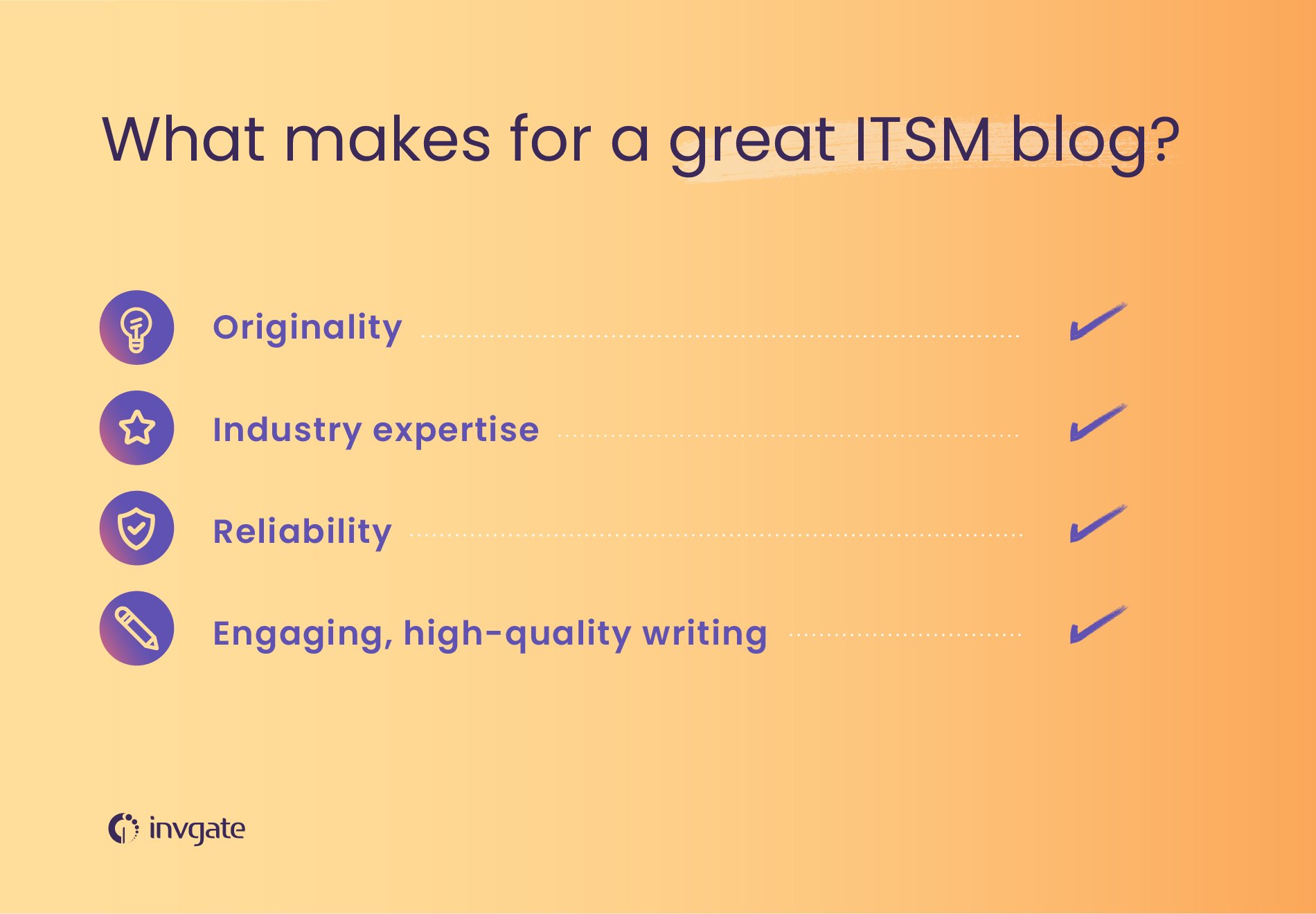 In the world of IT and the service desk, it's impossible to not run into overhyped, or plain 'ol wrongheaded content out there. Rob England, the IT Skeptic, dispenses with all the niceties and just tells it like it is. His extensive knowledge about ITSM and DevOps makes this blog one of the most well-regarded and widely read resources out there. We can't' recommend it enough, especially when you want to cut through the hype and just get to the meat of the matter.
We cheated a bit on this one, we admit. It's not a blog per se, but rather an in-house compilation of news and blogs created by experienced professionals and old industry pros. You can subscribe to their feed to get a constant stream of daily news and interesting articles about anything from ITAM, ITSM, service desk tips, DevOps, Op-Ed pieces, and anything else you can think of.
It's a great way to stay abreast of the current ITAM climate. And any news source that can run this soccer-themed beauty is fine by us.
Support World has been at the bleeding edge of service desk and IT services for as long as we can remember. Well, no, actually, it's been thirty years, and some of us can remember for a lot longer than that, but the point still stands. As pioneers in the field, they've been at the forefront of the industry, mainly through their networking events.
As the giants they are, they attract IT professionals and managers from all over the world. Their blog is an amazing resource for anyone, from the old dog to the neophyte who's dipping their toe in the pond for the first time. Truly a sight to behold.
SITS stands for The Service Desk & IT Support Show, an annual 2-day exhibition where global ITSM suppliers meet, interact with each other, and learn about the latest and greatest in the industry.
It's no surprise, then, that the SITS blog is about providing you with a general view of what's going on in the industry, a sort of year-round online SITS where the information just keeps coming in. And they don't just cover trending topics, but also provide well-thought-out think pieces that round out their content and provide unique management insights, as their name promises.
Speaking of rounding out, we're finishing up this list with one of the best newbie-friendly resources out there. The ITSM Zone offers an amazing service management library for industry beginners, and thus an invaluable location for fresh-faced amateurs to start off the long path towards becoming grizzled IT veterans. As a crowd-sourced platform, any IT professional — as long as they've got the goods — can contribute to the blog, leading to a wide array of diverse views.
Summing up
We hope you've enjoyed our selection of the best IT service management blogs out there. As you can see, there's plenty of material to chew on, and even more out there if you're willing to be adventurous. But, for our money, these ten resources make up the cream of the crop when it comes to IT thought leadership.
When it comes to great blogs, though, as with service management and customer satisfaction, it's all about the experience. These blogs not only provide the best information about there but the best experience, fostering real connections that move past the merely informative and into the realm of our shared human experience, and our experience as service providers. As Doug Tedder himself said:
"It's the people that make service management work. The best-defined processes are pointless unless people follow them. The most effective and valuable services do nothing if there is no one consuming them.
But even more than that, it's because people have emotions. It's the experience that creates the emotional connection between the service provider and the people consuming services. This means that good service management not only must deliver real business value and outcomes, it also must deliver an outstanding experience."
We'll leave it at that.