The tier 4 help desk is the final layer in the 5 levels of IT support. Its main purpose is to effectively handle incidents for services that the organization has outsourced. This means that tier 4 support handles everything by tiers 0 to 3, but this time the work is carried out by a third-party help desk.
Tier 4 support is typically used when it is not possible to have the required support knowledge in-house or if third-party support is needed at a contractual level, for example, to maintain a warranty. Here, we'll explore its main characteristics, benefits, and implementation.
Let's get started.
What is a tier 4 help desk?
In a nutshell, level 4 consists of outside support teams who support the services your organization does not look after. This can happen in two main scenarios:
The first one is when, for instance, third-level support contacts a third-party vendor to make use of a warranty.
The second one is when companies decide not to provide in-house support, and seek a third-party vendor to take over.
What does a tier 4 help desk do?
Support tier 4 is responsible for the following:
Providing external support to outsourced services.
Supporting vendor-specific services such as printers or applications.
Benefits of having a support tier 4
Tier 4 benefits include:
Having a final point of escalation for the most challenging incidents that cannot be resolved in-house by tier 3 support, or for incidents that can only be resolved externally.


Having a dedicated group of subject matter experts at hand that can solve common and routine issues on the first call.


Allocating resources more efficiently and cost-effectively.


Underpinning a contractual level to ensure the appropriate service levels are upheld.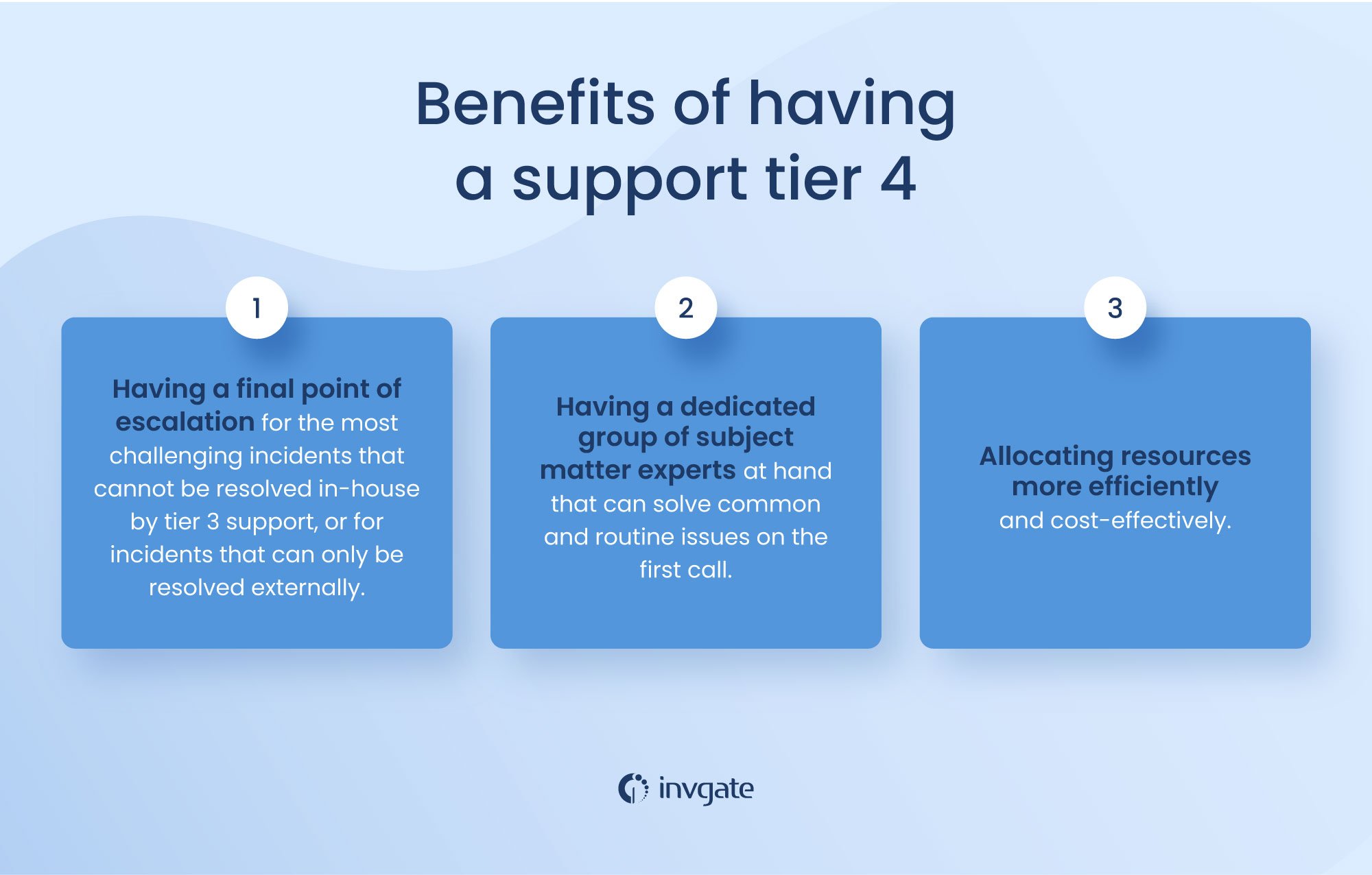 How to set up a tier 4 technical support
Using IT service management (ITSM) best practice is your friend here. Two areas to consider are Service Integration and Management (SIAM) and the ITIL Supplier Management practice.
SIAM lets an organization manage the service providers consistently and efficiently, ensuring that performance across a portfolio of multi-sourced goods and services meets user needs. Using SIAM ensures that suitable structures are in place for effective tier 4 support, including having a strategy, ensuring that support outcomes are codified at a contractual level, regular monitoring is in place and that there is provision for continual improvement.


ITIL Supplier Management is the practice that deals with external suppliers ensuring that they add value to the business. Supplier Management works closely with Service Level Management and Financial Management practices to ensure that the service levels are agreed upon by all and are supported by the appropriate contractual and financial policies. They will be involved in creating the statement of work (SOW), which will set out the terms of the support agreement. They also ensure that the appropriate underpinning contracts are in place and that regular service reviews are scheduled so that all parties are comfortable with the support arrangements and overall performance.
The benefits of using best practices include the following:
A single point of contact, ownership, and control for IT services, where nothing can be lost, ignored or forgotten about.
Clearly defined roles and responsibilities are captured in a RACI chart.
Optimized cost of services.
Streamlined management of IT services.
Consistently applied processes.
A more transparent IT landscape.
Before you go live with tier 4 support, make sure you have the basics covered. Every organization will have different requirements, but some useful points will include the following:
What is the scope of the support?
What are the support hours? Is provision for out-of-hours support needed?
What are the availability targets?
What are the performance and capacity targets? Do we have a defined way of managing throughput and performance?
Do we have the appropriate support from the Finance team to ensure billing and invoicing will be managed appropriately?
Do we have the appropriate support from Legal to ensure the appropriate contracts are in place?
Ensure the appropriate contact and escalation details are available to the service desk.
Tier 4 help desk examples
Tier 4 support is beneficial in troubleshooting incidents escalated from tier 3. Some examples of services covered by tier 4 support include:
Operating system support.
Software application support.
Infrastructure support and server maintenance.
Cloud services support.
Network infrastructure configuration, maintenance, and support for items such as routers, firewalls, switches, and web filtering services.
Printer, scanner, and photocopier maintenance.
PC maintenance.
Mobile phones.
UPS systems and generators.
The bottom line
Tier 4 support is the final layer of your IT support model, and it consists of external support for components or products provided by the company but supported by a supplier or third-party service provider.
Effective third-party support will include diagnosing and resolving incidents whilst keeping the IT department of the affected organization updated throughout the incident management process.
The typical activities included in the fourth level of IT support are:
Dealing with incidents.
Working with multiple customer service desks.
Responding to a wide variety of queries.
If you opt for this level of IT support, don't forget to have an underpinning contract to codify service levels, response times, and escalation pathways.
Frequently Asked Questions
How many people should I have on tier 4?
As a third party will provide the support, care must be taken to ensure the support offering is appropriately resourced to meet contractual obligations.
What measurements, KPIs, or other reports would be helpful for tier 4?
Some good starting measurements would be the fix rate within the Service Level Agreement (SLA), the speed of response after the ticket has been escalated from tier 3, and the customer satisfaction rate.
What kind of training or certifications would be helpful at tier 4?
As with tier 3, useful qualifications depend on the areas of specialism; for example, a server admin would need Microsoft server role-based qualifications, or a network admin would look at the Cisco qualification path. It would also be helpful to ask about qualifications in ITIL or SIAM so that best practices when dealing with customers and stakeholders are understood.