The launch of ChatGPT has had a major impact on the world's most important IT companies. With more than 100 million active users in January, the technology created by OpenAI has accelerated the incorporation of artificial intelligence in a wide range of products.
When looking into it more closely, we found that 92% of the top tech companies worldwide already have AI integrations or are in the process of doing so.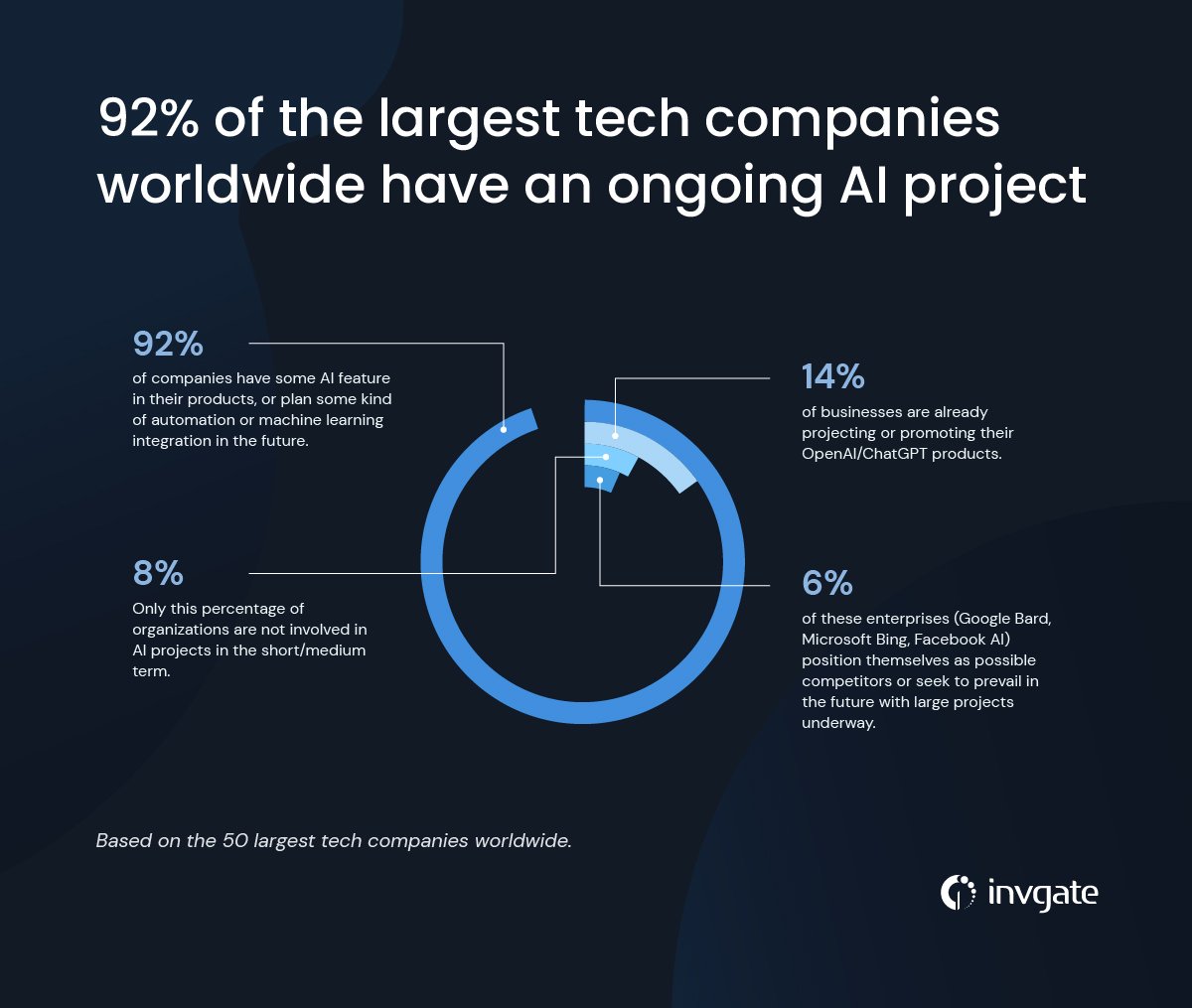 This is a perfectly logical reaction. The incorporation of AI functionalities has multiple advantages. On the one hand, it makes processes more efficient for the users of these companies' platforms. Conversely, it improves their experience by being at the forefront of market trends.
In particular, the advent of ChatGPT has awakened new expectations around using chatbots, which historically have had an irregular performance since often their answers do not solve users' problems.
In this regard, Ariel Gesto, CEO and founder of InvGate, argues that "historically, chatbots have never been a good user experience. They functioned as a conversational IVR, very basic and given to confusion and frustration. ChatGPT represents a break from that, a new standard of semantic interpretation and analysis. Not just for service management, but for the world of technology in general."
Hence, 46 of the 50 most influential companies around the world offer or are developing AI capabilities. Such is the case of Apple, Alphabet Inc., Amazon, Nvidia, IBM, Adobe, PayPal, Oracle, Microsoft, Twitter, Airbnb, Salesforce, and InvGate, just to name a few.
We also found that three of these big companies (CrowdStrike, Atlassian, and Microsoft) have already invested in or are considering an alliance with the OpenAl/Chat GPT technology.
Of course, OpenAI's development is not the only one in the market. Its rapid growth has also driven ChatGPT alternatives. In fact, 6% of the companies included in our report (Google Bard, Microsoft Bing & Facebook AI) position themselves as possible competitors or seek to prevail in the future with large projects underway.
Nevertheless, ChatGPT's popularity is undeniable, and 14% of companies (7) are already projecting or promoting products powered with it since they believe that AI chatbot technology will be necessary for their products.
Regardless of the language modeling chosen to develop new features, only 8% of the companies reported do not plan to move into the world of artificial intelligence in the short or medium term.
Companies with Ai integrated in their products
Company

Released Ai project

Ai in Future plans

Apple (AAPL)

Alphabet Inc (GOOGL)

Amazon (AMZN)

Tencent (HKD)

Meta Platforms Inc (META)

Alibaba Group (HKG)

Nvidia (NVDA)

IBM (IBM)

Adobe Inc. (ADBE)

Oracle Corp. (ORCL)

PayPal Holdings Inc (PYPL)

Netflix Inc (NFLX)

Microsoft Corp. (MSFT)

Samsung Electronics Co Ltd ( KRW)

DocuSign (DOCU)

Snap Inc (SNAP)

Advanced Micro Devices, Inc.(AMD)

Twitter (TWTR)

Airbnb (ABNB)

Electronic Arts Inc (EA)

eBay Inc (EBAY)

Intel Corp (INTC)

Mercado Libre (MELI)

Zoom Video Communications, Inc (ZM)

SAP SE (SAP)

Salesforce, Inc. (CRM)

Block Inc. (SQ)

Intuit Inc. (INTU)

VMware Inc. (VMW)

Adyen NV (ADYEY)

Dassault Systèmes (DSY.PA)

Automatic Data Processing (ADP)

Cadence Design Systems (CDNS)

Autodesk (ADSK)

Palo Alto Networks (PANW)

Workday (WDAY)

Atlassian (TEAM)

Fortinet (FTNT)

Constellation Software (CSU.TO)

Mobileye (MBLY)

Keysight (KEYS)

Enphase Energy (ENPH)

Amadeus IT Group (AMS.MC)

Veeva Systems (VEEV)

Datadog (DDOG)

The Trade Desk (TTD)

Wolters Kluwer (WOSB.F)

CrowdStrike (CRWD)

Ansys (ANSS)

PAM Systems (EPAM)