We finish 2018 with excitement over all the new features we delivered. Thanks to the support of our growing customer base, we've had a highly successful year at InvGate HQ – we've launched a new product in line with customer feedback, you helped our software to arrive in new countries, we opened an office in Mexico, and all our internal teams expanded to keep up with customer-demand.
Product wise, the last 12 months were pretty intense, which is exactly how we like it - you've got to work hard to keep customers satisfied and remain a top player!
So yes, lots of things happened in 2018 and so the purpose of this blog is simply to provide a recap on all the major launches, updates, and feature releases we had (you know… in case you missed it!).


InvGate Insight
*Drums rolls* It's finally here… Our new pride and joy… InvGate Insight!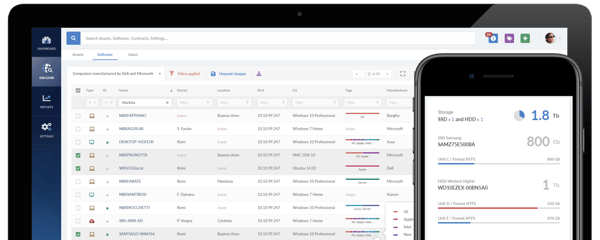 Our latest offering is available via a cloud-delivery model and enables you to effectively manage your IT infrastructure in a simplified way – centralizing everything you need to know about your physical, virtual, and cloud assets in a single platform.
It provides visibility and transparency through an accurate picture of hardware, configurations, software, and web services in one place. Plus, it allows for intelligent grouping via Tags and Smart Tags, and native data normalization for a standardized catalog.
This is the most significant addition to our product portfolio in 2018 – and this is only the beginning! Throughout 2019, we'll be introducing plenty of additional features to help you:


Support the quick and accurate resolution of IT issues relating assets to service requests
Leverage accurate hardware and software inventory for improved decision making
Ensure internal and external policy compliance
Enjoy a normalized catalog
And much more!



InvGate Service
Our flagship offering – InvGate Service, formerly known as InvGate Service Desk, has helped thousands and thousands of teams optimize their IT service delivery and support over the past years. More recently growing into a powerful tool that supports enterprise service management and digital transformation initiatives allowing you to automate the processes and request management of all areas of a company (IT, HR, Legal, Operations, among others).
During 2018, InvGate Service rolled out many key updates thanks to customer feedback and support, introducing features such as:
The now famous Tasks Module, which allows you to atomize the work to be done in a request or in the execution of a workflow. Basically, it divides the necessary efforts to find the solution. This awesome and highly anticipated feature was released in version 5.7.0.




The long awaited Managers View, available at Requests > Manager since version 5.7, improves visibility of work on the help desk and allows you to distribute it in a simpler way – simply assigning requests via drag & drop functionality.




Social network style mentions, so you can @ other users! These are available as of version 5.7.8.0.




Configuration Index with shortcuts to any feature you want to set up or update, available at Admin > Index since version 5.7.5.




Two important IT asset management (ITAM) integrations: FileWave and SCCM, which allow you to search for assets, link them to requests, and access their details. These can be set up from Admin > Integrations.


Authentication via SAML, as of version 5.6.18.


Customized catalog order, so you can rearrange the category hierarchy within the tree from Admin > Catalog. This is available as of version 5.7.7.0.




Cost incurred by a request, which you can measure in the Time Tracking cube under Reports to learn the cost of a working hour. This feature resides at Admin > Requests > Time Tracking since version 5.7.10.0.




Privacy features to help you comply with GDPR, available at Admin > System > Privacy as of version 5.7.1. This allows to blank the profile, data, and the content of requests from users who want to exercise their right to be forgotten.


Export workflow fields, jump to stages of a workflow, approval reminders, drag-and-drop custom fields, assets associated with specific categories, and enhanced license usage graphic – all of this, released in version 5.6.12.


InvGate Manage
All updates for this long-time classic, formerly known as InvGate Assets, were delivered in line with our mission statement of making life at work easier. This tool allows for deep ITAM capabilities and details into IT asset expenditure and use.
New features released during 2018 included:
New versions of compatible software and protocols.
A brand new configuration wizard.
More data fields to have a deeper knowledge of assets, such as "Fixed Asset" under Financial data, or "BIOS Version" under the Workstation hardware information.
New imports available via CSV.


What's Next
Naturally, all our solutions will continue to grow, as we work to improve customers' workloads and operational efficiency. We'll be continuing to deliver software updates in line with both yours and your customers' expectations, and to support you on your ITSM and ITAM journeys.
We hope your company benefited from our new releases and updates in 2018 and that with our support you've been able to improve your ITSM/ITAM maturity. As always, please keep in touch with us and communicate to us your software and service needs – there's little point in us creating a product plan that doesn't encompass YOUR feedback.
Please stay tuned for more product related news in 2019 by subscribing to our blog on the right side of the screen to receive periodic updates, along with tips, tricks, and best practice related to ITSM and ITAM in general.
Until then, we'd simply like to wish you a Happy New Year!