We start off 2018 with new features to our products! In InvGate Service Desk 5.6.12 you'll enjoy improvements that optimize your IT service delivery and support.
Today we want to take a deeper dive into this version and demonstrate how it will help you in your everyday work. Let's take a look at what's new!
Export workflow fields
You can now export data from the specific stages of a workflow! This makes all the details from any and every form that was completed during that workflow accessible at any time.
With this information, you can analyze the components that matter most to your organization, be it for budgeting purposes or just to track how successful your current employee onboarding process is. When exporting requests to XLS, now you also have the option of choosing fields belonging to workflows.
In this short video, we will demonstrate this new feature:
Jump to stages of a workflow
This feature allows you to "jump" and execute any stage within a workflow, be it previous or next; the process no longer must be exclusively linear. This new flexibility allows "workflow hops" through the ease of conditional criteria, as demanded by your organization's specific processes.
You choose one conditional and go to the new red arrow added to the panel on the right side. Then you can choose which stage to jump and under which conditions. For example, if a user completed a field incorrectly, this feature will make them go back to the previous stage until they get it right. No more tedious reworking of workflows!
Approval reminders
You might have noticed when users don't reply to approvals, whether they are solution or standard-type requests, workflows get stuck. Well, that's why we implemented the reminders.
The reminders will work as automatic notifications that will ping people, who are in charge of accepting, rejecting or cancelling an approval, that their response is pending. The reminder can be an internal notification within the system or an email, and when you enable it you can choose how many days shall pass after the approval was requested to send the reminder.
This feature applies to the three existing types of approvals:
Solution

, meaning the client has to decide if they accept the solution proposed by the agent.

Custom

, meaning the technicians ask for approvals with specific properties or that meet certain criteria specified in a template. These are recurrent approvals.

Spontaneous

, so that technicians request approvals from a specific user on an ad-hoc basis, regardless if this is not part of the usual process.
To start using this feature, go to Admin → Requests → Approvals and check the box for Reminders in each approval's section (the box appears for each type).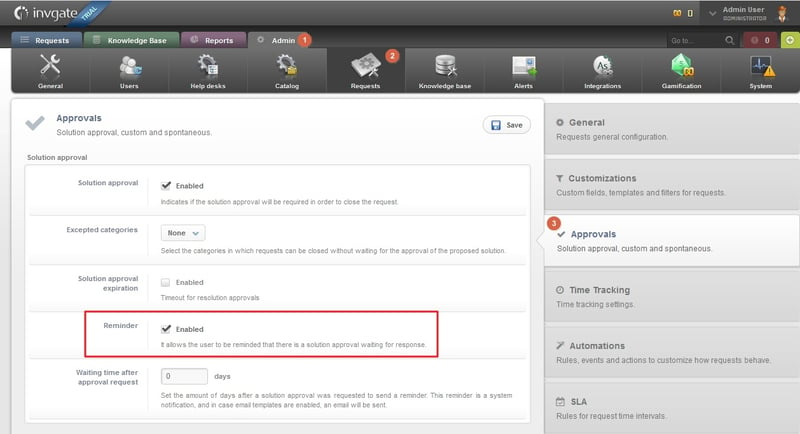 Show or hide assets
Now you can associate assets with specific types of categories from your Service Catalog. For example, is someone requesting a toner change? Show printer assets to choose from! Is someone submitting an HR request for time off? Skip the assets altogether!
Also, if you're familiar with our products, traditionally one instance of InvGate Service Desk could only have one instance of InvGate Assets associated. From now on, an InvGate Service Desk instance can manage requests related to assets of different instances of InvGate Assets, that will show up as suggestions when submitting a ticket.
To implement this integration, go to Admin → Integrations, where you can choose the categories in whose requests you want to see assets related: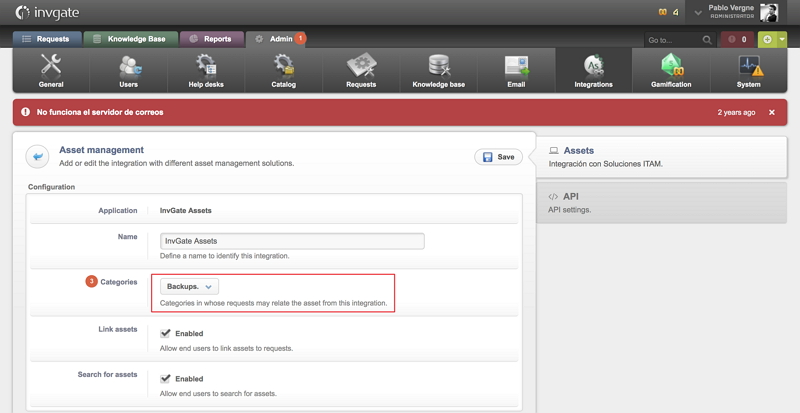 This feature is part of our ongoing efforts to integrate InvGate Service Desk with more ITAM tools. In the future, communication with the most popular platforms will be much easier and efficient for your work. Stay tuned for more updates in the following months!
Enhanced license usage graphic
Now you can access a graphic showing the usage of your InvGate Service Desk licences. It will tell you if there are unused agent licenses or if you need more; it will also show the amount of agents with concurrent and named licenses that are connected to the system, and a history of their use.
To access this graphic, go to Admin → System → Licence. It will look like this: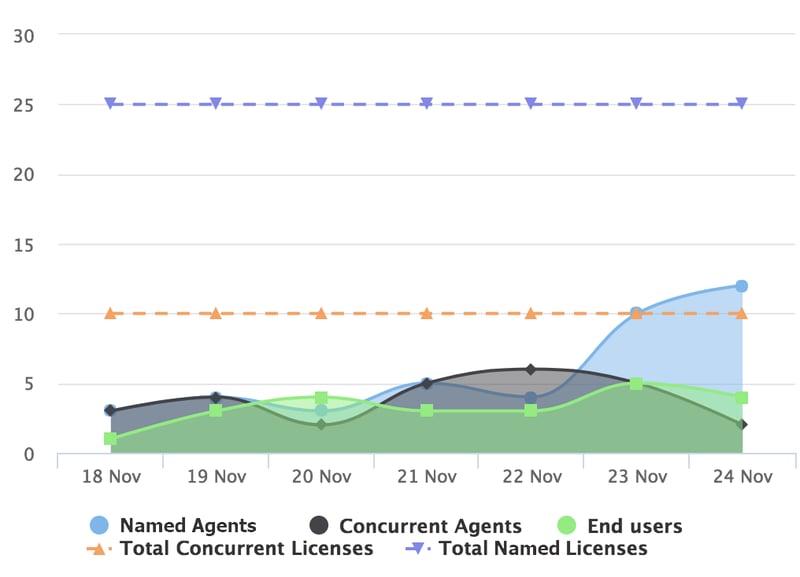 With this information, you can deduce if your concurrent licenses are near the line (meaning close to the limit) you may need to purchase more licenses; but we don't want you to pay for more licenses than you need. InvGate is always thinking about you!
Drag-and-drop custom fields
Now, as a InvGate Admin, you can change the order in which custom fields appear in a request form. You just have to drag & drop them to the position you desire.
Previously, custom fields appeared in the order in which they were created, so you had to delete and create them again to alter the appearance of a request. Therefore, this feature will save you a lot of time and will allow for faster fulfillment of requests. Isn't that great?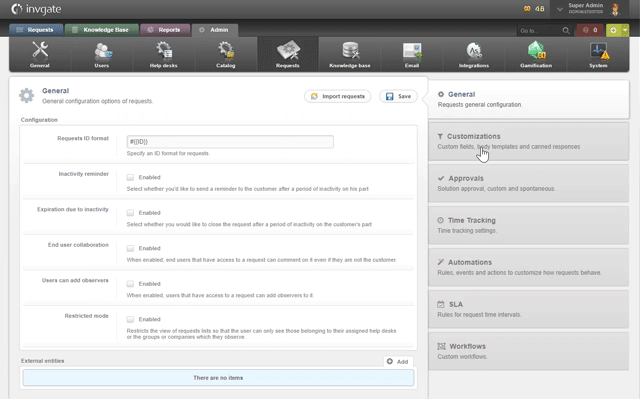 That's all for now but remember, we'll continue working toward more integration with ITAM tools and improving your user experience. Don't miss our next "What's new?" blog, and continue checking back for more thought leadership, best practices, and industry tips at our website. Subscribe today to get news and product information.