An IT service catalog is a great asset for any IT organization that offers multiple products and services to its end users. It acts as a one-stop-shop – where users can see the services on offer to them and discover any information they might need in relation to those services. For instance, a full description of what the service offers, how to request access, and delivery timelines.
Service "customers," i.e. those that dictate the IT needs and potentially hold the purse strings for their departments IT spend, can benefit too – by using the catalog to get guidance around aspects such as service level agreements (SLAs) and costs. While IT staff can check it to gain technical details or to find out who authorizes requests or who owns a particular service.
Sometimes service portfolios and service catalogs are talked about interchangeably, but there's a distinct difference between the two. Your service catalog should only include services that are currently available whereas your service portfolio will list anything that's available now along with services in development and those that have been terminated. So, you can consider a service catalog to be a subset of the service portfolio.
However, a quality service catalog does so much more for your organization than simply providing a tidy space for everything on offer to be listed. Effective service catalogs will also be integrated with a self-service portal – allowing end users to submit their own service requests and to track or update their own tickets.
In this blog, we'll explore this further by looking at three big benefits of a quality service catalog for your organization.
1. Improved stakeholder experience
As already mentioned, quality service catalogs don't just benefit the end user. There are multiple ways in which they can help various stakeholders. For instance:
Clarity – A service catalog lists all of the products and services that your IT organization has available to end users along with descriptions about each one that explains exactly what an end user can expect. The language in a quality service catalog is clear, free from IT jargon, and aimed at its target audience – making it simple for them to understand.
The ease of access to service information – Because all products and services are listed in the service catalog, stakeholders should always know where they need to head when they want to see what's available to them. This reduces the frustration of not knowing who to approach or waiting in a queue to speak to the service desk for a basic inquiry to be answered.
Better stakeholder engagement – Service catalogs help IT to engage more effectively with stakeholders. Quality service catalogs have multiple views, each one tailored to the targeted stakeholder group. For instance, you might have IT teams that need to check technical information related to a service, but this wouldn't be relevant to an end user who only needs to understand if it will provide them with what they need. These different, targeted views of the catalog benefit the overall stakeholder experience because people will not need to scroll or read through reams of information that's not relevant to them.
Self-service enablement and the benefits this brings – Research over the last few years points to the fact that people like to help themselves and are moving away from traditional assistance towards self-service. Many of us are actually happier serving ourselves and it's not much of a leap to assume that this is only going to increase. A service catalog can help to facilitate service request self-serve options for customers – helping to improve the customer experience.
2. Reduced pressure on the IT service desk
Another benefit of a service catalog is that it can help to prevent unnecessary calls coming into the IT service desk. Rather than end users having to speak with a service desk analyst to find out what service or product they might need, they can instead visit the service catalog to find out for themselves.
Self-service will also enable end users to request access and track their tickets all without the need for assistance from a service desk analyst.
By freeing up IT staff in this way, the service catalog gives analysts the opportunity to work on the incoming and existing tickets that actually need their attention – which means greater value from the service desk for the organization. A service catalog will also help to decrease repeat inquiries.
The service catalog can even aid your automation journey because service request workflows can be automated once tickets have been submitted.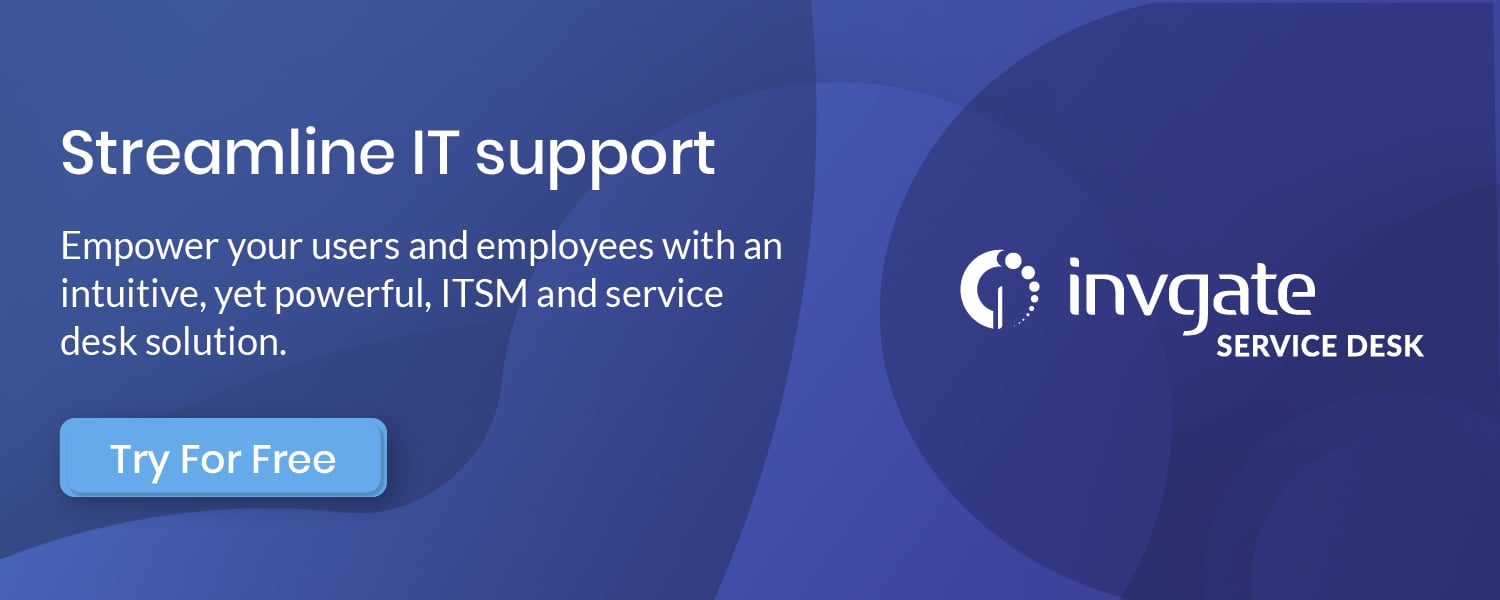 3. Reduced IT costs
A quality service catalog will help to decrease IT costs in a number of ways.
Firstly, with self-service and automation capabilities in place, ITSM can "shift-left." This means work is passed down the chain – end users serve themselves, answer their own basic inquiries, and fix their own basic issues. In turn, the IT service desk can now tackle more technical issues which would normally be handled by second or third-line support teams, thus leaving these groups to concentrate specifically on their areas of expertise.
Costs related to "special" requests can be decreased too. Working in IT, you'll almost certainly have come across end users who ask for services or products that are difficult to acquire. In many of these cases, there will already be a service on offer that will meet the needs of these end users but without a service catalog in place, they simply won't be aware. And it would be unfair to expect IT staff to know the ins and outs of everything that's available, service-wise, off the top of their heads.
So, a service catalog can help to reduce these kinds of requests by displaying precisely what's on offer (and therefore leading end users to a perfectly acceptable substitute). Reducing this type of random request helps to not only reduce unnecessary costs related to these, but also decreases the risks that come with unauthorized IT use – for instance, software that end users could take to installing themselves.
Having all of the information related to each product and service that's available to stakeholders also helps to improve financial decisions. This knowledge helps to direct decisions related to future services and products while also enabling ITSM professionals to understand what might not be working or adding sufficient value to the organization.
A quality service catalog that answers questions and enables self-service and automation will enhance stakeholder engagement and put IT in a better position within the business – improving employee experience along the way.