We are excited to return to Service Management World (SMW) in Orlando this year! From November 12th to 16th, InvGate will be present at HDI's definitive event for service management leaders – and our team of specialists will be at booth 306 to discuss industry trends.
This conference is the perfect opportunity to network with 600+ attendees, learn in 50+ workshops and sessions, and innovate with 30+ solution providers.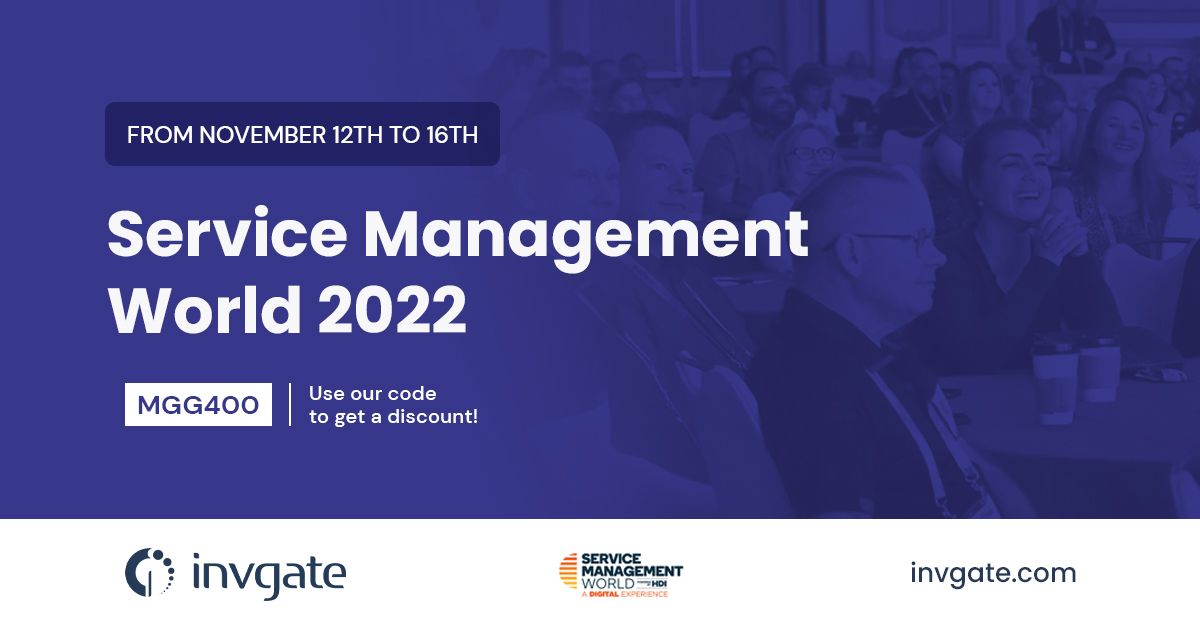 One of those sessions will be hosted by Matt Beran, our Senior Product Specialist and host of our podcast Ticket Volume. His session - "Living the Dream: Making Enterprise Service Management a Reality" - is about modernizing service management. He'll provide a guide to working with other departments to combine shared services into a unified employee experience, and explore how to leverage service management thinking throughout your business to maximize IT operational efficiency. So, make sure to mark your calendar! He will talk on Tuesday, November 15th, at 11:30 AM (US East Coast).
Plus, you will have the chance to see our InvGate team in action and learn how we can change customer and business expectations for the better, discover emerging resources and technologies, and staying ahead of evolving practices and frameworks.
At SMW in Omni Orlando Resort at Championsgate, we will be showcasing our latest product innovations and demonstrating how we can help organizations transform their service management operations.
Needless to say, our products are used by companies of all sizes, in a wide variety of industries, so visit us at booth 306 to learn more about what we do and how we can help your business!
Gonzalo Sainz-Trápaga (Chief Revenue Officer), Shiraz Hemani (ITSM and ITAM Implementor), Matt Beran (Senior Product Specialist), and Jason Oriente (Director of Sales Engineering) will be there to assist you during the expo hall hours:
Monday, November 14, 5:00 p.m. – 6:30 p.m.
Tuesday, November 15, 12:15 p.m. – 2:15 p.m. and 4:30 p.m. – 6:00 p.m.
Wednesday, November 16, 10:45 a.m. – 12:45 p.m.
Lastly, if you're planning on attending, you can use our code MGG400 to get a discount on your ticket purchase. For more information about the conference, visit their website here.
We hope to see you there!