Whether it's managing workgroups in an efficient way or spotting and solving issues that might arise when dealing with large groups of team members and customers; Help Desk Managers are, above all, problem-solvers, motivators, and all-around natural leaders.
If you're looking to apply for a position as a Help Desk Manager then we've compiled a series of common help desk manager interview questions that you'll likely encounter, as well as suggested answers to help you nail your next job interview.
Why are you seeking to work as a Help Desk Manager?
While your instinct might tell you to refer to your past experience as a desk analyst as proof of your expertise, there is a much better approach to this interview question. You want to concentrate on showcasing your managerial and communication skills. A regular interview answer won't cut it: the key thing here is the manager part of the position.
In-field experience as a desk analyst is of course valuable: you know what the experience of the employee is like, the ups-and-downs of the job, and how to know when someone is running low on steam or struggling to stay motivated. However, presenting yourself as an outstanding motivator, a people person, and focusing on what you could bring to the company in terms of workforce management will keep score you more points towards getting the job and making the interview process easier from there onwards.
How will you keep track of individual employee performance?
This question can reveal information about yourself as well as the company. More often than not, your employer will already have a help desk system in place to monitor agent performance and make sure they are meeting their goals. These could be anonymous SLA ratings, data tracking, and info on each customer interaction that desk specialists are having. If this is not the case, you should offer to set one up yourself.
Keep in mind that setting tangible short and long-term objectives for your teams by referring to performance tables and diagrams is also paramount to become a good Help Desk or Service Desk Manager. You also want to state that you can have productive and inquisitive bi-weekly one-on-ones to identify difficulties that team members might be facing before they escalate to bigger issues.
Regardless of how you word these concepts, you want to make it clear that you are basing all your decision-making and course of action on clear historical data collected from your desk analysts and desktop support specialists
How would you manage a motivation crisis within your team?
If you're dealing with an individual case of demotivation, you should go for a one-on-one with that specific team member where you talk openly about what might be causing their lack of motivation. Empathy and clear communication are a must. Relocating the employee or (in more extreme cases) considering terminating their contract could also be a potential solution if things are getting way out of hand.
A second and trickier scenario is one in which an entire team is showing signs of demotivation. There's a number of reasons why this could be happening but most of them are related to poor management. Radical action must be taken to do some course corrections. Perhaps the most effective way to tackle this issue is to answer that you'd offer incentives and —if possible, offer gamification systems to give agents a motivational push to achieve their goals. Thus, you'll be able to even the playing field and spot where the source of demotivation might be originating.
How would you boost service desk agent productivity?
Hiring managers often ask this question in interviews to gauge your managerial and communication skills specifically. Just as with the previous question, the answers are pretty varied and depend a lot on the specific situation you might be facing. A surefire way of showcasing yourself as a proactive service desk manager is to say you'd have an individual interview with each agent and try to spot what they might be struggling with. With that information, you could opt for providing training for tasks they might not be performing so well or simply relocating the agent to a more suitable area,
Another alternative would be to step into your service desk manager boots and redesign the service desk department process as a whole. While it would be a bold move, showing assertiveness is of course always valuable in a job interview. Revamping how support tickets are handled, how requests are routed, and setting workflow automation are only some of the possible changes you could bring to the table. It's a good idea to look at your current ITSM tool provider and asking yourself whether it's the best choice for your organization.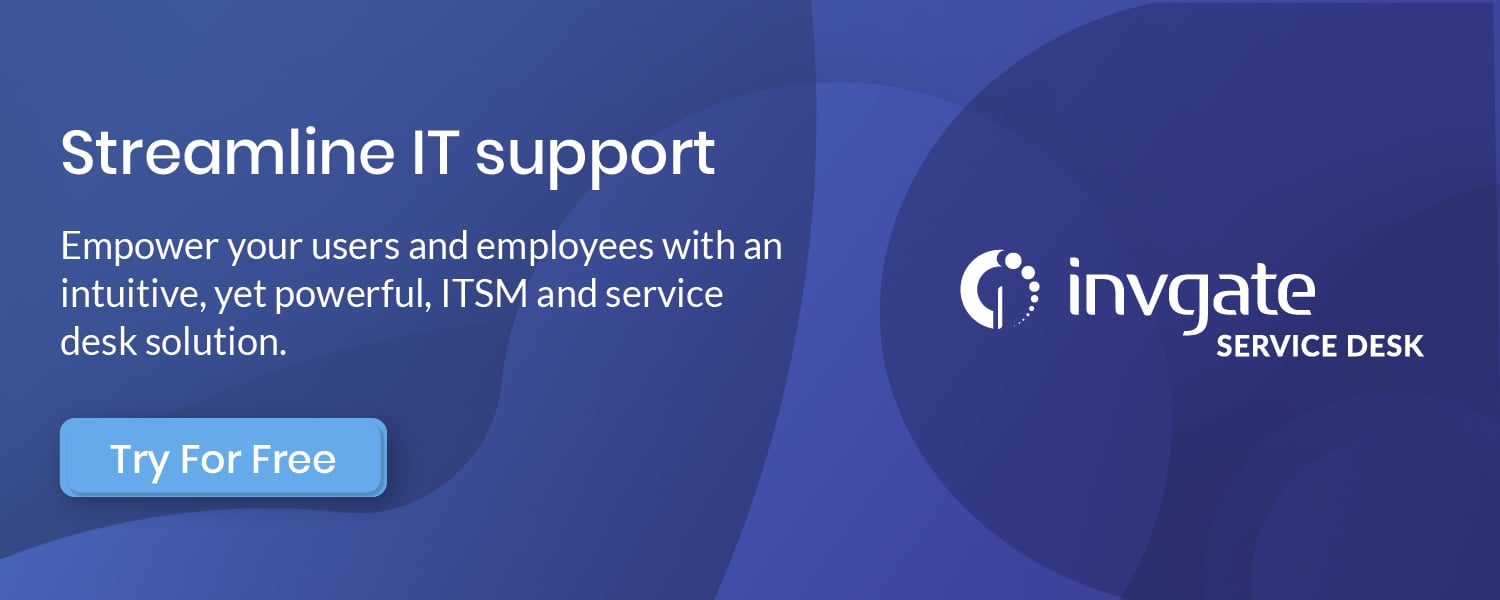 You want to let it be clear that your top priority is to improve productivity across the board by any means necessary. Hiring managers value these forward-thinking ideas and they'll be glad you brought up the topic during the interview with such enthusiasm.
What would be your first course of action if we hired you for this position?
A very common question in job interviews is this hypothetical situation where you've already scored the job and you have to act right away. The first thing that should come out of your mouth when faced with this question is to answer that your decisions will be exclusively based on collected data and historical information.
Every step of the way, you should be basing your decisions on tangible information that the company has most likely been collecting from its inception to the time you're hired. This includes information such as the number of employees on each shift, average response time, and the number of incoming and outgoing calls happening in a normal work shift. Look into the info and try to spot areas that need improvement, understand who you'll be managing, get to know the team, introduce yourself in a friendly and open way.
Learn what they are expecting from you as a service desk manager as well as what you're expecting from them as service desk analysts.
How would you deal with an angry customer?
Getting frustrated is just part of the human experience, especially if a customer has spent 15 minutes trying to accomplish a task and nothing seems to work. So, how do you go about communicating that you know how to deal with this difficult issue?
Empathy is your greatest ally. State that you'd let them walk you through their problem and the roadblock they've encountered. It's important to highlight that remaining calm and collected is your priority. If you are able to convey that you'll keep a cool head, the hiring manager will see that not only are you a good service desk manager but also a good problem-solver. Tell them that you'll identify initial solutions, keep in touch with the customer as the issue is resolved, and deliver on your promises.
Feel free to aid yourself with the help of a customer success manager or a customer service manager. For more info on how to deal with frustrated customers, refer to our article on how to handle an angry customer.
How would you go about hiring new agents for the service desk department?
Here's a potentially difficult desk manager interview question that must have a detailed answer. Service Desk Managers are, above all, managers. At some point, you'll be faced with the challenge of selecting and onboarding new team members. The key to a good answer is starting by the beginning.
Contrary to popular belief, this is not actually posting job adverts or arranging interviews but rather outlining what an ideal candidate profile would look like. Focus on the requirements for the position are, what the employee will be doing, what you expect them to know, and which skills they must have. Define their placement in the service desk department.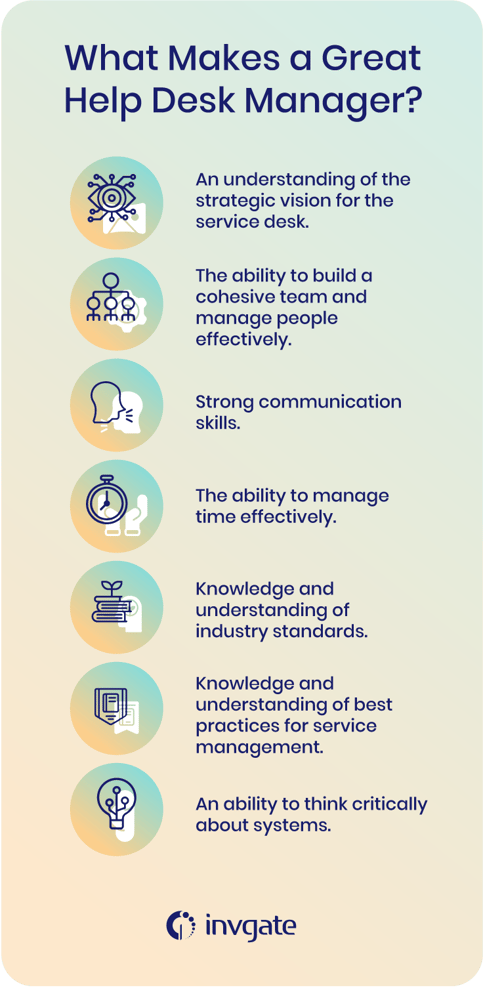 After that, you can move on to sourcing methods such as LinkedIn, posting on job boards, do some internal recruiting, and/or outsourcing the process. Whichever you choose, make it clear that you are goal-oriented in your endeavor and you'll swiftly course correct if you encounter any roadblocks along the way. A good service desk manager is always equipped with an alternate plan if things don't go according to plan. Adaptive and flexible skills are sought after by hiring managers.
Why did you leave your last job as a Help Desk Manager?
Assuming that you've worked in a help desk manager position, this could be a tricky question to answer. Of all help desk manager interview questions, this is the one where you should tread carefully the most. Regardless of why you left your previous position as a help desk manager or service desk manager, you should talk positively about your experience in your previous job. This is pretty standard procedure when it comes to any job interview.
However, you should focus on highlighting that your reasons for leaving are tied to a desire of seeking new challenges and expanding your career opportunities in the field of management or you simply want to work in a new location. If you paint your answers in a positive light your chances of getting the job will dramatically increase.
The Bottom Line
The truth is that getting a job in any managerial position is difficult. Some of these tips apply for office manager, help desk manager, and service desk manager interview questions as well as any other managerial position. If there is the main takeaway you can get from all these tips is that a positive outlook and an open and sincere approach to all these potential questions are key to get your desired result.
The main pillars of any managerial role are always great communication skills, leadership, and empathy above all. Remember that when dealing with large groups of people, being a beacon of hope, positivity, and trust is of the utmost importance if you are looking to find your place in the ever-growing market of help and service desk managers.
We hope this quick and easy guide has been of service and it helps you face the challenges of help desk manager interview questions with ease. Keep a cool head and it'll all be smooth sailing from there on out.